Even in 2021, streaming is omnipresent. On Twitch & Co. channel designs are becoming more and more fancy and professional, which of course also has a positive effect on viewer numbers. As in fashion, film, music, and interior design, there are constantly new design trends in the world of streaming. If you want to be on the cutting edge, you regularly equip yourself with individual and wonderful looking overlays, alerts and emotes. Whether minimalist, futuristic, or cuddly cute, stream designs in 2022 are more unique than ever. As you can observe with the great creators of the scene, it is very important to constantly evolve and show that you want to get the most out of your stream.
So that you too can convince your viewers with an innovative and meaningful channel, we have consulted for you and compiled the ultimate top 10 best stream designs. We would like to present these to you in detail in this article. Enjoy!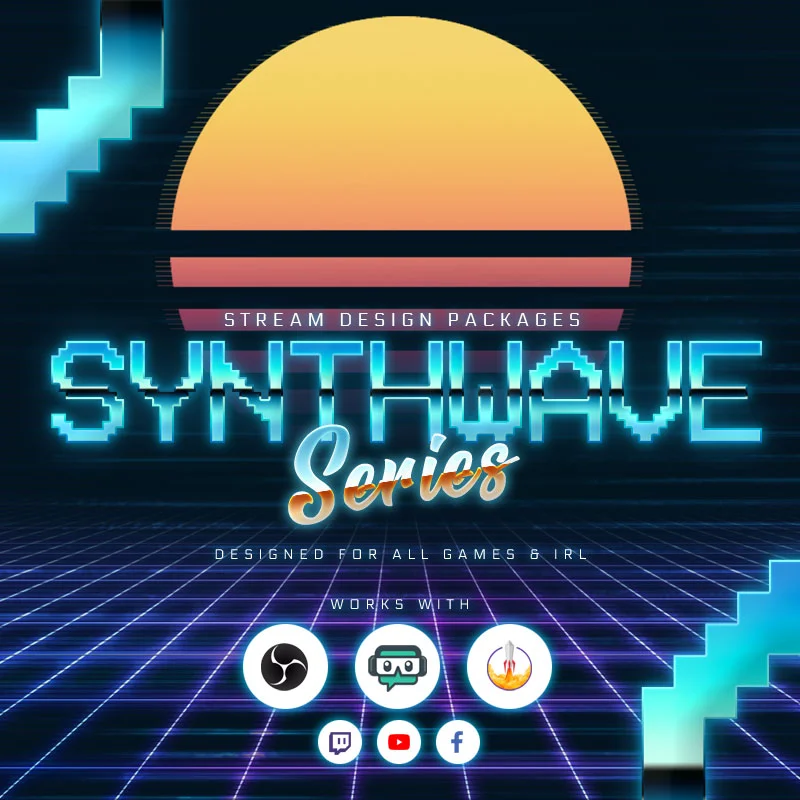 The 80s are back! This pop-culturally historic decade brought us legendary movies, designs and most of all an unprecedented music genre - Synthwave. This stream design is a true highlight of 2022 and picks up all aspects that a synthwave design should have! The presentation conveys a comforting retro charm, which nevertheless looks very modern and clean. With the unique Stinger Transitions, a stream with this animated design becomes a really cool and stylish place on the internet. This is where Miami Vice meets Cyberpunk 2077! The design is available in English, German, French, Brazilian and Spanish and can be integrated into OBS Studio with just a few mouse clicks. You can then align and adjust the individual elements to create a coherent overall concept for your audience. If you are a child of the 80s, love the synthwave era or just want a damn great stream design, you will be happy with theSynthwave Series Package!
This design looks especially good in these categories & games:
Cyberpunk 2077
GTA RP
GTA V
Watch Dogs: Legion
Far Cry
Deathloop
Life Is Strange
Hitman 3
Mass Effect
Metroid Dread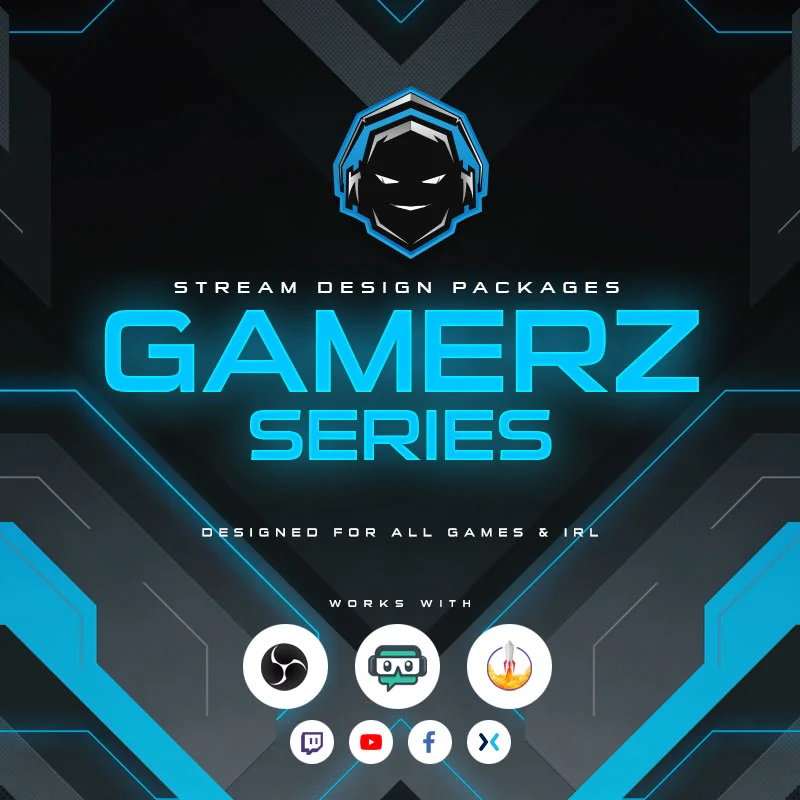 You're an Esports fan, stream your matches live on Twitch and want to show your viewers what you're capable of in your favorite game? Then the exclusiveGamerz Complete Package Seriesis just the thing for you! Inspired by the broadcasts of big Esports events like The International, the EVO Championship Series or the Intel Extreme Masters, this stream design is not only clear, but also modern and stylish. Here you can give your viewers the feeling of real competition and take your stream to a whole new level. This animated design pack really packs a punch and shows what is now possible for everyone on Twitch. With English, German, French, Italian, Polish, Brazilian, Russian and Turkish languages supported, the design can be used all over the world.
This design looks especially good in these categories & games:
Counter Strike Global Offensive
FIFA 22
Valorant
Call of Duty WarZone
League Of Legends
DoTa 2
Fortnite
PUBG
Apex Legends
Overwatch
Rainbow Six: Siege
Rocket League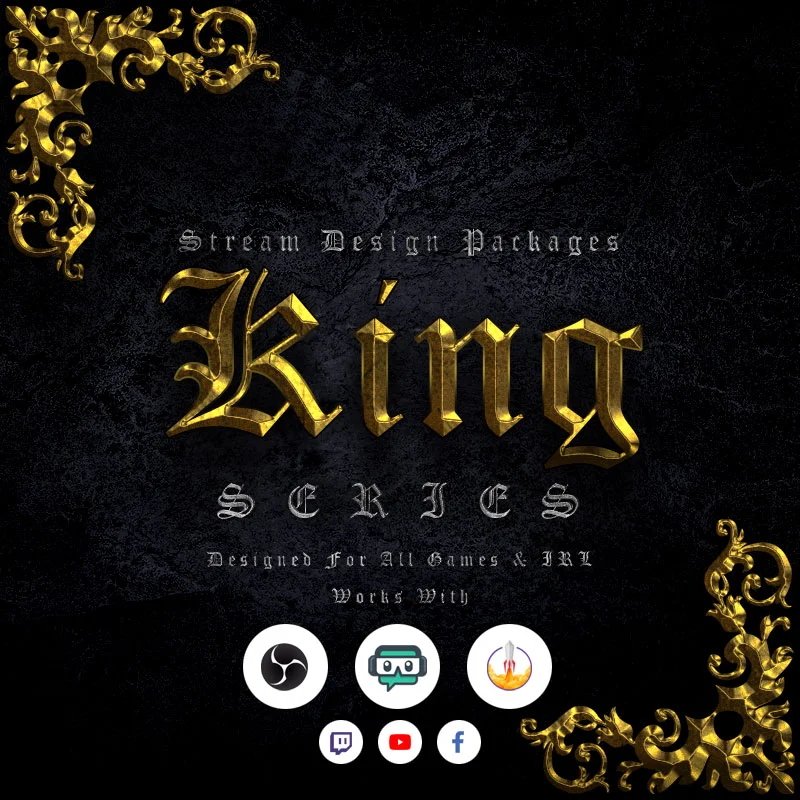 Here you are the king. The extraordinarily noble designedKing Series Packagepresents itself with fine lines, golden frame and royal decorations. Not only medieval fans, but also series freaks or lovers of various role-playing games will get their money's worth here. However, this feudal-looking stream design is ultra-modern under the surface and invites viewers of your stream to stop in with its atmospheric animations and unique sounds. The contrast created when gold and raw rock meet creates a unique atmosphere! So the King Series Package is one of our absolute stream design favorites for 2022 for a reason.

In these categories & games, this design cuts a particularly good figure:
The Witcher 3
Forge of Empires
Clash of Clans
New World
Age of Empires IV
Kingdom Come Deliverance
Anno 1800
Banished
Chivalry 2
Diablo II: Resurrected
Assassins Creed
Crusader Kings III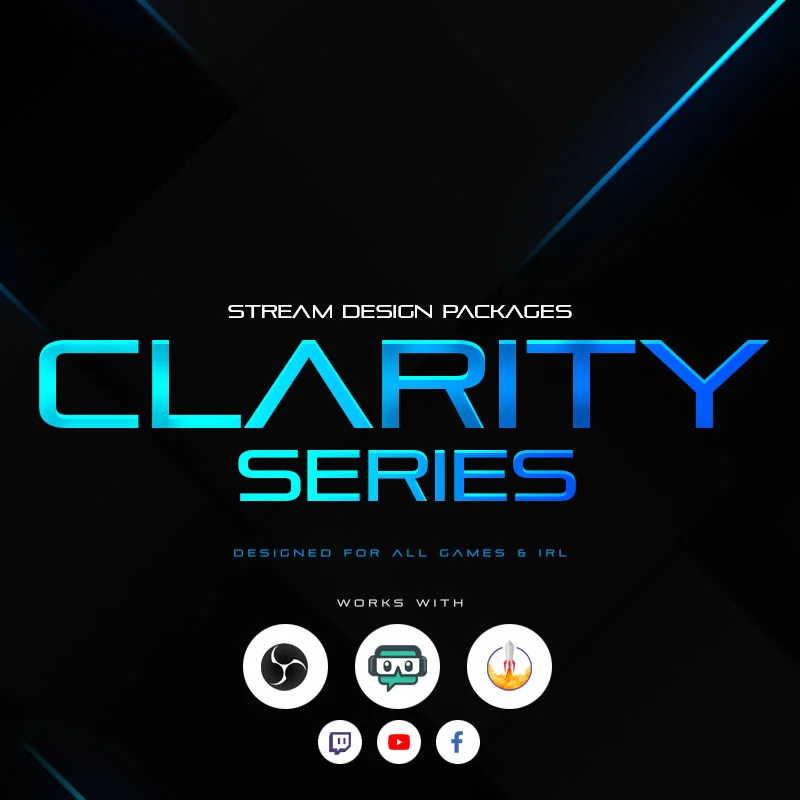 You like it a bit tidier, clearer and more modern? No problem! May we introduce? TheClarity Overlay Packagefrom OWN3D. This is where the aesthetic of a modern sci-fi movie meets the distinctive DNA of various gaming designs. This stream design is one of the top 10 best designs for 2022 because it is not only uncluttered, timeless and crystal clear, but also because the animated design package contains everything a streamer's heart thirsts for. Thanks to the universal look, you'll always be ready for the Clarity Series Package for many different content you want to stream on Twitch or YouTube. The different shades of blue contrasting with the black background set it off perfectly and are guaranteed to leave a lasting impression on your viewers. This stream design is already a real classic!
In these categories & games, this design cuts a particularly fine figure:
Valorant
New World
League of Legends
Just Chatting
Fortnite
Apex Legends
Call of Duty: Warzone
GTA RP
GTA V
Dota 2
Destiny 2
Starcraft 2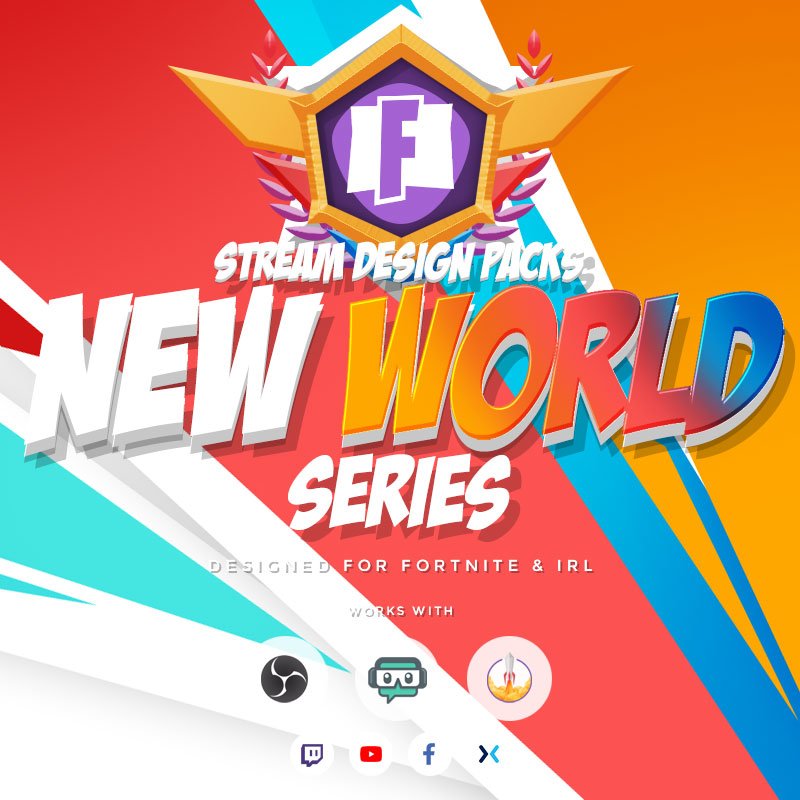 Now it's getting colorful! Turn your stream into a theme park dream come true - with theNew World Series Package. This design is clearly different from the usual stream designs and offers you and your viewers a perfect symbiosis of joy of life and clarity with its colorful design. The bold letters in comic look, the wonderfully harmonizing colors and the all-around successful animations make the New World Overlay Pack a real eye-catcher and thus one of our top favorites of the best stream designs 2022. This overall concept includes not only the overlay, but also alerts, panels and various freely configurable elements, which you can add to your OBS Studio within minutes. This way, you customize your stream exactly the way you've always imagined it. 
This design looks great in these categories & games:
Just Chatting
Fortnite
Pokémon
Animal Crossing: New Horizons
Minecraft
Music
ASMR
Genshin Impact
Overwatch
The Sims 3
Food & Drink
Among Us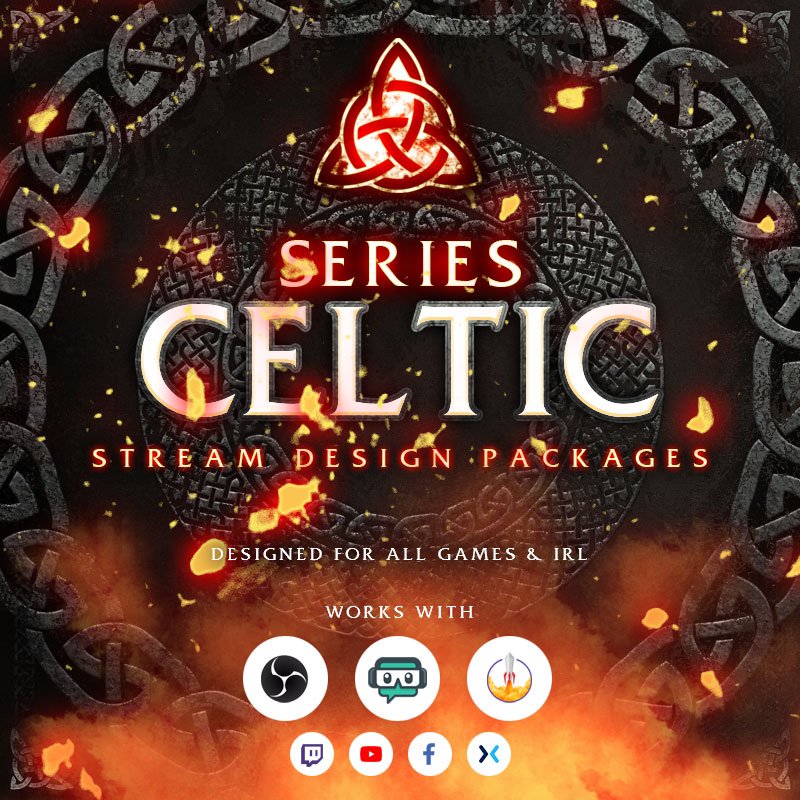 The dream for every role-playing & pen & paper player: theCeltic Series Packagefrom OWN3D! This absolutely legendary design comes along imaginative and dark and wraps your stream in a mysterious veil, so that it is bursting with atmosphere. The animated stream design package offers everything you expect from a fantasy design. The colors of the beautifully decorated boxes and panels harmonize perfectly with each other and will take your viewers' breath away with the matching animations. But the design is not only interesting for fantasy fans - the Celtic Series Package is also made for horror and mystery games. The font, which is directly integrated into this stream package, is expressive and very legible despite its unusual appearance. This popular design is on the top of the list when it comes to the best stream designs in 2022. 
In these categories & games, this design cuts a particularly good figure:
Dark Souls
Elden Ring
The Witcher 3
World of Warcraft
League of Legends
New World
Resident Evil: Village
Sekiro
The Elder Scrolls: Online
Hollow Knight
Until Dawn
Pen & Paper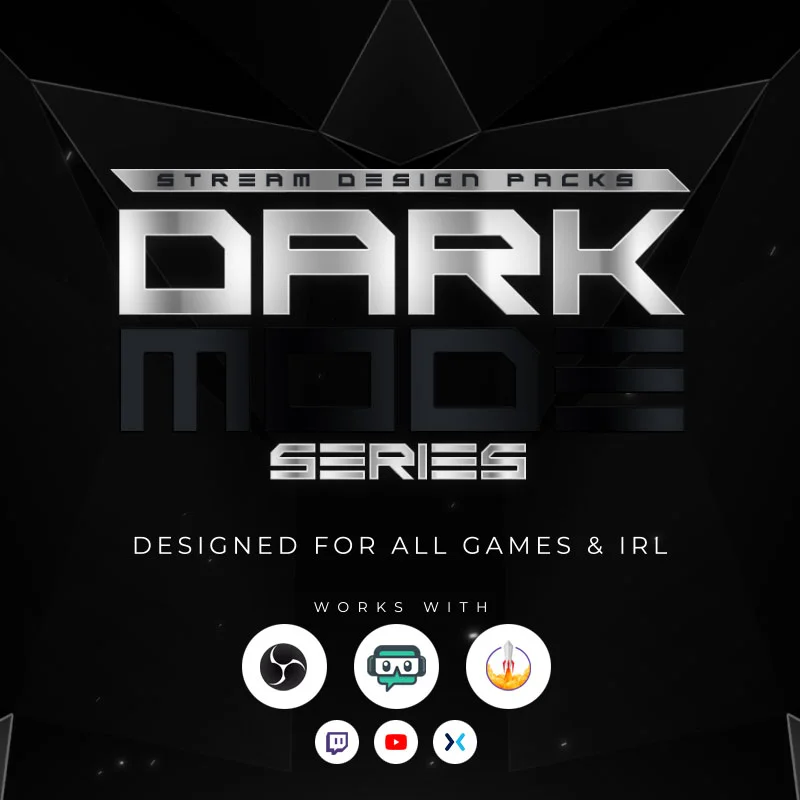 The ever-popularDarkMode Series Packageis once again a versatile design that is rather minimalistic in appearance, but at the same time has been given many unique details by our illustrators. As the name suggests, the DarkMode design is rather dark, but with its radiance and clean lines it could also adorn the mission briefing in an Avengers movie. We particularly liked the clean yet impressive animations in this package. So if you're looking for a design that you can be versatile and use with all games, the DarkMode Series Package is for you. 
This design looks especially good in these categories & games:
Counter Strike Global Offensive
Valorant
League of Legends
Fortnite
Call of Duty: WarZone
Apex Legends
Battlefield 2042
Path of Exile
Dota 2
Just Chatting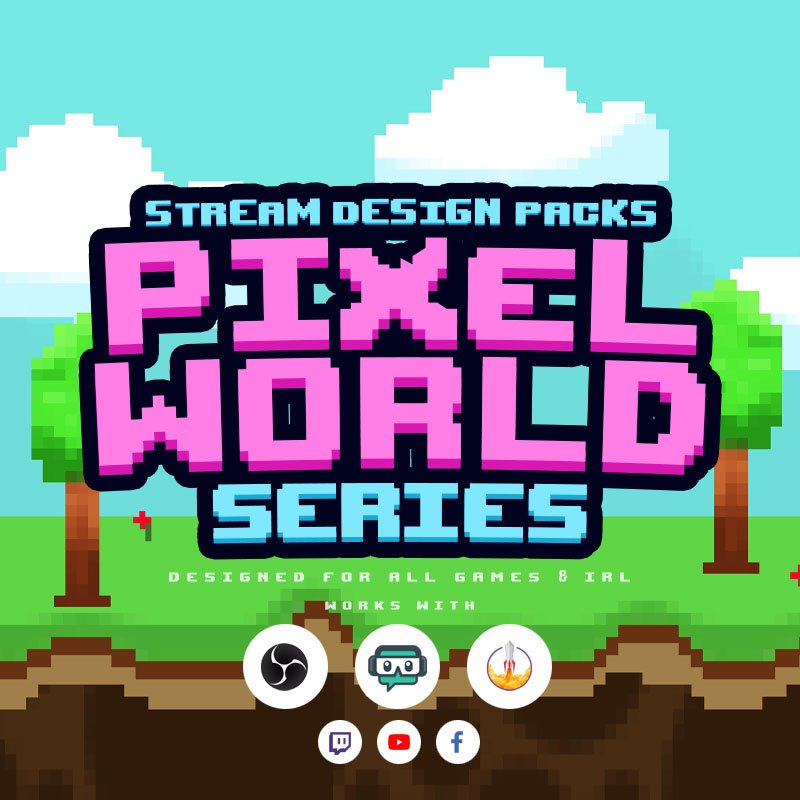 Hach ... The good old pixelart games - want to travel back in time to the days of 8 and 16 bit? Then buckle up, because with thePixelWorld Packagefrom OWN3D this journey is easily realizable. This design package impresses with its colorful pixel look, reminiscent of old games on the Super Nintendo. Take your viewers to the world of retro and pixel art games by installing this unique design package. Your viewers can surely use a break from the same old modern games and would be happy to join your stream. The hip font is the perfect addition to this already very coherent basic design. The transitions and animations are also very elaborately designed here and don't have to hide at all from concepts of big TV productions. If you like it unusual and want to surprise your viewers with a great concept, you should take a closer look at the PixelWorld Series Package. It didn't end up in our top 10 best designs for nothing!

In these categories & games, this design cuts a particularly good figure:
Animal Crossing: New Horizons
Minecraft
Final Fantasy
The Legend of Zelda
Stardew Valley
Pokémon
The Sims 3
Just Chatting
IRL
Fortnite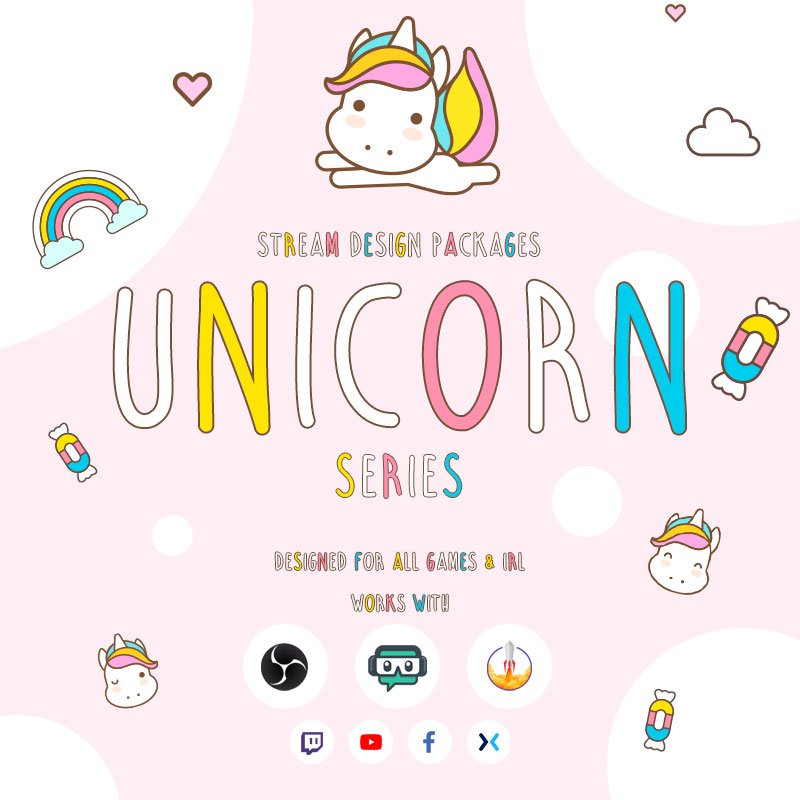 Oh yeah, you heard right. It's all about unicorns! This one-of-a-kind design pack is so cuddly and cute, it makes us want to grab a mixed bag from the kiosk next door. With theUnicorn Series Package, you'll turn your stream into a land of candy with unicorns. Flying candies, rainbows, hearts and pastel colors as far as the eye can see. Everything here has been perfectly coordinated to create a design package that you won't find anywhere else with such attention to detail. The cute animations round off the concept of the Unicorn Series Package in the best possible way and with the coherent panels and alerts, no questions remain unanswered. A beautiful and fun design that is guaranteed to catch the eye.

This design looks especially good in these categories & games:
Pokémon
Genshin Impact
Animal Crossing: New Horizons
Fall Guys
Among Us
Tales of Arise
Final Fantasy
Stardew Valley
Super Mario Kart
Just Chatting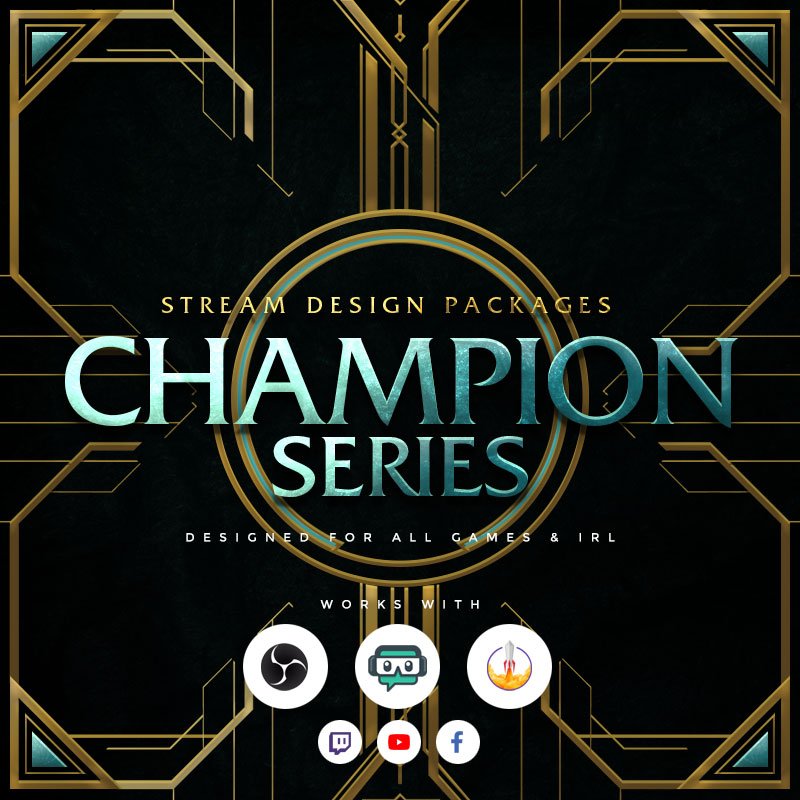 What the Darktech Series design is for shooters and action games, theChampion Series Packageis for RPGs, MOBAS and card games. The animated design penned by our talented illustrators is universal and looks great in both gaming and IRL streams. It is dominated by clean lines, various light shapes and beautifully coordinated colors that will amaze any Twitch viewer. So if you're the classic role-player looking for a design package that you can use for many different purposes, then you're guaranteed to be very well served with the Champion Series Package. The continuous concept of the design runs like a thread through your channel, as the banners and panels included in the package round out the look of your channel perfectly.
In these categories & games, this design cuts a particularly fine figure:
League of Legends
Dota 2
Hearthstone
World of Warcraft
Path of Exile
The Elder Scrolls: Online
Magic The Gathering
Just Chatting
New World
Age of Empires IV
Maurice
Content Creator
Quality Content right from the heart of a passionate Gamer. :)