STREAM INTERMISSION BANNER: OFFLINE, PAUSE, START, ENDE
Iridos STREAM INTERMISSION BANNER: OFFLINE, PAUSE, START, ENDE
Get the single product
Gesamt
Upgrade
and
save
with the
full
package: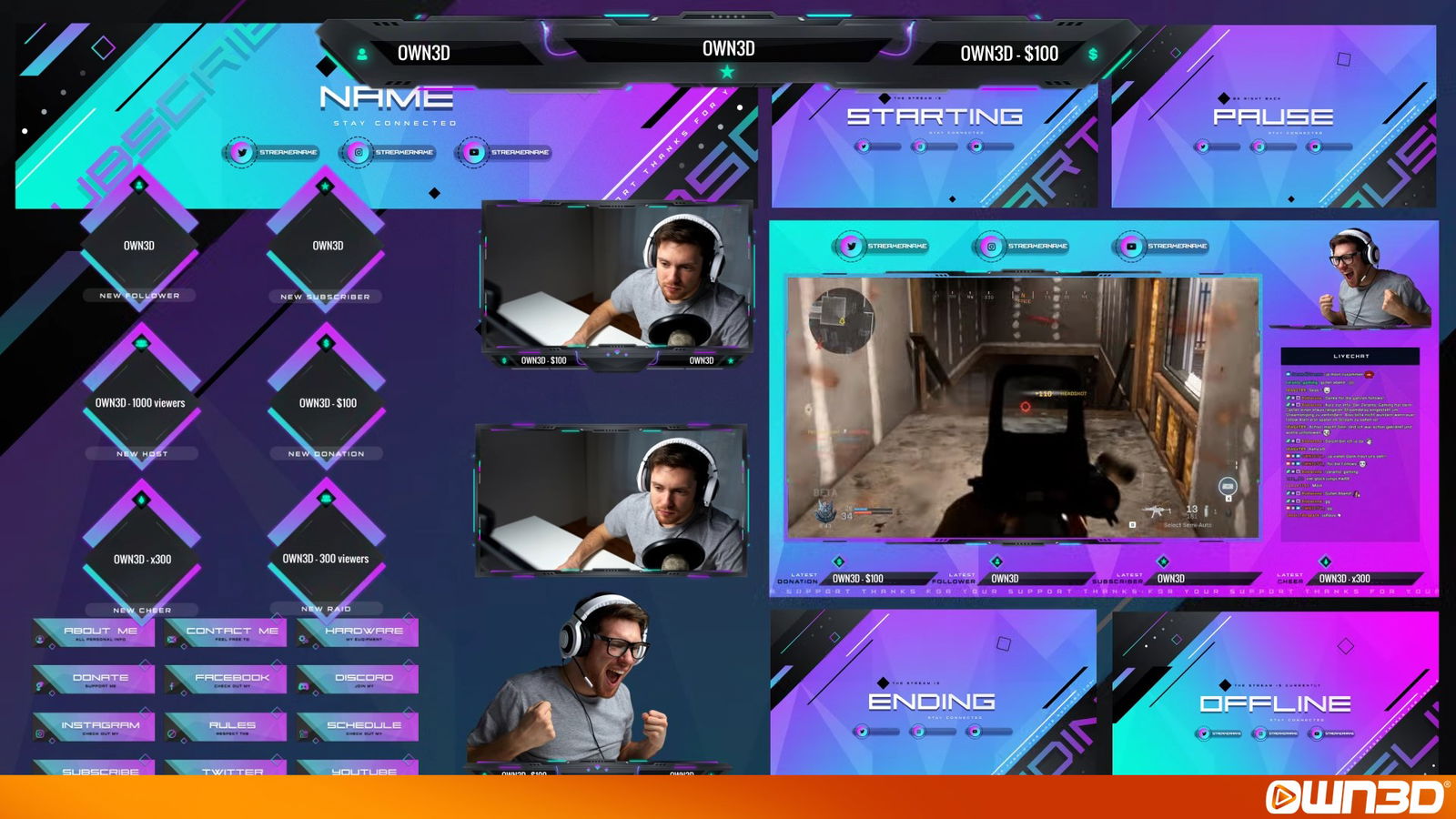 The package contains all overlays, transitions and much more
Go to Iridos Package
Starte in wenigen Minuten. Die Anleitung istsuper einfach!.
Twitch, YouTube, Facebook & mehr
OBS, Streamlabs, Streamelemente & mehr
Schnelle Hilfe & einfache Anleitung
Super einfache Schritt-für-Schritt-Anleitung. Starte in wenigen Minuten. /li>
OWN3D-Academy-Kurs: Premium-Stream-Overlay-Paket installieren
Tipps und Anleitungen zu OBS-Einstellungen, Geld verdienen, Community Building & mehr.
Streamlabs-OBS-Importdatei.
OWN3D Marken-Paket.
Gutscheine & Geschenke für den Start.
Schaue dir gleich die Schritt-für-Schritt-Anleitung an! Alle Infos sind auch im Paket Stream Overlay enthalten.
Funktioniert mit deinem Setup
Für Twitch, Facebook, YouTube, Trovo.
Funktioniert mit OBS Studio, Streamlabs, Twitch Studio, XSplit, Lightstream.
Funktioniert mit jedem PC, Notebook oder Mac
Streame in deiner Sprache
Verfügbare Sprachen:
Das ist alles enthalten
Da ist echt alles drin, was du für einen tollen, professionellen Auftritt zum Streamen brauchst!
Overlays (Webcam-Overlay, Overlay mit Labels, Talking-Screens, Übergänge)
Alerts
Intermission-Banner
Profildesigns und Social-Media-Icons
Passender Sound
Einfach herunterladen, entpacken und in deine Software importieren. Fertig.
Brauchst du Hilfe?
Kontaktiere uns 24/7 im Live-Chat oder schicke uns eine E-Mail!
Details
Intermission Banner vervollständigen dein Streamdesign. Egal, in welcher Situation sich dein Stream befindet, mit diesen Bannern bist du für alle Situationen gerüstet.
Offline Banner | Pause Banner | Starting Banner | Ending Banner
4 Blanko-Versionen enthalten (Text einfach mit der Streaming Software darauf platzieren)
Hohe Auflösung 1920 x 1080 px
Alle PSDs und JPGS enthalten
Alle Farbversionen wie im Produktbild dargestellt
Direkter Download
Check out the Iridos Package
Everything is in the package to start streaming
The designs are all matched
asset.intermission_banner_only
Funktioniert mit
Verfügbare Sprachen
Animierte Stream Overlays
Animierte Stream Webcam Overlays
Animierte Stream Intermission Banner
Animierte Stream Transitions
Animierter Stream Talking Banner
Streamlabs OBS Importdateien
These products are all in the
"Iridos Package"
This might also interest you