widepeepoHappy Twitch Emote Bedeutung
Das widepeepoHappy Emote kommt vorwiegend auf der Streaming Plattform Twitch zum Einsatz und wird von Zuschauern verwendet, um immenses Glück und Freude auszudrücken.
Das Emote ist eines von vielen Abwandlungen des Internetphänomens Pepe the Frog und zeigt Pepe mit einem geöffneten Mund und großen Augen.
Konträr zum widepeepoHappy Emote steht das widepeepoSad Emote. Dieses wird verwendet, wenn uns eine Aussage/Handlung traurig macht und zeigt Pepe the Frog mit einem traurigen Gesicht bei dem Pepe Tränen über die Wangen laufen.
Um das Emote zu sehen und zu nutzen musst du die Browser Erweiterung FrankerFaceZ oder BetterTTV installiert haben.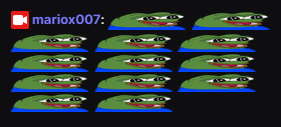 widepeepoHappy Emote Ursprung
Das Emote wurde im Jahr 2018 in die Emote-Sammlung von FrankerFaceZ aufgenommen und ist seit diesem Zeitpunkt verfügbar.
Da es sich beim widepeepoHappy Emote um eine Abwandlung von Pepe the Frog handelt, ist der Ursprung auf den Comiczeichner Matt Furie, den Schöpfer von Pepe the Frog, zurückzuführen.
Wie wird widepeepoHappy ausgesprochen?
Die Aussprache des Begriffes widepeepoHappy lautet wie folgt: "waid-pi-pu-heppy"
Fazit
Das Emote widepeepoHappy wird verwendet, um extreme Fröhlichkeit oder Freude zu zeigen. Das Emote kann über eine der beiden Browser Erweiterungen BetterTTV oder FrankerFaceZ freischaltet werden.
Mario
Content Manager & SEO Geek
I make sure that every post @OWN3D becomes legendary. :)