Animated Game Overlays & Designs
Every day, millions of enthusiastic streamers play their favorite games live on Twitch, YouTube, Facebook, and Trovo and become part of the large gaming community. Show what an ambitious streamer and gamer you are, and raise the look of your stream to a new level - with the exclusive game overlays from OWN3D. Show your audience you are a passionate gamer, and get our best game overlays! No matter what game you choose, we have overlays to match almost any hot video game or even explicitly designed overlays for your game.
Shop all designs
Showing 0 of 0 results in

Animated Game Overlays & Designs

What are Game overlays? 
Game overlays are easy to understand once you've seen an example, especially if you're familiar with the world of streaming. Let's say you're watching someone play a popular game. If you look at the category for it on Twitch, YouTube, and the like, you'll see that other people are also playing the same game. However, many content creators stream the game very simply: with gameplay, a microphone, and maybe a webcam on top. This way, they all look similar when you scroll through the category. However, if a stream in between scrolling with a video game overlay pops up - that is, a design above the actual game - it stands out from the other streamers and instantly makes the stream more attractive. In other words, you can see a game overlay as the first eye-catcher that attracts viewers. Once set up, your overlay does the rest, and you can focus on your content and community! Your designs will attract new viewers, and you can keep them entertained if you are a good player or simply likable.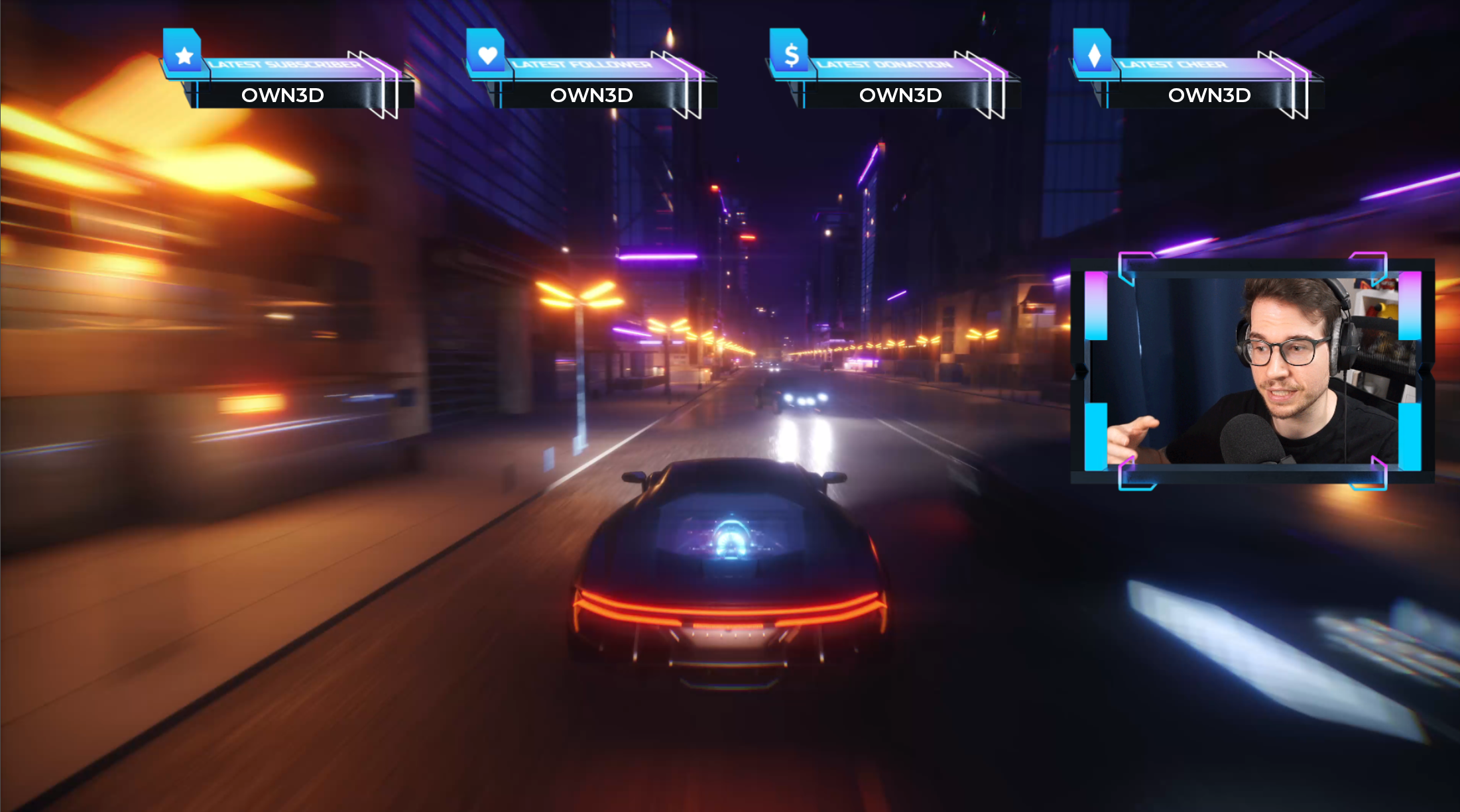 We stream with game overlays too
Many of our employees are enthusiastic gamers and streamers themselves. They knew: With game overlays, they could optimize their stream for Twitch, YouTube, Trovo, Facebook, and Co. So, even before they started at OWN3D, they came across our products in the store. They became customers before they decided to support the team with their knowledge! The best example is Sebastian, who bought an all-in-one package from our store for Valorant several months before he started working at OWN3D. Collectively, we create exactly what content creators need for streaming. With video game overlays set up quickly, you can get right back to what matters: Your community and having fun doing it!
Still, trying to convince? Check out the reviews from our loyal customers too:
The #1 rated store for Streamers
We may talk big, but we back it up. Read what customers have to say about us.
What game overlays are there? The best game overlays at a glance
Call of Duty game overlays
Call of Duty is one of the world's most popular video game franchises and a crown jewel of the FPS scene. Many successful streamers and content creators have found their niche in the CoD universe, both in professional and casual gameplay. If you want to upgrade your Call of Duty stream with a sleek and professional look, you've come to the right place! We've partnered with Activision to bring you officially licensed Call of Duty overlays that you won't find anywhere else. Our Activision-recommended CoD game overlays will help you stand out in your stream category.
Explore our CoD Game Overlays
DayZ game overlays
You can now get official DayZ designs for your stream for the first time ever, exclusively from us. Our DayZ game overlay designs result from a unique worldwide collaboration with the game's developers and publishers. These graphic elements are all supported by Bohemia Interactive. The DayZ livestream overlays include everything you need for a top-notch streaming setup, no matter what platform or streaming software you use. Look out for the exclusive DayZ game overlays!
Explore our Dayz Game Overlays
League of Legends overlays
The ever-popular MOBA game is the most successful and continues to be played en masse on all streaming platforms. Especially in e-sports, League of Legends is still a powerhouse, and the tournaments played are among the most highly endowed worldwide, with prize money of up to 6 million US dollars. As a strategy fan, you shouldn't miss out on LoL or our game overlays. The setup is straightforward and done within a few minutes. Customize your stream with visually appealing designs, choose your champ, and destroy the other team's Nexus! The League of Legends overlays from OWN3D not only make a professional impression visually but also fit perfectly into the concept of a LoL stream. Check out the best game overlays you can find on the market in our store.
Explore our LoL Overlays
Valorant overlays
With the launch of Valorant in the summer of 2020, Riot Games proved that they could not only deliver in the MOBA genre but also develop top-class and, above all, competitive team shooters. Valorant quickly became a fan favorite and a new star in the e-sports sky, now one of the most watched titles on streaming platforms. If you want to become a real Valorant pro and stream your way to it, you should enhance your stream with unique Valorant game overlays. OWN3D's Valorant overlays were developed by our talented illustrators and are perfectly designed to match the look of the game - a real feast for the eyes of your audience! Show your viewers that you have more to offer than just gameplay.
Explore our Valorant Overlays
CS:GO overlays
Counter-Strike is possibly the forefather of modern e-sports, and even decades after the first version was released, the well-known system, in which two teams of 5 compete against each other on winding maps, has not worn out. This is probably also why CS:GO is still one of the most streamed titles on Twitch & other platforms. Whether you play alone in teams or in a clan, you can stream Counter-Strike whenever you want. You're sure to reach viewers who want to talk about the game or watch you play. But of course, what counts is the first impression you make on your audience! To stay in people's minds and show that you are an ambitious streamer, you should take care of a suitable CS:GO game overlay.
Explore our CS:GO Game Overlays
WoW overlays
The world of Azeroth continues to captivate millions of players, especially streamers, many years after the first servers went online. If there is a perfect game for streaming, it is World of Warcraft. The gameplay can be both leisurely and very exciting and thrilling. What you do is up to you - because WoW is a massive MMORPG. No matter if you belong to the Alliance or the Horde, are human, orc, or night elf - in the OWN3D store, you will find the perfect WoW overlay for your playstyle and preferences. Are you currently playing Retail, or are you old school and playing Wrath of the Lich King Classic? Do you like to raid, farm achievements and materials, or fight for titles in the arena? We have the right design for every WoW player. Your viewers will also love it when the stream design seamlessly blends with the game's user interface, creating a cohesive look that invites you to keep watching.
Discover our WoW Game Overlays
Fortnite overlays
Fortnite is one of the best-known and most popular games in the world. Millions of players on Twitch and other streaming platforms are still battling for the coveted Victory Royale. It's no surprise that the game is at the Top10 of Twitch categories every month and has hundreds of millions of watch hours a year. Fortnite continues to be the talk of the town and naturally brings out a streaming star or two. What Ninja & Co. have demonstrated is increasingly becoming a reality for new streamers! You can also become the next Fortnite overachiever and captivate your viewers with your gameplay and the matching Fortnite game overlay. Our Fortnite gamers design the designs we offer for Fortnite gamers. In our store, you will find a wide range of great Fortnite game overlays, one or the other of which will surely meet your taste.
Explore our Fortnite Game Overlays
Frequently asked questions about game overlays
Where can I find game overlays?
You've come to the right place if you're looking for game stream overlays! Many of our staff members have purchased video game overlays from OWN3D before becoming part of the OWN3D team. So our team of gamers and streamers knows exactly what you need for your stream. We make sure that you are in good hands in our store and are guaranteed to find what you are looking for.
Which broadcasting tools do the OWN3D game overlays work with?
You can integrate the game overlays into all existing broadcasting tools, whether OBS Studio, Twitch Studio, XSplit, Streamlabs, StreamElements, or other programs!
What does a game overlay all-in-one package include?
Our video game overlays contain everything you need to start streaming via a broadcasting tool of your choice on Twitch, YouTube, and other platforms in just a few minutes. Starting with the core, the game overlay, where you can place your game, chat, camera and alerts. Plus, with the label designs inside, you also have the perfect place to highlight new followers, donations, and more. If you want to highlight your gameplay and only integrate the camera into the same scene, you can also find webcam overlays in different designs (also suitable for green screens). Furthermore, we also provide you with matching alerts, including sounds for all possible situations and platforms. With the animated intermission banners, you have the perfect start into the stream, a striking design for a break, or a good end scene to say goodbye. To be able to switch between the scenes expressively, an all-in-one game overlay package also includes a stream transition.
Last but not least, you'll also find static designs for your Twitch panels, your profile banners, and a desktop background - all of which are coordinated with your game stream overlay! This way, your stream, channel, and desktop will have an impressive overall picture. By the way: Whether you are just starting to stream, are already a Twitch affiliate, or are aiming to become a partner, it doesn't matter for overlays, alerts, and the like.
How can I set up game overlays?
It's straightforward! You can create different scenes and populate each scene how you like it. Once you have downloaded and unpacked your OWN3D video game overlay, you can drag and drop the desired video file (overlay) and add it to a broadcasting tool of your choice - for example, the free tool OBS Studio. If you need help setting it up, we have a suitable OBS Studio tutorialhere!
Where can I find free game overlays?
You will also find free game overlays, but not directly in our store. For that, we have our free streaming toolOWN3D Pro! With OWN3D Pro for OBS Studio, we offer you five free game overlays and alerts. All you have to do is sign up, and you can use our all-in-one tool for free. The game overlays are fully installed and ready to use in seconds with just a single click. That means you can start streaming right away! You can always upgrade to a premium subscription if you like what you see and want to use more overlays, alerts, or music.
Should I use a game overlay?
With a game overlay, you are well-advised. The reason is quite simple: You stand out from the other streamers with a game stream overlay. If you want to build a community by streaming, this plays a significant role. This way, new viewers are likelier to click on your stream than if your stream looks like all the others.
Can I use different game overlays for different games?
Make sure that the graphics and sounds fit into the concept of your stream! For example, if you mainly play medieval games and sit in front of the camera in a suit of armor, unicorns and rainbows might not be the best fit. If you change your game often and want to set up a new overlay to match the content quickly, we recommendOWN3D Pro. With the streaming tool, you can choose between 900 overlays and alerts as an OWN3D Pro subscriber and five free game overlays and alerts installed with a single click! This tool can start your stream in a few minutes with brand-new overlays perfectly tailored to the game. If you want to switch back to the old overlay afterward, this overlay will also be saved as a scene collection. In other words, once set up, you can easily switch back and forth between collections and games and stream whatever you feel like.