Animated Just Chatting Overlays / Chat Overlays
If the recent past has shown one thing, livestreaming is now more than just broadcasting games. Many creators on Twitch, YouTube, and other platforms are increasingly focusing on pure entertainment through interaction with live chat. The just chatting category on Twitch, in particular, has been the undefeated number 1 of all stream categories for over a year. This way of entertaining an audience opens up new opportunities for entertainers who want to stream beyond the gaming theme. But what should the design of a stream that isn't about video games look like? Our exclusive Just Chatting overlays were explicitly created for this purpose! Enter the world of live entertainment and give your stream a modern, timeless and unique design with OWN3D's Just Chatting overlays.
Shop all designs
Showing 0 of 0 results in

Animated Just Chatting Overlays / Chat Overlays

What are Just Chatting overlays? 
Any design element placed directly on top of your streamed content is commonly referred to as an overlay. Overlays help you as a creator to design your stream and stand out from other streamers. Whether they are images or animated video elements, it doesn't matter.
Just Chatting overlays are stream designs whose concept is not visually based on any particular theme. They usually enhance the look of your content and provide the viewer with an orderly and uncluttered look. While many overlays are designed for gaming, we offer a massive selection of Just Chatting overlays that fit perfectly into your stream. The Just Chatting overlays give you the perfect frame for your content and space to showcase your latest followers, donations, subs, and co.

Why should I stream Just Chatting?
For over a year, the Just Chatting category, a subcategory of IRLon Twitch, has remained unbroken at #1. While the popularity of games varies, Just Chatting is guaranteed to always be on the winner's throne. 
As the name suggests, this category is for chatting with the chat. You can set a topic, interact with your community, or just chit-chat. 
So if you prefer to talk comfortably with the chat, like to discuss specific topics or reaction content is your thing, then the Just Chatting category is the right one for you. Remember, though, that thousands of content creators are in the same category. Many streamers start with Just Chatting before switching categories and streaming a game. It takes that special something to stand out among all the motivated streamers. That's where Twitch Just Chatting overlays help you. They are a real eye-catcher and might make one or the other viewer click on your stream rather than one who is just streaming a facecam.
We have streamed with Just Chatting overlays as well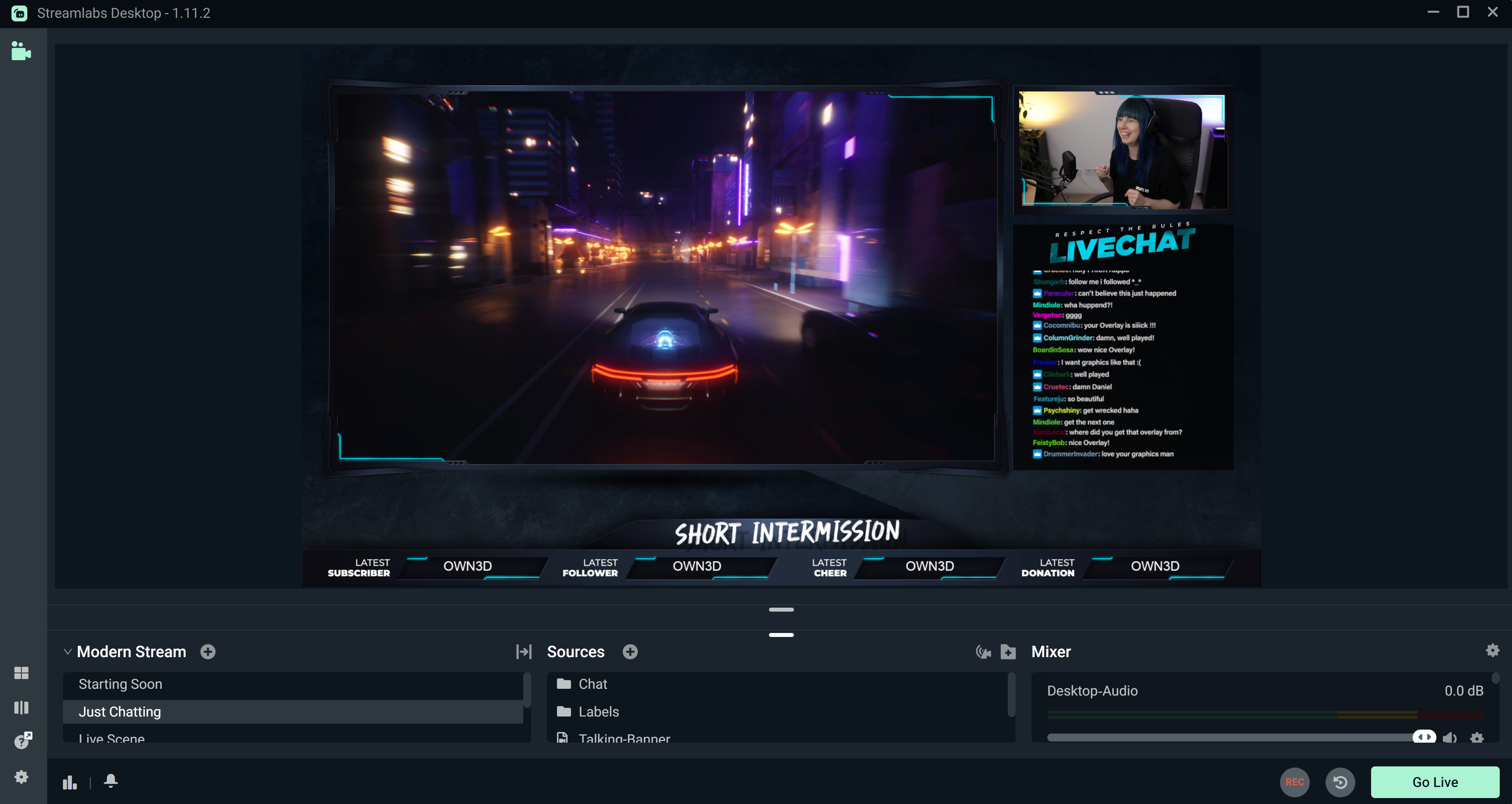 Some of our employees stream themselves and like to vary between games and just chatting streams. Due to the knowledge that our colleagues on Twitch, YouTube, and other platforms have acquired in this category, we know what you need. So that you can become the highlight among the many streamers, we want to help you make your Just Chatting stream shine with ease and in just a few steps. Also, many of our customers can confirm that OWN3D is the number 1 place for them to go when they are looking for Twitch Just Chatting overlays:
The #1 rated store for Streamers
We may talk big, but we back it up. Read what customers have to say about us.

Do these Just Chatting overlays work with my setup?
Whether Twitch, YouTube, Facebook, Trovo, or any other platform, the Just Chatting overlay packages fit all streaming platforms and any popular broadcasting software (OBS Studio, StreamElements, Twitch Studio, XSplit, or Lightstream).
What's in a Just Chatting overlay package?
Just chatting overlays with matching labels
When you're in the Just Chatting category, it's usually not enough to point a camera at you in full-screen mode and start talking. Since you're the focus and don't have gameplay or anything else filling the screen, it's essential to make the design of your livestream even more inviting. For example, with our Just Chatting overlays, you can add the chat directly to the stream or give your latest followers, donations, and more in a descriptive place. This, in turn, leads to more variety and a significant lightening of the overall look. In addition, your viewers are motivated by their names being displayed on your stream to perform one or the other action live in the stream, such as donations, followers, subscriptions, likes, and more.
Start, break, end and offline banners
Streams tend to get longer and longer. That's why taking a break during your stream is incredibly important. But especially in the just chatting area, this can lead to viewers switching off or new viewers looking for another stream to watch. After all, if you take a break but leave your chat with a screen where nothing is happening, viewers might get bored. That's why we recommend you use Intermission banners for special scenes that will provide variety even during breaks, pick up your viewers at the beginning and provide a good finale at the end. In addition, the start, break, end, and offline banners also fit perfectly with the rest of your channel's design.
Just Chatting stream alerts
Besides overlays, it's also crucial to have alerts enabled for your stream. These are displayed when, for example, a fan subscribes to your channel or leaves you a follow. Donations via the donation page can also be linked to alerts so that you can automatically thank them immediately. With activated Just Chatting alerts, which also match the rest of your livestream design, you are always on the safe side, keep an eye on all activities, and create an incentive for your viewers to support you. Just Chatting alerts have often been used to generate tidal waves of support.
Animated scene transitions
Depending on how you set up your stream, you might have to switch between different scenes in just chatting streams. For example, this would be when you switch from Just Chatting to the game or take a short break. You can use so-called animated scene transitions to make the transition between these scenes less abrupt. These are an important link between the individual scenes and are included in every Just Chatting overlay package.
A complete design for your stream channel
Use profile banners,Twitch panels, profile pictures, and other graphics to create a consistent style on your stream channel. If your channel matches the content, you create a real recognition value.

How do I set up my new Just Chatting overlay?
Setting up Just Chatting overlays has never been more accessible. If you want to learn how it works, this step-by-step guide is for you. This guide was written specifically for the most popular streaming tool, OBS Studio, but works similarly for other broadcasting tools. Follow the instructions below, and you'll have your new Just Chatting overlay set up in no time.
Step 1
After you have chosen and purchased an excellent Just Chatting overlay complete package, you will be automatically redirected to the corresponding download page. Here you can download the package and save it on your PC. Choose a suitable location and unpack the file.
Step 2
Open the streaming tool OBS Studio. If you don't have OBS installed yet, you canfind the download link here. Choose the appropriate operating system, download it and install the program on your PC.
Step 3
Once you have opened OBS Studio, an empty scene should automatically be available. If not, you need to set up a new scene in the "Scenes" dock at the bottom left by clicking on the "+". Once this is done, you can assign a new source to this scene.
Step 4
Now it's time to insert the new overlay. Just click the plus icon in the "Sources" area and then click "Media Source".
Step 5
Now you can click on "Browse" to select and insert the files. To do this, navigate to the folder of the downloaded file in File Explorer and select the overlay element you want to add.
Step 6
Repeat this process until you have added all the overlay elements you want, such as webcam overlay, etc. Then you add your cam or the content you want to stream. After that, you can move or adjust the individual elements in the preview screen with a mouse click.
Design ideas for your Just Chatting stream
The concept of your stream sohuld, first and foremost, please you and reflect you as a person in the best possible way. So choose exactly the Just Chatting overlay from our store, which you find the most appealing. Make sure that the design's color scheme, design, and style match your content. Do you want your stream to look as cozy as possible? Are you a pen & paper player and want to inspire your viewers with role-playing knowledge? Do you want it to be a bit more futuristic? We at OWN3D have suitable Just Chatting overlays for all these purposes in our store!
Pirate Just Chatting Overlays
You love the sea, and you like pirates? How about matching pirate just chatting overlays?
Explore!
Jungle Just Chatting Overlays
Survival is your thing? Then customize your stream with the Jungle Series.
Explore!
Unicorn Just Chatting Overlays
Do you want your stream to be as fancy and colorful as you are? Take a look at the fancy Unicorn Pack!
Explore!
Frequently Asked Questions about Just Chatting overlays
Can I also start a Just Chatting stream without an overlay?
Of course. You can set up a webcam, start your stream with a streaming tool of your choice and go. But your stream will look like many other streams and might get lost in the overview. You can lighten the mood with just a few design elements and significantly enhance the overall image.
Can I also create my own Just Chatting overlays?
The question here is clearly "can". Because, in principle, anyone can create their own Just Chatting overlays. However, whether this can be implemented without further ado is entirely different. To create your own overlay, you usually need experience with the corresponding design programs and, of course, a specific basic understanding of design. If this is not the case, you will quickly reach your limits when designing your overlay. The time you spend on this could be dedicated to streaming and your community instead. Here is where OWN3D comes into play. Experienced and professional illustrators create our designs perfectly suited for your streaming needs. We provide you with precisely what you need, and you can set everything up quickly so you can fully concentrate on your content.
Does OWN3D also have free just chatting overlays?
With our innovative streaming toolOWN3D Profor OBS Studio, you get access to several free features. You can also choose between free Just Chatting overlay designs and activate them for your stream with just one click. If you like what you see, you can upgrade your OWN3D Pro plan at any time and unlock access to over 900 overlays and alerts to choose from and switch back and forth freely!
Where can I find Just Chatting overlays?
You're in luck because you're already in the right place! OWN3D has been among the leading digital streaming product providers for many years. That's why it's essential for us to provide our community with the best Just Chatting overlays. To upgrade your livestream and stand out from the massive crowd of creators, you should look closely at our Just Chatting overlays.
Should I buy a Just Chatting overlay?
That's up to you, but we always recommend using a Just Chatting overlay. Especially in this category, overlays are fundamental because many content creators in the Just Chatting category use only their webcam for streaming. With an overlay, you stand out immediately and can show more information about your stream at first glance, so viewers know what it's all about.
Need help with your Just Chatting overlay?