Copyright / Royalty Free Twitch Music for Streamers, Youtubers and digital creatives on Spotify, Youtube, Apple Music & many more!
Looking for something chill, low key that suits the mood of your stream?
Never worry about copyright strikes again.

Choose your favorite songs from 300+ tracks (EDM, LoFi & Synthwave), sorted into 12 different albums on Spotify, YouTube, Amazon Music or Apple Music.

Boredom? Not gonna happen. More tracks will be added on a regular basis

All Songs are free. Forever. No strings attached.

... did we mention it's completely FREE?
We're making streaming hassle-free again. Because music should never be something to worry about.
Livestream
OWN3D Music on Twitch
Visit our Twitch Livestream and convince yourself of OWN3D Music!
Those who know Twitch and have already used it know streams that are accompanied by music. Background music is a popular feature for many viewers. But for you as a streamer it is also connected with some hurdles. Not every piece of music may be used for Twitch streams. In this article we will show you what to look out for when you are using music on Twitch and everything you need to know about it.
In June of this year, a horrified murmur went through the ranks of the Twitch community when the streaming platform announced that streams and VODs with unlicensed music will be deleted and the corresponding account of the streamer will be banned after three warnings. Streamers from the USA in particular reported that they were affected by the new regulation and that at least some of the saved streams and VODs had been deleted.
The reason for this change was not Twitch itself, but rather the music industry, whose labels filed more and more complaints with the platform and insisted on the copyright of certain songs and soundtracks.
Lange Rede, kurzer Sinn:
To cut a long story short: the regulations on Twitch regarding music are now crystal clear. Basically, streamers are not allowed to use copyrighted songs and sounds, although certain songs are allowed for live streaming, but not if the stream is subsequently saved as a VOD. So as long as you have not produced 100% of the music played in the stream or VOD yourself or have the appropriate licenses, you are not allowed to use it.
If you think now "Easy, then I'll just do a remix!", then you rejoiced too early. The regulation concerning licensing also applies if you create a remix or use a cover version. Even more precise: The regulation applies no matter in which form you change the song. No matter if you mix it, cover it or create a karaoke or lipsync version of it. Even if you present the music in a different or visual way, such as a text, tablature or musical notation, you need the appropriate permission to do so. And last but not least, it is not enough to buy a song on CD, because with a normal purchase you secure the right to listen to the song yourself, but not to share it with others.
If you are disappointed right now, we can reassure you, because help is on the way. In September 2020, Twitch released "Soundtrack" because of the developments mentioned above. This is a new product of Twitch, which separates video and audio, whereby for example a VOD can "only" be muted and does not have to be deleted completely. The extension also makes it possible to pass on more information about the background music to your viewers during the live stream.
Within Soundtrack, which can be used at the same time during a Twitch-Stream, Twitch offers a selection of songs, which are for free use. The company has decided to work with a manageable number of labels and distribution platforms, including SoundCloud, Dim Mak and DistroKid. All songs that are available in the soundtrack library are released for use in your live stream and will be deleted from the VOD, depending on the licensing. Similar to Spotify or SoundCloud, Twitch Soundtrack also provides playlists sorted by mood.
The additional good thing about Soundtrack is that not only streamers have the possibility to add background music to their streams, but artists also get a new platform on which they can make themselves known and grow. This is what the industry calls a win-win situation. OWN3D Music is also available free of charge for every streamer via Twitch Soundtrack.
Adding music to the Twitch stream is easy. If you follow the steps below, it will work without any problems:
Start OBS

Open Settings and set the "Desktop Audio" device under "Audio" in "Devices".

Here you select the audio device which will play your music. Usually "Standard" or the respective audio device.

If you have selected the audio device under "Desktop Audio", another device should have been added to the audio mixer, which should work when playing music.

To be on the safe side, you can click on the gear icon in the mixer and open the "Advanced Audio Settings". Here you should find desktop audio on "Track 1" and the volume should be set correctly.
That's it. The audio device has been set up and you should be able to play music in your stream.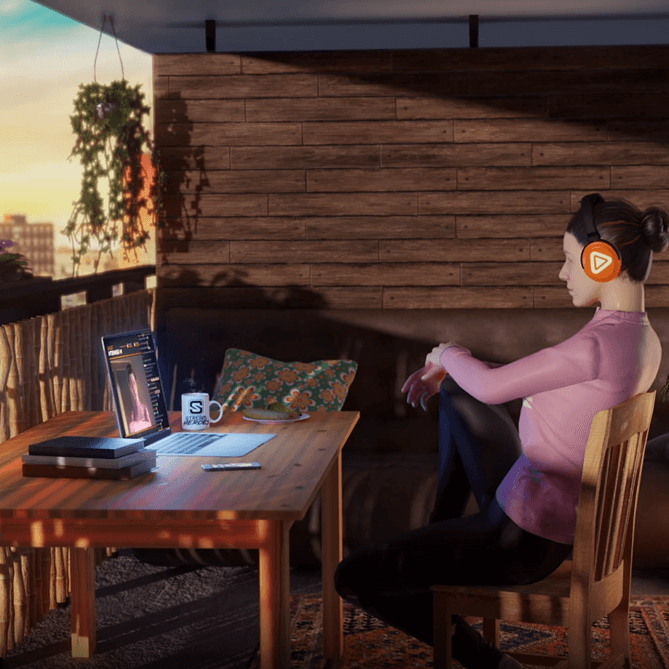 Copyright
In general, copyright law applies from the moment a song is created. This means that you are not allowed to copy, publish or pass on a song of which you are not the creator. For Twitch this means that you are not allowed to use background music for your stream or VOD on Twitch that you have not created yourself or for which you have the appropriate license.
Creative Commons
Creative Commons Licenses (CC) are an extension of the generally valid copyright law. Producers of films, photos, music or even texts can use Creative Commons licenses to determine in which form or under which conditions their product or work may be used. These licenses are displayed as icons, with the following options available:
Symbol of a human: All CCs include this icon, which states that the author of the work must always be named, at least with an appropriate link. If you want to be nice, do so with the full attribution.
Symbol of the crossed out dollar: This symbol means that you may reuse the work, but only for non-commercial purposes. In short: You are not allowed to earn anything by using it. In case of a possible direct or indirect profit from the use, the author usually asks for a financial compensation.
Symbol of the equal sign: This means that you may not modify the work in any way and may only use it in the exact way it is provided.
Recycling symbol: If this symbol was used as CC, you must make sure that when you reuse the work you use the same license as was used for the original.
Public domain works
These are works whose creator has been dead for at least seventy years. Their artistic legacy is thus available to the general public. Attention: It can happen that music labels still hold the rights to certain pieces of music or recordings, which means that the copyright and any Creative Commons that may exist again come into play.
Copyright
Copyright and intellectual property rights are often confused or equated, but they are not really the same. While copyright law protects both the economic and the ideal rights of a work or its author, copyright concentrates more on the economic side. In copyright, the creator and the author of a work need not necessarily be the same person or institution.
What if you want to play music in your stream and at the same time respect copyright and copyright laws? In addition to using OWN3D Music, you have many other options through the many platforms that offer paid music.
For example, you can subscribe to Artlist, Epidemic Sound, or Comma, which allows you to download songs and play them while you stream. We recommend that you take a look at the licensing when buying music - now you know what's important.
When it comes to what you may or may not do in terms of background music, you can simply follow the general Twitch rules of conduct yourself. Among other things, these rules state that you may not use violence, threaten violence, use violent language, or generate inappropriate or unwelcome sexual attention. This means that you should not make any sexualized or sexist remarks, comments or jokes - and neither should your chosen music. It's really worth going through the Code of Conduct here and sticking to the simple rule: Behave like your mother is watching your stream.
From a technical perspective, it's certainly helpful if your background music doesn't suddenly become the foreground and push you into the background acoustically. So make sure to choose the right volume. Basically your background music has an influence on the overall impression of your stream. Think about the mood you want to create and choose your music accordingly. Also consider that the music you like may not necessarily be what your audience likes and try to be a little lenient.
Twitch music on the fly - FAQ
What kind of music is allowed on Twitch?
You may only use music on Twitch that is copyrighted or licensed to you. The music provided in OWN3D Music may be used for streaming.
Am I allowed to use YouTube music on Twitch?
Basically, yes and no. For both YouTube and Spotify, it is important to make sure that the songs you play are free to use or that they are copyrighted songs. However, there are special songs on Spotify and YouTube that can be used freely.
What is the Twitch Music Library?
Until almost two years ago, Twitch had a so-called music library. It contained about a thousand music titles that were available for free use in live streams. However, the Music Library was discontinued and replaced by "Soundtrack" in September 2020.
What is Amazon Twitch music?
It is an extension that allows you to play music from Amazon during a live stream. BUT: It only works if you are an Amazon Prime member or subscriber of Amazon Music yourself and only for those of your viewers who are, too.