We make streaming easy
all-in-one tool for your stream
900+ overlays & alerts
One-click setup
Must-have livestream tools
The perfect subscription for your stream
With the PRO subscription, you unlock access to over 900 premium overlays and alerts, activated with just one click.
On top of the easy one-click setup and huge library of stream designs, every OWN3D Pro user (even free users!) gains access to our amazing streamer tools such as a chatbot, donation page, goal bars, countdown and more, for a perfect streaming experience.
Over 900 overlays & alerts
Can't decide which overlay to use or want to add variation to your stream regularly? With the OWN3D Pro subscription, you can do that easily and in a few seconds with just one click.
Access the biggest stream overlay library available!
Everything you need as a streamer
Including just chatting overlays to webcam frames and unique scenes for start, pause, and more. Labels, chatbox and countdown are set up automatically too!
One-click setup
With the OWN3D Pro tool, you can save yourself painstaking design and setup work in OBS Studio, which can often take hours.
Essential free tools to assist your streaming career
Chatbot, donation page, goal bars, linkspree, schedule generator and useful Twitch extensions - the perfect all-in-one streaming tool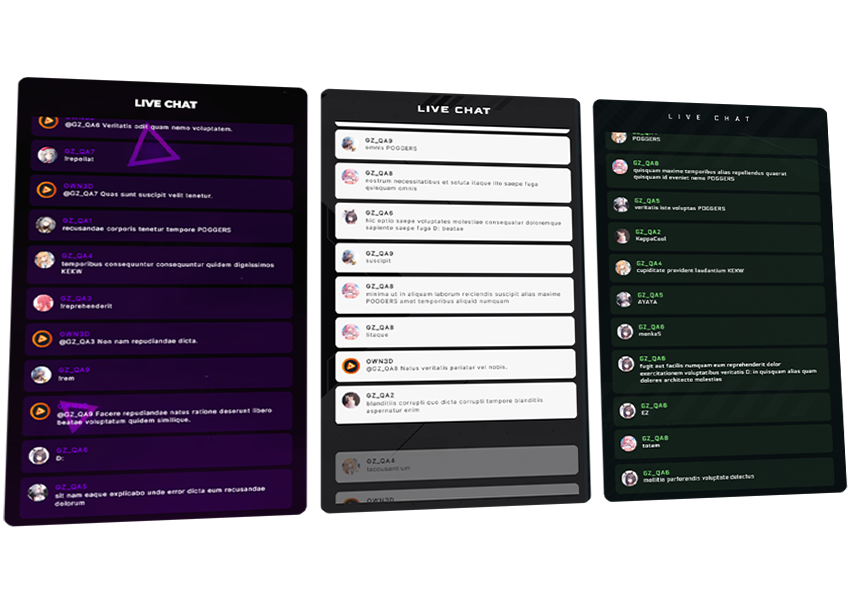 Compatible with Twitch and OBS Studio
The OWN3D Pro streaming tool is designed to work for Twitch in combination with OBS Studio. Download OBS Studio, install OWN3D Pro and start streaming immediately with a few clicks!
Want to know more?
If all these features haven't convinced you yet, we've created an overview of what you'll receive:
+
OWN3D stream package
One stream overlay design with fitting alerts
Designed for OBS Studio, StreamElements, Streamlabs and more
Compatible with Twitch, YouTube, Facebook and Trovo
Static images and .PSD files included
Designs for your channels included
OWN3D Pro subscription
Over 900+ overlays and alerts in one tool
Easy all-in-one streaming tool for OBS Studio and Twitch
Saves time - Easy one click installation of all overlays and alerts
Labels, chatbot, livechat, donation page, goal bars and more included
Earn credits and unlock stream assets
Start your stream quickly
Questions & Answers
Why is OWN3D Pro an all-in-one streaming tool?
With OWN3D Pro you get everything you need to keep your streaming career going. The overlays that you can set up with one click help you attract your first viewers on Twitch, while alerts provide more interaction in your stream. The chatbot helps you regulate your chat, inform your viewers and keep trolls and bots away. Labels automatically present recent followers, donations and more. Your viewers can support you monetarily via your own OWN3D Pro donation page. Goal bars let your viewers know which stream goals you are currently pursuing. Going live soon? Use the stream schedule generator to let your viewers know when you'll be live. This and many more tools will help you stand out with your stream! Whether a newcomer or a pro, set up your stream quickly and easily and attract new viewers from the very first minute.
What do I get with the PRO subscription?
With your active PRO subscription, you can install and use all overlays and alerts as you wish. You'll unlock the huge library with over 900 overlays and alerts, that are all quickly set and your stream is ready to go live in just a few clicks! You can add variety to your stream, impress your viewers at Halloween or Christmas, and switch back to your standard overlay at any time after the special events. All overlays are created as a separate scene collection in OBS Studio. So it's easy to switch back and forth between your downloaded overlays.
What benefits do I get when I get the PRO Sub?
We have listed all the benefits of the PRO sub above in detail.In essence, you can choose and easily switch between 900+ different alerts and overlays!So if you can't decide on a design, or you want to keep switching up designs depending on the season or host special streams, then the OWN3D Pro subscription is the way to go!
How can I use the OWN3D Pro tools?
All the current tools such as chatbot, donation page, linkspree, countdown, goal bars and more can be accessed for free! Connect your Twitch account with OWN3D Pro and start using all of our amazing tools immediately. If you want to get the most out of OWN3D Pro, subscribing will give you access to our huge library of 900+ overlays and alerts.