Animated Streamelements Overlays
Attracting new viewers as a content creator can be challenging. If you scroll through Twitch or other streaming platforms, you'll see hundreds of streamers with the same goal: To find viewers with whom they can share their common passion or talk. That's why it's even more critical that your content looks appealing at first glance. Surprise potential viewers with creative, colorful, or mystical StreamElements overlays for your stream! With a StreamElements overlay, you give your stream a look that stands out from the rest and is therefore guaranteed to attract a viewer or two. We at OWN3D provide you with a vast selection of overlays, and you are guaranteed to find the perfect design.
Shop all designs
Showing 0 of 0 results in

Animated Streamelements Overlays

What are StreamElements overlays? 
As a starting point for a meaningful design structure, StreamElements overlays can show off. You can use these various elements to elevate your stream and content to a new level. Of course, you can determine the layout, the use, and the actual structure of the individual design elements yourself and thus stage your stream according to your taste. 
When you start streaming, this design makes you stand out among content creators who don't use overlays. Your potential viewers feel the same way. Therefore, with StreamElements overlays, there's a better chance that new viewers will take a look at your stream! Be honest: Wouldn't you instead enter the stream that you find more visually appealing?
We also started with StreamElements overlays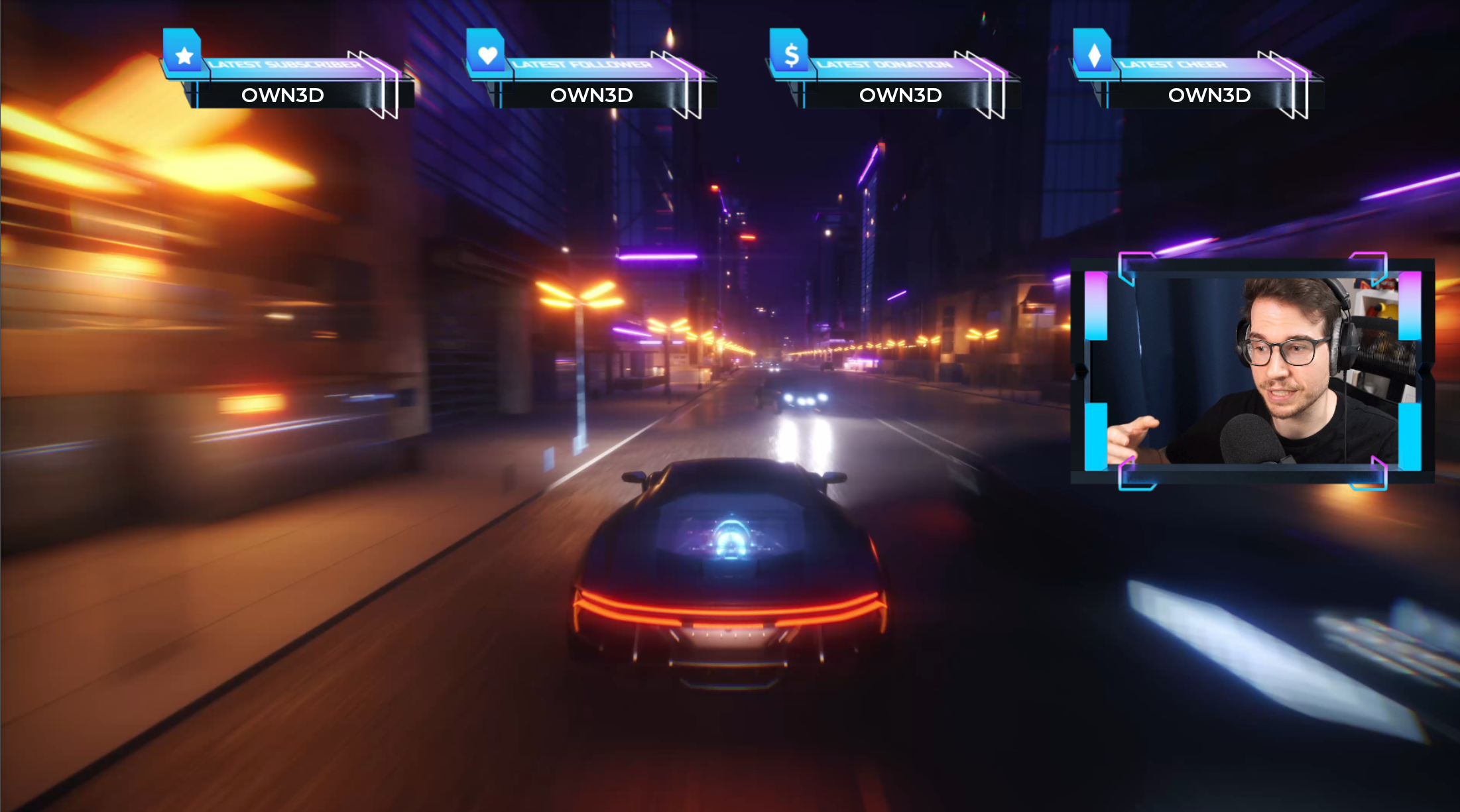 Did you know that many of our employees streamed and stocked up on OWN3D StreamElements overlays themselves before becoming part of the team? Not only the unique products convinced them to be at the right place at OWN3D, but also the knowledge: This is where passion becomes a profession! Together we manage to offer exactly what every content creator needs for streaming. Quickly set up StreamElements overlays so you can get right back to what matters: Your community and having fun streaming! 
Not convinced yet? Check out the reviews from our loyal customers too:
#1 Online Shop for StreamElements Overlays!
Want to learn why we are the best shop for StreamElements overlays? Read our customer reviews and see for yourself!

Why StreamElements overlays by OWN3D
For professional content creators, an essential component of the overall online presence is the design and overall look of the stream. That's why we at OWN3D are dedicated to providing innovative overlays for StreamElements to those who want to give their viewers the perfect show with the best possible visual accompaniment. As one of the leading providers of digital stream assets, OWN3D is in close contact with the large streaming community and always strives to bring current, modern, and contemporary designs to the people. Our team consists of streamers, designers, creators, and people who know the world of streaming like no one else. That's why our expertise is extensive, and we know exactly what every streamer needs. With concentrated knowledge and great enthusiasm for this topic, our designers have created professional and great overlays for StreamElements, making your stream shine in new splendor and make your viewers marvel. Whether you are starting to stream, are already an affiliate, or have built up a huge community and are a partner doesn't matter for the StreamElements overlays. You don't need any additional programs or complex editors for installation - with StreamElements overlays from OWN3D, you can start immediately.

Do these StreamElements overlays work with my setup?
You can use your OWN3D StreamElements overlay package on all streaming platforms (Twitch, YouTube, Facebook, Trovo, and more) and any popular broadcasting software (OBS Studio, Twitch Studio, XSplit, or similar tools). You integrate your overlays into StreamElements and can drop them as a browser source in any tool. This way, you can turn your stream into a real eye-catcher, no matter which platform!
What is included in a StreamElements overlay package?
StreamElements overlays with matching stream labels
Create an unforgettable livestream experience for your viewers with StreamElements overlays from OWN3D. Whatever you want for your stream, our StreamElements overlay packages cover everything you can imagine. The overlays fit over your camera and gameplay like a template and make your content look unique. There isn't only space for your content: You can also integrate the actions of your community into your stream with labels like "Last follower," "Last donation," and more to make them stand out.
Start, break, end and offline banners
Pick up your fans with a start scene right at the beginning of your stream, with a BRB scene, let them know you'll be back soon, and properly say goodbye to your viewers with an end scene. You'll also find all of these scenes in your StreamElements overlay pack! With different, memorable scenes - also calledIntermission Banner- your stream becomes even more professional, showing you care about your stream!
StreamElements alerts
Get notified live in your stream when you get a new follower, subscriber, donation, or similar: With StreamElements alerts! Not only do you get to see your audience's actions immediately, but you also give them a lot of attention in the stream for a moment. This often leads to a natural flood of support! Our overlay packages always include the appropriate stream alerts, including stream sounds. So they fit perfectly to your overlay and your overall appearance.
Scene transitions
For professional content creators, switching between individual scenes in the broadcasting tool is already part of everyday life. For example, you can connect these individual scenes with so-called transitions by switching from the just-chatting screen to the in-game screen or break screen. When using animated stream transitions, a stimulating effect appears when switching so that the change is not abrupt but smooth and professional. In our StreamElements overlay packages, you receive great designs and animated transitions, which perfectly round off the entire design concept and turn a standard stream into an actual professional stream.
A complete design for your channel
Besides the fundamental design elements for your livestream, our complete packages also include many useful other gimmicks that you can use to beautify your entire channel and bring it in line with the rest of the design. One of them are the so-called stream panels. With these, you can give your Twitch bio a personal and individual touch and equip it with various buttons such as links to social media, donation page, or other channels (YouTube, etc.). If you stream on YouTube or Facebook, the StreamElements overlay packages also include banners you can use for your YouTube or Facebook channel. The included banners and panels design always fit perfectly with the rest of the package design, creating a nice symbiosis and a seamless concept that will delight your viewers.

How to add overlays to OBS from StreamElements
OBS Studio is the best-known and most used streaming tool, but our StreamElements overlays can also be used with other streaming tools like XSplit or Streamlabs. If you want to use a StreamElements overlay, you need nothing more than a free broadcasting tool such as OBS Studio and the OWN3D overlay all-in-one package downloaded after purchase. The setup for almost all programs is effortless, but in this small tutorial, we would like to show you the single steps of the setup with OBS Studio and StreamElements. Since StreamElements and OBS Studio are free to use, everyone can get started directly with the tutorial without taking long detours.
Step 1
Log in to StreamElements with your preferred platform's account. Signing up is free and can be completed in a minute. You will then be taken to the StreamElements dashboard. Here you will find the main menu on the left side. Click on the "Streaming Tool" menu and then click on the tab labeled "My Overlays". This is where you can add, manage and edit your overlays.
Step 2
You will now see all the overlays you have created in the overlay menu. You will only find an overlay here if you have registered. Therefore you should add a completely new overlay. Click on the button "New overlay." In the overlay editor, confirm the automatically recommended resolution of the overlay (1080p) by clicking on "Start."
Step 3
To create a new overlay, click on the blue plus icon in the lower left corner and select Static / Custom -> Video. Since the newly added overlay element is still blank and nothing is displayed yet, you need to link the new video element to a corresponding file, i.e., an overlay element from the downloaded OWN3D design. Click on "Change Video" and on the next screen on "Upload".
Step 4
Now you can click on "Select Files" in Windows Explorer to find and add the desired file. Select the design element and click "Open". Now the new overlay has been added and the new browser source can be added to your streaming tool. Finally, click "Save" and then the link button to copy the URL for OBS Studio.
Step 5
Now start the broadcasting tool OBS Studio. In case you haven't downloaded and installed it yet, you can find the download linkhere.
Step 6
Once you've started the program, it's time to add your StreamElements overlay. To do this, you must create a scene within the program and add a source. Conveniently, OBS Studio already has its scene set up when you first start it. If this scene has already been deleted or you want to create an additional scene, you can easily do this with the plus icon in the scene area.
Step 7
Now add a new browser source to your scene by clicking on the "+" in the "Sources" dock and give your source a name. In the next window, you can enter the URL in the "URL" box. Now you should see the overlay in the preview screen. You can still change the resolution of your overlay, pay attention to the resolution of your monitor. The resolution should always be the same as the overlay in the StreamElements editor - 1920 x 1080 px. Click OK to confirm, and you've inserted your new StreamElements overlay!
Frequently asked questions about StreamElements overlays
What's StreamElements?
StreamElements is a cloud-based streaming tool allowing streamers to personalize and customize their livestream. In addition, StreamElements can be used to add overlays and manage them. The simple and intuitive usability of the tool makes it easy, especially for beginners, to get directly into the world of streaming. Not only can you manage overlays, but you can also set up chatbots or start giveaways and contests. StreamElements also gives you a detailed overview of past streams, which can help you optimize your presence on Twitch & Co. as best as possible. The free web tool can be easily controlled and managed via a browser.
Where can I find free StreamElements overlays?
You can find free StreamElements overlays by logging into your account directly on the StreamElements website and navigating to the Overlays Gallery menu item in the Dashboard. However, when using free StreamElements overlays, you should keep in mind that they are used by many users and are, therefore, frequently seen on Twitch. Alternatively, you can find five free overlays and alerts in the free streaming toolOWN3D Pro. The tool is integrated directly into OBS Studio and offers, similar to StreamElements, chatbots, labels, and more. With OWN3D Pro, you can save time in setting up all these things because you can download overlays with just one click, which contain everything you need for streaming! If you want a standalone and individual StreamElements overlay, you are at the right address with the all-in-one packages from OWN3D.
How can I insert a StreamElements overlay?
Setting up a StreamElements animated overlay is very easy. Our little tutorial above has explained how to use StreamElements overlays correctly. We will also add import files for StreamElements to our overlays one by one. You can import them into StreamElements with just one click on the file and have your complete overlays, alerts, labels, and so on set up in no time. Finally, you have to include them as a browser source in OBS Studio, just like we showed you in our tutorial. Contact our competent support if you have any questions about this or any other topic.
Can I create my overlay for StreamElements?
This task is quite complex and requires several years of experience with specific design programs and tools. While a handful of different editors are available on the internet, even these should be treated cautiously and are more challenging to understand, even for advanced beginners. You will need a certain amount of experience with this method as well. A faster and easier way is to use StreamElements overlays from OWN3D. Our highly trained illustrators have been part of the industry for several years and always do their best to create the most beautiful, innovative, and modern StreamElements overlays for you.
Need help with your StreamElements overlay?