Nuevo
Banners de Twitch
DarkMode Banners de Twitch
Get the single product
Total
Upgrade
and
save
with the
full
package: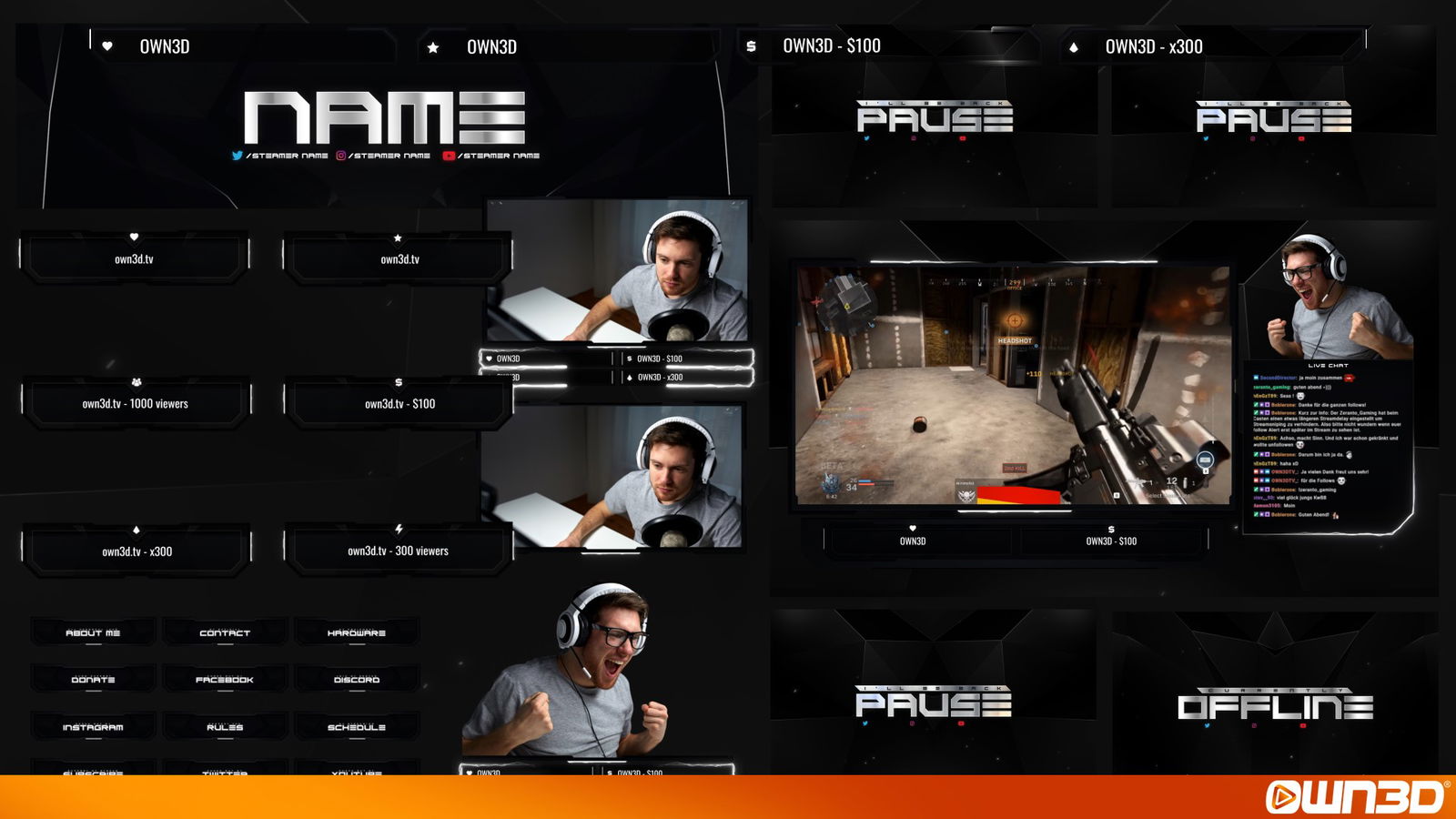 The package contains all overlays, transitions and much more
Go to DarkMode Package
Listo para usarse con nuestraguía paso a paso.
Twitch, YouTube, Facebook y más
OBS, Streamlabs, Streamelements y más
Ayuda rápida y guía de instalación facilísima
Guía de configuración paso a paso para empezar en <10 minutos.
Curso OWN3D Academy: configura nuestro paquete de overlay para streams.
Consejos y guías completas sobre los ajustes de OBS, cómo ganar dinero, cómo crear una comunidad y mucho más.
Archivo de importación para Streamlabs OBS.
Paquete de marca OWN3D.
Cupones y materiales para empezar tu stream.
Si quieres, revisa ya nuestra guía paso a paso. Todas las instrucciones también están incluidas en tu paquete de overlay para tu stream.
Funciona con tu configuración
Para Twitch, Facebook, YouTube, Trovo.
Funciona con OBS Studio, Streamlabs, Twitch Studio, XSplit, Lightstream.
Funciona con cualquier PC, portátil o Mac
Haz stream en tu legua materna
Idiomas disponibles:
Qué contiene el paquete
Este paquete de overlays de stream viene con todos los elementos que necesitas y varias opciones para personalizar tu stream.
Overlays (overlay de webcam, overlay con etiquetas, banner para hablar, transiciones)
Alertas
Banner de intermedio
Diseños de perfil e iconos para tus redes sociales
Sonidos a juego
Puedes utilizar los archivos justo después de descargarlos.
¿Necesitas ayuda?
¡Póngase en contacto con nuestro chat en vivo 24/7 o envíenos un correo electrónico!
Detalles
Actualiza tu stream de Twitch con paneles de calidad y una bonita foto de perfil.
Banner completo para el perfil
Foto de perfil completa
1 archivo .PSD para editar el color, texto y logo
Link para descargar la tipografía
Check out the DarkMode Package
Everything is in the package to start streaming
The designs are all matched
Twitch Profile Banner only
Funciona con
Idiomas disponibles
Overlays de stream animados
Alertas animadas para streams
Overlay animado para webcam
Banner de descanso animado para streams
Todos los archivos estáticos
Transiciones animadas para streams
Sonidos de transiciones de stream
Sonidos de alerta para streams
Banner parlante animado para streams
Banner para tu perfil de Twitch
Foto de perfil para Twitch
Archivo de importación de Streamlabs OBS
These products are all in the
"DarkMode Package"
This might also interest you