Significado del emote de Twitch widepeepoHappy
El emote widepeepoHappy comparte familia con MonkaS, PepeLaugh y el resto de emotes de Pepe the Frog. Se usa mucho en los canales de Twitch y sirve para expresar una felicidad inmensa.
No hay que confundirlo con peepoHappy, que también usamos para decir que estamos felices. widepeepoHappy va un paso más allá.
Además, tiene una versión para cuando estamos muy tristes llamada widepeepoSad.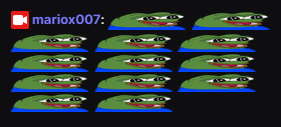 El origen del emote widepeepoHappy
La primera vez que vimos a widepeepoHappy fue en 2018 cuando se añadió a la colección de emotes de FrankerFaceZ.
El origen del emote widepeepoHappy nos vuelve a llevar al dibujante de cómics y creador de Pepe the Frog, Matt Furie. El emote es una variación del fenómeno y meme de Internet Pepe the Frog, donde se muestra a la rana comprimida, con cara de felicidad y que vale para expresar una felicidad extrema.
Para verlo y usarlo, tenemos que tener instalada la extensión BetterTTV en nuestro navegador.
¿Cómo se pronuncia widepeepoHappy?
El término widepeepoHappy se lee así: "waid-pi-po-ja-pi".
Conclusión
El emote widepeepoHappy se usa para mostrar una felicidad extrema. Nos muestra a Pepe the Frog, comprimido, y con una gran sonrisa. Tiene un hermano triste, widepeepoSad. Lo puedes obtener con la extensión BetterTTV.