Twitch goes Angelcamp
Prepare yourself for one of the most unique german streaming events this year: AngelCamp! Nope, it's not about divine angels, it's about fishing!
When?: 16th July – 19th July 2020
Duration?: 72 hours
Where?: https://www.twitch.tv/therealknossi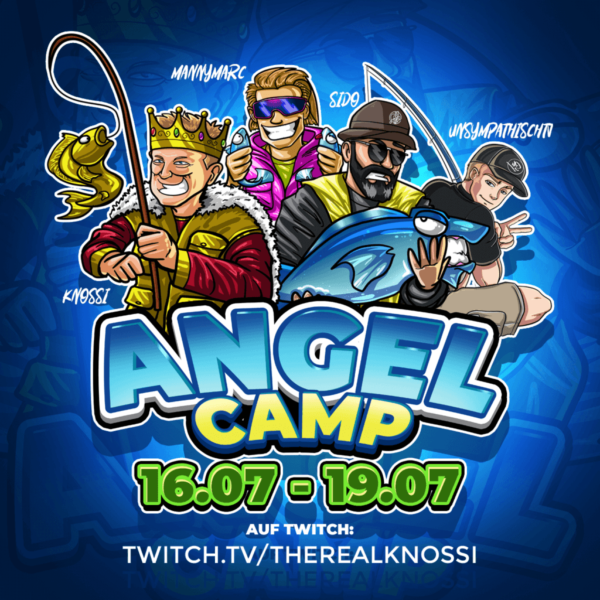 The cast of the Angelcamp turns out to be very promising and suggests that it will not only be fun, but sometimes below the belt. In addition to the main actors Knossi, Sido, Manny Marc, UnsympathischTV, Joshinator, Claudia Darga, Fritz Meinecke, Gia & Jay and Guse, other top-class guests have also been announced. Officially confirmed so far:
Tanzverbot (Friday 17. July 2020)

Pietro Lombardi (Saturday 18. July 2020)

Montana Black (Saturday 18. July 2020)

Klaas Heufer-Umlauf (Saturday 18. July 2020)

Andreas Bourani (?)
In any case, we are already curious which guests we will see in the Angelcamp.
More than just an average Survivor
Angelcamp is a never seen before Twitch-Event: For 72 hours German Streaming Giant Knossi, alongside Sido (Rap Artist), UnsymphatischTV and MannyMarc will go fishing together. But it wouldn't be a royal feat, if all the ever did was unleashed their rods on seafood. It is in fact quite the opposite: An array of challenges in the Jungle, with rewards for the winners, and not so rosy forecasts for the losers.
The Angelcamp 2020 could pose as the Big Brother of the original TV Series "Big Brother", combined with "I'm a celebrity, get me out of here!". Planned highlights are Quizzes, somewhat absurd Challenges and plenty of surprise guests – all while being exposed to the fury of mother nature.
All candidates will have to look after themselves during their time at the Angelcamp.
As expected, Knossi already made proud statements of surviving on astronaut food and Berries, easily allowing him to pass the 72 hours. Sido on the other hand has been intensely preparing for the Angelcamp 2020. He even hired Joshinator as his fishing coach. Also he has been practicing outdoor cooking and announced an "8-Star-Menu" for Breakfast – exclusively to himself that is.
The Plot: Each Candidate – Famous or not – not only has to look after themselves, they are also not given access to any toilet other than mother nature, and is exposed to the eyes of the live viewers. The candidates looking to rest in a luxurious tent and not in a trailer or under the night sky, has to perform for the privilege.
The candidates seem willing to go all in, to make sure they they won't have to sleep in the rain (which was forecast for the weekend) next to the "public toilette". We have reason to get excited!
Knossi and the gang were not looking to save a Penny when it came to creating the event and dished out 6 digits to make this monumental event happen. They have a total staff team of 40 members, who will be accompanying them in shifts during the three-day event, so we will not miss a second and the camera is constantly pointed at the current events.
You can follow the live broadcast of the 2020 Angelcamp under https://www.twitch.tv/therealknossi – Non-Stop! You better start booking some days off, cause you don't want to miss a second!
To make sure the attire is fitting to such a marvelous Event, our Own3d Team is providing the Stream with Overlays, Logos and an array of relevant Illustrations. Furthermore, we are proud to have our Project Streamheroes featured in the Event with a special deck!
What is Streamheroes?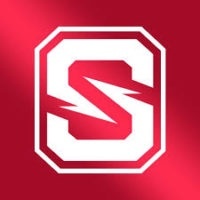 Streamheroes is a card game that was developed especially for twitch streamers and their viewers. Every Twitch-Streamer has the possibility to create a personalized deck of cards. The spectators don't have to do anything else than to log in to Streamheroes and watch the streamers. In return, they receive so-called coins, which they can then exchange for the cards of the respective streamer. So the longer you watch, the more coins you get and the faster you can crack all the cards of your favourite streamer. Join us and discover the world of Streamheroes. Quests, exciting streams and above all epic cards await you! 🙂
For this unique fishing event, the boys and girls of Streamheroes have come up with something very special, namely their own Angelcamp card deck with 10 epic cards. Once you sign up with Streamheroes and watch the Angelcamp for five minutes, you will receive two coins. You can then use these two coins to craft a Angelcamp card. In total you have to spend 50 minutes at the Angelcamp to craft all 10 cards. These cards will be displayed in your Streamheroes account.
Limited Edition
When you have collected all the cards, there is the possibility to buy a strictly limited booklet of 3,000 pieces including the cards in physical form. And here it comes: 30 of these booklets are even hand-signed by Sido, Knossi and Co. So if you buy a booklet and have a bit of luck, you'll receive an original, hand-signed collector's booklet including the hard-copy cards from your stars!
It wouldn't be the brainchild of Knossi and Sido if they were not to reach for the stars…who are we fooling – reach for the galaxies: The event is not only the first of its kind, it is also bound to break the record as the biggest german-speaking Stream in history.
Bottom line – there will be no lack of Entertainment, belly-cramps of laughter and of course the excitement when rooting for your favorite participant during the various challenges. All while hoping that the weather god is on our side – and we are not looking for sunshine and a clear blue sky here!
In the run-up to the event, several videos of the stream icons involved have already been published, giving you a little taste of what to expect at the Angelcamp with Knossi and Sido. You can find the individual videos here: