It could have been so nice - the highly praised developer studio from Poland couldn't really lose any more with Cyberpunk 2077, as the entire gaming community and industry was on their side before the release of the year. But CDPR screwed up big time, to say the least. On the base versions of the last-gen consoles, the game is still in a disastrous state even after various updates, and the PC version isn't free of drastic errors either. We have previously reported.
Management takes full responsibility for the release disaster
Over the weekend, rumors spread that the management of CD Projekt Red made it clear in an internal email that they would take full responsibility for the flawed game. In addition, the management made it clear to their employees that the planned bonus payments, which were supposed to be dependent on the user ratings of the game, would be paid in any case. After all, the game sold no less than 8 million copies in the first few days.
The developers send words of apology to the gaming community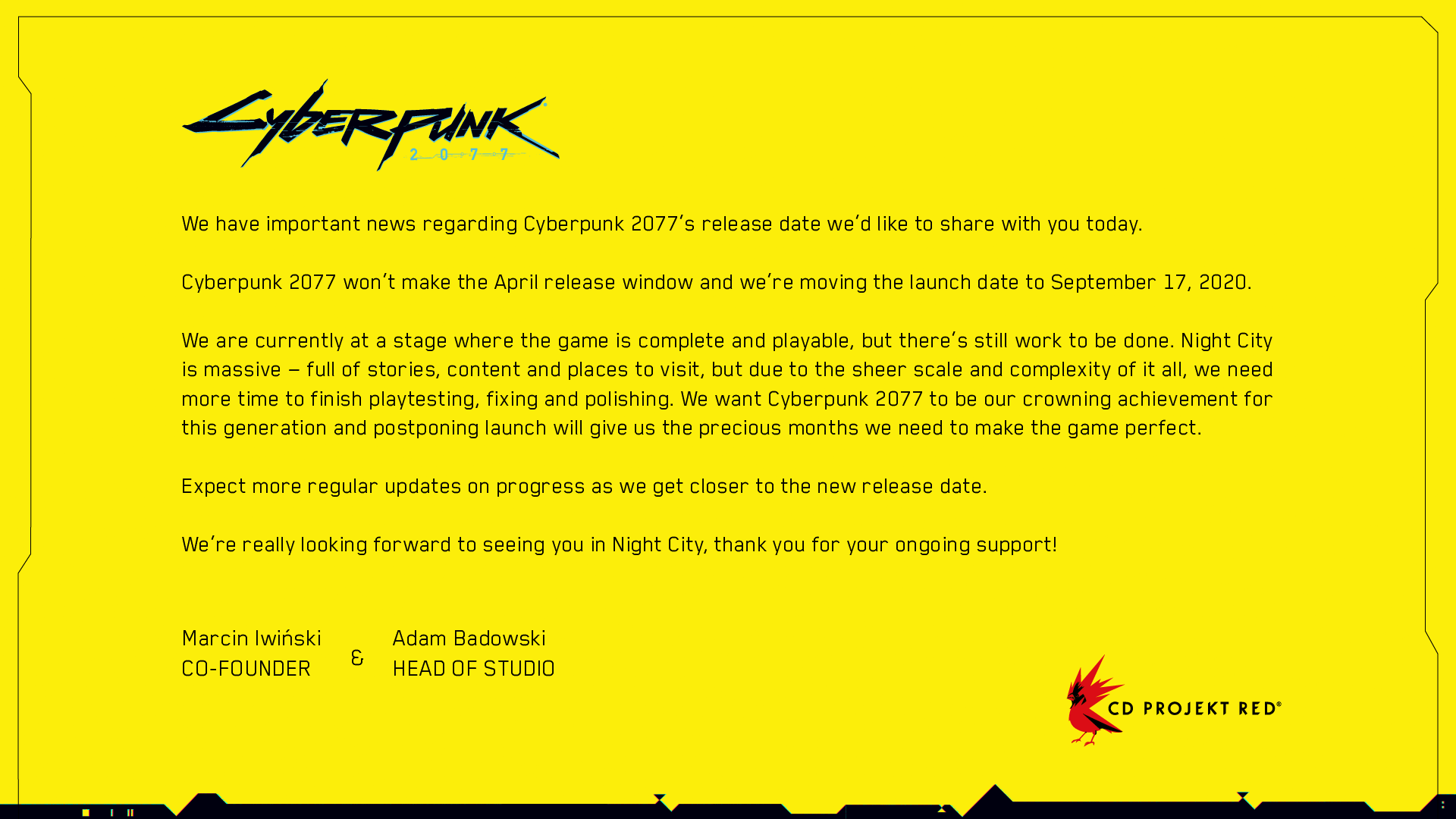 In an official statement, CDPR now states that they are especially sorry for the poor versions for PS4 and Xbox One. Likewise, they affirm that they did not make the game available to the press before release so that potential buyers could get an accurate picture of the game. Even though some glaring bugs have already been eradicated after the release of patch 1.03 and 1.04, the developer announces further updates and bug fixes that should significantly improve the gaming experience. Within the next few days, patch 1.05 will be released and at the beginning of 2021, two very extensive patches with the names Patch #1 & Patch #2 will be released. According to the statement, these won't reach the optical brilliance of the PC version due to the technical limitations of the last-gen consoles, but they will come much closer than it is currently the case.
Refunds for purchasers of the PS4 & Xbox One versions are to be handled without any problems.
Even though CDPR is asking gamers to give them a second chance to get the game back up to snuff with patches, the statement mentions that refunds for games purchased through digital channels will be handled without any issues. So, those who have lost hope can return the game via the corresponding store and get the money refunded to the original payment method. If there are any problems with the exchange, you have the option to contact the manufacturer directly via email (helpmerefund@cdprojektred.com) until December 21. CD Projekt Red will then take care of everything else.
E-Commerce & Content
I am our housekeeper, wherever I can help, I stand by with help and advice =)