The thing about pre-ordering next-gen consoles is difficult. While the last generation of large electronics stores still had plenty of consoles available for sale, this year the situation is completely different. The PlayStation 5 was sold out within minutes after the unannounced online pre-orders started. Those who left empty-handed during the first wave could get their hands ready a few days later and try their luck again. Many of those who were unable to get hold of a console were hoping to buy the PlayStation 5 in retail outlets on the day of release. However, the European PlayStation Twitter account has now completely blurred these hopes.
The reason for this decision is logical and understandable
The PlayStation blog took a closer look at this topic and explained their decision. The problem is not the shortage or cumbersome production of consoles, but the COVID19 pandemic which is currently spreading again. Their intention is to protect buyers and employees during this precarious situation.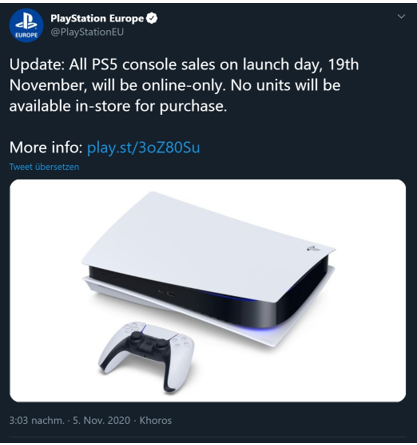 "No units will be available in-store for purchase on launch day (November 12 or November 19, depending on your region) – please don't plan on camping out or lining up at your local retailer on launch day in hopes of finding a PS5 console for purchase. Be safe, stay home, and place your order online."
- PlayStation Blog (blog.playstation.com)
If you look at the latest releases of major consoles, you can certainly understand the concern and the decision of the company. For example, when the PlayStation 4 was released in November 2013, many electronics stores organized so-called midnight sales, where customers had the opportunity to buy their console as soon as the day of release began. The motto was "first come, first served". As a result, absurd scenes took place in front of the stores. In 2020 absolutely unthinkable due to COVID19. Therefore we can completely understand the difficult but right decision of Sony to sell the PlayStation 5 only online for now.
For those who were lucky with their pre-order, the long wait will be especially hard during the next days and weeks. European gamers, in particular, will have to see how Japan and the USA are already happily enjoying the next generation of consoles starting on November 12th, while they will have to wait a week longer themselves, until November 19th.