In 2020, content creators were busier than ever. Streaming platforms all saw major growth, and Twitch is more than ever the first port of call for gaming fans. So it's no surprise that streamers are becoming regular internet stars, entertaining people all over the globe and having millions of followers on their channels. In this overview, we'll introduce you to the streamers who were the most successful in 2020 and take a look at the biggest newcomers of last year.
The most popular and successful German-speaking streamers in 2020!
Knossi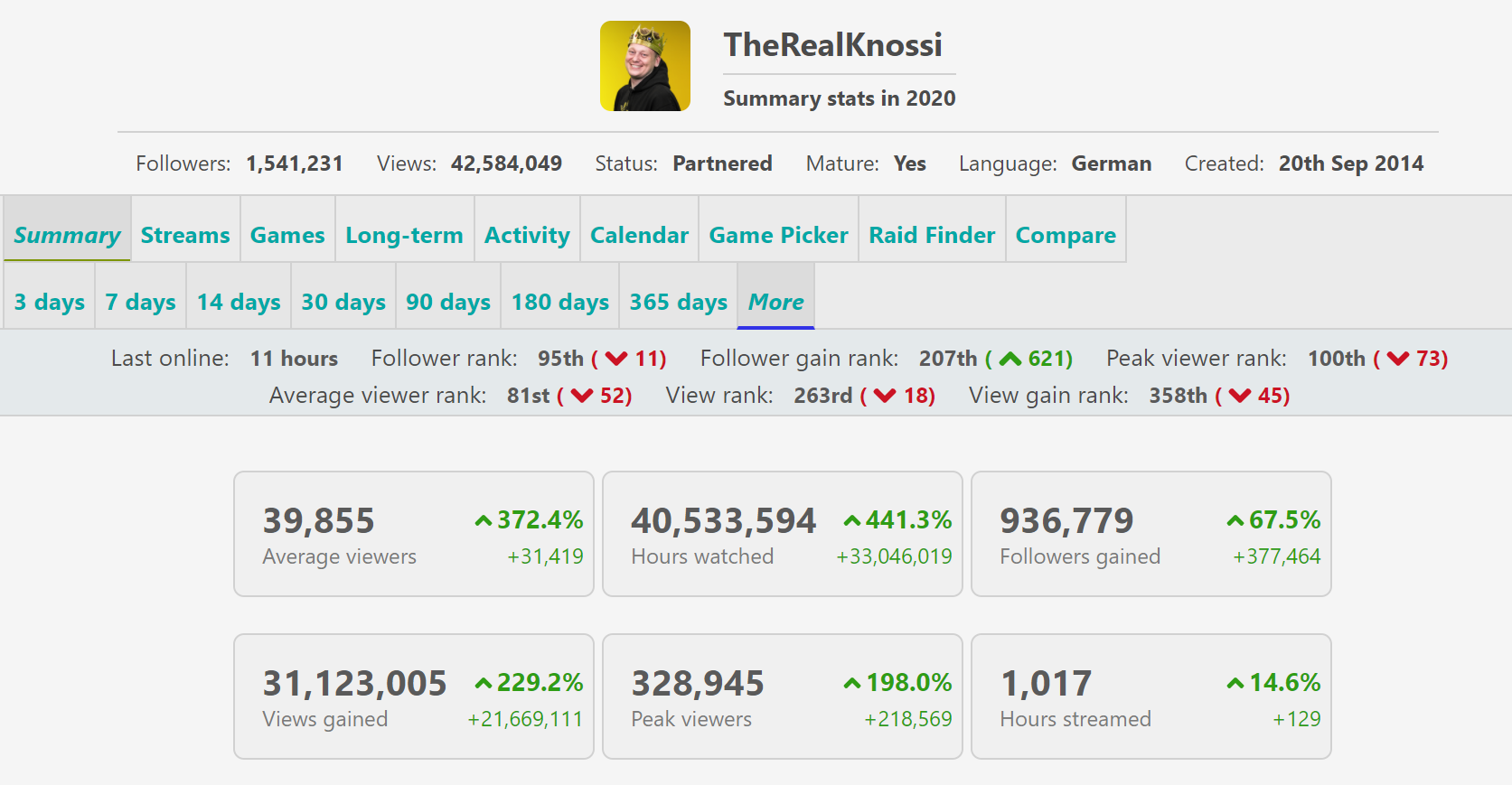 The streaming king 2020 is called, how could it be otherwise, Knossi. The watchtime of his channel on Twitch increased by 448% - that's almost imperial. Knossi loves to talk to his community, so it's no surprise that a lot of his stream time falls into the "Just Chatting" category.
MontanaBlack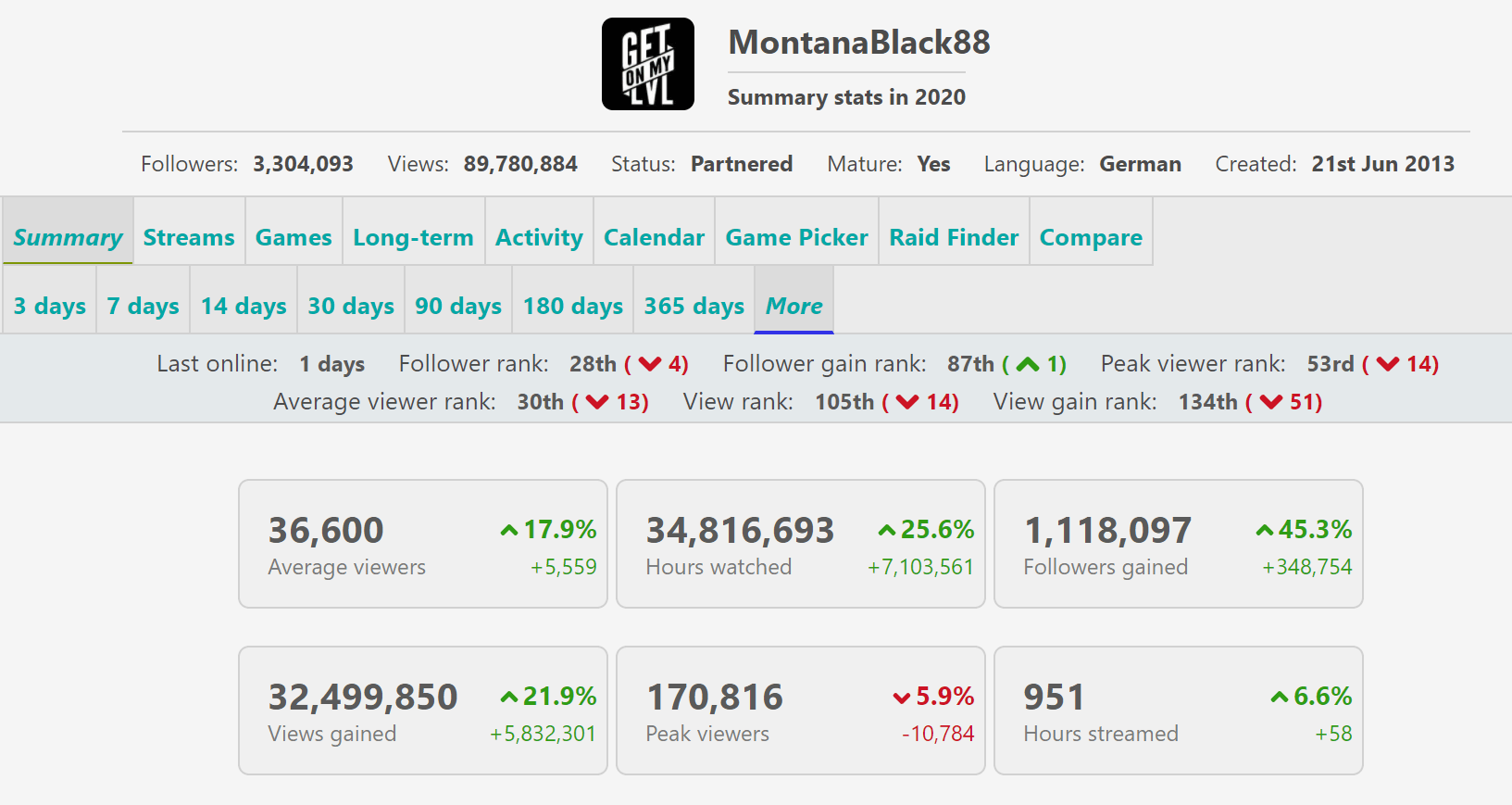 The well-known streamer from Buxtehude is always up for a scandal or two, and with his entertaining streams in 2020, he was able to record a significant plus in almost all categories. Together with his viewers, he loves to play Call of Duty: Warzone and Fortnite.
Trymacs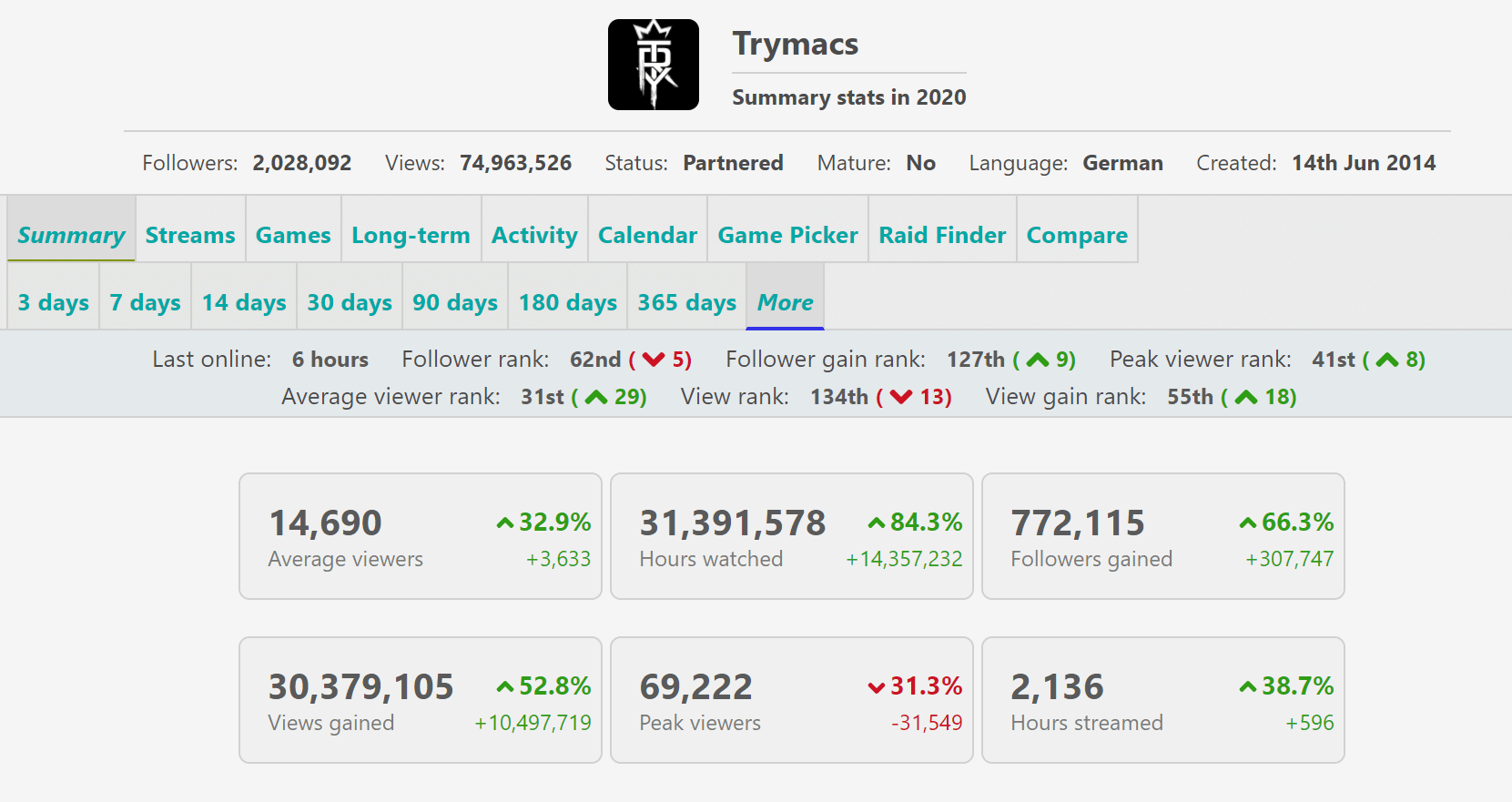 Trymacs really soared in 2020 on all channels. The likeable creator made a name for himself on Twitch and now has more than 2 million followers on Twitch.
NoWay4u_Sir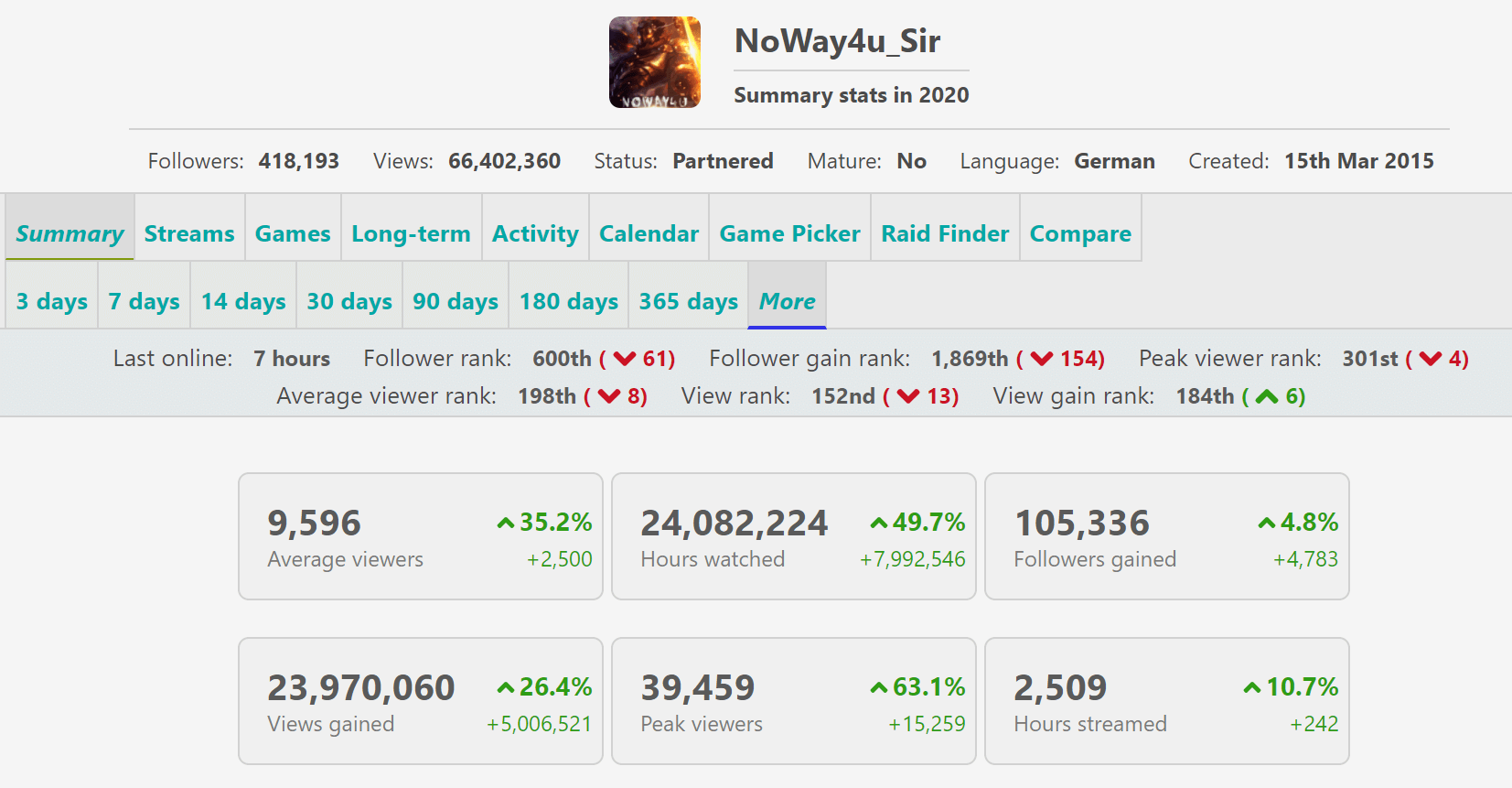 His specialty is League of Legends, which he played live in the stream for an incredible 2300 hours in 2020.
Papaplatte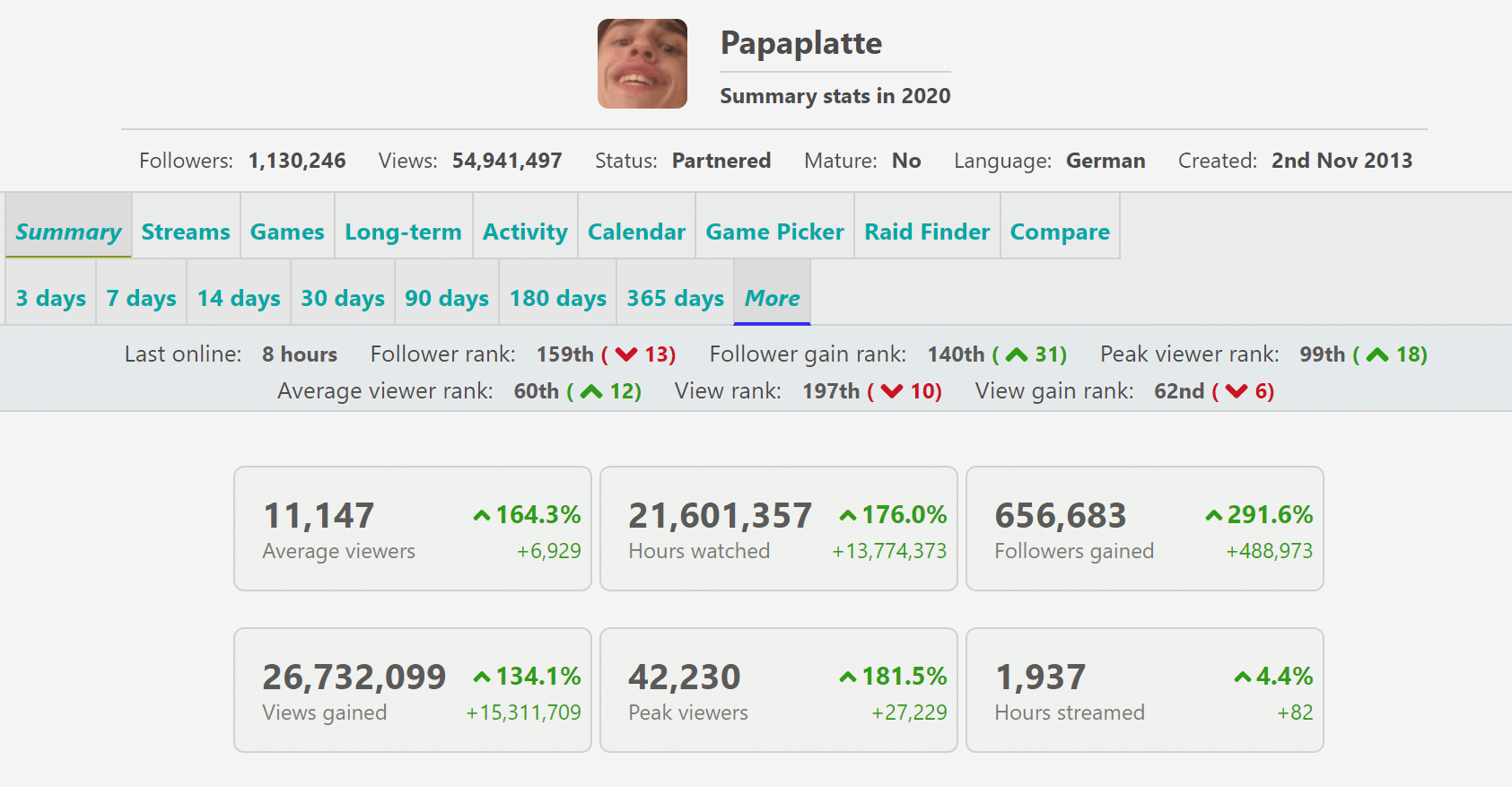 Kevin Teller aka Papaplatte can probably be called a livestyle streamer, because most of his streaming time was spent chatting, responding to videos or doing other things that don't have much to do with gaming. So the Just Chatting category fits his content like a glove.
German Newcomers 2020
KayaYanar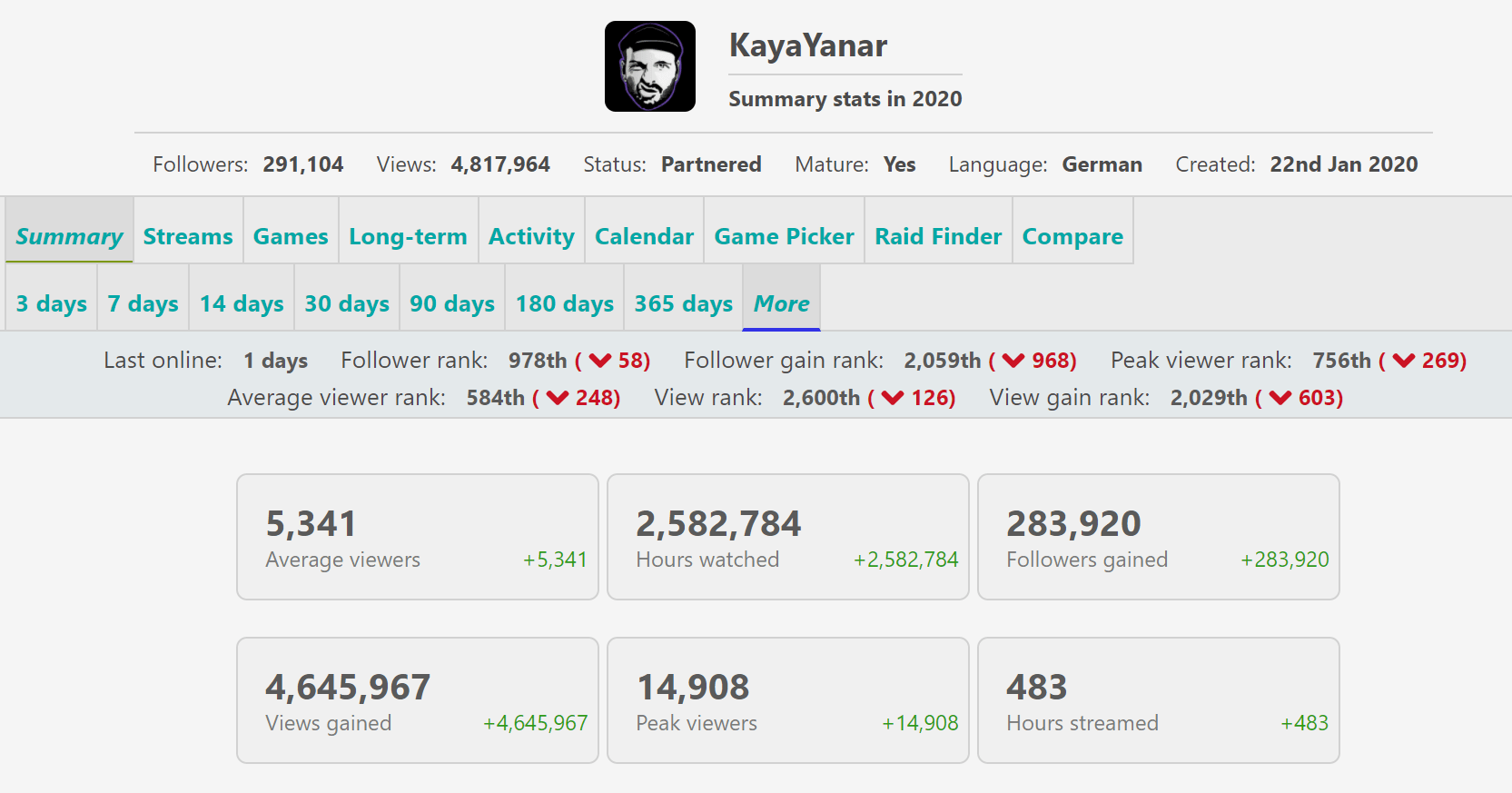 The comedian is an avid gamer and entertains viewers in his livestreams with gameplay in GTA Online and various single-player games in addition to comedy interludes. In 2020, he decided to create a Twitch account and pursue his passion of entertaining people despite the Corona crisis.
ReginaHixt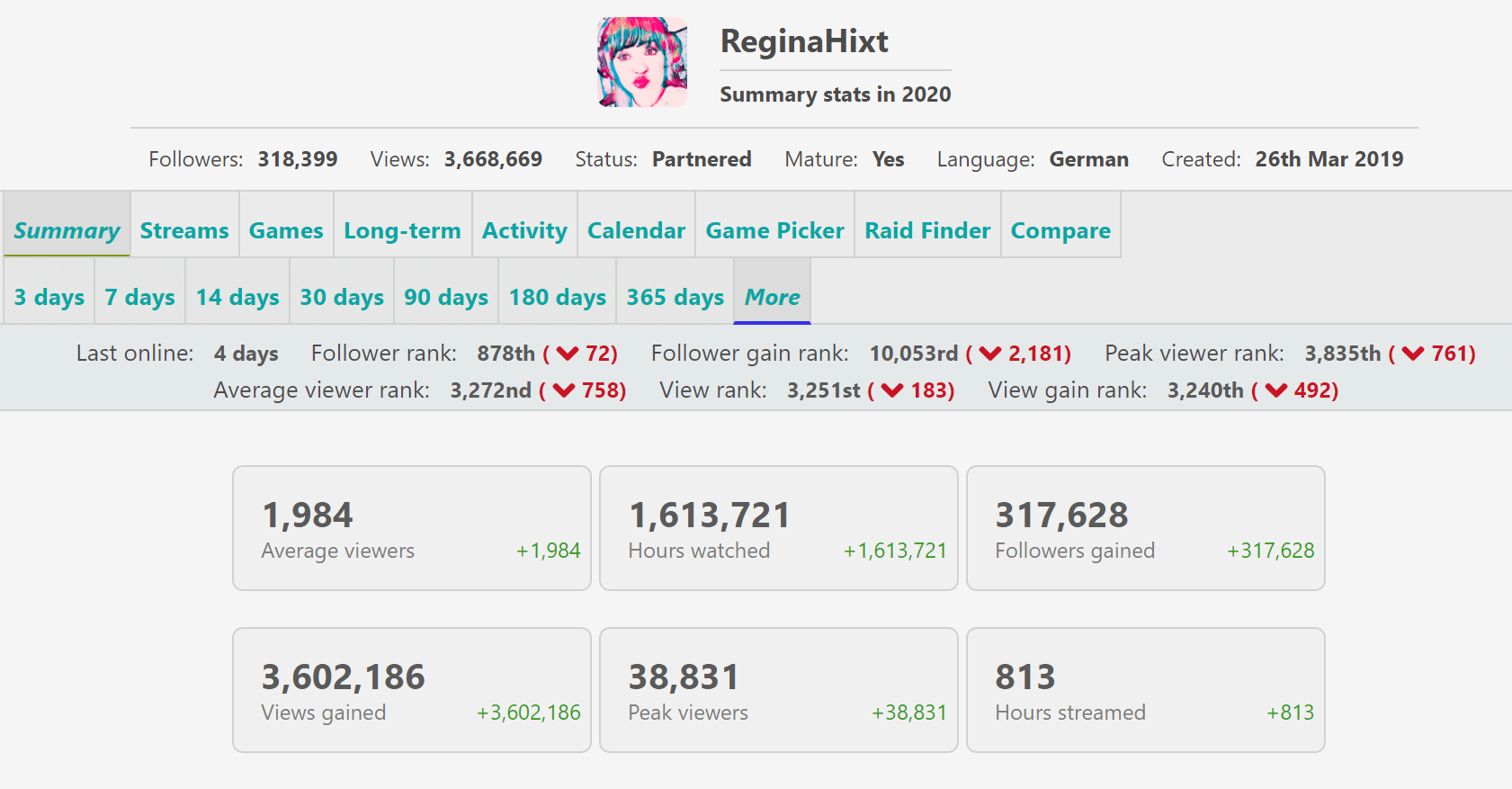 This likeable streamer and influencer is primarily a YouTuber, but apparently discovered Twitch for herself in 2020. In Call of Duty: Warzone, which she's been live-playing for 347 hours, she's traversing the maps with buddy MontanaBlack and other great streamers, among others.
Vadeal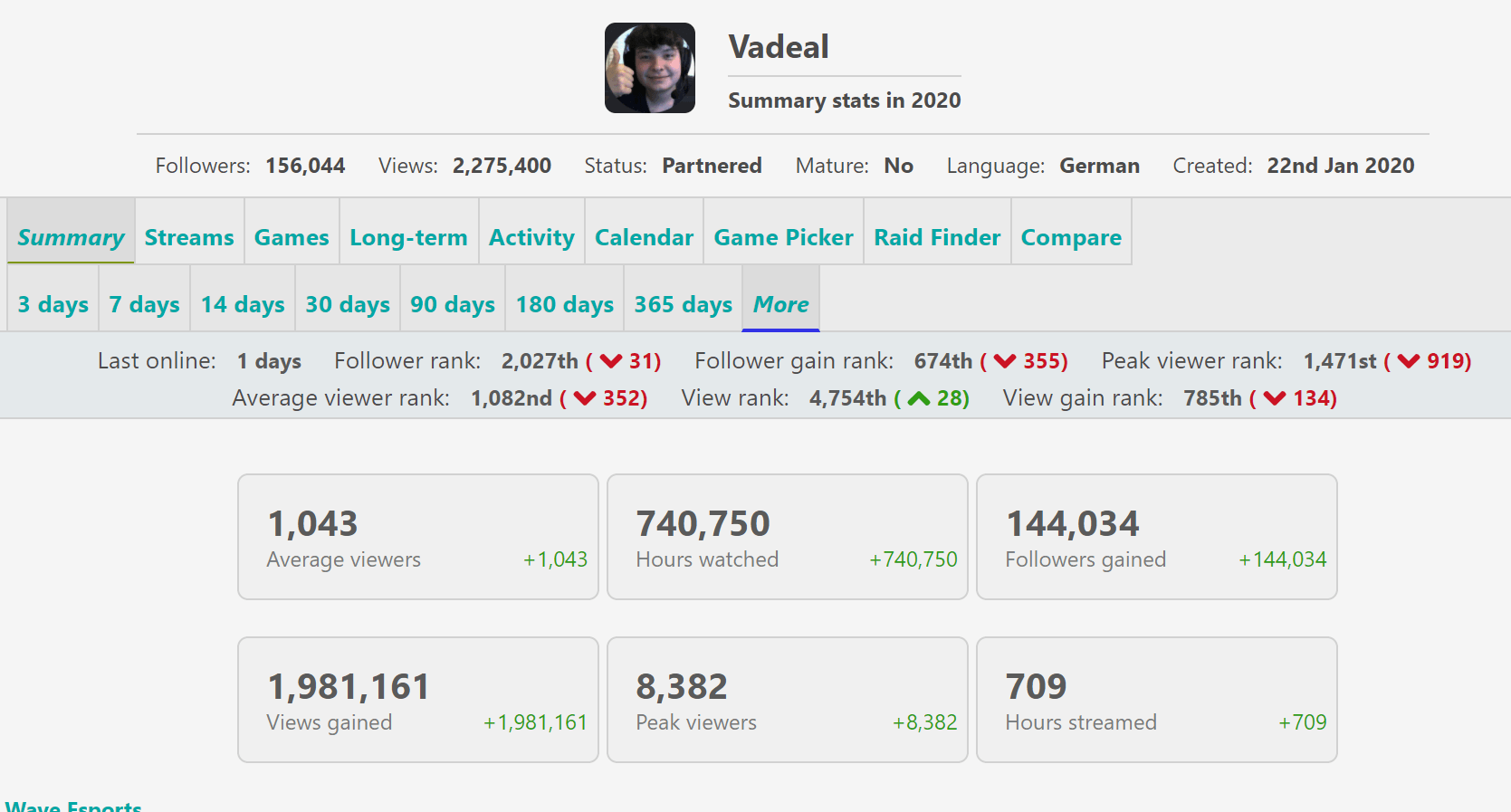 Vadeal created a Twitch channel for himself in early 2020 and has already managed to impress 145,000 followers with his content in his first year. He is primarily into Fortnite and his regular streams have an average duration of 3-4 hours.
The most popular and successful English-speaking streamers in 2020!
xQcOw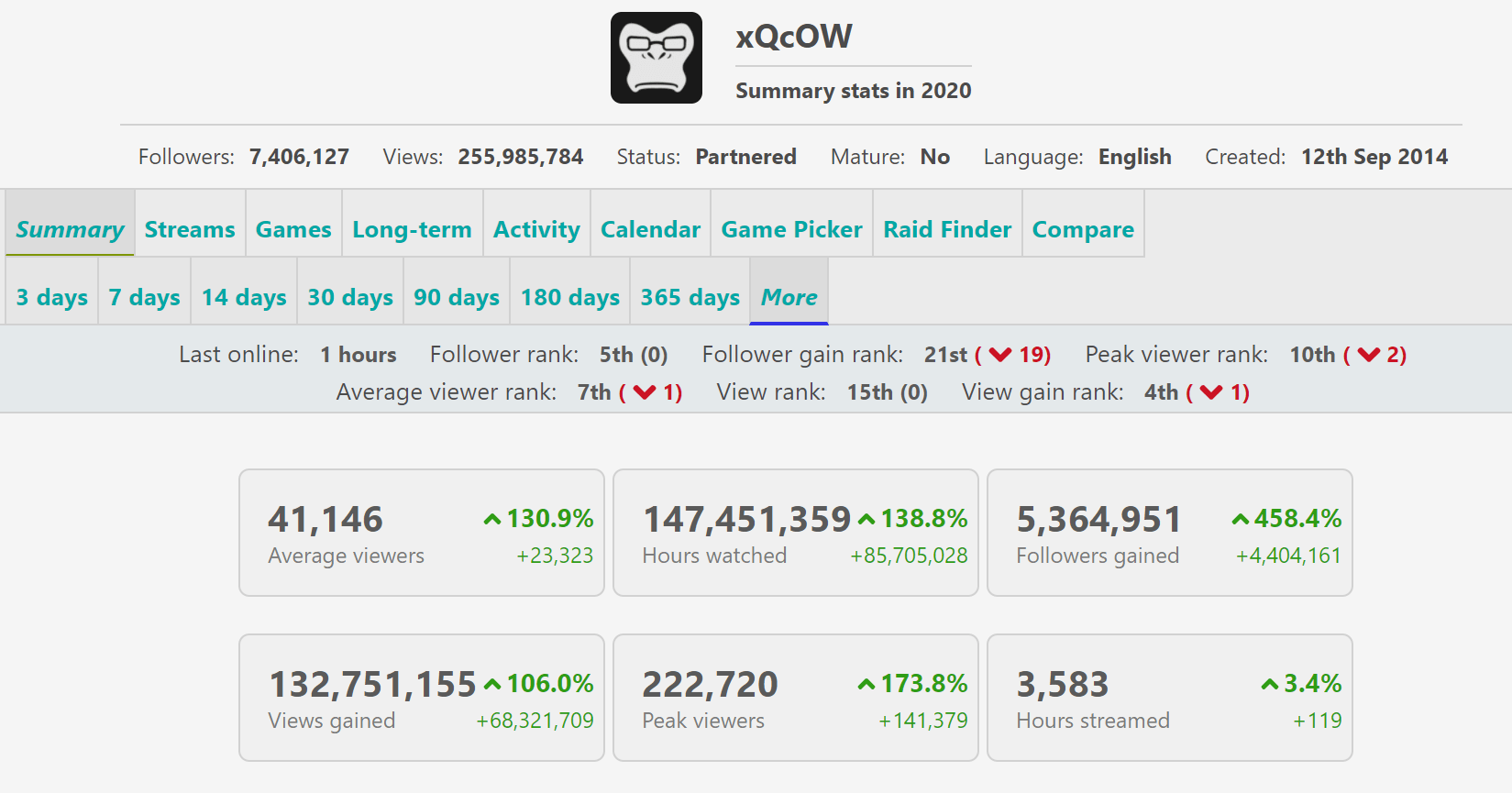 Canadian streamer xQcOw, also known as xQc, is not just a streamer, but also a professional Overwatch player. However, the 25-year-old apparently devotes his training away from the livestreams, because during his broadcasts he hardly ever plays Overwatch. The "Just chatting" category tops his list with 745 hours in 2020.
summit1g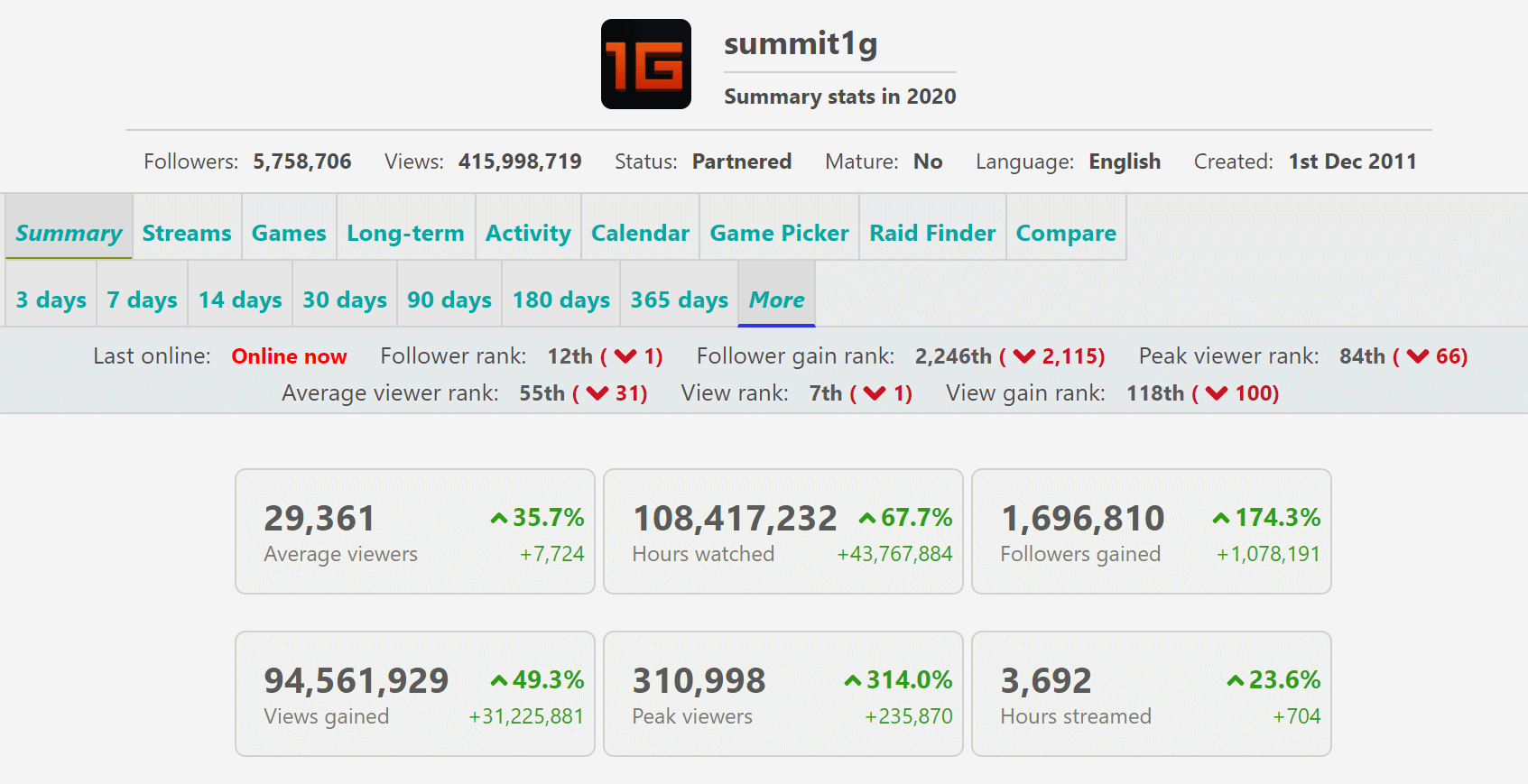 The former Counter-Strike pro only plays what he feels like in his streams. In 2020, for example, he was mainly active in Escape from Tarkov and GTA Online. He is now one of the most consistent streamers on Twitch and celebrates his 10th Twitch anniversary in 2021.
NICKMERCS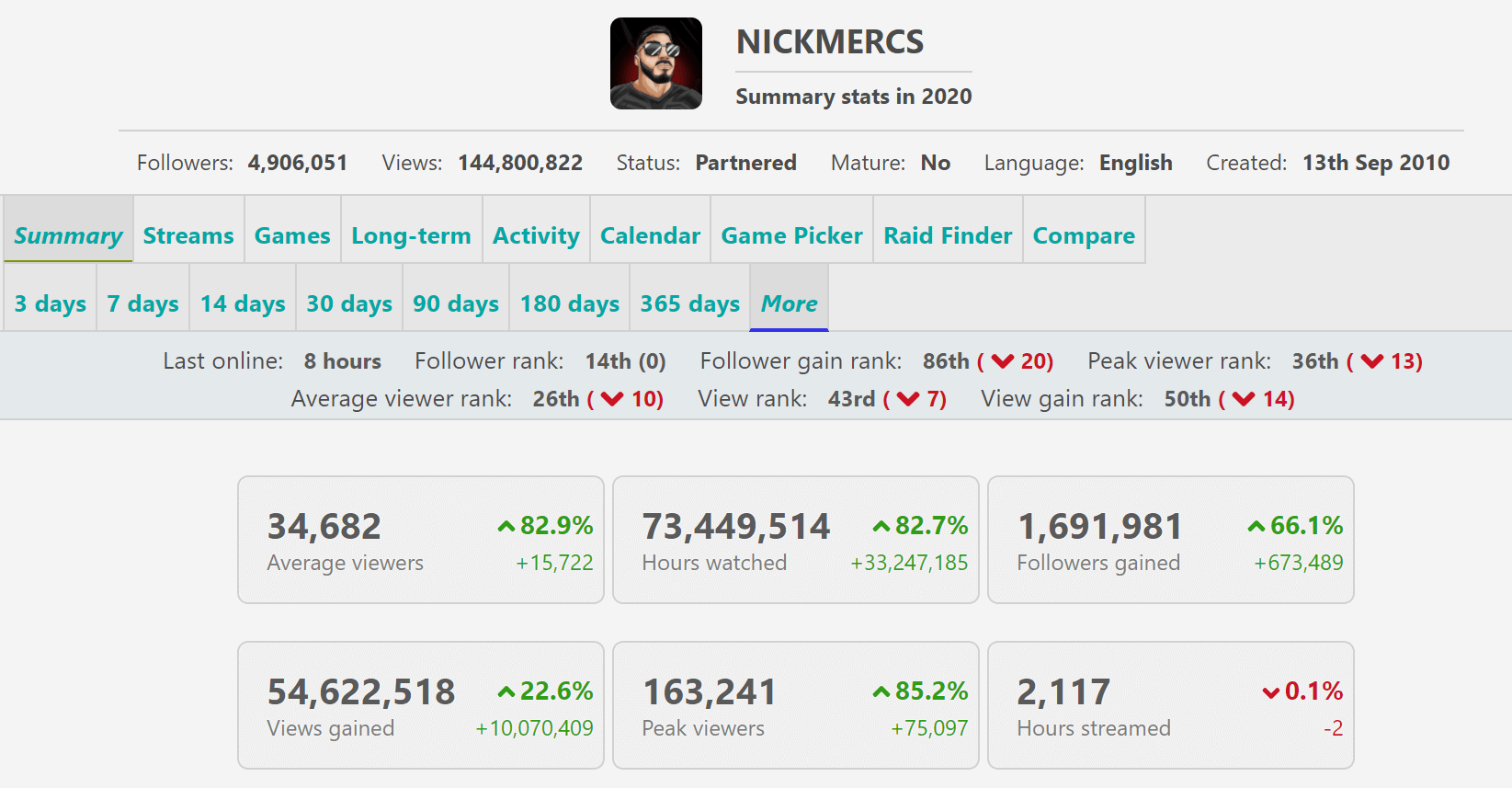 As a CoD: Warzone pro, Nick Kolcheff from Detroit is on Twitch streaming gameplay almost daily. In addition to Warzone, he also actively plays Fortnite, coming close to 2000 stream time in both games in 2020.
loltyler1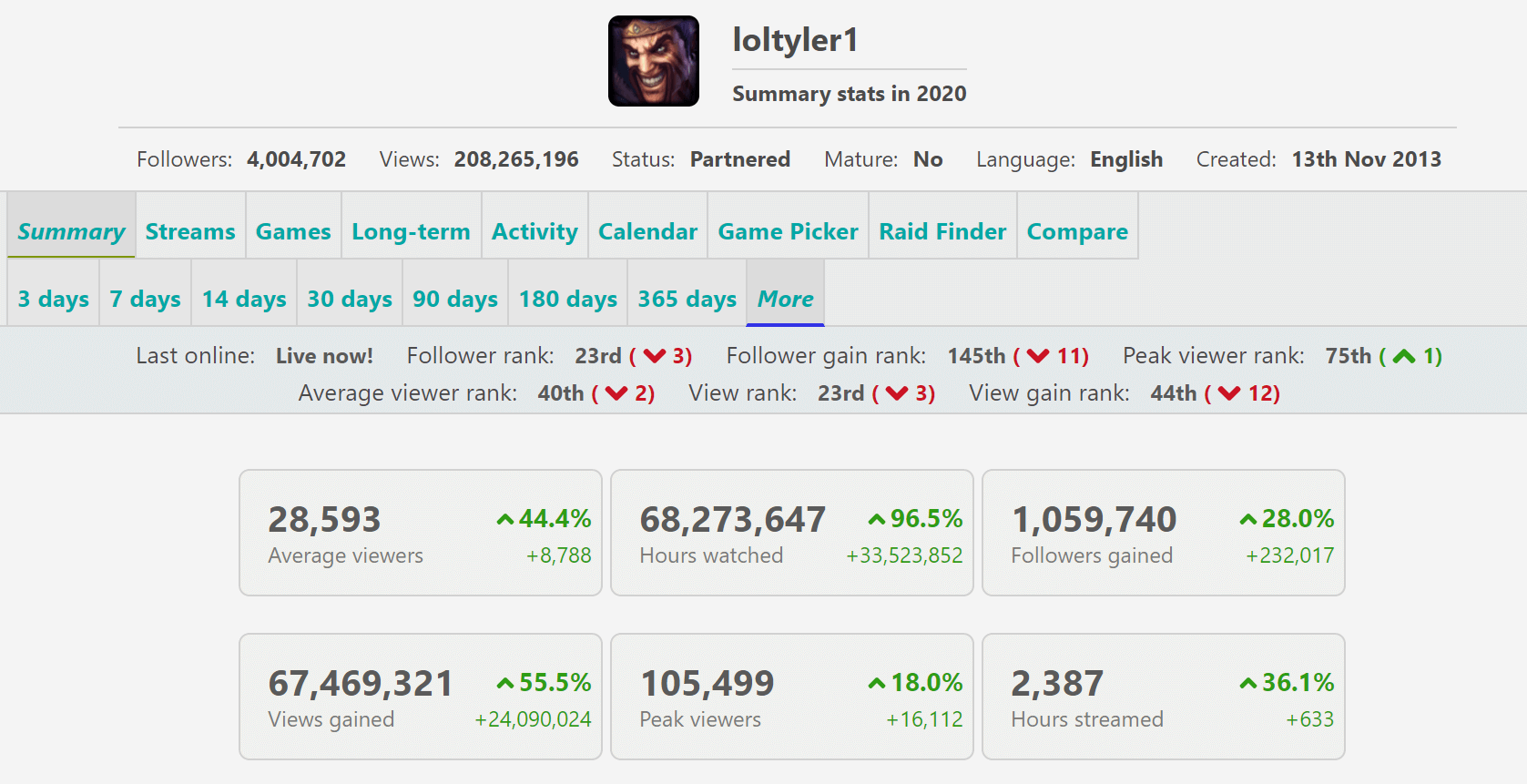 He became an internet star in 2014 with League of Legends and still plays it exceedingly actively today. He is one of the most popular LoL players in the Western region and already has over 4 million Twitch followers.
TimTheTatman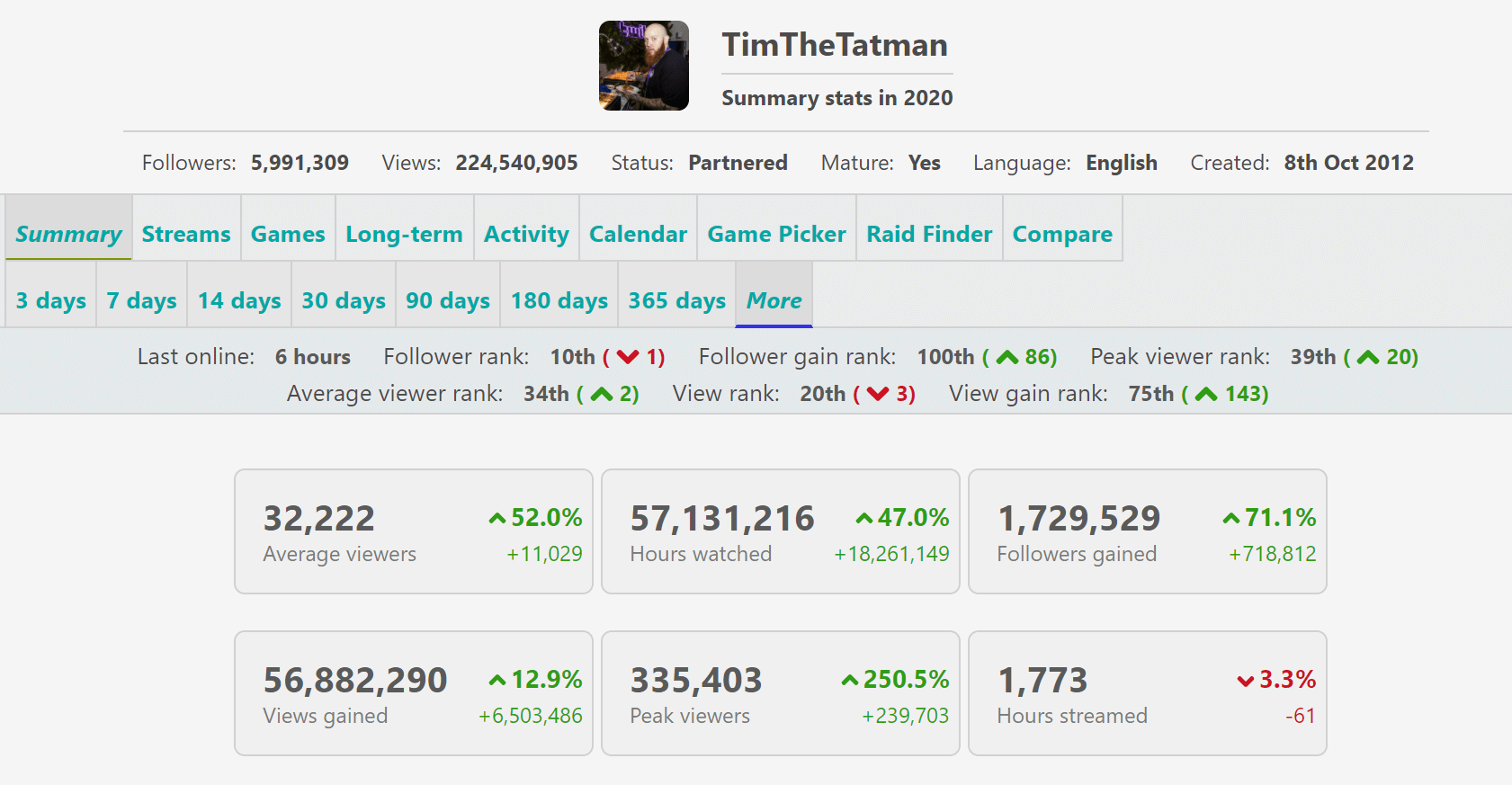 The 30-year-old streamer from New York City shows what he's got in CoD: Warzone in his streams. In addition to interesting chat sessions, he's also always up for a round of Fortnite or Valorant. But with 780 hours of stream time in Warzone, it should be clear which game he's really into.
English Newcomers 2020
michaelreeves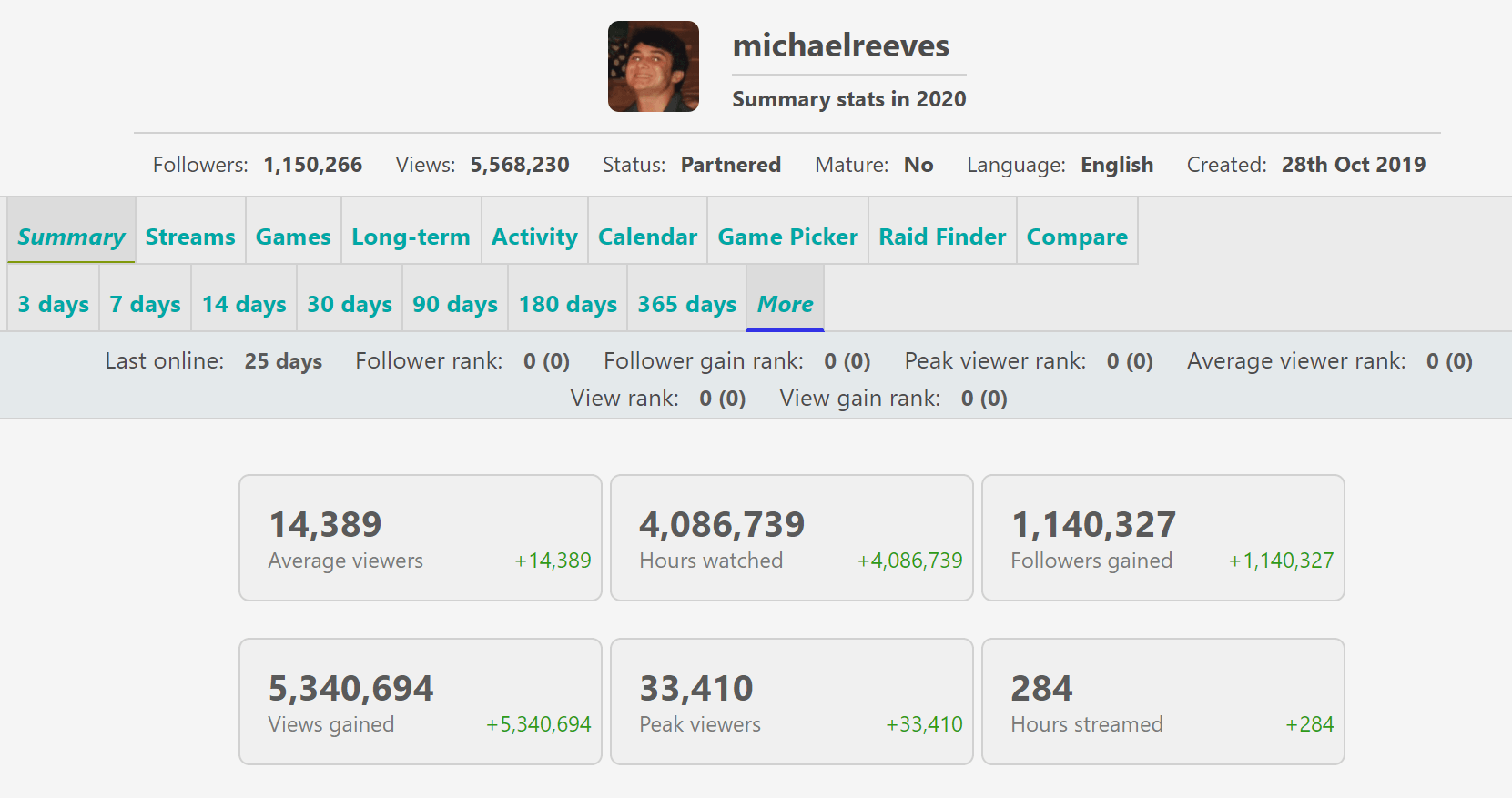 Michael Reeves has already come a long way at just 23 years old. Starting out as a YouTuber, he is now in the same streamer group as Pokimane, OfflineTV. His streams and videos are mostly about science topics and programming. After high school, he became a full stack developer with the Hawaiian government and now entertains people on YouTube and Twitch.
dreamwastaken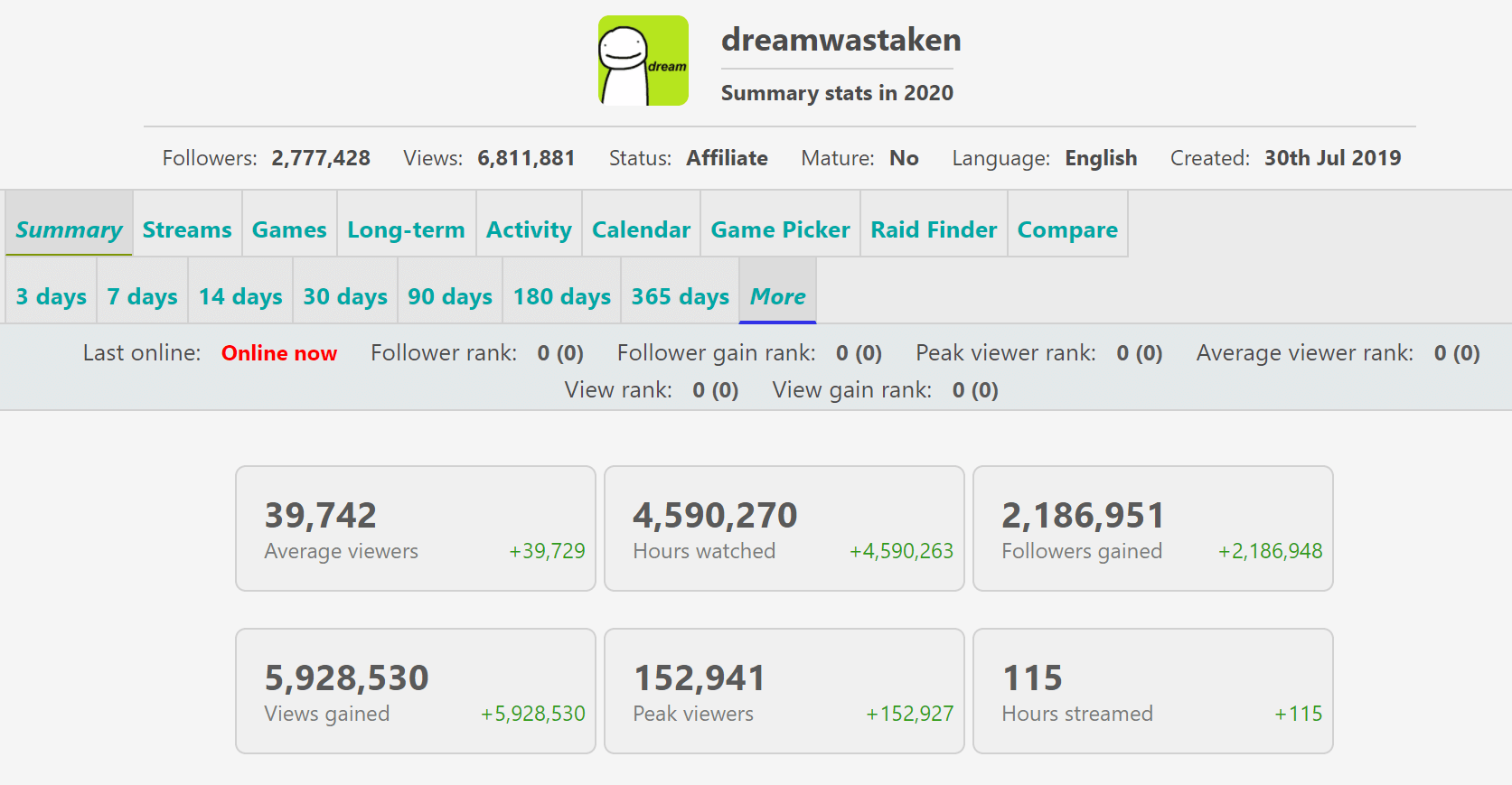 Minecraft has been around for a few years now, but the fascination for this game is obviously unbroken. Among others, dreamwastaken proves this with its Twitch and YouTube content.
GeorgeNotFound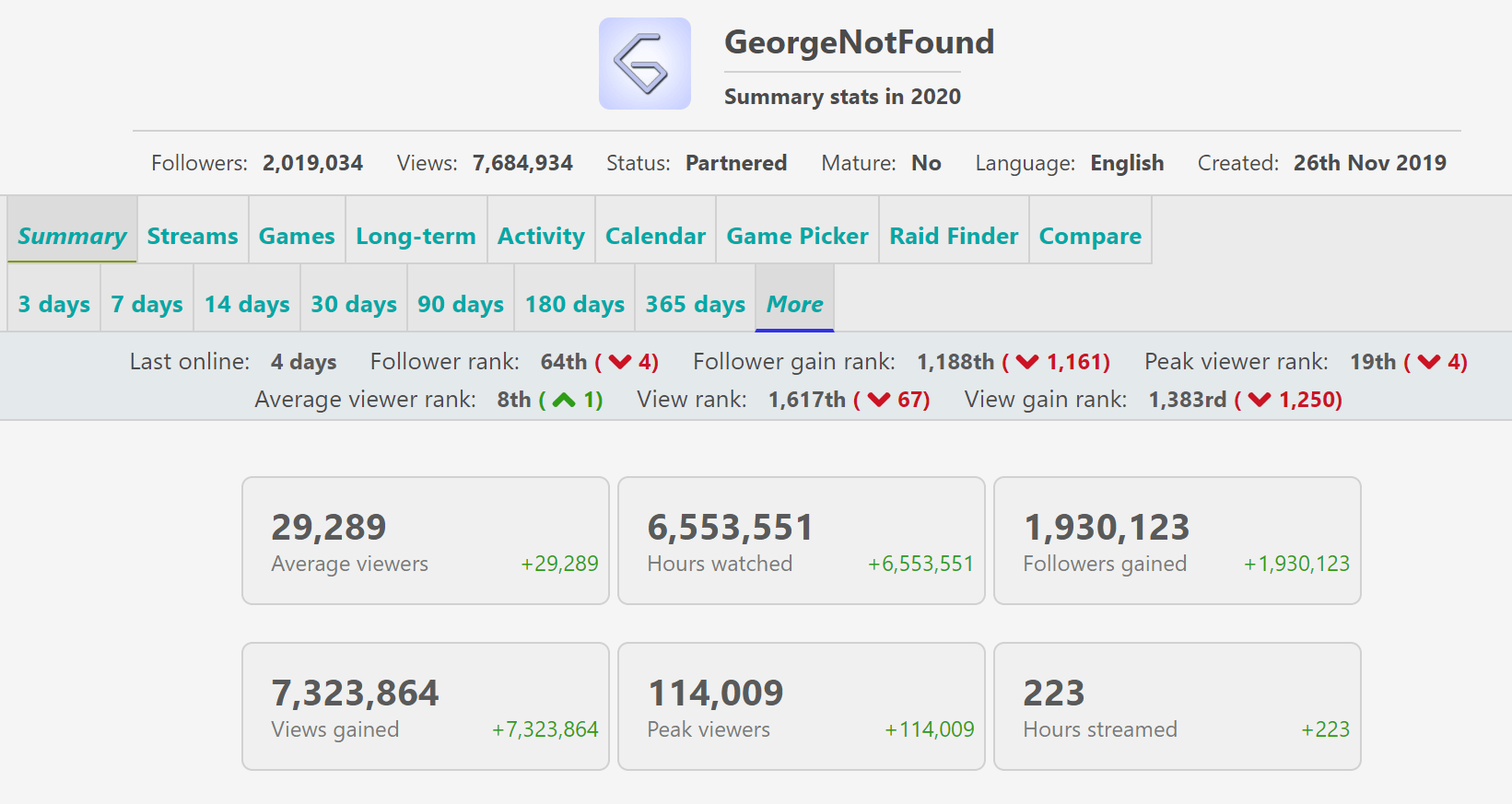 YouTuber and creator George Davidson also devotes himself to Mojang's block game on Twitch. He already has 5 million subscribers on YouTube and also launched on Twitch in 2020.
The most popular and successful Spanish streamers in 2020!
Ibai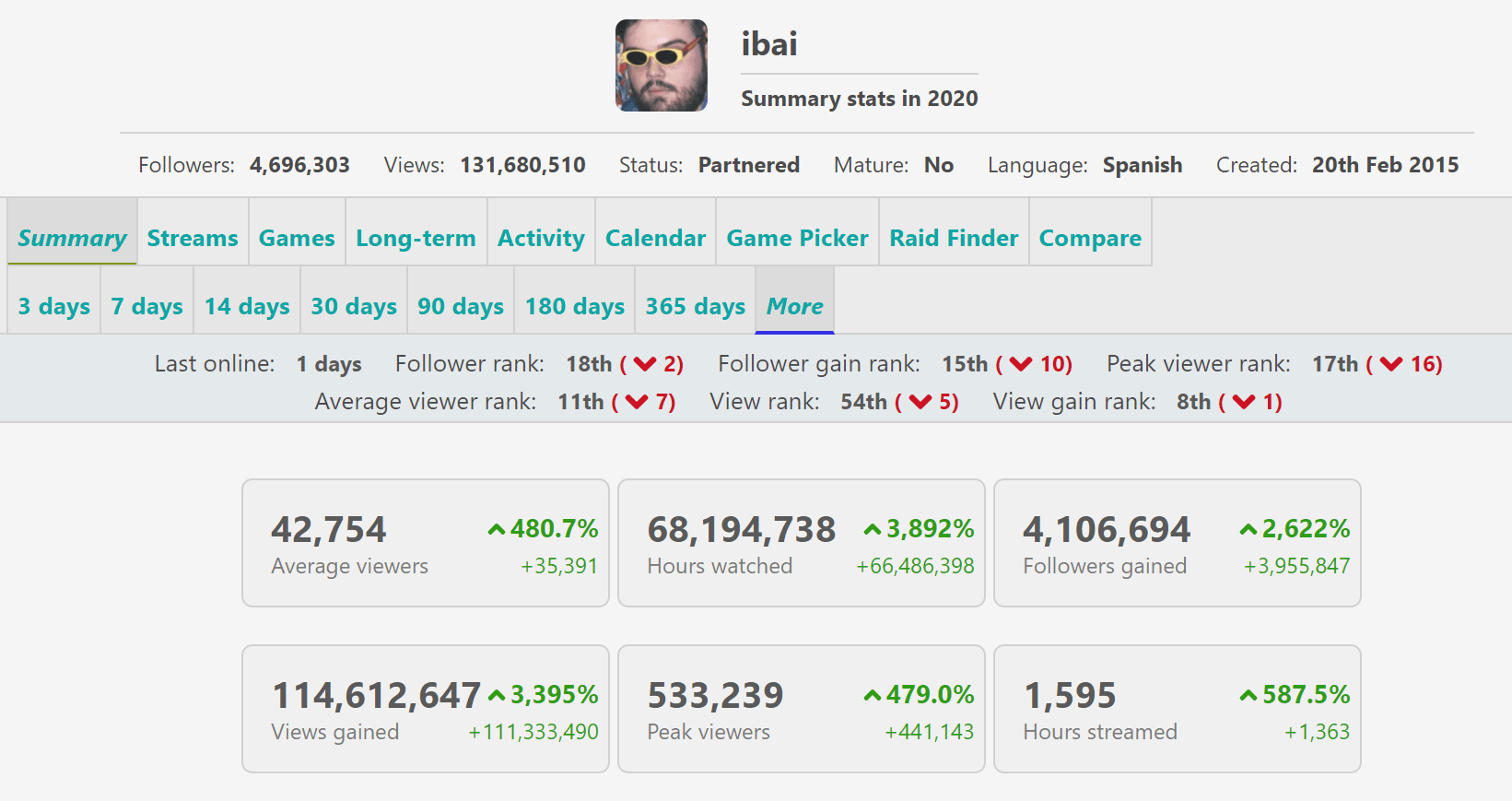 2020 in Twitch Spain has had a name, Ibai Llanos. Without a doubt, the streamer of the year 2020, according to the Esports Awards 2020, has become the sensation and he is the top Spanish content creator on Twitch. His live performances playing different titles such as Fall Guys and Among Us with stars like Kun Agüero, Neymar or Real Madrid's goalkeeper, Thibaut Courtois; and his New Year special with more than 550k viewers stand out over the rest.
Rubius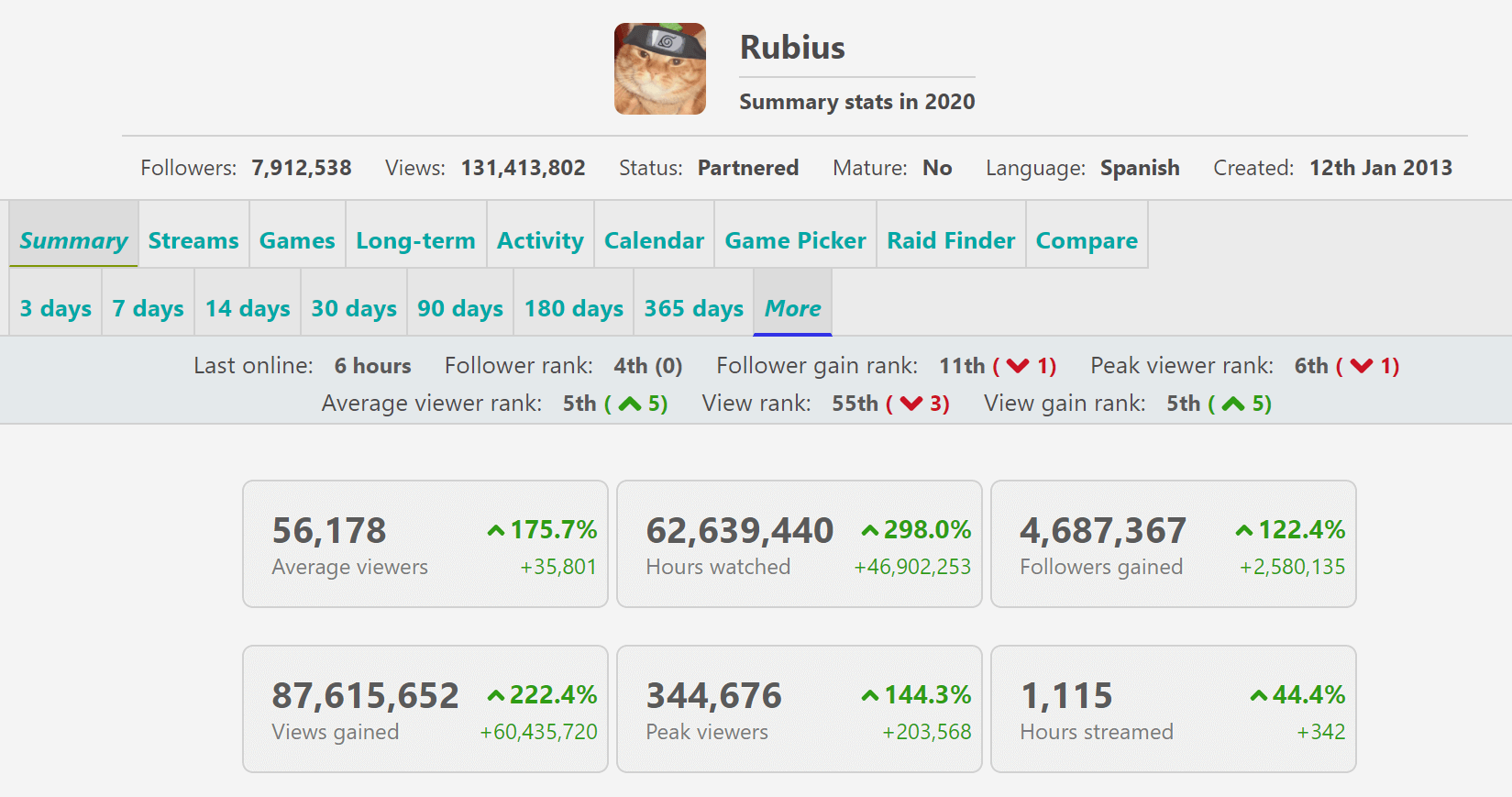 During 2020, elrubiusOMG one of the most popular Spanish YouTubers (39,5M subscribers) started his new adventure on Twitch. His community grew fast and now he streams for his 7,8M followers. He is dedicated to Just Chatting and playing different games with his friends Ibai, Willyrex, Auronplay... He spent 253h in Just Chatting, more than 200 in Minecraft and 122h playing GTA Online.
TheGrefg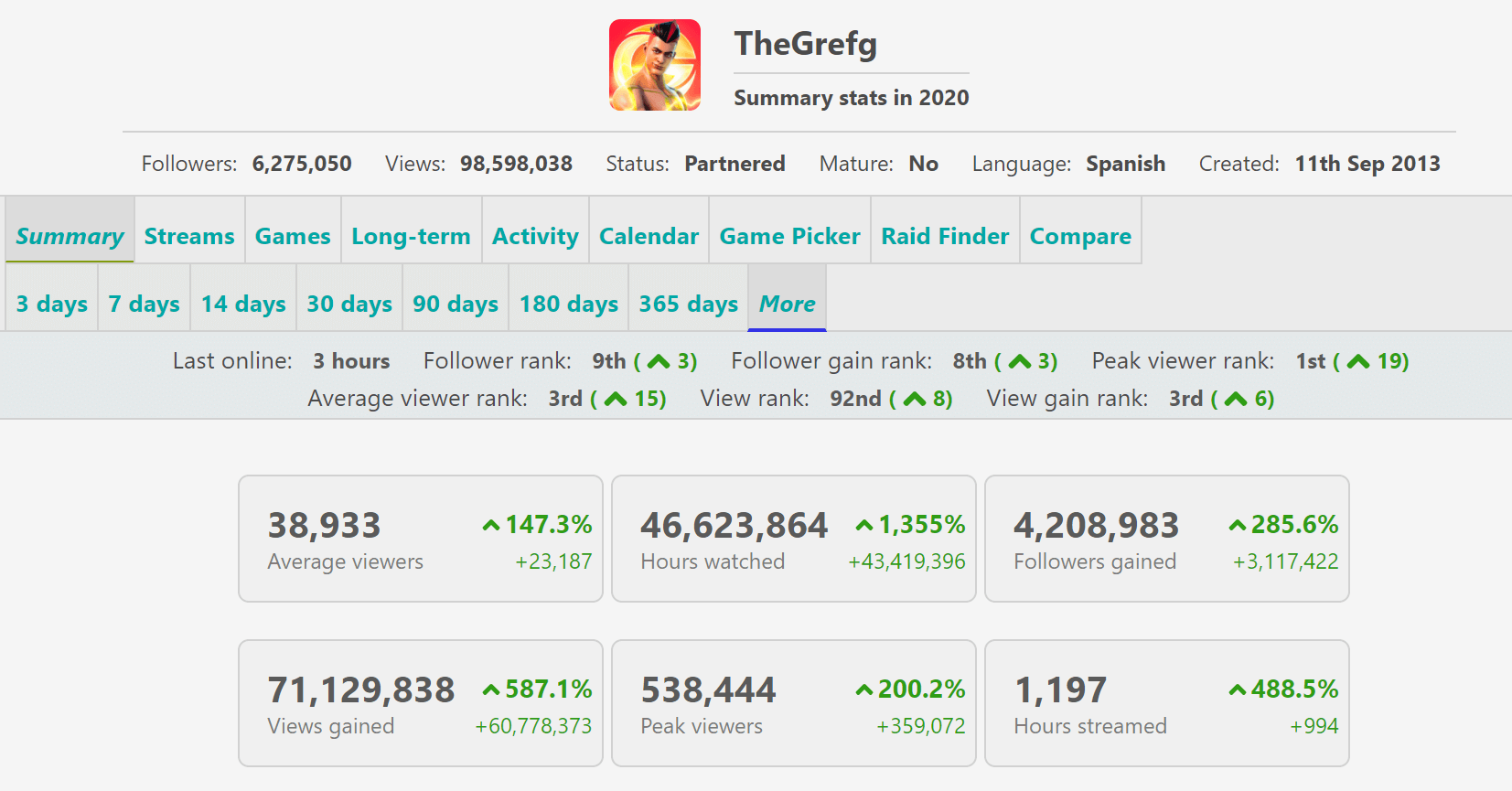 TheGrefg is the clear example of perseverance and passion for creating content. The Youtuber took advantage of 2020 to stream almost daily on Twitch and become one of the Spanish streamers with more concurrent users. His main game is Fortnite, to which he has dedicated more than 500 hours, followed closely by Minecraft with 232 hours. He is very fun and entertaining.
Spanish Newcomers 2020
Auronplay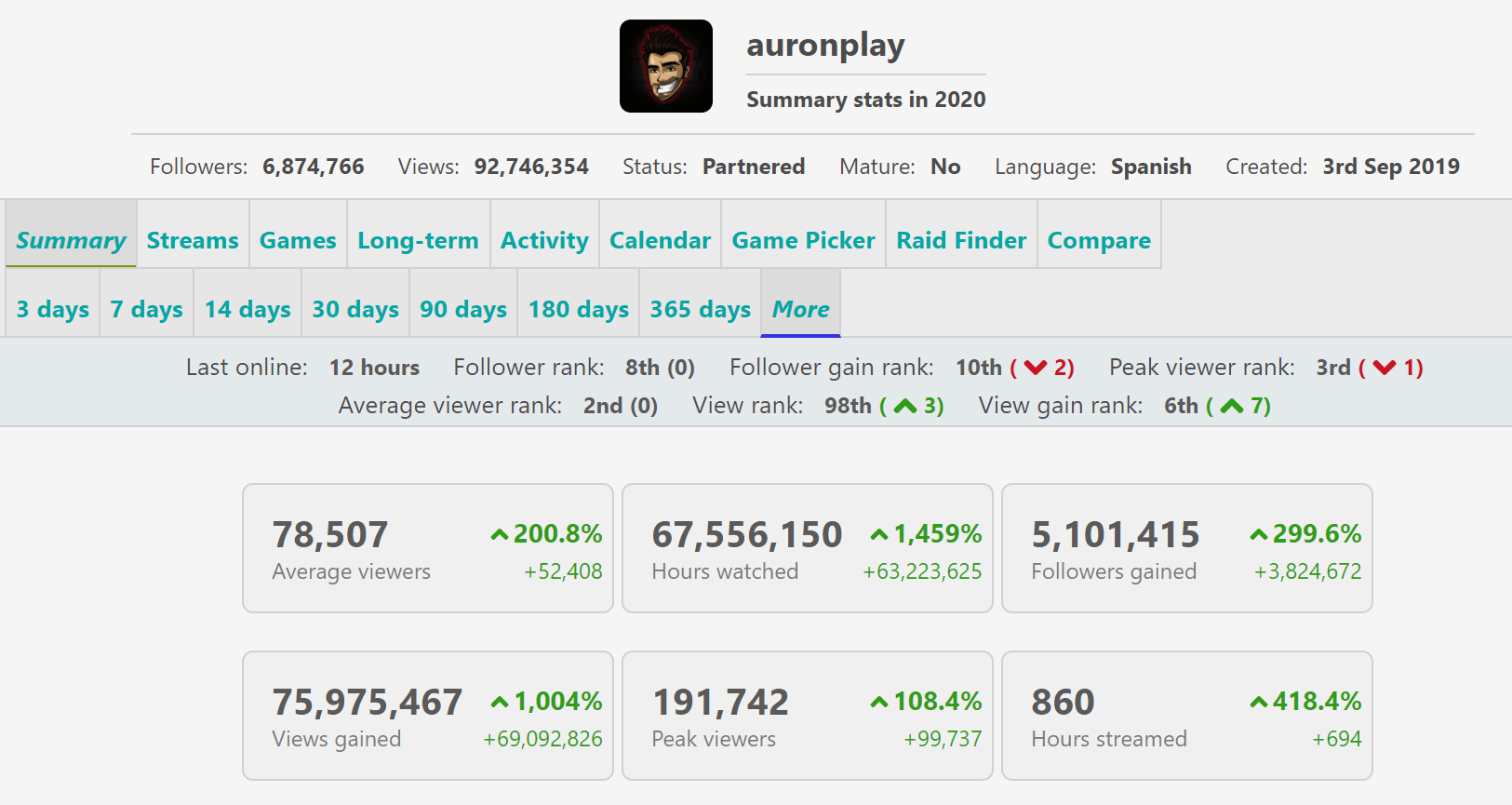 Auronplay's popularity shot through the roof in 2020 thanks to GTA Online and Minecraft. In addition, it is one of the most famous content creators in Spain and nowadays has an average of more than 78k viewers. Even though he doesn't stream every day, every time he starts Twitch, viewers are always there waiting for him.
IamCristinini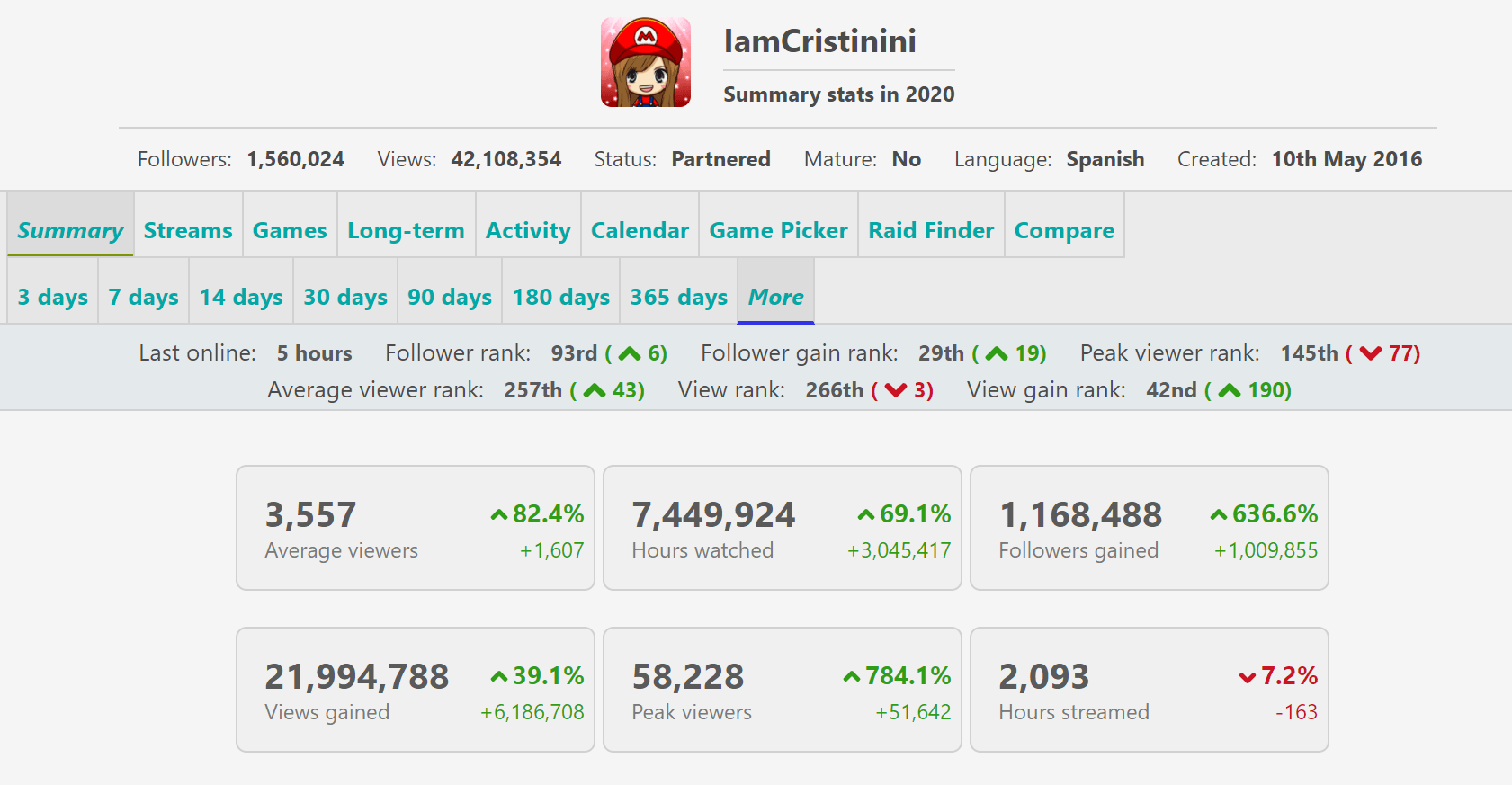 Thanks to GTA Online and the roleplaying servers, IamCristinini has become, for us, the revelation of 2020. She has managed to create a loyal community thanks to hers livestreamings in the Just Chatting category and playing games. Often, she can be found sharing online games with Ibai, Reven, BarbeQ, Coscu, Courtois and others. The year has been very famous and entertaining for her live performances on GTA Online and Among Us.
Mayichi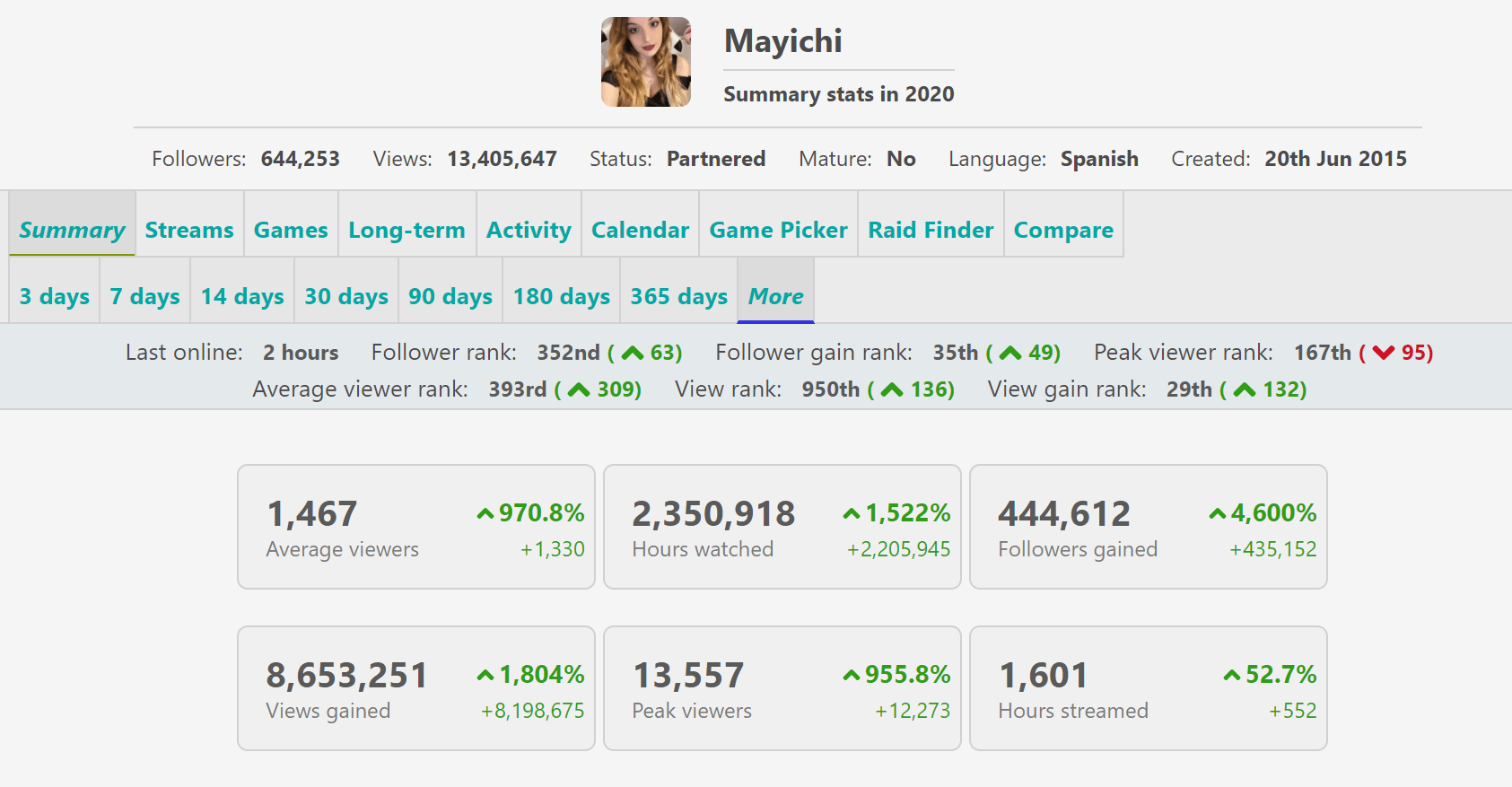 Following the trail of IamCristinini, Mayichi appeared last year on Twitch. She was an unknown and avid Minecraft player. She spent more than 500 hours playing it and she jumped to fame thanks to Ibai. The truth is that she is a very nice streamer and has won the heart of her fans during her long hours in Just Chatting and her funny anecdotes.
Conclusion & outlook for 2021
2020 was the most successful year of almost all streamers' careers. Livestream entertainment is constantly expanding and new faces keep appearing who manage to break through on Twitch. With a lot of stamina, an entertaining style and regular content, anyone can be successful on Twitch, because almost every pot finds its lid here. So the next year can only be a good one, because the more people use the platform on a daily basis, the better it is for both streamers and "end users". We are especially looking forward to new actions from Knossi, Sido & Co and are already longing for a fishing camp 2.0. Livestreaming has arrived in the middle of society and in 2021 platforms will continue to grow until live TV becomes more and more a decrepit relic of bygone times for many young people.