1 What are Twitch Chat Logs?
Twitch is still the largest streaming platform in the world and is used by more than 17 million people every day, both viewers and creators. In order for viewers to communicate with their favorite streamer, they usually use chat, which is an essential part of the entire Twitch experience for a reason. This is where feedback on current events is given and creators can get an overview of what the current mood in the community is. Usually, the streamers follow their chat more or less attentively and try to respond to every comment, but especially in larger communities, the chat can quickly become very confusing and as a streamer, you often lose the overview, especially when you are engrossed in a game.
In order to get an insight into how the viewers reacted to certain situations even after the heat of the moment, Twitch offers the Chat Log function. Here, you can take your time and reflectively analyze what was well received and what was not. The chat logs thus show the entire chat history of the respective broadcast! A great and helpful function that allows streamers to see critical comments that may have been overlooked - so you can work on yourself offline and avoid the mistakes next time. To show you as a streamer how to deal with chat logs, we've put together this guide.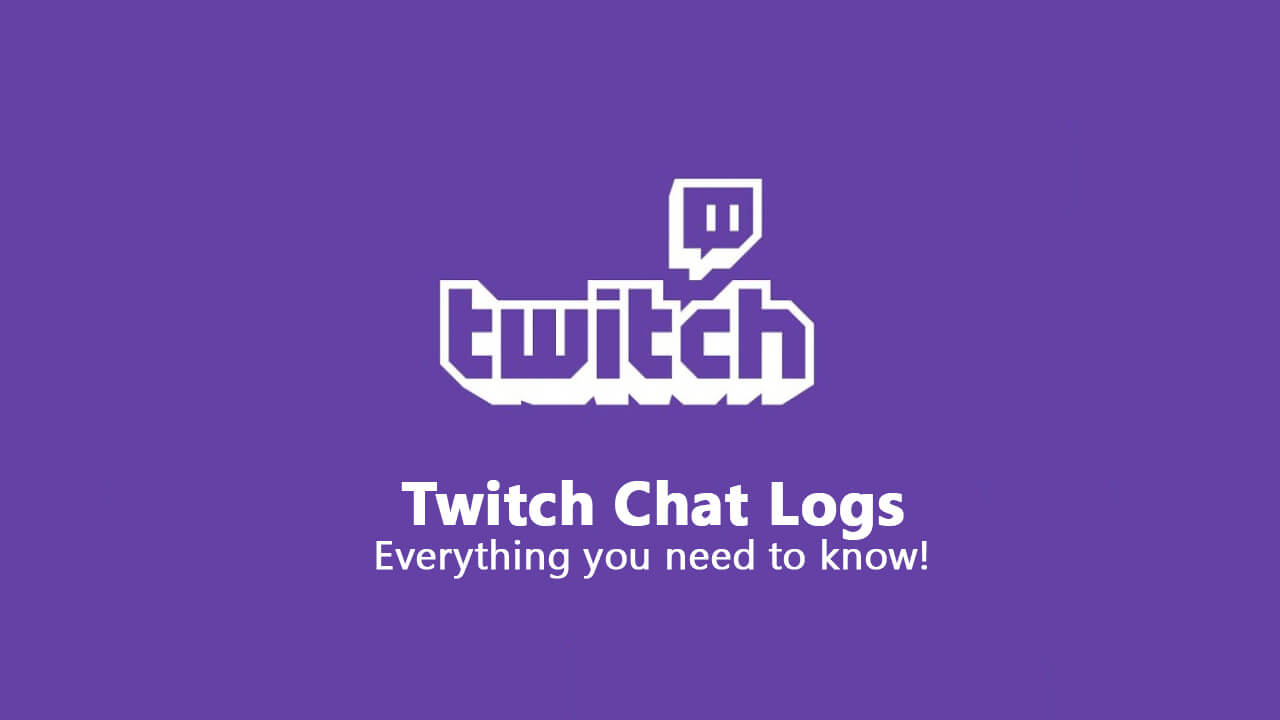 2 Check Twitch Chat Logs - 5 Ways
You can examine your chat log in several ways. Here, it all depends on whether you're looking for something specific, want to see what a certain user contributed to the chat, or how it came to bans that your mods initiated. Here are 5 different ways you can check your chat logs.
2.1 User Search Command
You noticed a user in the chat that was particularly positive or particularly negative? Maybe someone constantly spammed something, insulted you or praised you? It could also be that you noticed the name of the user from time to time while playing, but you didn't have the time to see what he wanted from you. In the best case, you wrote down the name of the viewer - because this way you will be able to search the chat log of the stream for a name. You can do this by entering the following chat command in your chat: /user [name of user]. Now you will see all the chat data of the user and you have the possibility to look in detail what he or she has written. You can also see how long the person has been part of your community, when the account was created or how many times he or she has been banned.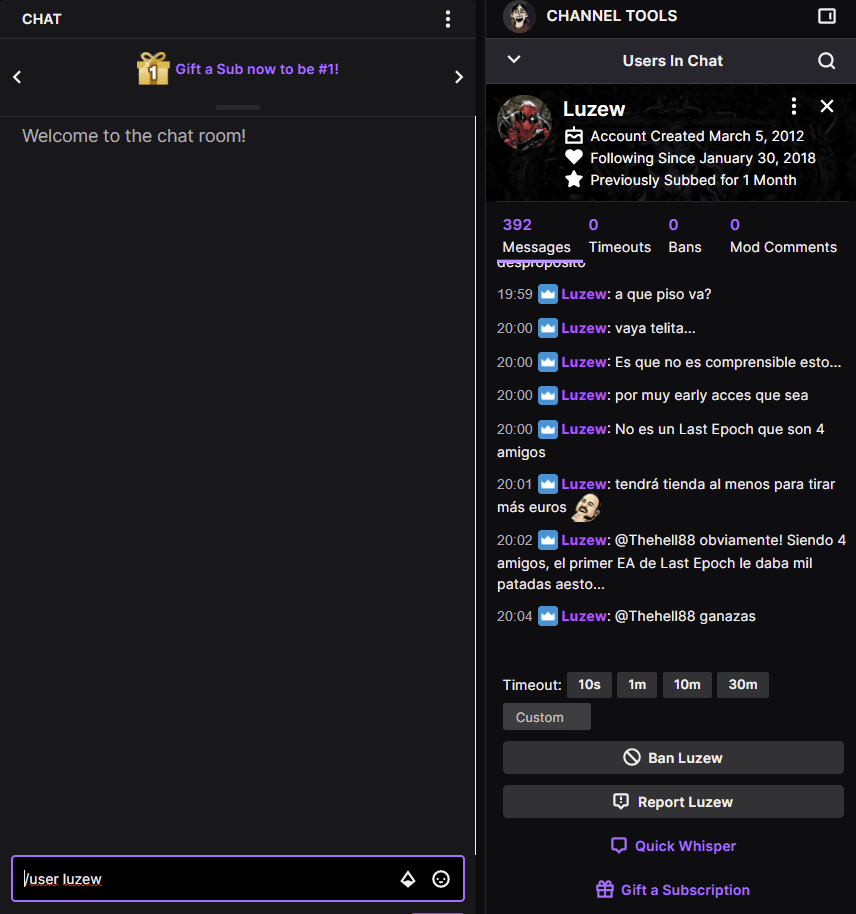 2.2 Using a third-party program
In the meantime, for every task that a person can perform, there is a corresponding program that takes the work off their hands and makes it easier to deal with certain things. This is, of course, also the case for reading out the Twitch chat logs, because if the built-in Twitch function is not enough for you, you can fall back on third-party programs. The open-source program Chatty is particularly often used here, which requires some getting used to, but also shows precise data and analyses.
2.3 Playing your VODs
You want the full program and the comments in the chat to match your actions in the stream exactly? Then you have only one option - watching your VODs. VODs (Video on Demand) are the stored recordings of your broadcasts. How long your VODs are saved depends on what Creator status you have on Twitch (Basic, Affiliate, or Partner). If you are a partner, you have access to all past broadcasts for 60 days - for basic or affiliate users, however, this ends after 14 days. So VODs allow you to watch your streams again with some distance and analyze the chat. For resourceful and very passionate streamers, this is certainly the best way to get an overview of the chat.
2.4 Using a chatbot
Chatbots are little helpers that you place in your stream as chat police and mod replacement. They can be programmed individually and equipped with many useful features. Chat bots also collect data from the chat and play it back as needed. This way, you can find specific comments with just a few clicks and react to them accordingly. Chatbots are mainly used for filtering certain words and terms.
2.5 Switching to the moderator view
Of course, as the owner of the channel, you also have access to the popular moderator view, which allows you to check the complete chat log of certain users - even during the stream! To do so, simply click on the sword icon next to your chat and select the user whose chat history you want to view.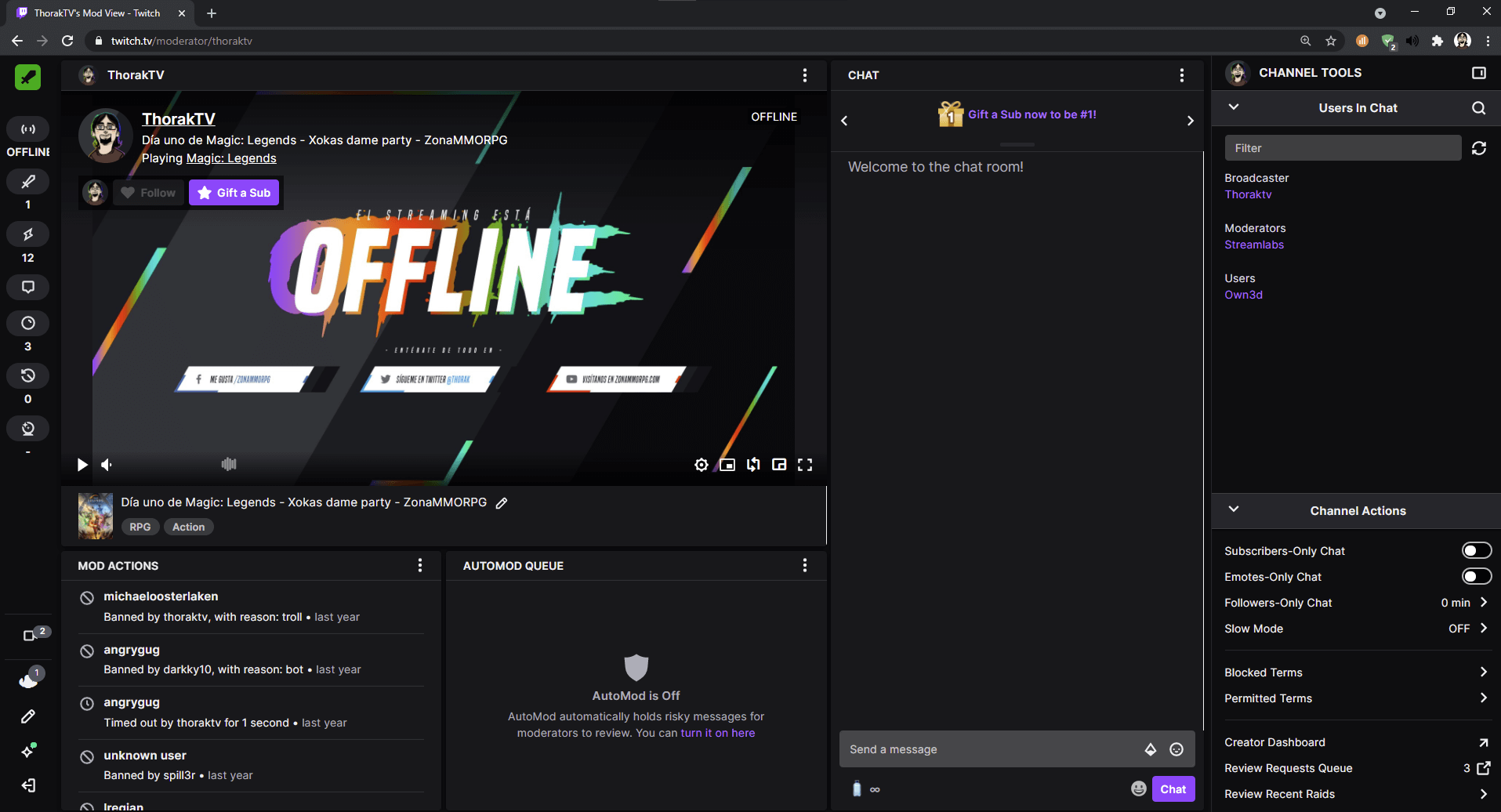 3 Reasons to check your Twitch Chat Logs
As a streamer, you have all sorts of reasons to keep an eye on your chat logs. You can check feedback from your community, warn or ban users for inappropriate behavior, or analyze how active your chat was during the broadcast. To help you understand why, we've put together a little overview for you.
Evaluating bans
Did you or one of your mods name or warn a user too hastily? To evaluate this, chat logs are ideal, because you can track the chat history of certain users exactly and decide after a stream whether you want to withdraw the ban. Evaluating bans and warnings is the main reason for many streamers to deal with chat logs, because we are all not perfect and especially if you do not approach the matter reflectively enough during gaming, it can quickly come to short-circuit reactions that, in retrospect, were not fair. Be careful not to ban every user just because he expresses criticism - this way you will save yourself a lot of work afterwards and the other users won't be scared off by your somewhat too harsh approach.
Find new opportunities
The chat rolls along and the latest message disappears within seconds - even for lightning-fast readers it's impossible to keep track of everything. Somewhere between the messages is a question from a viewer who wants to know the best way to contact you about a business collaboration. And you missed it because you were in the middle of a Call of Duty battle. A horror scenario for any creator, because there could always be a worthwhile collaboration or two behind it. So read your Twitch chat logs carefully so that you don't miss such messages.
Detect inappropriate comments
To keep your chat as clean as possible and free of insults and swear words, the chat log is the tool of choice. Here you can detect inappropriate comments and punish the corresponding user with a warning or ban! For the chat climate such things are essential, because nobody wants a toxic chat and users who insult you or other people. Make sure you always keep this factor reasonably in mind.
Collecting feedback
Let's get to the point that should be very important to you, especially as a streaming newbie - feedback! If you're not yet that skilled at instinctively filtering and tracking your chat, Twitch chat logs can be worth their weight in gold. This way, you can revisit your stream, take user criticism to heart, and implement suggestions for improvement in your next broadcast. However, keep in mind that you can't please everyone. It's no use writing down every objection and trying to please that one user. Try to distinguish between unnecessary and justified criticism and then decide individually how to deal with it.
Collecting audience data
When collecting viewer data, you try to get a general impression of how the mood in the chat is and what the viewers react to most actively. On the other hand, you can also use the data from the Twitch chat log to see when it was quiet in the chat and what might have caused that. While collecting feedback is more about highlighting individual user comments, collecting viewer data is about looking at how your chat is doing in general.
Discover new memes
Every community has its own memes and inside jokes, but how embarrassing would it be if you, as the "leader" of that community, didn't know where the meme came from and what it was all about? You can often find clues to this in the chat log. Especially if certain words or statements are often used and at first seem rather meaningless and without context, you can cautiously assume that this is a new meme. The VOD function in particular often gives you information about how the latest insider was created and how popular it is with your viewers.
Search for usernames
If you notice certain usernames particularly often, you can search for them in the Twitch chat log. This way, you can quickly find not only spammers and haters, but also the most loyal and active of your viewers! This way, they'll quickly stick in your mind and you'll have the opportunity to make them feel like you see how active they are in the next stream. This makes for a close community bond and can be very important in many cases.
4 Delete Twitch Chat Logs
As the channel operator, you can also delete your Twitch chat logs, that's for sure. We'll show you how to do that in our little tutorial.
Go to the settings of your Twitch chat box.

Select "Mod Tools".

Check the option "Mod Icons".

Type the command /clear into your chat and confirm with Enter.

Your chat is now cleared.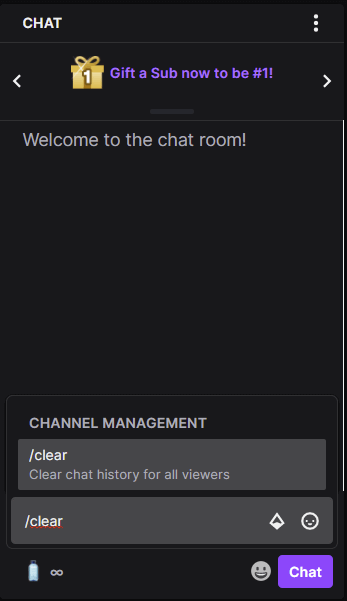 5 Twitch Chat Logs - FAQ
Can I see my Twitch chat logs?
Yes, and in several ways.
Does Twitch save chat logs?
That depends on how you define "save." Your VODs will remain online for 14-60 days - this means that chat logs from broadcasts would remain fully viewable for exactly as long as the VODs are archived.
How to delete Twitch chat logs?
How to delete Twitch chat logs is explained step by step in point 4 of this guide.
How can I see who is chatting on Twitch?
The chat message is preceded by your viewer's username.
How can I check my Twitch chat logs?
There are a few ways to view your chat logs. In point 2 "Check Twitch chat logs" we explain it to you.
Can I view Twitch chat logs from other channels?
If so, then only via the VOD function. To do this, streamers must have the feature that allows other users to view their VODs enabled in their Twitch settings.