Many streamers use a Twitch countdown to get the audience and followers in the right mood right before the start of the stream. Furthermore, as a streamer you can prepare yourself for the upcoming stream and, if necessary, adjust technical details or settings in the broadcaster software.
Since most streaming programs do not have their own plugins or tools that run a countdown, another solution is required. We will explain in detail what possibilities there are, how to implement them easily and answer frequently asked questions around the topic of Twitch Countdowns.
In order to set a countdown before your actual stream, which can for example be "My stream starts in...", you have three possibilities. Which one is best for you depends a little bit on the broadcasting software you are using.
The simplest solution is the new streaming software Twitch Studio. With this software, the streaming portal has not only simplified streaming itself, but has also included a few frequently used tools. These include, for example, the addition of a countdown as a source.
To create this, right-click on the corresponding stream layout and add the "Countdown" layer. Then you can configure the countdown as you like in the right menu. Just before you start your stream you start the countdown in the same menu.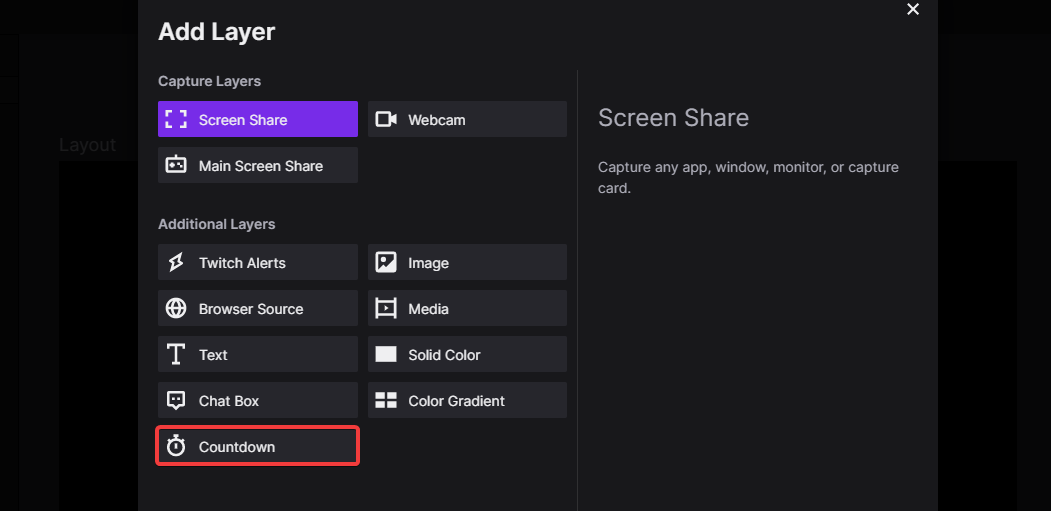 Twitch Studio - Countdown Widget add a layer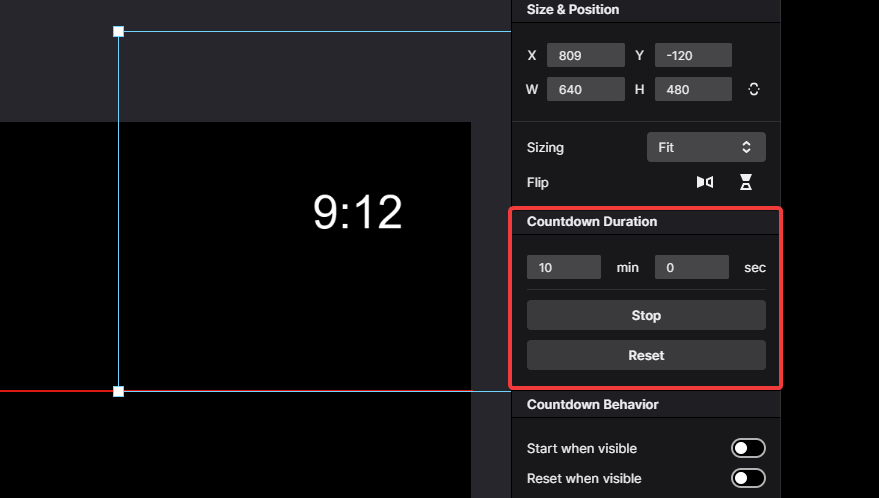 Twitch Studio Countdown Widget - Starting the
If you use OBS Studio as your broadcasting software, OWN3D Pro is made for you. OWN3D Pro is a plug-in that extends the functionality of OBS Studio. OWN3D Pro gives you the ability to install over 200+ designs with a single click and includes additional features such as a Twitch countdown, chat bot and easy integration of a chat box.
SNAZ represents an external solution, but works with most of the known broadcasting softwares like XSplit, OBS Studio or Streamlabs OBS. Prerequisite is the possibility to create a text scene. We will explain what this is in more detail during the SNAZ part. SNAZ is easy to configure without needing significant knowledge of software or technology.
First you download the free program from https://github.com/JimmyAppelt/Snaz/wiki. Then you install it like any other common program. Once this is done, open SNAZ and switch to the tab "Chronos". It shows you a clearly arranged interface where you can set your desired countdown in the upper area "Chrono Down". You can choose in which format the countdown should be displayed and how long it should run.
In the bottom input field "Msg when done" you can write a text that will be displayed when the countdown has expired. If you like, you can add a sound on the right side that will also be played when the countdown is finished. The most important thing, however, is the line below, but before the first use it is empty. Start a countdown to test and get a file path displayed there. Your settings will be added to the .txt file at the end of the path.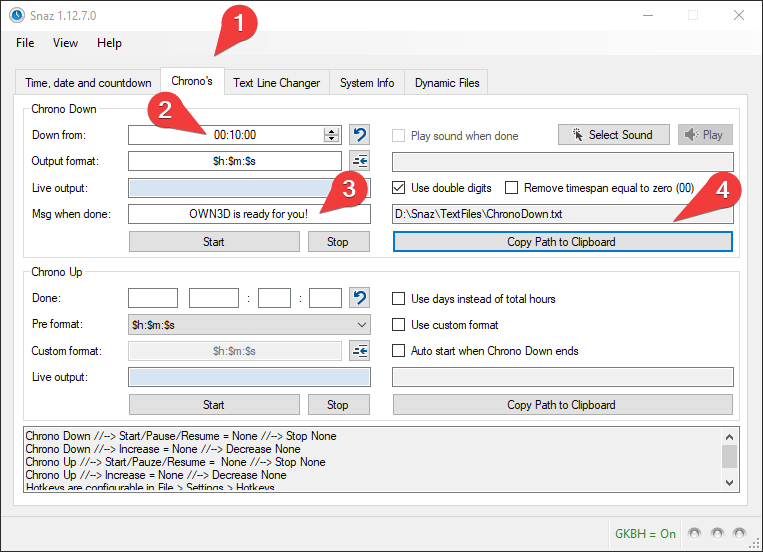 Unlike SNAZ, Voakie is not a program and therefore does not need to be installed. Instead, in this case, visit the website www.voakie.com, go to "Press Enter", then "Projects" and then "Stream Countdown". You will be shown a small mask that you can also use in dark mode.
Important to mention: Voakie does not show you a typical countdown, but shows you the start time and counts down in minutes or hours in brackets below. Another option is to use one of each.
Enter the desired date in the "Custom Date" field and the time when your stream starts. Then you can choose the display type, text color and background. You can also decide what should be the introductory sentence above the time.
Once you have done this, click on "Create" and copy the URL from the address bar of your browser. How to paste into OBS or XSplit is explained a little further down in this article.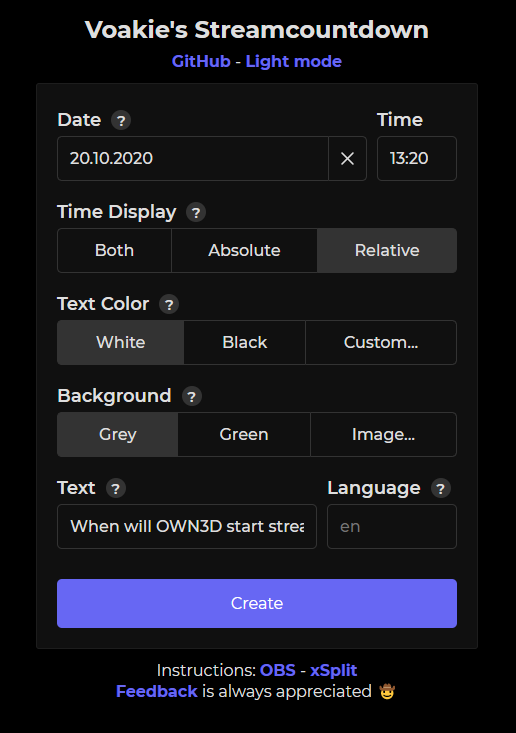 Voakie setup window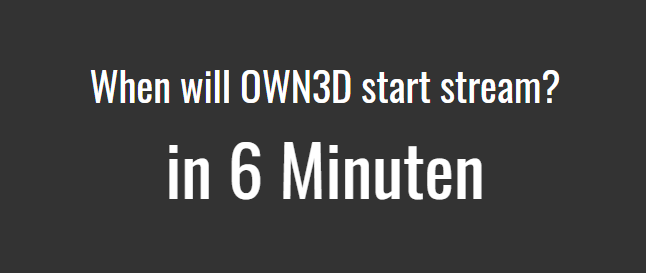 Voakie integra
Via Twitch Studio and OWN3D Pro the countdown can be integrated directly, as it is already included in the delivery. With SNAZ and Voakie.com the story looks different. We explain how you can now implement your preparation as described above in your broadcaster software.
First you create a new scene, which you call "Countdown", for example. Then you add a new text source; a corresponding mask will open.
Since SNAZ updates the text file described above every second, you have to make sure that OBS, XSplit and Co. get access to it. To do so, copy the file path in SNAZ, check "Read from file"(OBS) or "Use Custom Script" (XSplit) in the mask of the text source and add the file path to the corresponding input field.
To make it more personal, you can select the type, size and color of the font in the text mask. You can also add a second text source, for example to add an introductory sentence like "stream starts in". And last but not least you have the option to add a nice overlay.
Important: Always let SNAZ run in the background while the countdown is counting, otherwise the .txt file will not be updated.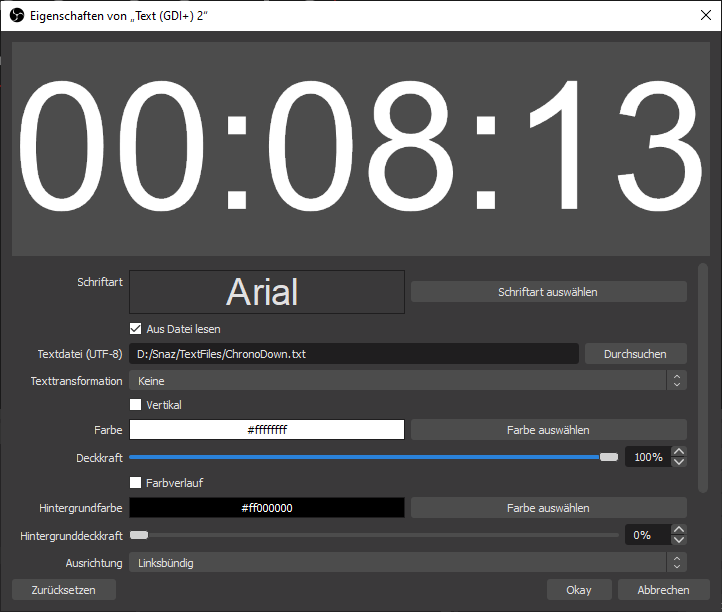 To insert the URL of your Voakie countdown in OBS or XSplit and create a new scene. This time add the source "Browser" or "Webpage". After that you just have to paste the copied link under "URL" and click "Ok".
To make the background of your countdown transparent so that your overlay is still visible, you have to select "Green" as color in the mask on voakie.com under "Background". Afterwards you only have to switch on the chroma key effect in the respective broadcaster program.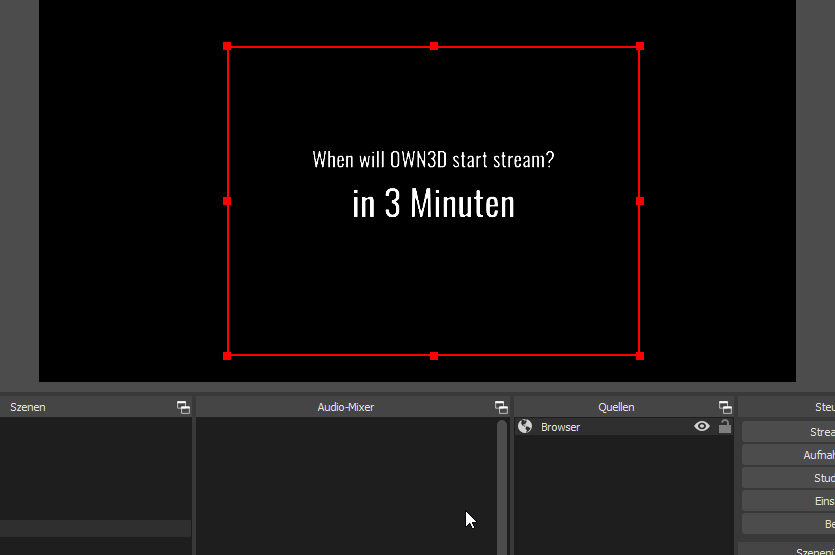 Frequently asked questions about the Twitch Countdown
How long should my Twitch countdown run?
That is a matter of taste. Basically, you should not let your audience wait too long. 10 minutes is usually ok, most people don't wait any longer. It also depends on the connection of your community to you.
How much does a Twitch Countdown cost?
Nothing. All variations we mention in the article above are completely free. They need a maximum of time to create them and establish them in your streaming software.
Twitch Countdown without OBS?
Even if you use a different broadcasting software than OBS, you can use a countdown. If you use Twitch Studio, it has a tool integrated. If you use XSplit or another program, SNAZ and Voakie.com will help you. How these three options work is explained in this article above the FAQ.
Why do I need a Twitch Countdown Plugin?
A Twitch Countdown Plugin is needed to integrate the countdown into an external broadcasting software such as OBS Studio. The tools presented in this article like SNAZ or Voakie are also called Twitch Countdown Plugin.