Streaming software acts as a kind of intermediary, or better yet, interface between the YouTube streaming platform and your computer's signal. It takes the signal, processes it automatically and sends it directly to Google's server. Due to the fact that the raw material may be completely unedited and accordingly has wrong sizes or too high image quality, the streaming software converts this signal into the appropriate format with the quality you specify. 
The streaming software not only helps you optimize and forward your stream - it can also be used to add overlays or other various stream elements. It can decorate a very simple gameplay image with just a few clicks and that will transform your stream into an exciting and perfectly tailored interface.
In the age of livestreaming, it is of course no wonder that there are now many different YouTube livestream software solution providers. However, in recent years, a handful have emerged as the most popular and widely used among the community. Therefore, we would like to introduce you to the most important and beginner-friendly streaming tools.

2.1 OBS Studio
OBS Studio is a free streaming software for YouTube, Twitch and many other streaming platforms. The program is extremely popular and not only offers good beginner-friendliness, but can also score points in the depth of its feature set. OBS Studio can be downloaded and used without registration, it is compatible with many different operating systems and computers and is regularly updated. The popular streaming tool is the go-to choice if you don't want to think twice and are simply looking for a powerful yet very beginner-friendly streaming software for your YouTube livestream.

2.1.1 OWN3D Pro
Always had a vision of a handsome stream that suits you and your content? Turn your stream into a custom piece of art in just a few clicks with OWN3D Pro, the unique plug-in for OBS Studio.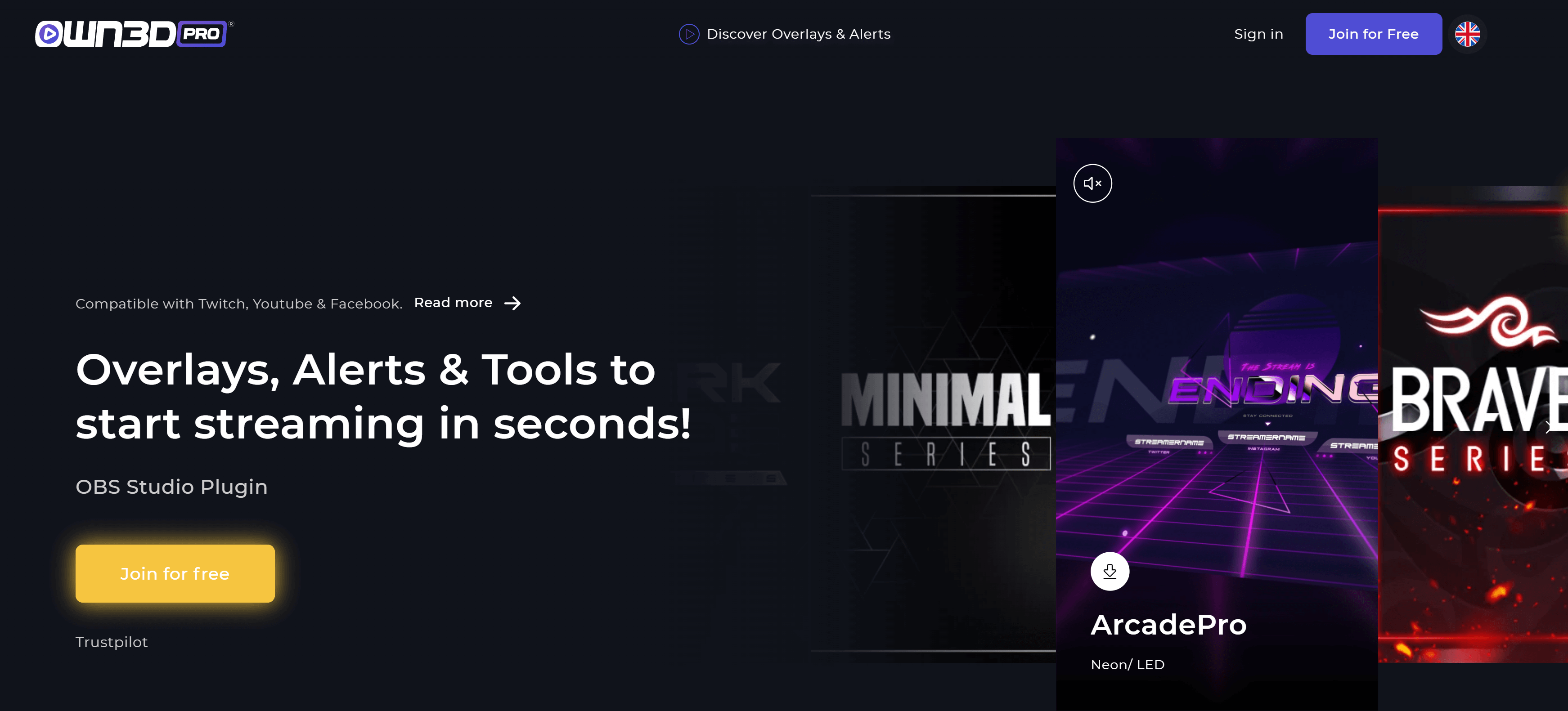 With OWN3D Pro you get the ultimate tool to start your streaming career. Once you download it, you'll never need anything else! Customize your stream with one click and show your viewers that you know how to capture a certain mood. Explore the huge selection of design and usability elements and find the perfect combination for you.
In addition to many overlays, alerts and screens, OWN3D Pro even gives you access to the exclusive and royalty-free OWN3D music database! So you can even breathe fresh life into your stream on a sonic level and make your viewers feel comfortable with you in the stream. But OWN3D Pro also takes care of your well-being, because the plug-in is not only very easy to set up, but also offers you great possibilities to get a better overview of your stream. For example, you can add a chat box to your stream in no time at all, so you can always see what the feedback is like.
What makes OWN3D Pro stand out is that it takes the work out of your hands so you can focus on your career as a creator on Twitch, YouTube or Facebook. The tool was developed as the ultimate all-in-one solution and already helps thousands of streaming enthusiastic users to set up the perfect livestream. Join the OWN3D Pro community and download the plug-in for free.

2.2 Streamlabs OBS
Streamlabs OBS is a streaming software launched by the well-known computer periphery company Logitech. The official website of this software makes no secret of the fact that it is a solution aimed primarily at beginners and streamers who find OBS Studio too complicated. The tool itself is completely free, but you have the option to sign up for a Prime membership, which should help you build your reach and personalize your stream with many different features. Streamlabs OBS lets you stream to Twitch, YouTube, and Facebook. Setup is relatively easy and your stream is up and running within minutes.

2.3 XSplit
Xsplit is the generic term for various YouTube livestream software solutions offered by the developer team SplitmediaLabs. The Xsplit Gamecaster is particularly beginner-friendly, as it does not require much training and is usually ready to use quickly. On the other hand, if you like it a bit more complex and want to personalize your stream as much as possible, you can use the big brother of the Gamecaster - the XSplit-Broadcaster. This streaming software for YouTube, Twitch and Facebook offers the inclined creator a lot of functions, which means that XSplit does not have to hide from the really big tools like OBS Studio or Streamlabs. Unfortunately, XSplit has a catch compared to OBS Studio and Streamlabs OBS: In order to use the full potential of the software, you need a subscription, which is called "Broadcaster Premium". Depending on the plan, you'll pay either €200 one-time or €5-15 per month for the program's license.
To start your YouTube livestream with OBS, all you need is a YouTube channel and the free YouTube streaming program OBS Studio. After downloading and installing the program, you are not far away from your first livestream with OBS Studio.
Download OBS Studio from the official website and launch it.

In order to use the program to stream on YouTube, you need to connect it to your YouTube account. This is done using the so-called YouTube stream key. We have already explained how to create and find it in

this article

.



Open the settings in the main menu of OBS Studio and click on "Stream".

Select "YouTube / YouTube Gaming" as the service and "YouTube Server" as the server.

In the lowest field named "Stream Key" there is now space for your stream key.

Add your stream key there, click on "Accept" and then on "OK" and close the settings.

Create a new scene by clicking on the plus icon in the lower left corner.


⁠
 

Now create a source - the signal you want to transfer to YouTube. In case of gameplay, select the option "Screen capture".


⁠

Streaming software helps you send your computer's image to YouTube and spice up your stream visually. You can start your YouTube livestream with different programs. The most popular tool of this kind is OBS Studio - a free program that scores with many functions and a foolproof initial setup. So, when looking for the perfect YouTube livestreaming tool, you should find out what you value most. Are you already an experienced creator? Then OBS Studio or XSplit might be the right choice. For a more beginner-friendly experience, we highly recommend Streamlabs OBS from Logitech.
What is the best streaming software for YouTube?
That depends on what features you're looking for. The most popular streaming software for YouTube is definitely OBS Studio.
Is the YouTube livestream software free?
There are both free YouTube livestream software solutions and tools that cost money.
How do I start an OBS YouTube stream?
We have explained how to start an OBS YouTube stream above.

Where can I download the streaming software for YouTube?
Once you have chosen a streaming software for YouTube, you can find the corresponding download link on the official website of the provider.