5Head Twitch Emote Meaning
With the 5Head emote you can highlight when a streamer or professional player is making a masterful or smart move or he is speaking wisely. Their forheads are so huge that it can fit five fingers on it.
The 5Head emote can also be used with ironic connotations. Many times the chat will spam it to tell the streamer they are doing stupid things or saying something dumb.
This was the first emote to highlight the smartness with which a streamer was speaking or playing. After this emote, others have arrived, almost always accompanied by the text 200IQ, which means that the streamer's IQ is over 200.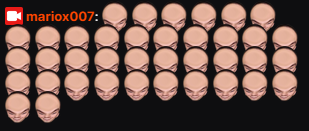 5Head Emote Origin
The origin of 5Head emote is the head of a famous League of Legends streamer. The emote picture shows us the deformed head of Cadburry, one of the most well known players in the League of Legends scene. His head was shaped in a way that makes it look like he has a huge brain.
The first time we saw the emote was in 2018. Its popularity spread like wildfire due to the continuous spam in the communities of Cadburry and of the arch-rivals Canadian and xQc. In fact, xQc fans would spam the emote, non-stop, when m0xyy was talking to indicate that someone super smart was talking.
On March 15, 2018 it was available on FrankerFacez.
How is 5Head Pronounced?
5Head is pronounced as the number 5, plus the word head: "5-head".
Conclusion
The emote 5head is used to emphasize the streamer's intelligence. It is also used when the streamer makes a smart move in the game. In addition, Cadburry's head is also used to speak ironically about the streamer's intelligence or to express that what is happening is idiotic.