Twitch Heart Twitch Emote Meaning
The purple heart emote, <3, is used to show your love, affection, joy and gratitude to the streamer.
When the streamer says something nice or someone gives away subs, bits or makes a donation in the chat, the rest of the viewers usually fill the chat with hearts as a sign of gratitude.
Currently, the purple heart is the third most used emote in Twitch according to Streamelements' ranking of emotes.
If you are a Prime Gaming subscriber you also have the possibility to change the appearance of your Twitch Heart Emotes. There are two more styles available. On the one hand there is the option to display the Twitch Heart Emote within a chatbox and on the other hand there is the possibility to display the Twitch Heart emote as a monkey emoji with heart eyes. You can change the appearance in your personal settings in the backend.
Twitch Heart Emote Origin
The origin of the Twitch heart emote dates back to the very beginnings of the platform. It was one of the first emotes to appear by default on the Amazon streaming platform.
It already existed at the time of Justin.tv, the streaming platform from which Twitch would later emerge.
Over the years, each streamer has created a personalized version of this emote, as it is spectacular to see your channel full of your loving emotes.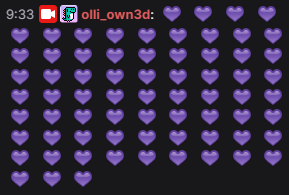 How is Twitch Heart pronounced?
The pronunciation for this emote is: "heart" or "twitch-heart". Some streamers call it "purple-heart".
Are there different Twitch Heart Emotes?
There are many versions of the Twitch heart emote. Only in Twitch, there are three different hearts: a purple one, one stuck in a purple comic book bubble and another one with a little monkey with hearts instead of eyes.
In addition, it is very common that each streamer introduces their own heart emote for its community to show affection.
Conclusion
If you are looking to show love or affection in a stream, the purple heart emote is the best emote for this purpose. If you like the content, someone does something good or you want to react to gifts from the streamer or other viewers, fill the chat with some purple hearts.
E-Commerce & Content
I am our housekeeper, wherever I can help, I stand by with help and advice =)