Wutface Twitch Emote Meaning
When something shocking is happening and we can't believe it during a stream, and we want to show our surprise or disbelief, we use the Wutface emote.
It can also be used when someone is writing something shocking in the chat or something we can't believe.
This emote features Alex Mendez's face, an employee of Twitch.
Wutface Emote Origin
The Wutface emote originated in 2014. It shows the face of a Twitch employee named Alex Mendez where he is either shocked or surprised.
Mendez appeared in a video in 2014 while OpTic Gaming was fighting Team Envy at the MLGAnaheim. While the hosts were presenting the next match, the camera zoomed into the crowd and there was Alex Mendez showing his legendary face.
In this video, you can see it in the second 32:
It is one of the most used emotes in Twitch to respond to surprising or shocking comments or situations, either made by the streamer or written in the chat.
It is ranked 27th in the list of most used emotes in Twitch by Streamelements.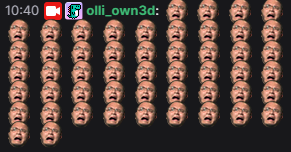 How is Wutface pronounced?
The emote Wutface is pronounced as: "Wut-face".
Conclusion
The Wutface emote is used when we want to show surprise or disbelief to something that is happening during the stream or in front of a comment in the chat. It originated in 2014 and features the face of Alex Mendez, a Twitch employee.