The popular online messenger and chat platform Discord has become an indispensable part of the gaming world. If you want to talk to your friends while gaming, you usually turn to Discord. However, the platform is much more than just a simple chat - on the Discord servers, there are thousands and thousands of communities that have come together to exchange information about their favorite game, their favorite streamers or about many other topics. So it's only logical that Discord has also implemented a streaming function, so that you can stream for an entire community or just for your friends - and that even in a very good quality, which is in no way inferior to that of Twitch or YouTube. 
1 Basics
For Discord streaming, you don't really need much more than a Discord account and the appropriate hardware. You can start your stream from a common computer (macOS or Windows) and even from your smartphone (iOS or Android). But before you start a stream, you should install the Discord app and create an account. If you have already done that, feel free to skip this point.
2 Download Discord and create an account
2.1 Download Discord on your computer (Windows & macOS)
Visit the Discord.com website and download the program for your operating system.
After a successful download, start the installation and open the program.
Now you will be asked to enter your login data - since you obviously don't have a Discord account yet, click on the "Register" button here.
Follow the instructions and then log in to the program with your user data.

2.2 Discord download on your smartphone (iOS & Android)
Open the AppStore, search for the app with the name "Discord" and download it.
Once the download is complete, you can open the app and a window will appear where you can log in with your data or register for Discord.
In this case, click on the colored button labeled "Register".
You will now be guided through the registration process and a short time later your Discord account is fully set up.
3 Streaming on Discord - the ultimate guide
Now let's turn to the actual topic: How do you start a stream on Discord? The user interface of the program is very intuitive and beginner-friendly on all systems, both mobile and computer. To make sure that no questions remain unanswered in the end, we have put together the ultimate guide for you. With this in mind: Have fun streaming on Discord!
3.1 On a Windows PC / Laptop
For Discord streaming on a computer with Windows you don't need anything except for a Discord account and the Discord app. Of course, you should already have joined a server of your choice. This server should have at least one voice channel, i.e., a room where you can chat with your friends or fellow gamers via yourmicrophoneorgaming headset. Alternatively, you can of course create your own server - you can find out how this works in our article "How to make a Discord Server".
Open Discord and click on the server you want to go live on.
Enter a voice channel by clicking on the name of the channel.
In the lower left screen, you will now see the status window, where you can also see the two buttons "Video" and "Screen". (The video function starts a kind of videoconference, which taps the image of your webcam and is therefore of no further concern to us at the moment).
If your hardware (microphone, headset, headphones) is set up correctly, you can now click on the "Screen" button.
In the following pop-up window, the apps or games that you can transfer will be displayed. You can also transfer your entire screen, i.e. exactly what you see. To select the appropriate screen, simply click on the "Screens" tab.
Once you have decided on a source, the last step before the big moment gives you the opportunity to adjust certain settings. For example, you can set the quality or preferences.
Are you ready to go? Then click on "Go live" and your stream will be transmitted!

3.2 On a smartphone
Discord streaming on a smartphone does not differ in its functionality from the conventional variant on a computer. All you need is the Discord app, which you can find in the corresponding app store of your iPhone or Android device. While you are on the road or away from your PC, you can not only talk to your friends in voice chat, but also start a full Discord stream with sound and everything that goes with it. If you have already joined one or more servers, you can start your stream there or simply start your own server. This works within a few seconds and is explained in detail in this guide. Once you've downloaded the Discord app, you're ready to go.
Open the Discord app and log in with your user account, if you haven't already done so.
On the server of your choice, enter the voice channel from which you want to start your Discord stream.
Now that you are in the voice channel, you can either start a video call by tapping the camera icon on the bottom left or broadcast your screen.
So to start a proper stream, we'll opt for the latter option in this case.
So tap on the smartphone icon with the arrow.
A dialog box will appear asking if you want to start streaming.
Tap on "Start transmission" and your entire smartphone screen will be streamed live.
You can now play, surf the Internet or present photos - and all your friends can watch.
That's it! Your perfect Discord stream with your smartphone!
4 Useful tips
To make your Discord stream perfect, we would like to give you some useful tips.
Transmission quality
As you may have already seen, when you start a stream from your PC, you can set the quality. If you feel that the quality of your Discord stream is poor, you can increase the quality if your internet connection allows it. You should note, however, that you can only stream in the highest quality (1080p & 60 fps) as a Discord Nitro member. This service costs at least 4,99 € per month and offers you some useful advantages compared to the free membership.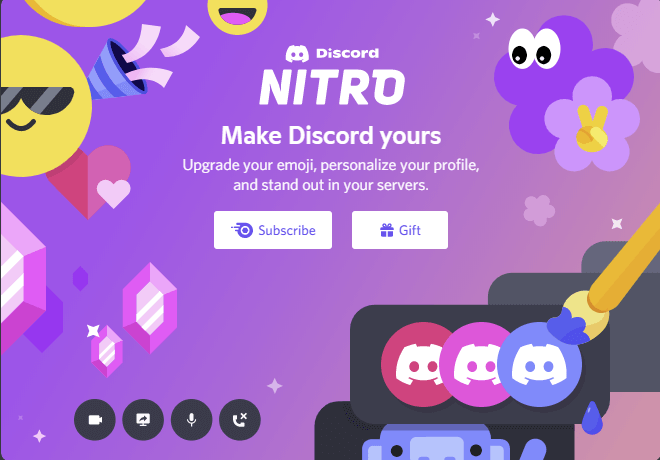 Invite other people to your stream via invitation link
Of course, you can do some advertising for your Discord stream in advance, but the most effective way is to send an invitation link or invite people directly via Discord. This way, interested people can simply click on the link and immediately find themselves on the server where your stream is currently running. To create an invitation link, simply right-click on the name of the voice channel and click on the "Invite people" button. This works both on PC and mobile via the smartphone app.
5 Conclusion
As you can see, streaming on Discord is really easy and requires hardly any technical knowledge. With your own Discord stream, you can start a livestream for friends and acquaintances and see if you like streaming in a small circle. If you do your job well and you like it, you might even register on Twitch or YouTube and start your own livestream there.
6 FAQ
How do I stream on Discord with sound?
Your Discord stream is automatically with sound. However, you can also adjust or turn it off.
Can I also start my Discord stream with OBS?
No. But you can use the OBS Streamkit for Discord to present a nice stream with overlay to your viewers. This way, your viewers can also see what's happening on Discord during your Twitch or YouTube stream.
How can I stream on Discord from mobile?
With the Discord app, which you can find in the AppStore.
My Discord stream quality is bad, what can I do?
You can set the stream quality before starting your stream. To stream in the best quality, you need the paid membership Discord Nitro.
Maurice
Content Creator
Quality Content right from the heart of a passionate Gamer. :)