1 The most important facts first
In recent years a huge market for streaming accessories has emerged and while many niche products come and go in this area, the microphone is still the most essential piece of technology next to the camera when putting together a streaming setup. We show you what is important when buying a streaming microphone and what you should pay special attention to. The following points roughly summarize what features a good streaming microphone has and what you should pay attention to when buying one:
Streaming microphones are connected to the PC either via USB or XLR cable and audio interface.
Microphones with XLR-connectors usually sound better, but are also more complicated to use than USB microphones.
The microphone quality of most gaming headsets is not suitable for streaming.
Large diaphragm condenser microphones have a very natural sound. Your voice reaches the audience authentically and unfiltered.
The right microphone accessories can prove useful.
If you want to stream professionally, it is worth buying a bundle with microphone, microphone boom and pop filter.
2 The best streaming microphones in comparison
3 Buying guide: What to look for when buying a streaming microphone
Buying a streaming microphone can prove to be quite tricky, especially if you don't know what to look for. With the sheer number of microphones on the market, you quickly lose track and the features that are important for streaming can quickly be neglected.
Which connection variant?
First of all, you should think about how you want to connect the streaming microphone to your PC. If you want to have it easy, fast and cheap, you should choose the USB microphone. USB microphones are particularly suitable for the beginner, because they are more cost-effective and work according to the "Plug & Play" principle. Most USB microphones already have controls on the device, so you can adjust the volume settings analogously.
For higher demands, the connection variant with an audio interface or mixing console is suitable. Here the microphone is connected to the interface or mixing console via XLR cable and from there the audio signal reaches the PC via USB. Compared to the conventional audio interface, the mixing console in particular offers various setting options and controls. Here you can adjust your audio settings in extreme detail, similar to a recording studio.
Pay attention to the integrated features
Many microphones specially designed for streaming already have practical features such as headphone jack, shock absorbers, hardware and software background noise reduction. The installation of these streaming microphones is also often very user-friendly, as they often come with their own software for downloading, which allows you to adjust the sound settings.
Some microphones also have different recording modes that can be activated according to the application. These modes are often divided into speech, vocals and instrument. With this setting of the so-called directional characteristic, the microphone records the sound waves in a certain range depending on the mode and can thus ensure that, for example, background noise is filtered and the focus is on the voice. However, the analog compression of the signal slightly distorts the original sound of the voice. The advantage again is that you have the right recording mode for every application. So if, in addition to streaming, you also want to make music or record podcasts with several people in one room and accept this compromise, you should look out for such a function.
Streaming with the Gaming Headset?
Due to the significantly poorer recording quality compared to a streaming microphone, we do not recommend streaming with a headset. Although it may sound tempting, streaming with a gaming headset is more of an emergency solution for newcomers in most cases. If you want to produce high-quality content, you should be able to keep up with the competition. And almost without exception they stream with a streaming microphone. More about headset vs. streaming microphone can be found in this article below.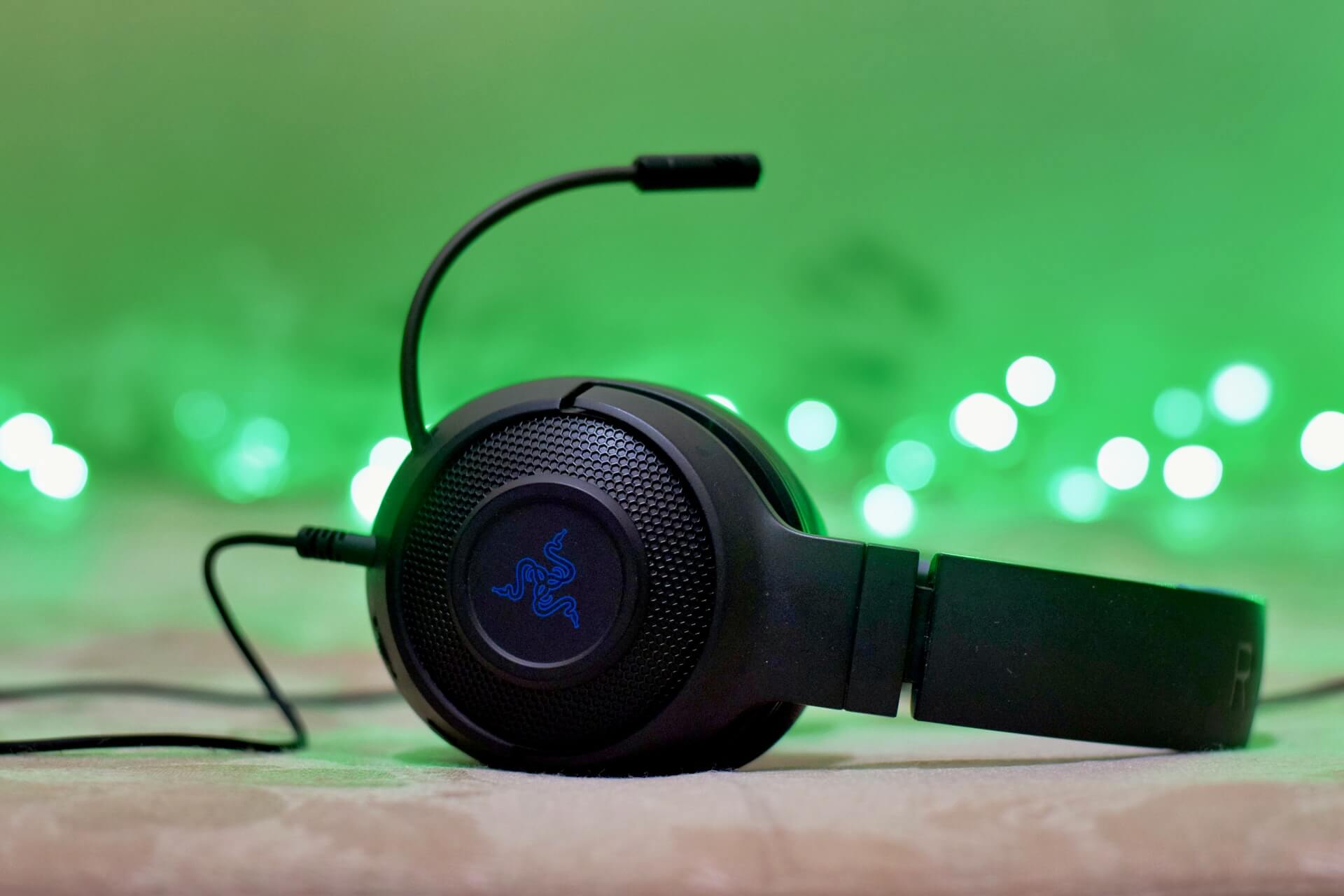 Set a budget limit and compare the recording quality
No matter which version you choose, a professional microphone can have various specifications and features you've never heard of before. If you don't have a degree in audio engineering, you can quickly get out of hand and feel taken by surprise. We therefore recommend that you get your own impression by listening to recording examples of the microphone on the Internet. After determining the type of connection, it can be useful to get a rough overview, set a price limit and then decide on a microphone based on sound examples. Especially on YouTube and product pages of specialist retailers you have the possibility to listen to one or more sound samples. This way you can easily find out which microphone you like best.
Especially streaming newcomers should know that especially expensive microphones are not designed for streaming but rather for professional music production. High-end sound during streaming cannot hide the quality of the content in the long run. For the beginning it is therefore always recommended to take the healthy middle way.
4 Streaming Microphone Accessories
For a particularly good streaming experience it is often not enough to use only the right microphone. The right accessories also play a major role. Which accessories prove to be useful extensions, and which are even absolutely necessary?
The audio interface / mixing console
A PC does not have an XLR microphone input, so these devices serve as an interface between microphone and PC. The cable of the streaming microphone is connected to the audio interface or mixing console and from there a USB cable leads directly to the computer. This not only transfers and digitizes the audio signal, but also supplies the microphone with power. The audio interface is therefore additionally connected to the power outlet. This technique is called phantom powering and is mainly used for large diaphragm microphones.
But this is not the only function of an audio interface - it also allows direct control of output volume or microphone gain. Much more extensive setting options are provided by the mixing console. With this, several audio channels can be fine-tuned and tuned to each other. A modern mixing console also serves its purpose as a USB interface, but requires much more technical understanding than a pure USB audio interface.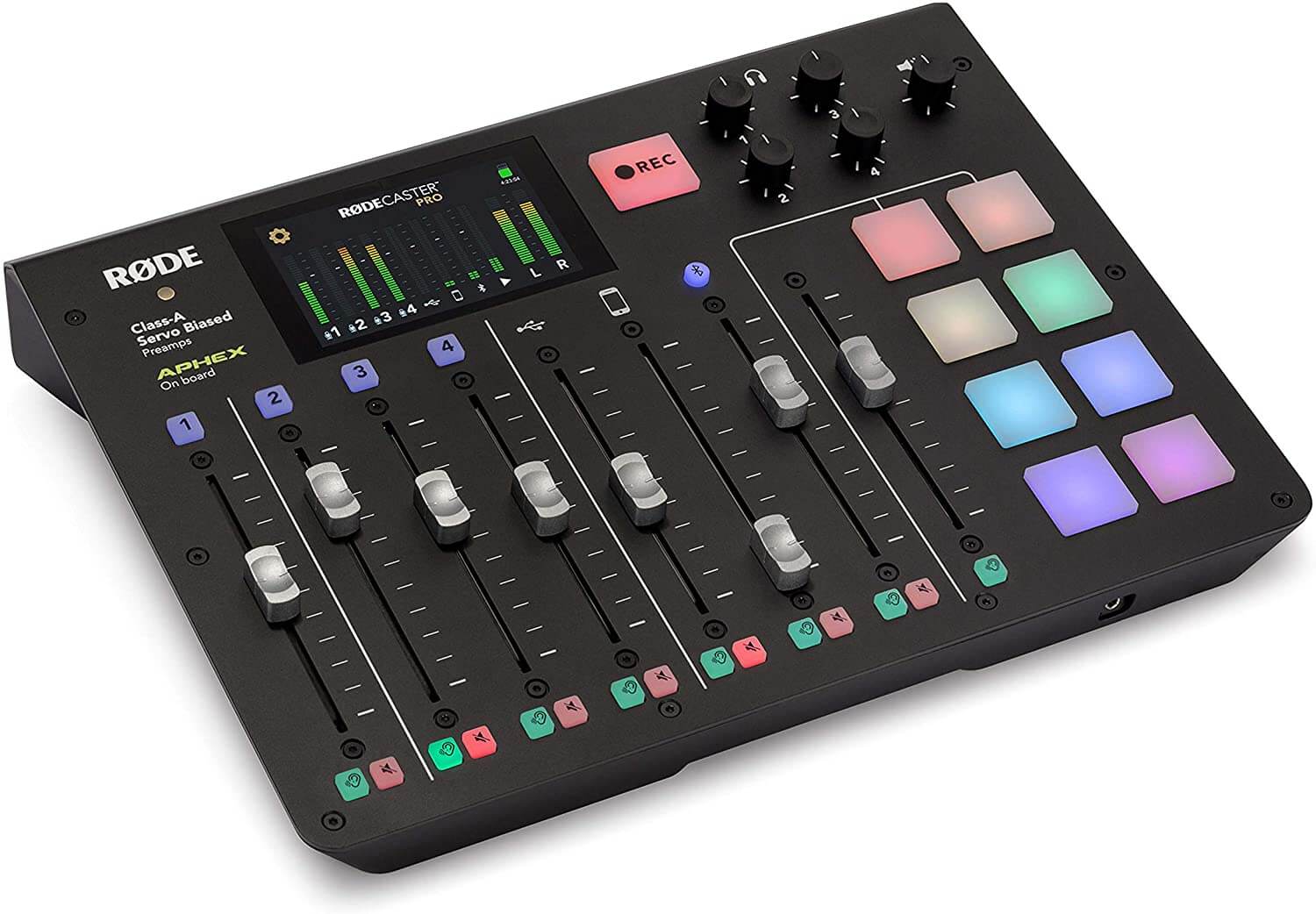 Important:
If you decide to use a USB microphone, you do not necessarily have to buy an audio interface or mixing console. These microphones are connected directly to the PC via USB and are already equipped with controls.
The Pop Filter
A so-called pop filter does exactly what its name already suggests. It filters out the "pop" sounds, so to speak, before they reach the microphone. Especially the sharply pronounced "P" is suppressed and prevents the microphone from overdriving for a short time. Pop filters are available in both fabric and metal. Most pop filters are universal because they are attached to a flexible arm which can be attached directly to the microphone mount and adjusted to your needs. If you want to spare your audience from "RIP Headphone Users" moments, you should definitely get a pop filter. The practical helpers are already available for about 10 EUR and offer a great added value for all involved.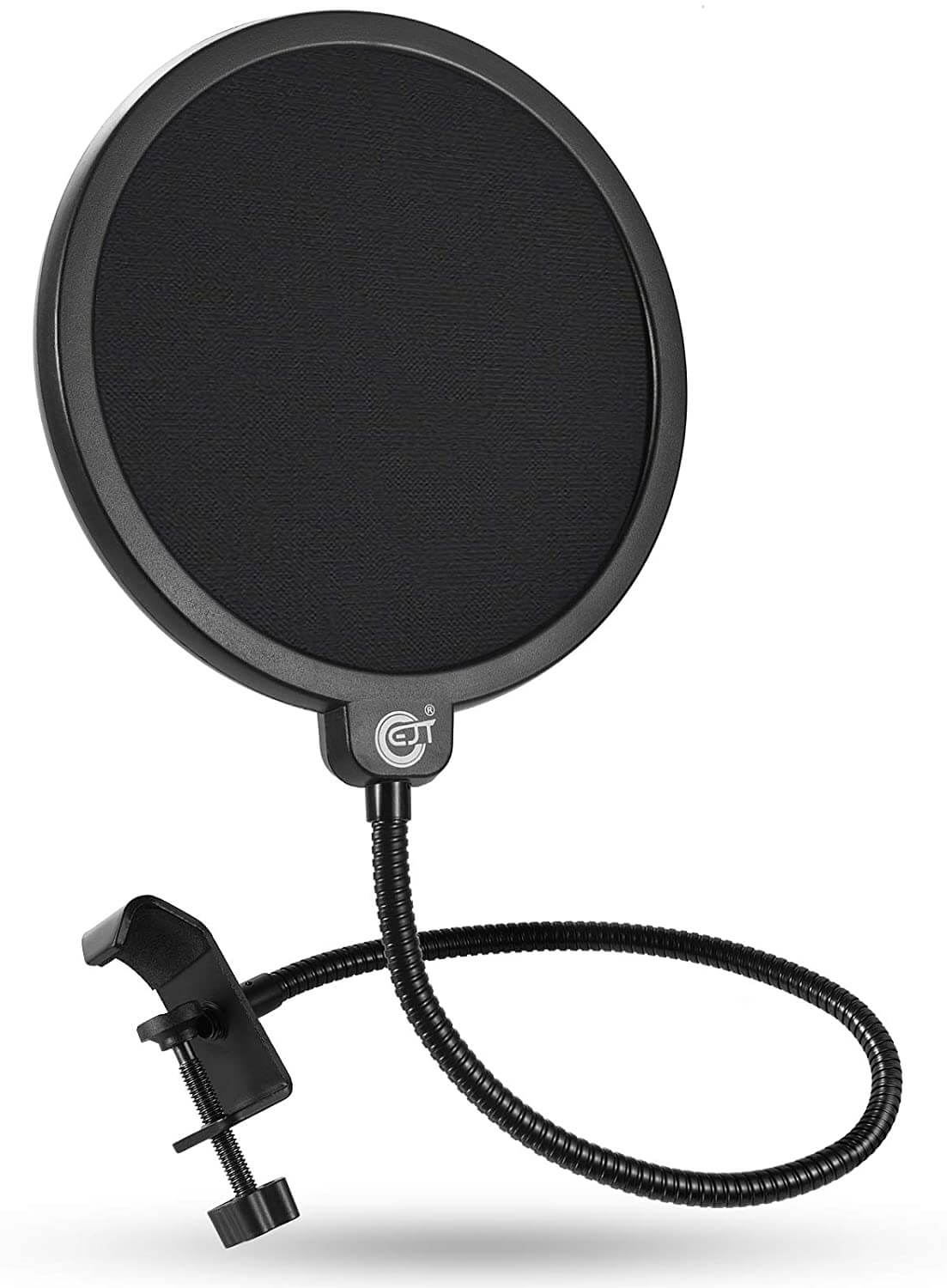 The microphone arm
Most streaming microphones already come with a desk stand included. That's all well and good, but if you type a lot on the keyboard during streaming or simply don't have enough space on the desk, you might have problems with these included stands. The noise when placing objects or typing on the keyboard is transmitted from the stand directly to the microphone and can cause unpleasant sounding vibrations during the stream. Also, a stand usually takes up a lot of space unnecessarily and can quickly become annoying when you are not streaming.
In such cases a microphone boom can help. These are mounted on the desk using a screw clamp and can be swiveled thanks to a spring and several joints. The microphone floats in the air, so to speak, is protected from vibrations and can be moved freely and individually in height, distance and angle. Another advantage of a microphone arm: the microphone cable can be routed along the arm, directly to the PC or audio interface, thus creating a permanent, quickly deployable setup. Well manufactured and high-quality microphone arms are available starting at about 30 EUR.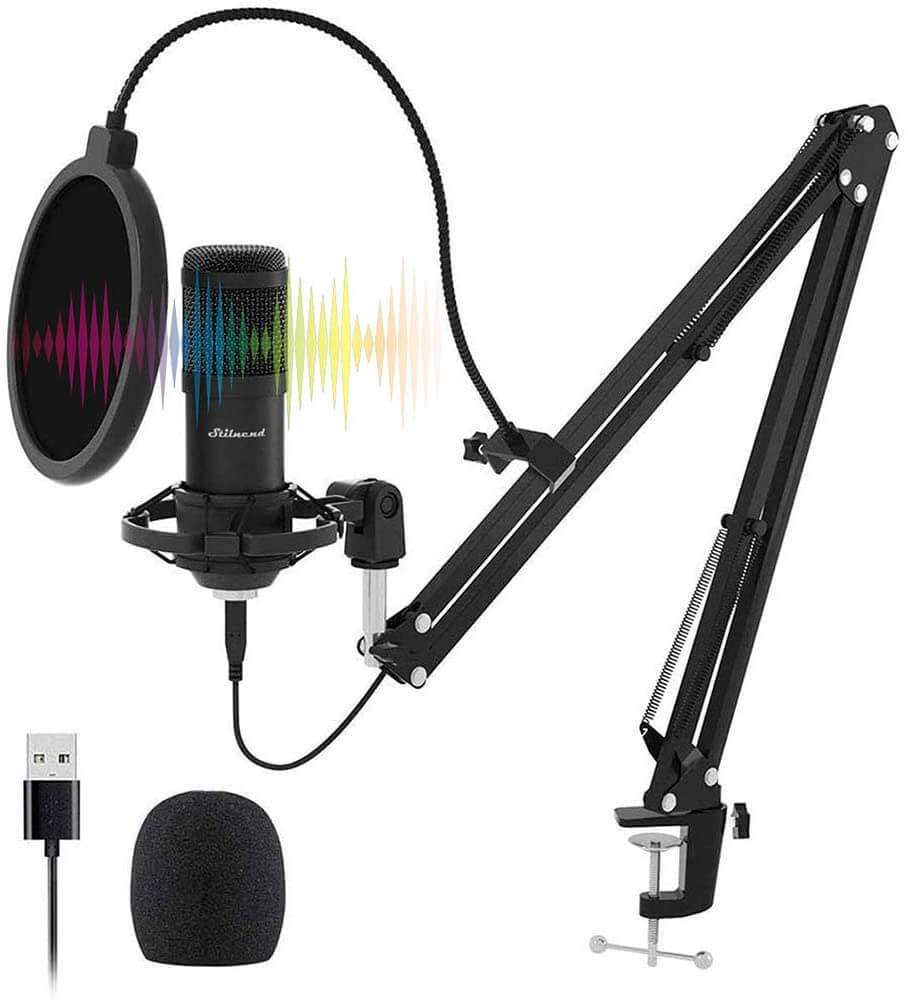 5 Wireless vs. Cable Microphone
Wireless means "restrictions" in most cases. This is also true for microphones - while the advantages may be obvious at first glance, the negative aspects of a wireless microphone clearly outweigh them on closer inspection. Wireless microphones usually have a rechargeable battery that needs charging or batteries that need to be replaced. In addition, no wireless transmission standard can provide the recording quality that a professional microphone connected to the PC via cable can provide. The reason for this is simple: with wireless transmission, data information is always lost and the signal does not reach the PC without significant losses.
In order to offer your viewers the best possible sound quality, there is no getting around a wired microphone. The best microphone of a wireless headset will never match the recording quality of a professional microphone due to its design.
The only exception are professional wireless microphones as used in TV productions. But first of all they are quite expensive in purchase price and secondly the use of these devices can be relatively complicated.
6 How a streaming microphone works
Streaming microphones usually differ in two different modes of operation - dynamic microphones and large diaphragm condenser microphones. While dynamic microphones tend to filter out background noise, large-diaphragm condenser microphones sound more natural and less compressed. For a sound that is as authentic as possible, condenser microphones are therefore recommended. The majority of all podcasts and streams are recorded with this type of microphone. Dynamic streaming microphones are hardly represented nowadays and are more and more displaced from the market by cheap, better sounding condenser microphones - exceptions confirm the rule.
USB vs. XLR & Audio Interface
USB microphones are ready for immediate use according to the "Plug & Play" principle and offer good sound at low cost and installation effort. Analog microphones connected to an audio interface via XLR cable, on the other hand, require a certain amount of basic knowledge to find the perfect settings, but also offer a much better sound.
7 Streaming microphone vs. headset microphone
Streaming microphones are stand-alone devices and can be operated completely independent of the headphones. Gaming headsets, on the other hand, have a built-in microphone and offer an all-in-one solution for the small budget or for those who do not have enough space on their desk, for example. The difference in sound quality between the two versions could not be greater. If streaming microphones sound clear, distinct and almost no noise, you have to search for a long time in the field of gaming headsets to get a microphone quality suitable for streaming.
A gaming headset is great for playing with friends in Discord or Teamspeak, but especially with long monologues, as they are common in streaming, it is recommended to offer your viewers a professional and pleasant sound quality. It should also be mentioned that gaming headsets with a good microphone can cost quite 200 EUR. You save the space and money for a professional microphone, but you have a slimmed-down solution of a streaming setup. Whether you want to make this compromise is up to you. However, we always recommend the combination of headphones and a special streaming microphone.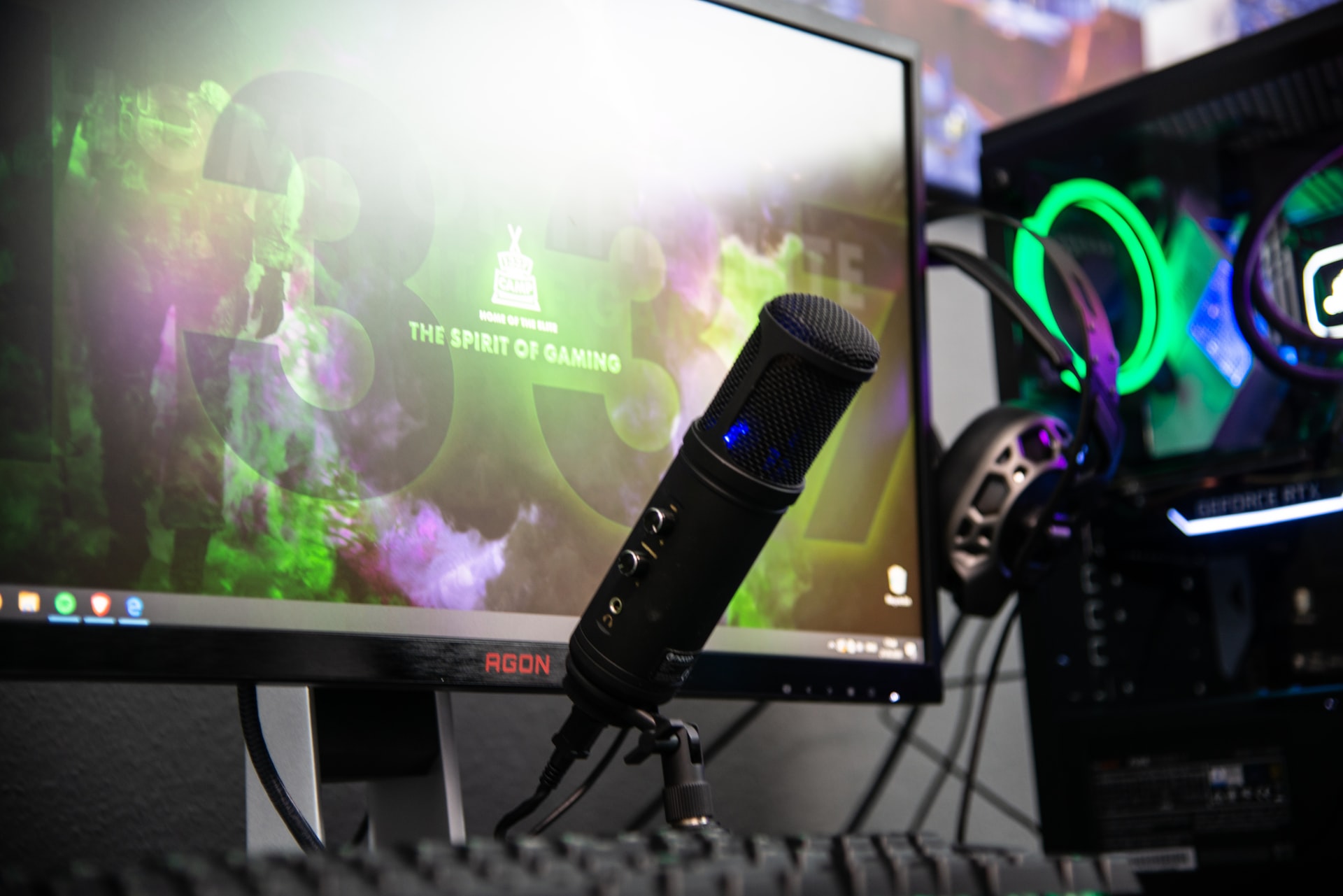 8 Streaming Microphone - the costs
Streaming microphones are now relatively affordable and there is a product to suit almost every budget, but as in all areas of technology, the sky is the limit. USB microphones in particular are ideal for getting started, both in terms of price and in practice, because they can be connected directly to the computer without an audio interface and are immediately ready for use by almost anyone, even without special knowledge.
For the demanding streamer, however, the investment can become a relatively expensive affair. A good condenser microphone including audio interface, the pop filter and a microphone boom can quickly cost around 300-500 EUR.
We see: The price of a streaming microphone varies depending on the application and the demands of the user. Basically, one can put together a good setup including microphone, pop filter and microphone boom for about 150-200 EUR.
Price-performance tip:
You should definitely keep your eyes open for bundles, as it is not uncommon to find very good complete all-inclusive packages that allow you to get started right away.
9 Conclusion
Finding the right streaming microphone can be a little confusing at first because of the different modes of operation and connectivity, but if you set your priorities and set yourself a budget limit, there's not much you can do wrong. Meanwhile, the market has been so optimized that there are hardly any black sheep in the streaming microphone business. Especially the big manufacturers often offer good, attractively priced all-in-one solutions that fully serve their purpose. So it is no longer difficult to set up a functional, affordable streaming setup with good sound.
10 Frequently Asked Questions
Why is a streaming microphone so important?
Streamers are mostly solo entertainers who entertain their audience not only with pure gameplay but also with their voice. Usually the events are commented on over several hours and the voice is an essential part of the streaming experience. So if you want your viewers to have a good time, you should attach importance to a good microphone quality. Or would you listen to a streamer that sounds like it's talking through a tin can?
Can I use my streaming microphone for playing with friends in Discord or Teamspeak?
Absolutely! With little effort you can even play with your friends and stream at the same time. The microphone acts as an input device for your computer and there are no limits to the areas of application.
Can't I just use the microphone of my headset for streaming?
You can do that especially in the beginning. We recommend using your headset microphone for your first streams, and if you enjoy it, you can look for a professional streaming microphone.
I have never bought a microphone before. Is the setup complicated?
It depends on what kind of microphone you choose. For beginners, we recommend a USB microphone with a built-in audio interface that works and is ready to use as soon as you plug it in. There are many great entry-level devices available from many major manufacturers.
How expensive is a good streaming microphone?
High quality streaming microphones can be bought from about 100 EUR. Microphones with various settings and good sound cost between 150 and 300 EUR.
Can I connect the streaming microphone to my console?
In certain cases yes. USB microphones can be connected to current consoles without any problems and the setup is easy. Only the connection variant via audio interface or mixer unfortunately only works via detours like capture cards.
Mario
Content Manager & SEO Geek
I make sure that every post @OWN3D becomes legendary. :)