1 Streaming software for Facebook - First things first

First of all, so that you know what we are talking about, we will introduce you to the basic features of Facebook streaming software. Streaming software or also called streaming tools are programs for the operating system of your PC or laptop. They are designed to process and control both audio and video signals. With the streaming software for Facebook, you can define all stream-related settings. This includes, for example, setting the transmission quality, setting up the webcam and microphone, and linking Facebook Live. So-called capture cards can also be controlled and set up via streaming software. But of course, you can also control the stream directly with the streaming software if you start a live stream directly from your PC. 
With a streaming tool, you are also able to visually customize your stream - for example, you can include various design elements such as overlays or stream alerts. Many streaming programs have many more additional features that should be of interest to creators. The most commonly used program for Facebook Live, OBS, for example, offers the possibility to record gameplay and save it to your hard drive. This way, you can not only start streams but also record Let's Plays. In the following chapter, we will introduce you to the most important streaming software tools for Facebook and show you how they differ from each other.
2 Facebook streaming software - The different variants
Now that you are familiar with the principle of streaming software, we will introduce the most popular representatives of this type of program. In the meantime, it is namely the case that many software producers have dared to take the step and have developed various models with partly different functionalities. There are even providers that focus on relieving the user of a lot of work with the help of cloud services. So that you are not alone with the huge selection of options, here is the best streaming software for Facebook.
2.1 OBS Studio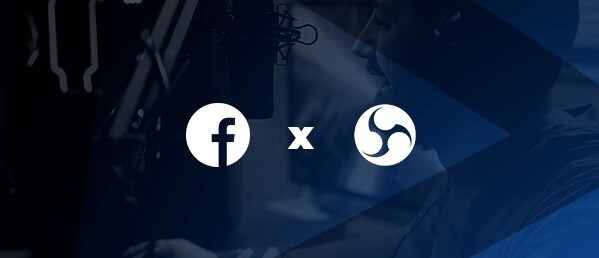 It is the classic among the streaming tools and is not meant negatively by any stretch of the imagination. AndOBS Studiois not at all outdated or obsolete - quite the opposite! Even though OBS Studio has a few years under its belt, it is still the most widely used streaming program. The developers regularly release new updates to adapt to the current market situation and thus also constantly add new features to make it easier for creators from all over the world to use this tool, which is simple at first glance but very powerful in-depth. 
The best thing about it: OBS can be used for Facebook Live and is also completely free. You can easily download the program from its website and install it without registration or any licensing issues. OBS Studio is always a safe choice for both beginners and streaming professionals when it comes to finding a good and multifunctional streaming tool.
2.2 OWN3D Pro

To transmit your Facebook stream live to the Internet,OWN3D Prorelies on a still quite young, but nevertheless very effective technology: Cloud. OWN3D Pro doesn't replace your OBS Facebook Live software, it significantly enhances it and helps you stand out as a streamer from other creators. With this OBS plugin, after a single installation, you'll be able to enable hundreds of different design elements for your stream, display your chat in OBS Studio, and set up a personalized Donation page for yourself.OWN3D Prois a real powerhouse. combines many different features of several plugins into one and takes a lot of the work off your hands, so that all you have to focus on as a streamer is producing great content for your viewers.
2.3 XSplit
Next to OBS Studio,XSplitis another bedrock in the streaming world. It is considered a premium alternative to the free OBS, so to speak. XSplit's user interface is much more intuitively designed, which makes it much easier for newcomers to use. XSplit offers different versions, but we will only take a look at the "Broadcaster Premium" version. XSplit Broadcaster Premium is a paid streaming tool, which you can subscribe to from about 5 EUR per month. The program offers the full range of functions that a streamer needs. Not only can you create as many scenes as you want with Broadcaster Premium, you can also access the VIP support of the manufacturer and stream in full HD. XSplit Broadcaster Premium is a very clear streaming software for Facebook and enjoys great popularity within the community due to its flawless functionality.
2.4 Streamlabs OBS
Even though the name sounds similar,Streamlabs OBShas absolutely nothing in common with the great forerunner OBS Studio - at least apart from the functions. Streamlabs OBS is a streaming software created by the Logitech company, which is especially aimed at streaming newcomers. Streamlabs OBS is easier to use than any other program and the integration of various streaming elements is child's play. 
Basically, the use of the tool is free, but the "Prime" feature, which significantly expands the range of functions, amounts to a rather hefty 19 EUR per month. However, for that, you also get, among other things, multistream, simple overlay integration, and a custom donation page. Streamlabs OBS from Logitech is therefore particularly suitable for beginners, but large and experienced streamers are also increasingly relying on the program. Those looking for a simple, well-structured, and accessible Facebook Live streaming software will certainly be happy with Streamlabs OBS. Experienced streamers should, however, find out whether the range of functions is sufficient for their purposes before downloading.
3 Conclusion
In the world of streaming, several developers are now trying to convince users with new concepts and get them excited about the latest Facebook Live Streaming software. However, the reality is that most creators rely on tried and true programs and have little openness to new things. Streaming is all about presenting a unique experience to everyone involved. Due to the fair update policy of the big-name developers, the most popular Facebook streaming software solutions are always up to date and always offer new innovative features. With well-designed plugins for your Facebook Live software likeOWN3D Pro, you'll be able to optimize and spruce up your stream in the best possible way.
4 FAQ
What is the best Facebook Live streaming software?
It all depends on what features you value. The most effective option for Facebook Live is certainly the combination of OBS Studio andOWN3D Pro.
What streaming software is available for Facebook?
Since Facebook is now the third-largest streaming platform, you can stream to Facebook Live with almost any streaming software you can find on the Internet.
Can I stream to other platforms with Facebook live software?
Yes, this should not be a problem at all with the majority of programs.
How much does Facebook streaming software cost?
There are both completely free programs and paid ones. Many rely on a subscription model for about 5-20 EUR per month. 
Jose
Content Creator
A cheerful & funny person with lots of experience in the gaming industry. :)