Streaming on Twitch is getting increasingly more colourful and versatile. These days you are given the opportunity to present your audience with eye catching designs and overlays, making their viewer experience even more incredible. On top of our overlays and design we also offer a wide variety of animated and static alerts to make all notifications within your stream exciting for your audience. Within this article we will give you all the information you need regarding our Twitch alerts, as well as a brief information regarding our OWN3Rs Club, where you´re given the opportunity to earn all of them free of charge.
Free Twitch Overlays & Alerts by OWN3D Pro

The most thrilling alerts!
Our premium alerts are fit for all types of video game and were created with lots of attention to detail. Almost every modern-day successful Streamer values the entertainment factor of their stream as a whole. Therefore, it has effectively become a must have to present your alerts in a catchy style paired with matching sounds. No matter whether you got a new Follower, Donation or Host – with premium alerts made by Own3d all of your notifications will turn into a true, eye-catching element of your Stream.

Animated Twitch Alerts for every video game – the Glitchpro Series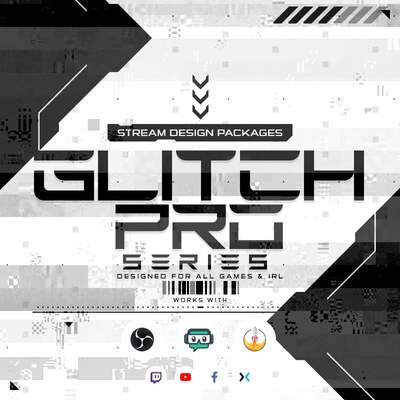 The premium alerts within the Glitchpro series are fit for every type of video game. Fully animated in a classic, neutral style make them easy to implement in every Stream. Upon purchase we provide you with each individual dataset, giving you the choice whether you wish to implement individual elements or the whole Glitchpro alert package. If you are a fan of the alerts within theGlitchpro Series, you should consider taking a look at the full Theme. In the full set, alongside the alerts, you will find everything necessary to pimp your stream – Overlays, Banners, Alerts, Wallpaper and many more!
Neon Series – Futuristic, Vibrant and simply impressive!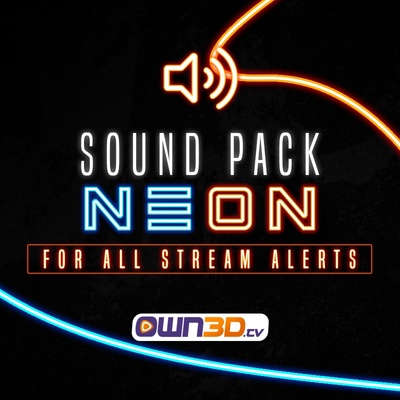 The Neon Series was designed for fans of vibrant, radiating neon tones. Same as for the Glitchpro Series, all alerts within the Neon Series are fully animated. As for colours you get to decide between Neon Light Blue and Neon Deep Orange. After purchase we provide you all files in webm Format. With these files, you can implement the alerts into your Stream using Streamlabs OBS (SLOBS) or StreamElements within just a few seconds. If neon designs are your thing in general, feel free to take a look at our completeNeon Series Twitch package.
Chapter 2 – Our premium alerts for Fortnite Players!
| | |
| --- | --- |
| | |
| | If you are a fan of even more colourful and modern designs, then we suggest you to take a closer look at our brand newNew World Series: |
Twitch Alert Extension – Free by Own3d!
Alongside our premium alerts we also offer a completely free of charge extension, directly on Twitch.tv including over 40 professionally designed alerts. As the extension is directly implemented on Twitch it is also perfectly suitable for console streamers. The extension doesn't have to be connected to your broadcasting software and guarantees that all alerts regarding new followers, subscribers, cheers, raids or donations will be showcased in impressive style. To add the extension, simply visit https://www.twitch.tv/p/extensions/ and search for "Own3d". You will find two of our submitted, free extensions – one for alerts and one for panels which you can both add to your channel. After installing the extension, you get access to all alerts within and can immediately implement them into your stream. If you are facing some difficulties regarding installation, we provide a video Tutorial on our website:OWN3D - Help
Free Twitch alerts for the new Twitch Studio!
Twitch is currently developing it´s very own broadcasting software – Twitch Studio. As of now, the software is in a closed beta and will soon reach an open beta stage and become publicly available for testing. Alerts by Own3d will also be available for Twitch Studio, free of charge!
Implementing the alerts into Twitch Studio is very easy and only requires a single data upload each. We already created a complete user guide for Twitch Studio in which you can also find a quick guide on how to implement our alerts into Twitch Studio. The tutorial can be found at:OWN3D - Twitch Studio Tutorial / Guide
Static and animated – covering all preferences
Creative minds often have different tastes in design which is why Own3d offers a wide variety of both static and animated alerts. As we provide you with all the individual data sets in each package, you are given the opportunity to tweak them to your liking. Our animated alerts often come in a wide variety of colours, giving you the chance to decide what matches best with the scheme of your stream. You will find a quick preview to each of our alert packages on our website, giving you the chance to see exactly what to expect within the alert packages of Own3d.
Matching sounds to all our alerts!
We are confident that our alerts by themselves are already true eyecatcher, however pairing them with our alert sounds makes them even more unique and versatile. You can choose from over 30 alert sound packages, each including at least 6 different sound files. They are perfect to combine with our alerts and provide a perfect appearing overall image of high-end alert and matching sound. Implementing them into your stream is effectively child's play and you can find a step-by-step guide to installation on our website.
Olli
E-Commerce & Content
I am our housekeeper, wherever I can help, I stand by with help and advice =)