What is a Twitch Affiliate?
A Twitch Affiliate is a streamer & creator who has managed to build a small audience and has the opportunity to effectively earn money with their work as a creator through this status awarded by Twitch.
Often, Affiliates are up-and-coming channels that are in the process of building something bigger and want to go the route of becoming a Twitch Partner in the long run. Affiliate status, unlike Twitch Partner status, is relatively easy to achieve and is the first hurdle to overcome as an ambitious streamer. To become a Twitch affiliate, you need to complete the Achievement "Path to Affiliate". More about that further down in this guide.
Twitch Affiliate Advantages
The biggest advantage is obvious: the status of "Twitch Affiliate" allows you to earn money from streaming in different ways. What newbies and standard streamers are deprived of for now, the affiliate program makes possible. Most great streamers started small were not infrequently affiliates for a long time before becoming an official Twitch partner. While there are streamers who were allowed to join the affiliate program right away without going through all the stages, these are usually influencers, creators, or celebrities who are already in the public eye and have a certain fanbase.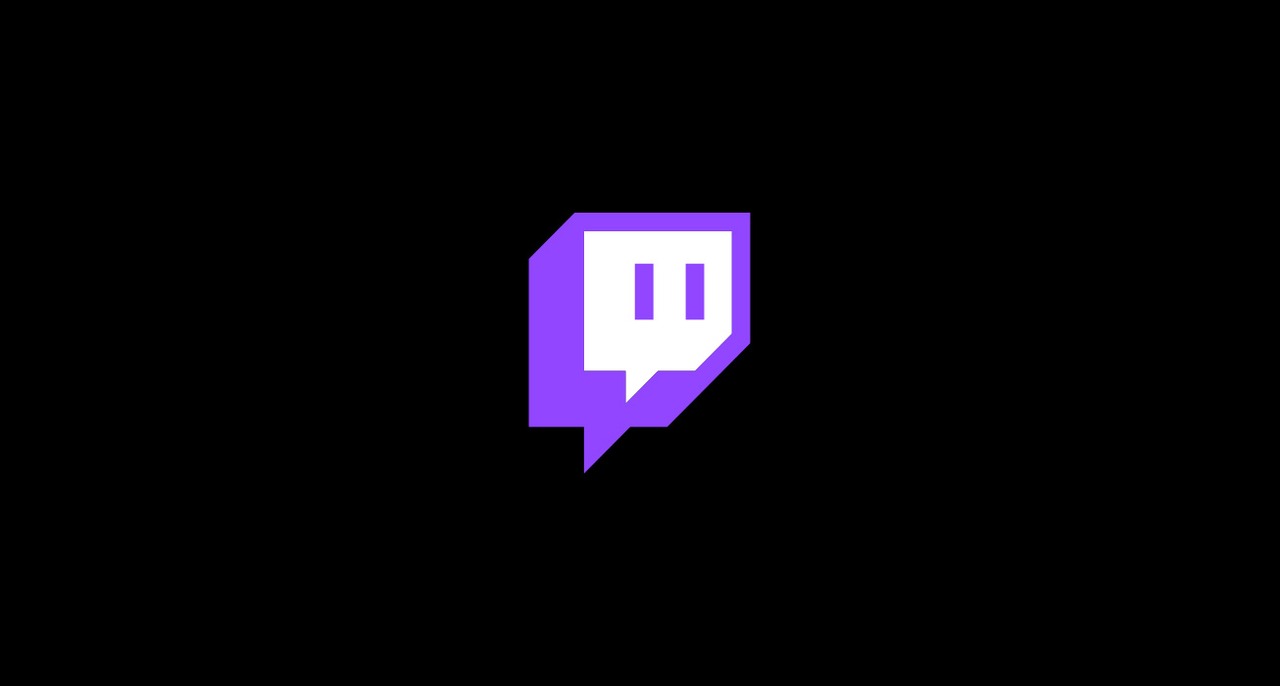 In addition to the monetary benefits, the actual status also plays an important role. You can be featured on the Twitch homepage from now on and effectively expand your reach. Moreover, you will always be placed a bit more prominently in the overview, which ensures that you can stand out from other streamers. You may not yet enjoy the prestige of an affiliate, but your channel will look much more professional when the subscription button and bit menu are visible. Viewers will see that you're serious about streaming and working to make a name for yourself.
Twitch Affiliate Earnings
An essential part of your earnings as an affiliate is taken from so-called subscriptions, i.e. the membership that your viewers sign up for. While fans can also follow your channel, in order to also support you financially and unlock certain benefits, they have the option to send you a fixed monthly contribution. So how much money you ultimately earn from streaming depends entirely on how many viewers have subscribed to your channel. If you have 20 active subs, you can expect to earn around 50€ per month.
So always keep your content up to date, broadcast regularly and try to inspire as many people as possible. Even if you're not an affiliate yet, you can earn a significant amount with your passion, because you see smaller creators all the time who "only" have 200 regular viewers, but have built such a close bond with them that a sworn community is formed. So if 100 of these 200 viewers have an active membership with you, you already earn about 250€ per month!
Bits will also be unlocked for your channel. This virtual currency from Twitch can be used by viewers to cheer you on and thus support you. In the Twitch universe, this is referred to as "cheering" - you've probably heard this before if you're already familiar with Twitch. Viewers can buy bits for real money, and for each bit donation, a portion of the money is credited to your account. While there is no official data from Twitch on what percentage this is, it can be roughly said that Creators receive 1 cent for every 1 bit donated. The more bits purchased in the bundle, the cheaper they are for your viewers.
If you want to know more about how to earn money on Twitch, you can find more informationhere.
Twitch Affiliate - Pros and Cons
Reasons for Affiliate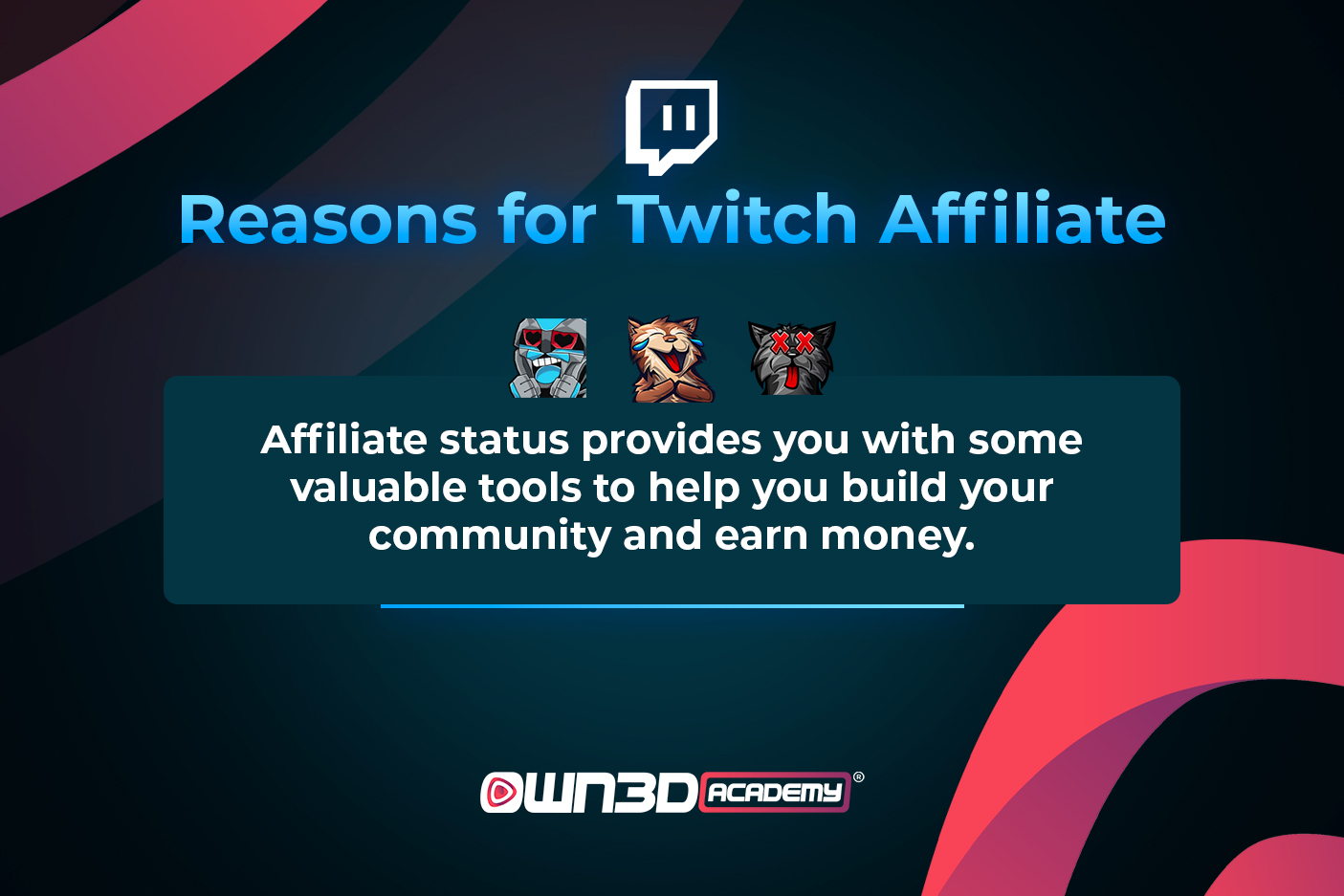 You must be wondering if it is worthwhile to become an affiliate—both yes and no. You won't get rich overnight, and once you have affiliate status, you must register a business. Stay tuned for a more in-depth article on the trade and the subject of taxes!
Affiliate status provides you with some valuable tools to help you build your community:
Subs and bits -> more alerts
Emotes
Loyalty badges
Channel points
Votes
Subs
You can support specific creators with a so-called sub if you want to help them with a large following financially. This is a paid subscription, which currently costs EUR 3.99 per month in (Germany and Austria as of October 2021). The streamer then splits this amount with Twitch, leaving the creator with roughly half of the proceeds. Taking out a paid subscription, on the other hand, benefits both the streamer and the user. Various custom emotes are unlocked for the user based on the level of the sub. Another benefit of a paid subscription is that subscribers no longer see advertising on the channel they have subscribed to. It also enables users to circumvent channel-specific restrictions such as sub-only chat.
Emotes
Often, a picture is worth a thousand words. With emotes, viewers can express themselves freely in chat by sending an emote instead of a traditional text message. Channel owners who have affiliate or partner status can even upload their own emotes for their viewers and subscribers to use. It's an excellent tool for fostering community loyalty. By the way, if you want to make your own emotes that are unique to you and your stream, you can do so righthere.
Animated Emotes
While normal emotes are little static pictures, animated emotes can provide a particular dynamic in the chat. The dancing, crying, or laughing GIFs introduce themselves ideally into the chat and are once again entirely a bit more meaningful than average emotes. The animated emotes were rolled out at the end of 2021. If you want to see what animated emotes can look like, you can do thathere!
Bits
Twitch users can exchange real money for the virtual currency "Bits." These bits can then provide special emotes to streamers during a live broadcast. This is referred to as cheering. One hundred bits are already available for 1.52 EUR, with 1 cent going directly to the streamer for each cheered bit. You can see how such bits badges can lookhere. On the other hand, individual cheermotes are currently reserved for partners, which means that as an affiliate, you can receive bits but not customize them.
Badges
Badges, also known as chat badges, appear in front of the username of the person who writes something in the chat. On the one hand, they help with orientation, but they are also prestige badges that show how long someone has been a supporter, follower, or sub. As a result, there are badges for regular viewers and mods, VIPs, and admin. You can see an example of such a badgehere.
Channel points
On Twitch, the concept of channel points, also known as channel rewards, is fundamental. Every user who watches a channel earns points for that channel only. The more you watch, the more you participate in the streaming, and the more you support a streamer, the more points you earn. Once you've accumulated enough points, you can use them to buy special emotes or highlight a chat message. However, these are only two examples because each streamer can set their channel rewards.
Predictions with channel points
Predictions can also be made using the channel points. But what exactly does that imply? Streamers or moderators initiate an event and determine its outcome. "Will he make the run in under a minute today?" for example. Viewers can then use channel points to predict the result in a specific time frame. After voting, viewers receive a temporary chat badge while the prediction runs. When the forecast is over, viewers who correctly predicted receive a proportional share of channel points, which they can then redeem rewards.
Votings
You or your moderator can vote on Twitch as a Twitch affiliate. So you can tell your community what game to play next or ask them whether they prefer Pepsi or Coke. It is entirely up to you to cast your vote.
Reasons against Affiliate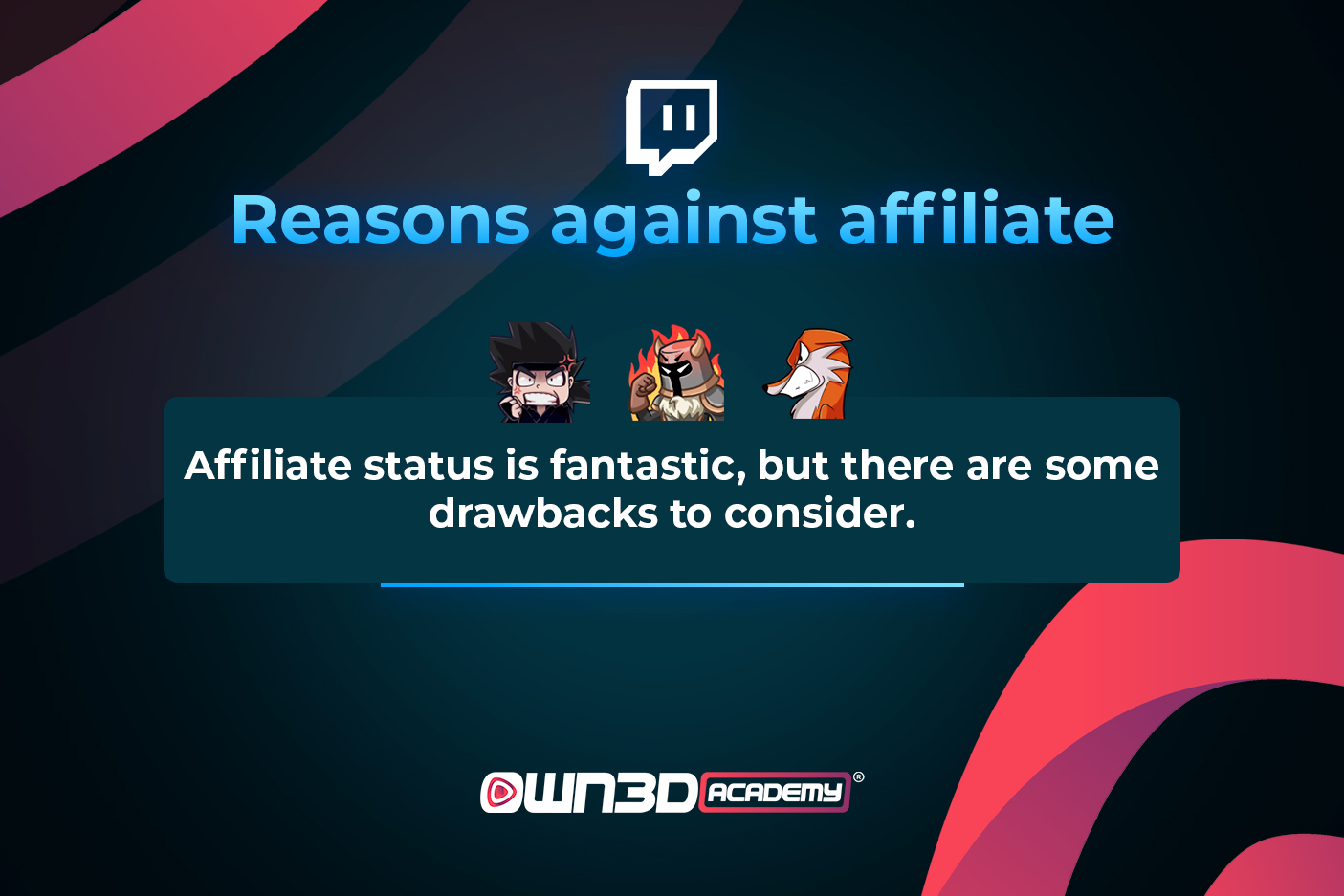 As many benefits as the Affiliate bring, of course, drawbacks that we do not want you to overlook.
You'll need a tax number and, theoretically, you'll have to pay taxes on your earnings. Here, you must adhere to your country's regulations. If you want to become an affiliate, the best way to find out is to contact the trade office or magistrate in your area. Stay tuned for a detailed article on business and taxes in the future!
Small streamers are rarely paid due to the USD 100 limit - that is, you will only be able to earn more than USD 100 if you have built up a small community.
Twitch retains approximately half of the sub revenue. As a result, donations are theoretically better than subs because there are fewer deductions with donations. Donations are also possible even if you do not have affiliate status. However, your subscribers will not receive the previously mentioned benefits of a subscription without affiliate status if they subscribe to you. Here, you must decide whether money or emotes, badges, and so on are more important.
Advertising does not pay off if you are building a community. Advertising pays off only with larger streamers.
Twitch has an "exclusivity obligation" concerning Twitch Live content. This means you won't be able to stream on multiple platforms simultaneously. When it comes to building reach, this point can be helpful at times. However, streaming on various platforms is fraught with controversy. For example, if you stream on both YouTube and Twitch, your YouTube followers will be unaware of what's going on on Twitch and vice versa. Your YouTube community may become confused if you thank a new Twitch follower.
Consider what you want to accomplish with streaming. If you're going to provide many benefits to your viewers to strengthen the community bond, affiliate status is the way to go. Sure, you'll make less money from subs than you would from donations, which are possible without affiliate status, but you have to ask yourself what is more important to you: money or community?
Affiliate status is fantastic, but there are some drawbacks to consider.
How to become a Twitch Affiliate - Requirements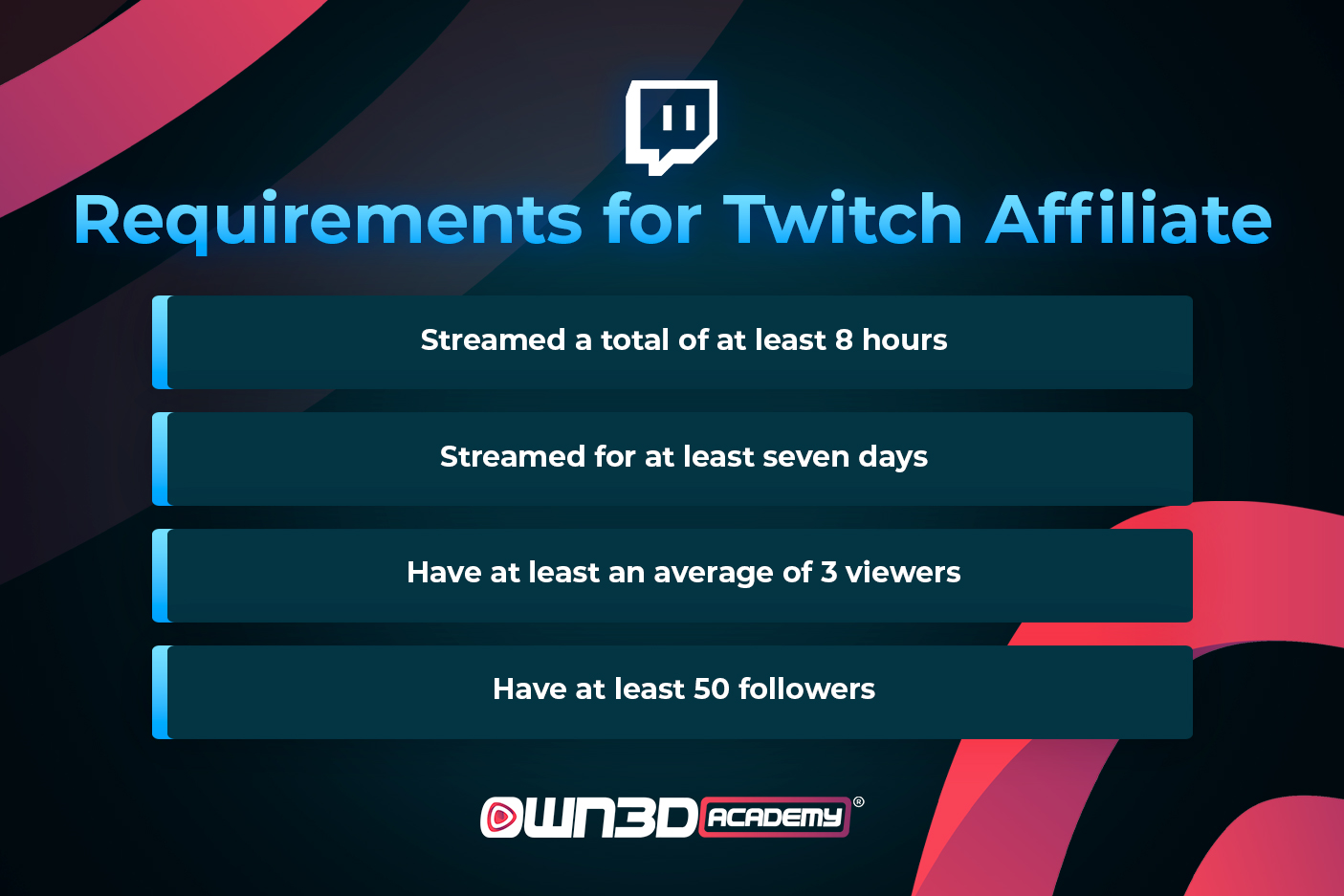 In order to participate in the affiliate program, you must first meet certain requirements, of course, as with the affiliate program. After all, as an affiliate, you enjoy significantly more advantages over "normal" streamers and can earn money from streaming. The requirements are by far not as demanding and difficult to implement as those of the affiliate program, but they are especially difficult for new streamers. If you are streaming for the first time, you will most likely have only a few viewers on your channel at the beginning. However, it is important to bind them to you in the best possible way! Convince them with your way of streaming and interact with the chat, because only if you make a good impression, word of your channel might get around and more and more viewers will join - viewers you absolutely need to become an affiliate!
The numbers in the following list may not seem that high at first, but you should not underestimate them. There is usually a lot of work behind it - unfortunately, you won't become an affiliate overnight, because once you've checked off one item, it doesn't mean that the next one will just fly by. To become a Twitch affiliate, you should have streamed a total of at least 500 minutes within a period of one month:
I have streamed a total of at least 8 hours.
I have streamed for at least seven days.
Have at least an average of 3 viewers in each stream.
Have at least 50 followers.
The last point in particular is a special hurdle for new streamers and usually requires more than a month of work. For example, if you stream 10 times a month and have about 5 viewers in each stream, each of them would have to leave a follow in order to generate 50 followers in the first month. That being said, those 5 viewers would of course have to be unique, which means that without at least 20-50 regular viewers, you can't get to 50 followers in the normal way. This means that you should build your community slowly in order to convince potential followers. To view your current progress, Twitch has introduced the Achievement "Path to Affiliate". There you can see which requirements have already been met and which still need some work.
3 Twitch Affiliate vs. Twitch Partner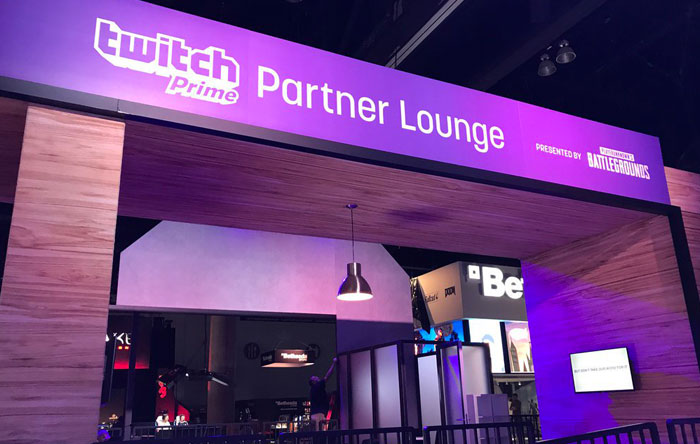 In general, Twitch's affiliate program can be described as a light version of the partner program. You get access to the basic features that affiliates can also use - but in a much slimmed-down form. For example, you can enable sub-emotes for your viewers, but only one and not 50 as with a Twitch partnership. You also have access to the automatic archiving of past streams, but while partners can access them for 60 days, as an affiliate you are already denied access after 14 days.
However, there is one important feature that is exclusively reserved for affiliates: stream delay. This is the possibility to delay your stream by up to 15 minutes, for example to avoid stream snipers as best as possible. So while you've been playing Warzone for 10 minutes, your viewers see you still in the lobby looking for a game. This feature is also very important for IRL streams of prominent streamers, because it's not uncommon for many fans to gather where the streamer is, which many creators find awkward.
How to become a Twitch Affiliate - Frequently Asked Questions.
How to become a Twitch Affiliate?
You can find a detailed answer to this question above under the "Twitch Affiliate Requirements" section.
What does a Twitch Affiliate earn?
Your final earnings depend on how many subs you have and how many people send you bits and donations.
What is the difference between twitch affiliate & twitch affiliate?
The two programs are different from each other, of course. You can find out more about this in "Twitch Affiliate vs Twitch Partner".
Olli
E-Commerce & Content
I am our housekeeper, wherever I can help, I stand by with help and advice =)