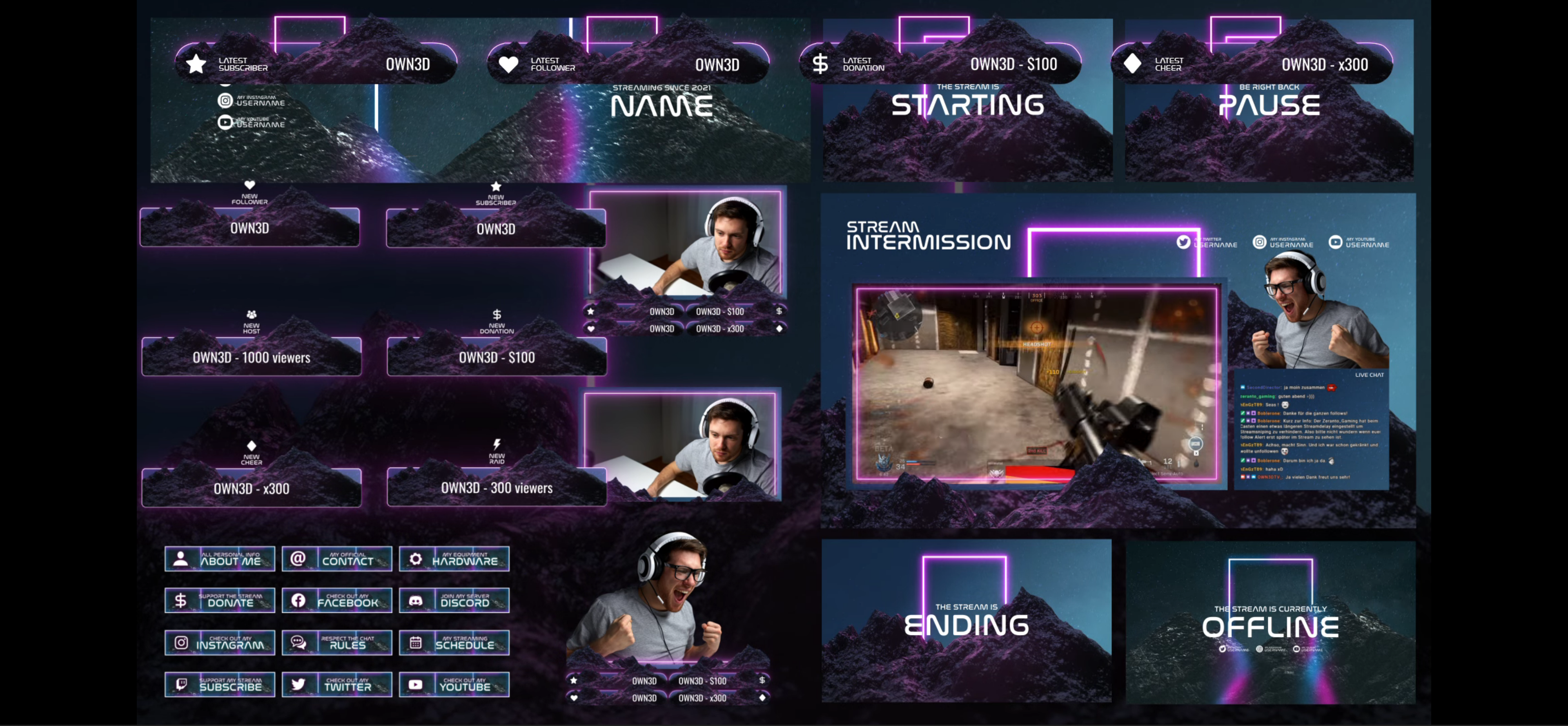 If you're looking for an ideal all-in-one solution for your stream graphic needs, OWN3D.tv's stream overlays and designs are just the right thing for you. These graphical packages let you personalize your channel while also giving out a professional and appealing vibe. No matter what kind of tone you're looking for, you are guaranteed to find the perfect design on OWN3D.tv.
To make your channel look consistent and clean all across the board, we recommend one of the cool premium complete packages. This will grant you a consistent visual style all across the board, with the same design visible everywhere, from the scene transitions to the description graphics.
The premium stream overlay packages contain everything you need to get started on your streaming adventure. OWN3D.tv's team of streamers and gamers provides you with high-quality streaming elements: panels, alerts, overlays, banners - all of them fully animated!
You can use your complete OWN3D.tv package across all streaming platforms (Twitch, YouTube or Facebook) and any of the popular broadcasting software (OBS Studio, StreamElements, Twitch Studio, XSplit or Lightstream). This lets you transform your stream into a real eye-catcher!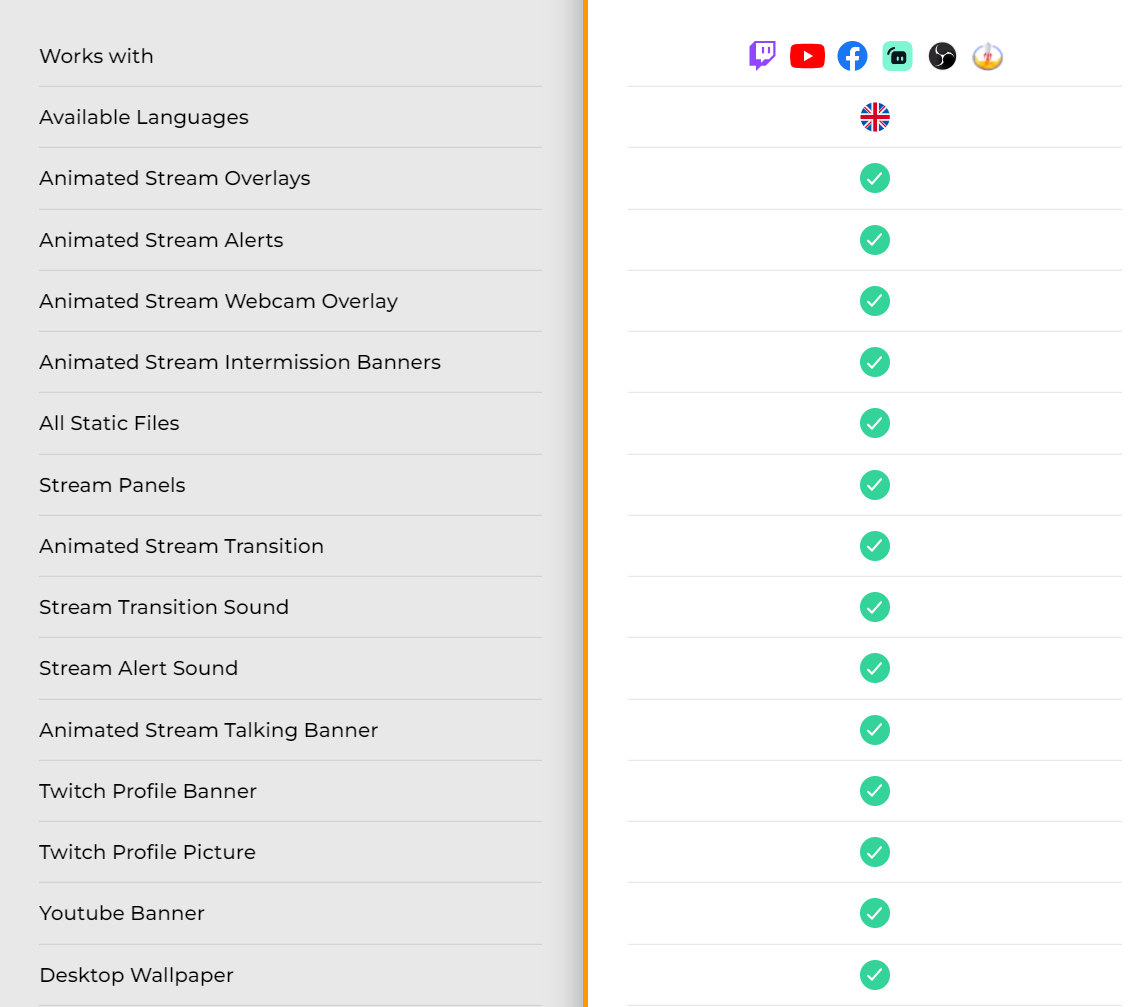 Most of OWN3D.tv's premium stream overlay packages provide a complete overhaul of your channel. This means there's much more than just a simple static design: the elements included will overhaul your broadcast's visual style all across the board.
You can enhance the streaming experience for yourself and your viewers alike with these elements. Using a premium package lets you set up alerts, banners, animated transitions and facecam overlays in a way that they harmonize perfectly with each other. Your design should always match you and the content of your channel, and there's sure to be something for you thanks to OWN3D.tv's wide selection of stream overlay packages!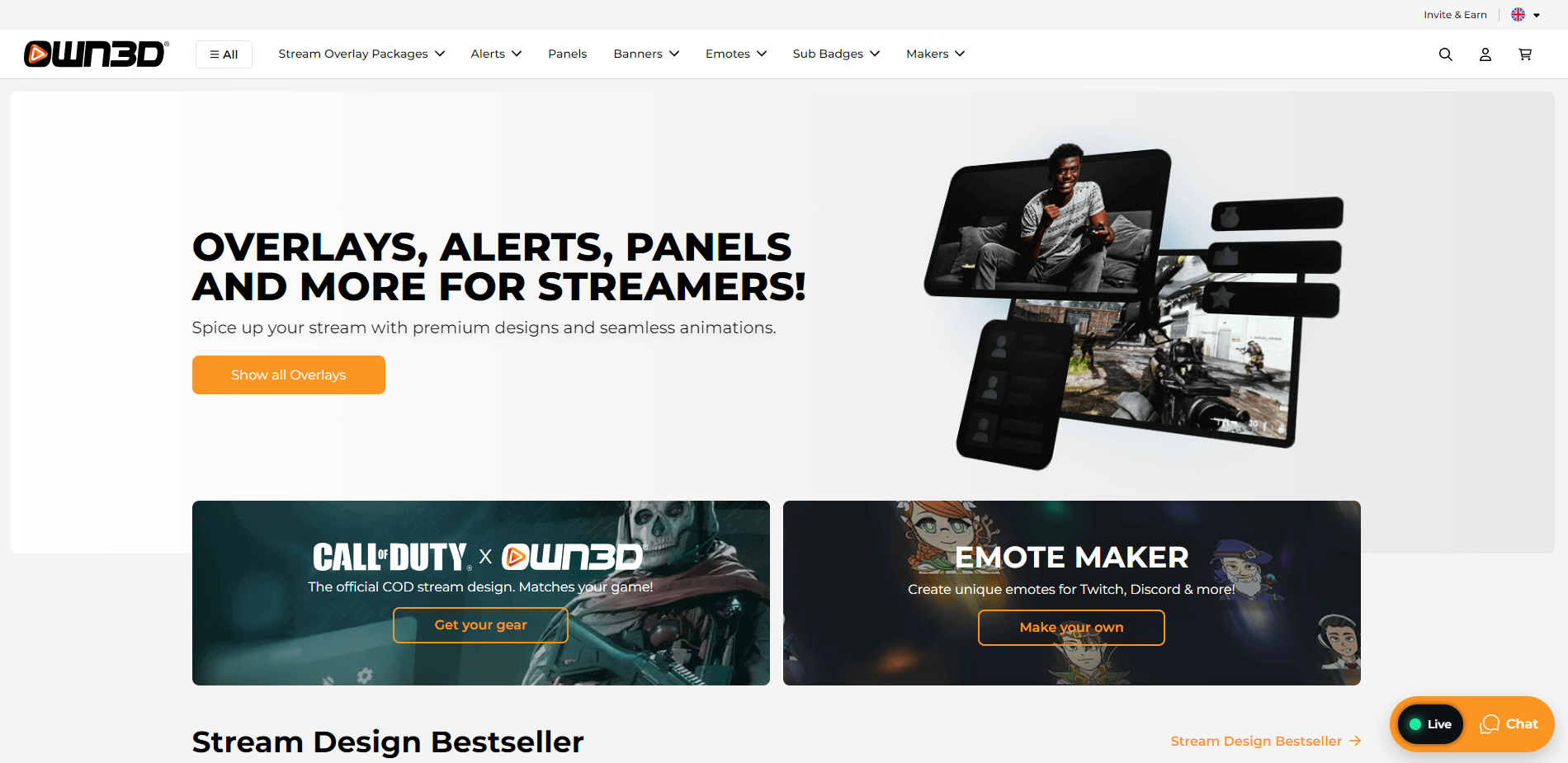 Here's how to find and purchase your new favorite OWN3D.tv premium stream overlay package.
Start by typing OWN3D.tv in your browser or clicking on this link. The start page will open. You can either login or register immediately by clicking on the person-shaped icon in the upper right corner or just before checking out by clicking on the shopping cart.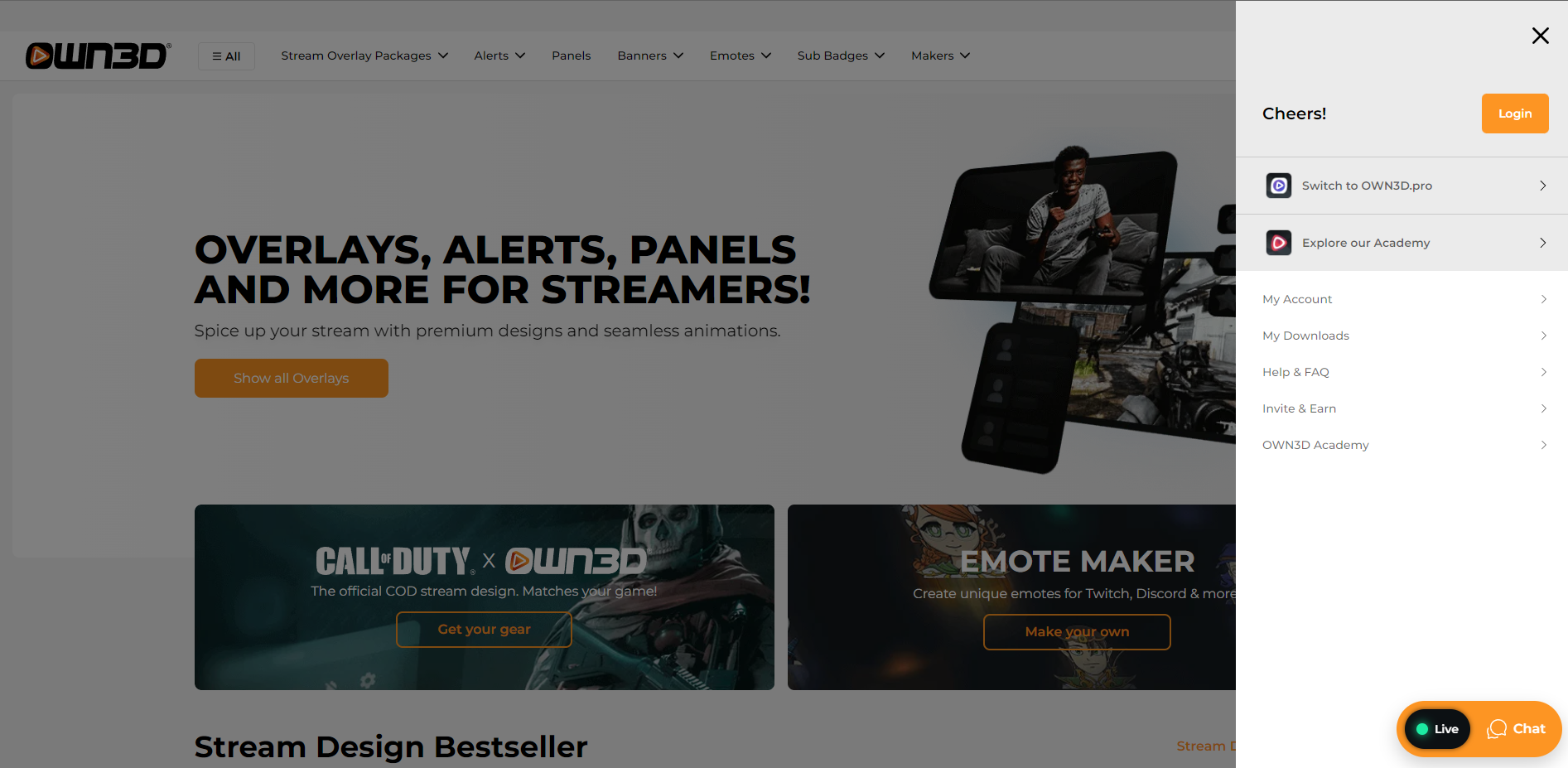 Which login method you choose is up to you. Here is how to log in from the home page using your Twitch channel.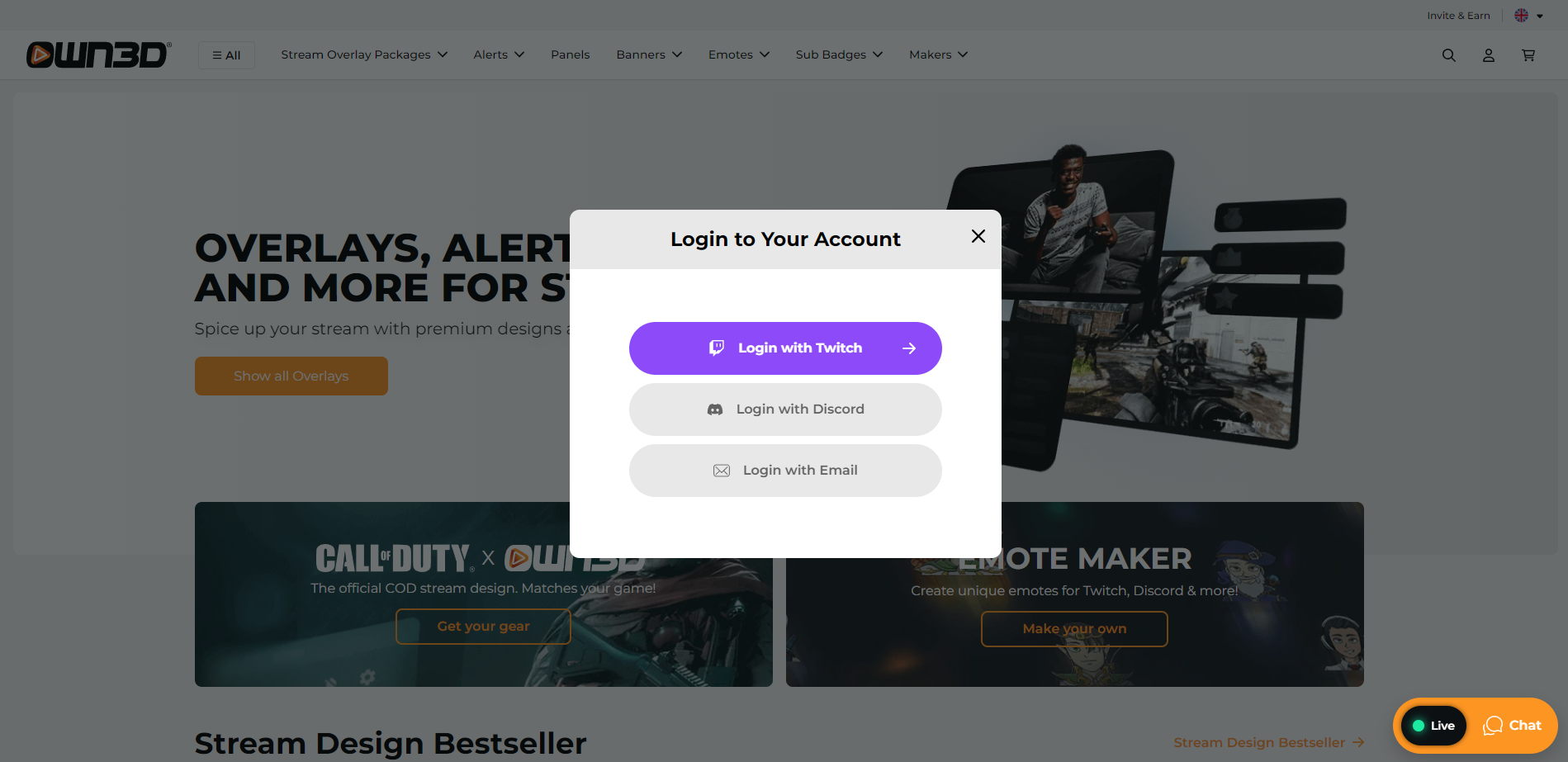 Once you are logged in, click on "Stream Overlay Packages" in the top left menu. You will now see the overview page of OWN3D.tv's numerous creative and animated complete packages.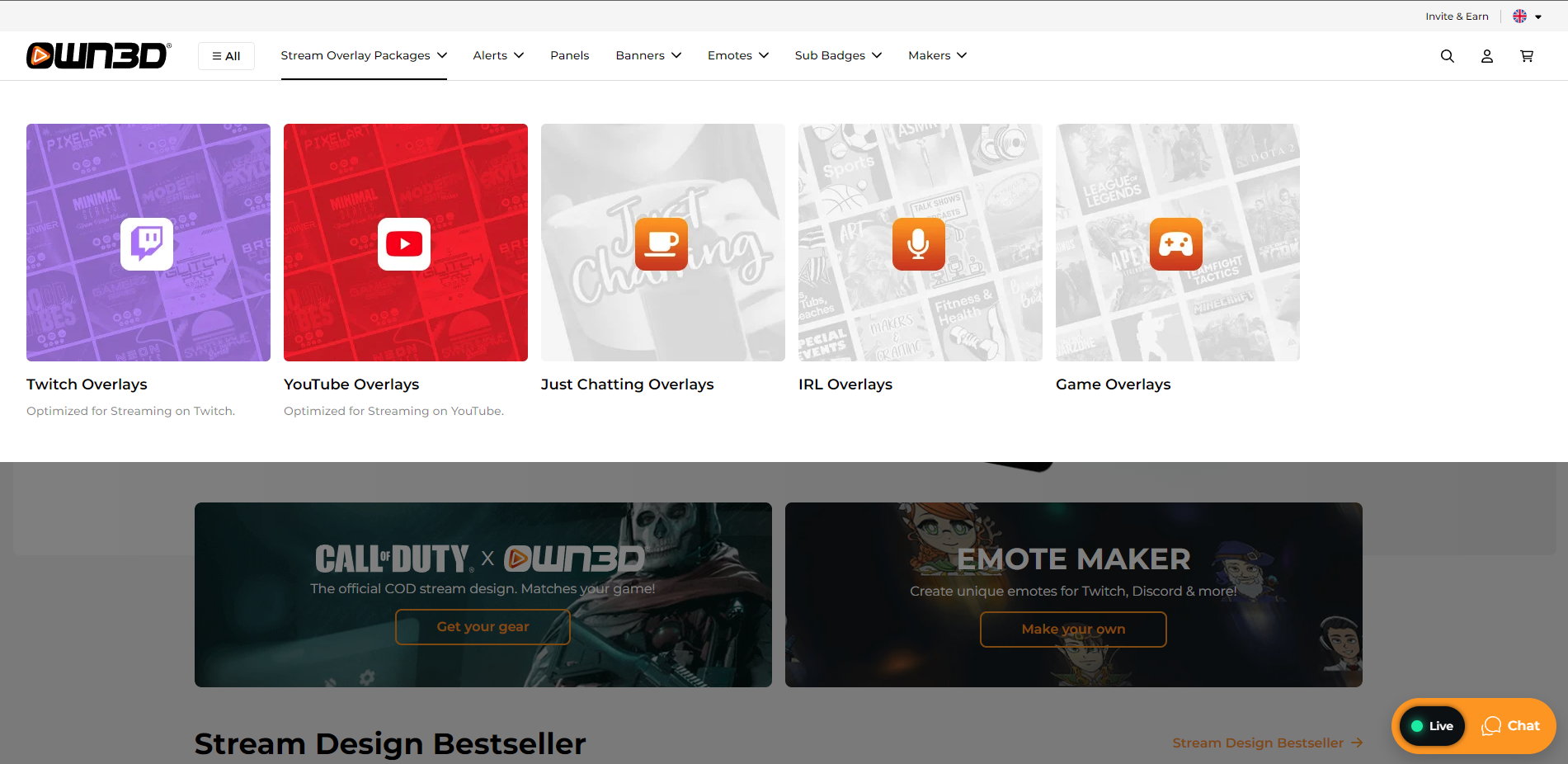 Find the one that is perfect for your needs. If you already know exactly in which direction your package should go, you can make some settings with the filters. You can filter by language, game, colors and other options. You can also just scroll through the whole collection to find inspiration.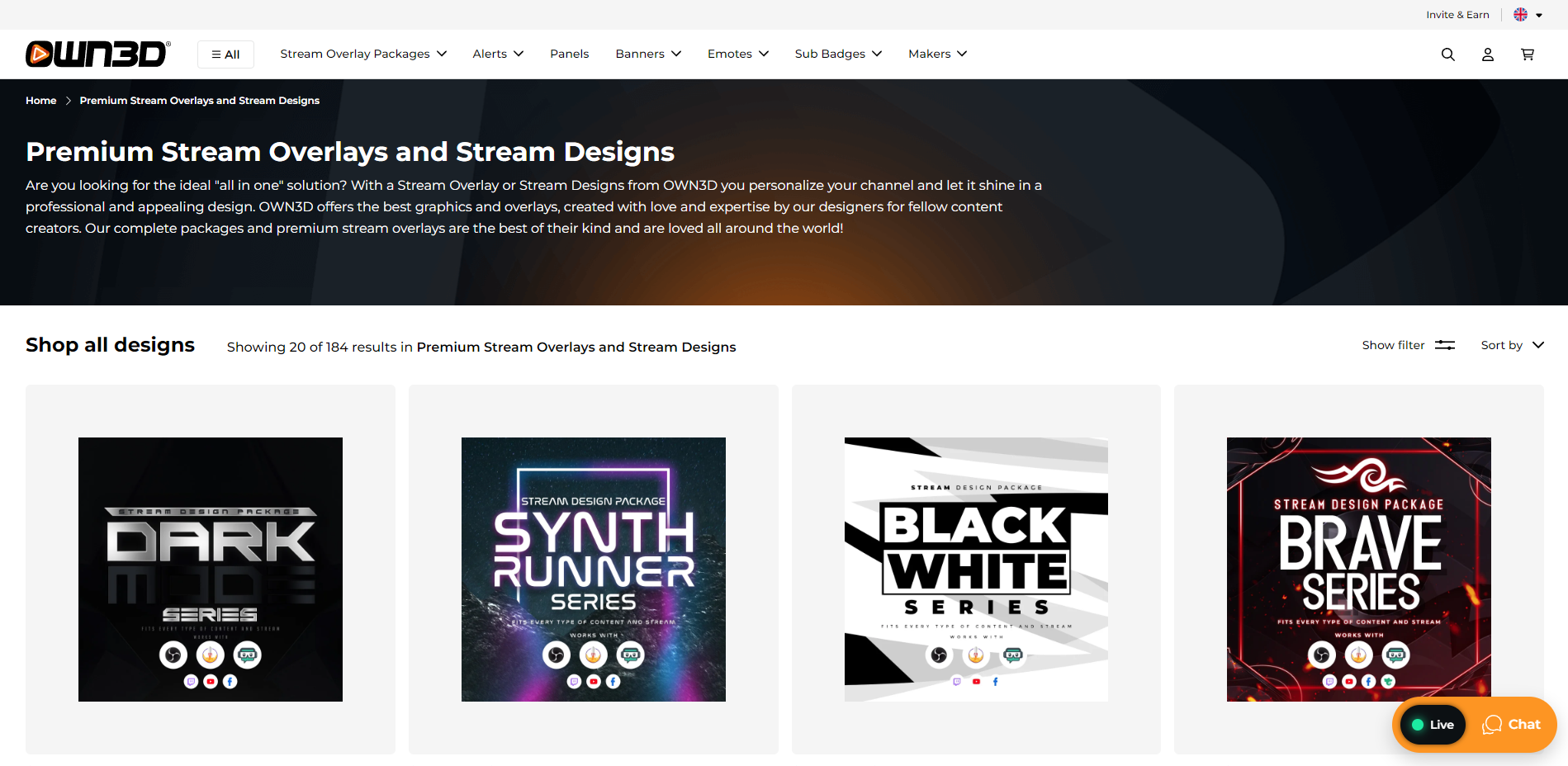 If you want to take a closer look at a package, just click on it, and you will be taken to the product page. This way, you can get a better idea of the specific design.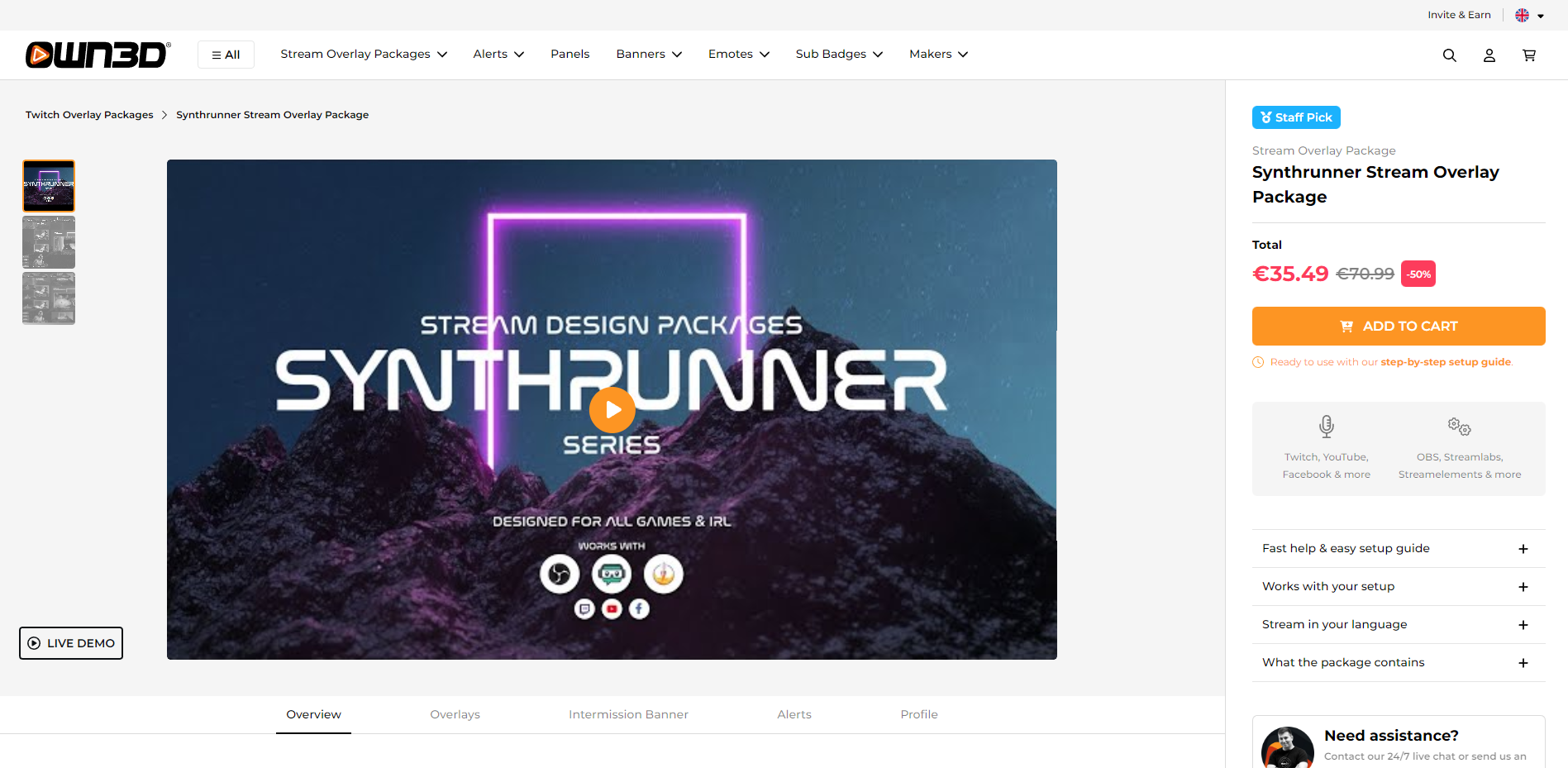 Let's take a look at the complete package called "Rodan." Each package comes with a detailed description of its contents as well as the languages it supports. You don't have to make a final decision for the product yet: this is about getting a better understanding of the overlay.
Scroll down a bit on the product page to see the stream overlays live and in action. Click through all the Stream Overlay package elements, and you can directly look at the stream design. This live function is available for all stream overlay packages. This means no surprises are waiting for you when you buy a package: you can learn about all its details and functions before making your purchase.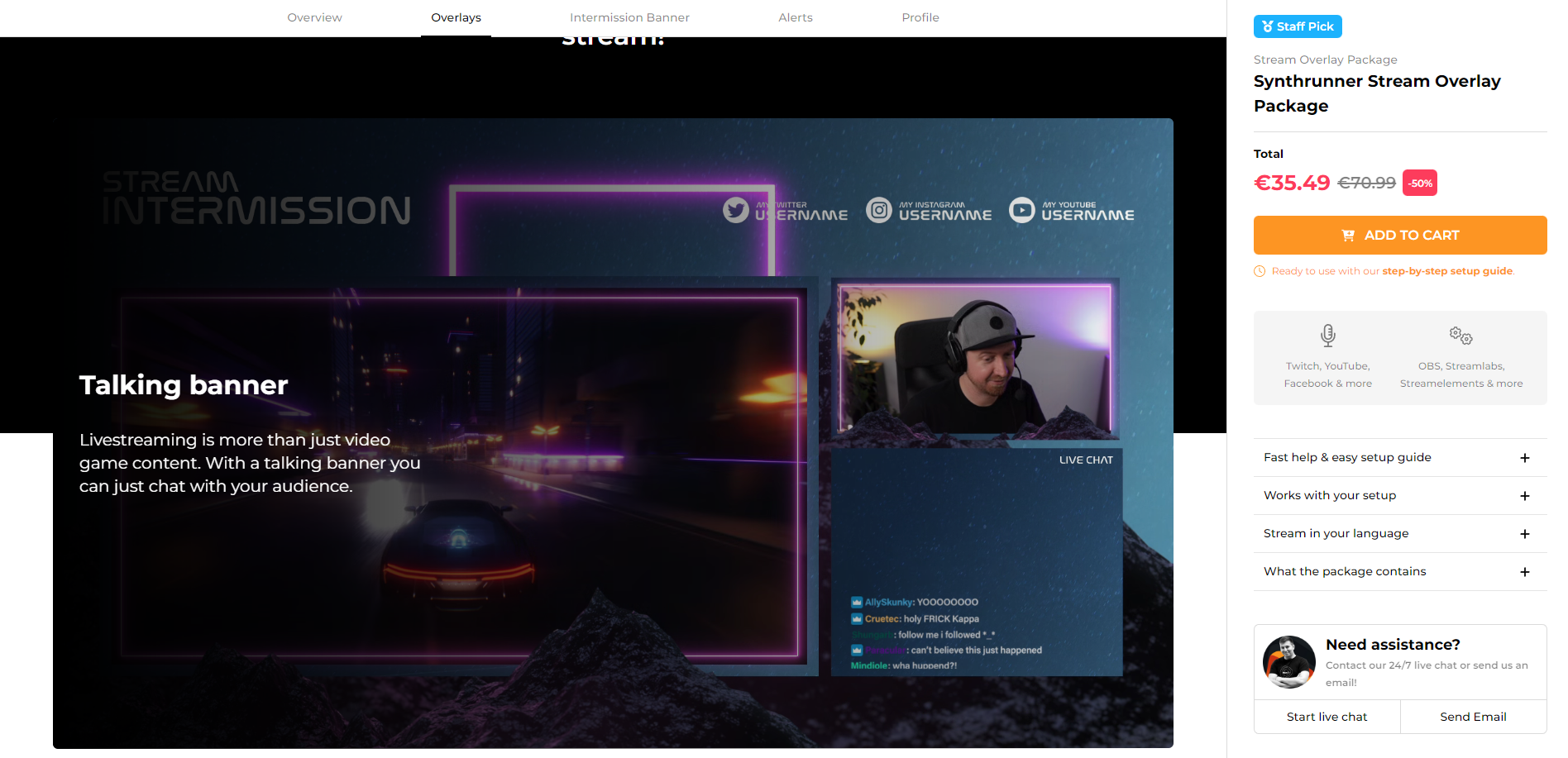 We like the Rodan Stream Overlay package (as well as all the others, of course ;-) ), so we're adding it to the cart now. You will see a green pop-up next to the shopping cart informing you that you have successfully added the selected product to the cart.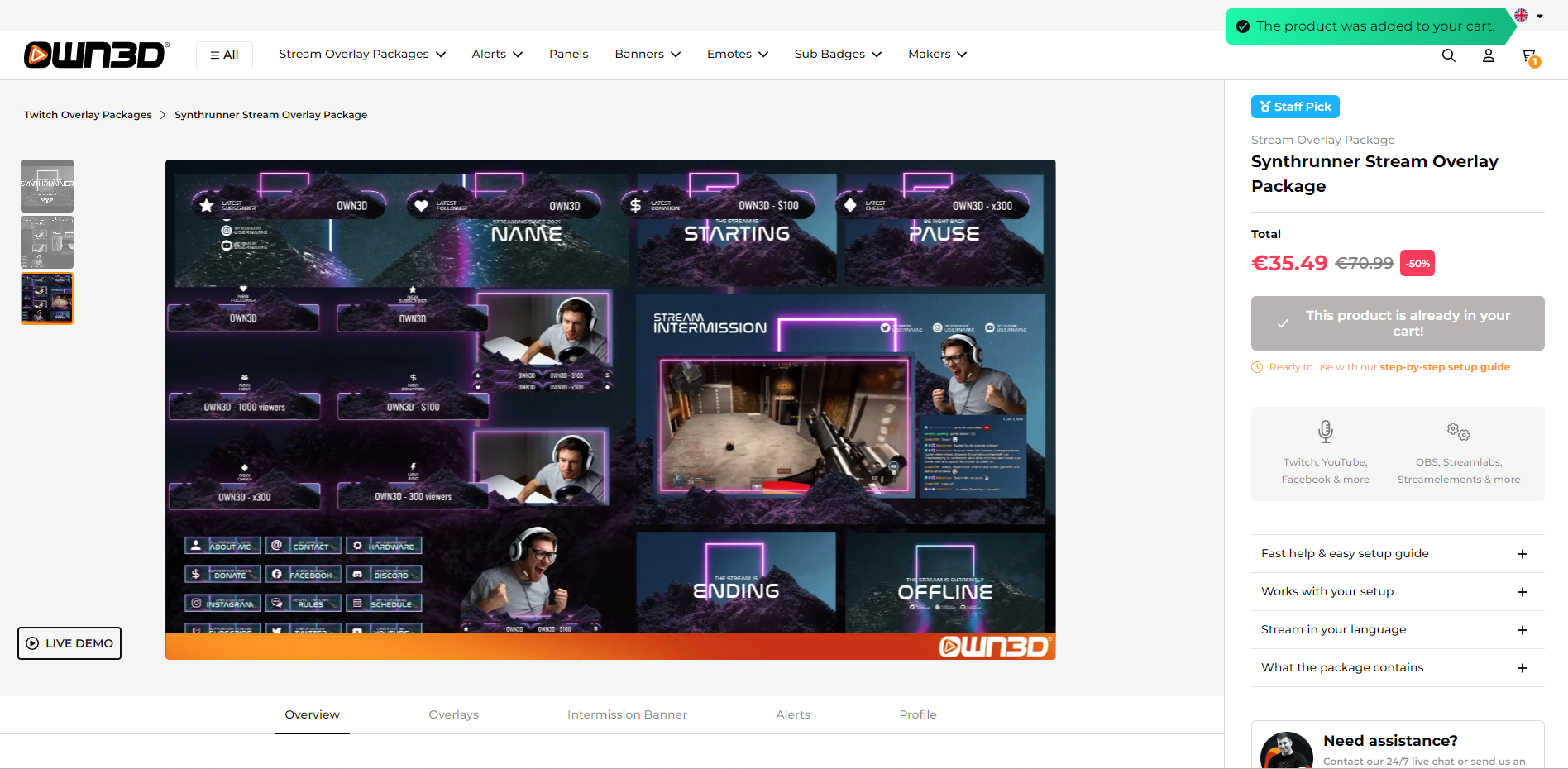 Once you're happy with your selection (and checked out the rest of OWNED.tv's awesome products, like the emote maker), click on the shopping cart icon - that's where we will pick up things in the next lesson.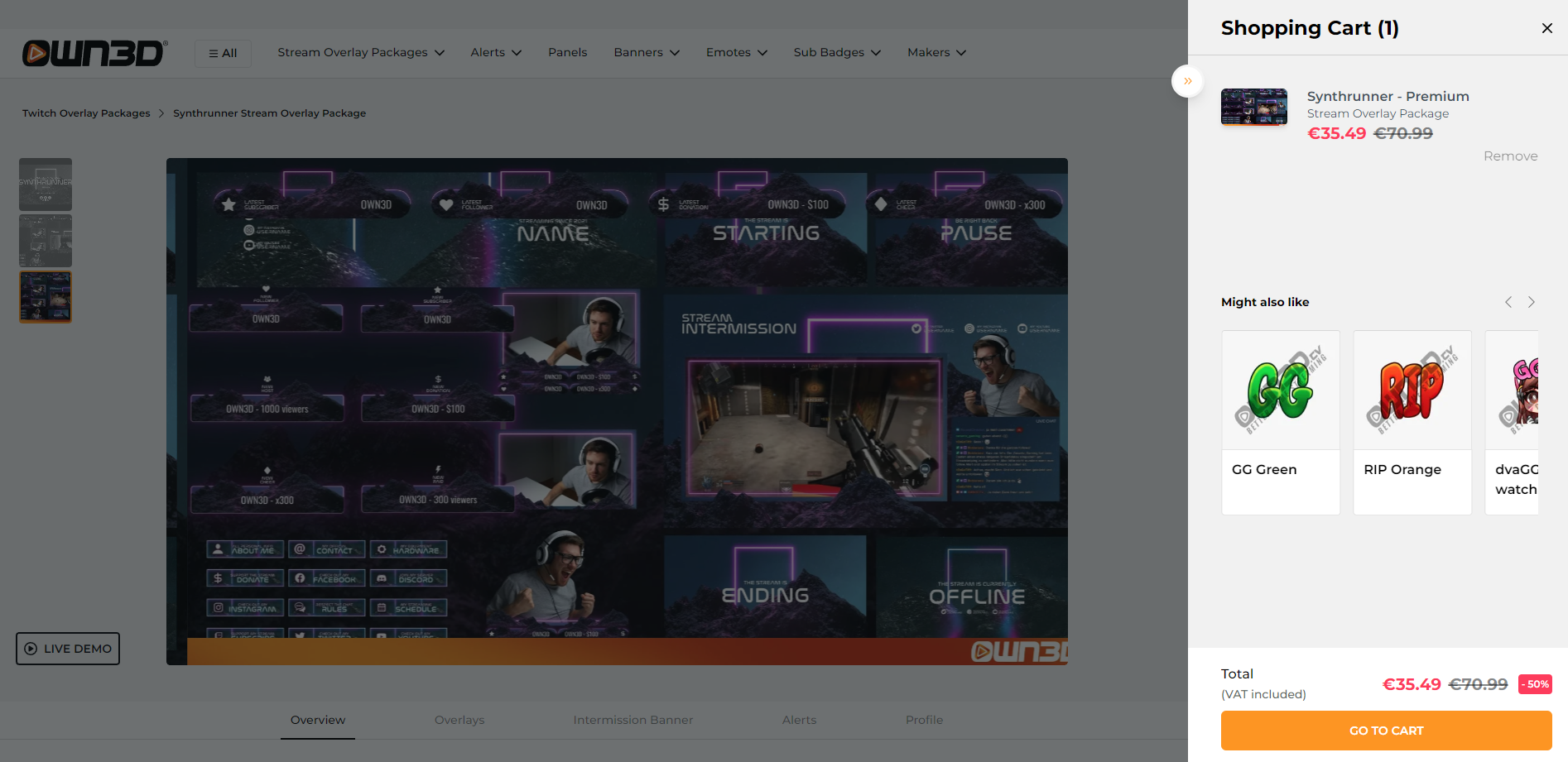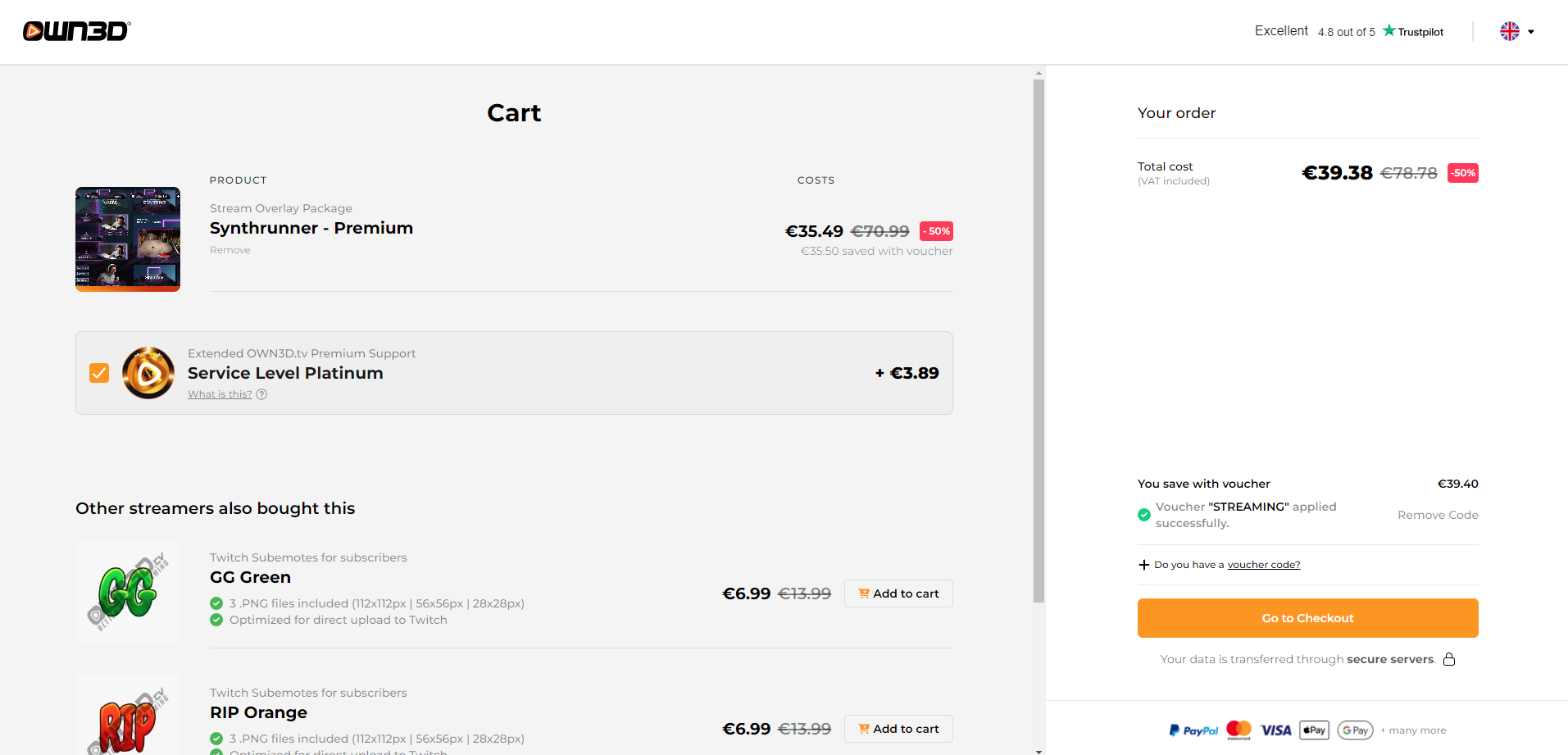 Just like with other online shops, the shopping cart will now show you an overview of all the products you've added alongside a couple of personalized recommendations. We suggest selecting the premium customer service option for a streamlined streaming experience! Once you're all ready to go, click on the Checkout button.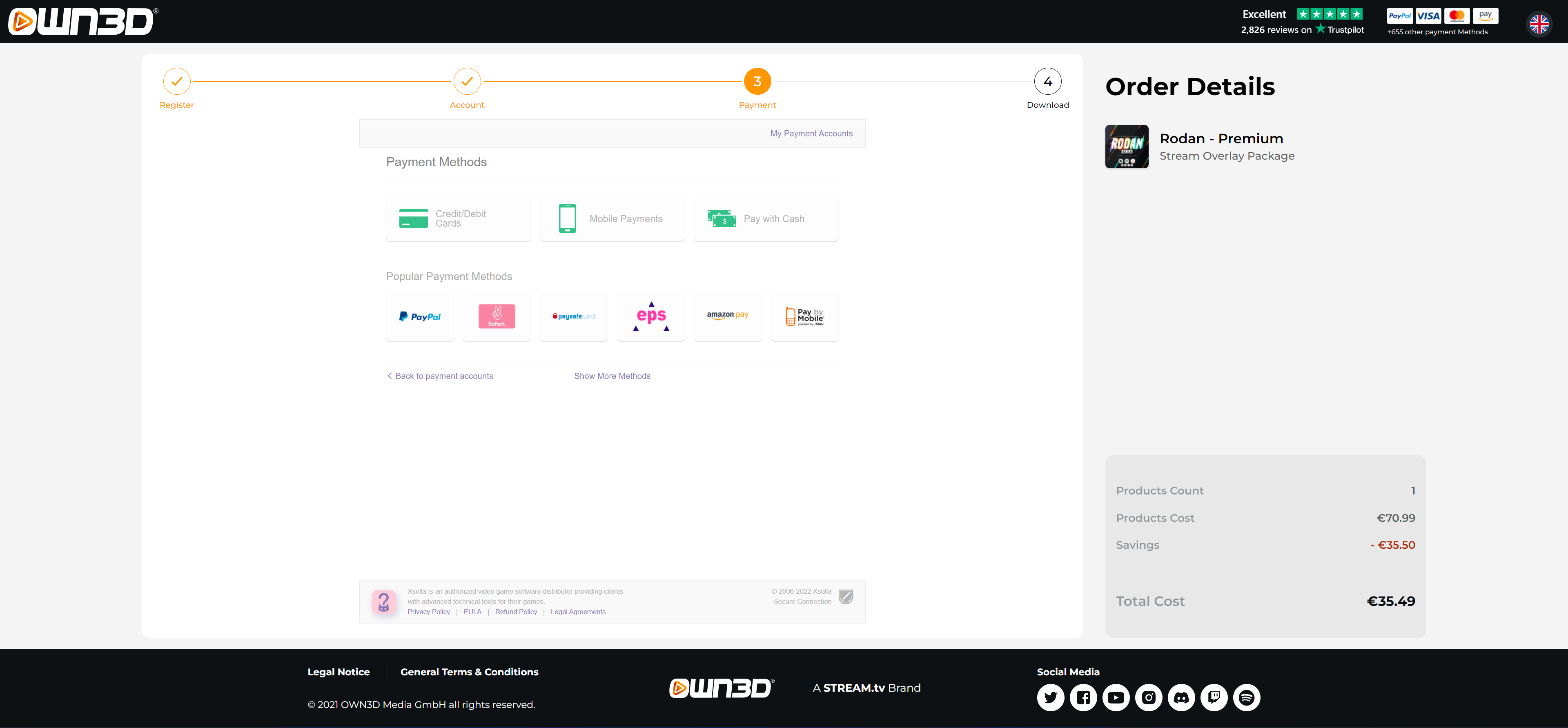 If you haven't logged in (or created an account) before, now is the time to do so. It will work the same way as we've shown in Lesson 2. If you have already logged in, this step is not necessary.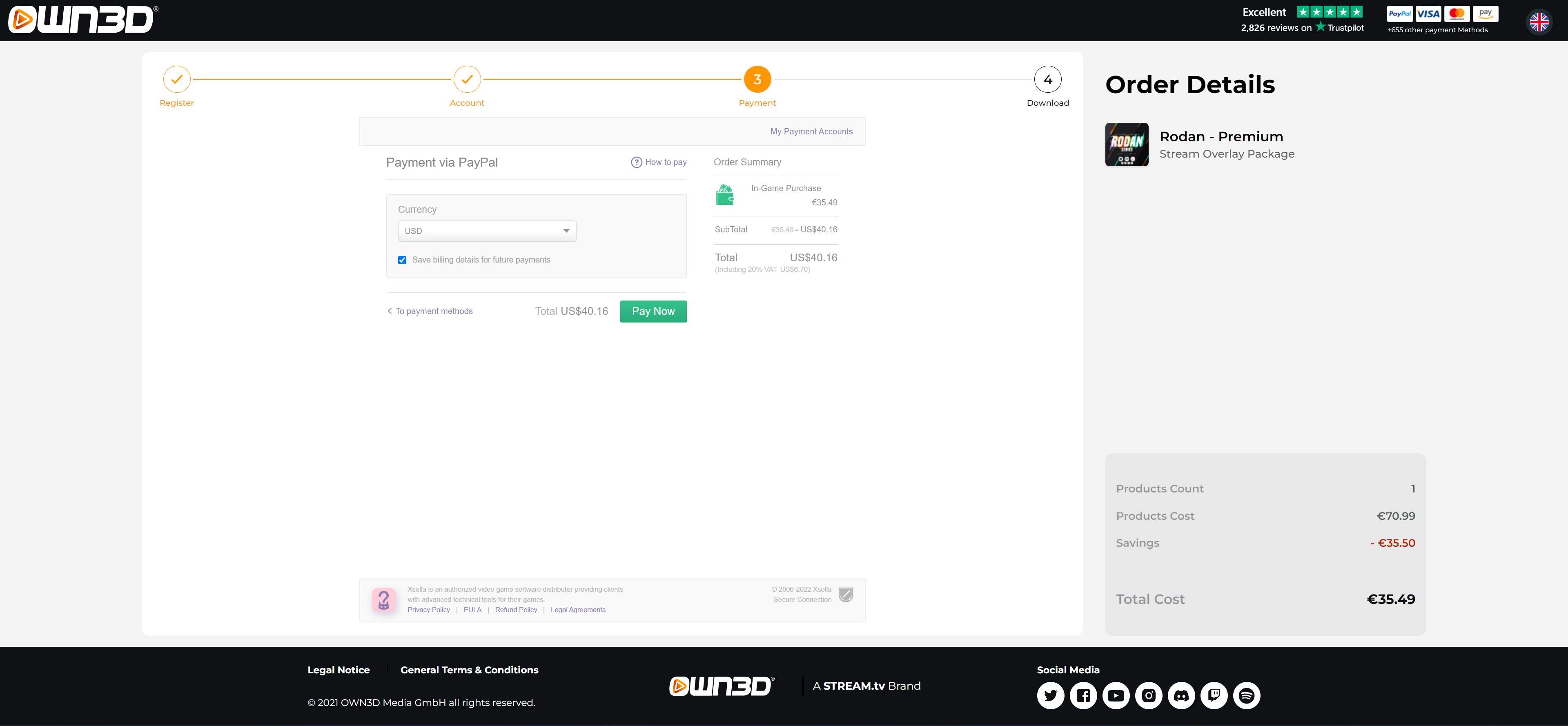 Now select your payment method of choice in the Payment Methods screen. In our example, we select PayPal. You will see an overview of your order again. This is also where you can choose your currency. Click on "Pay now" to get redirected to the selected payment provider. Once the payment process is complete, you will immediately get redirected to the download page.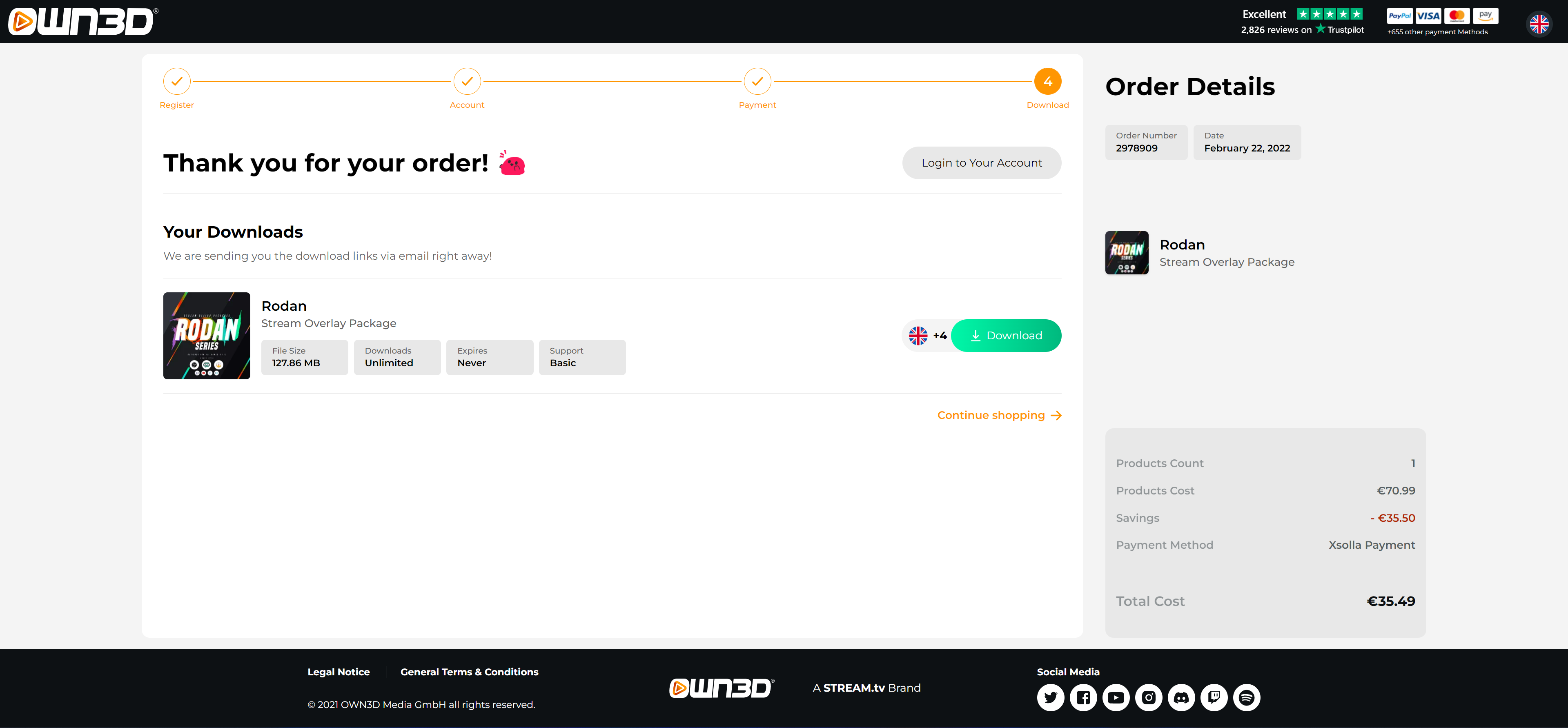 Congratulations, you have successfully purchased your Stream Overlay package! :-) We hope you will get a lot of joy out of it. You can download it directly from this page. Select the language (flag) of your choice and click on the "Download" button. The download will soon be complete in the form of a compressed file: all you have to do is unpack it. We will explain how to do so in the next lesson.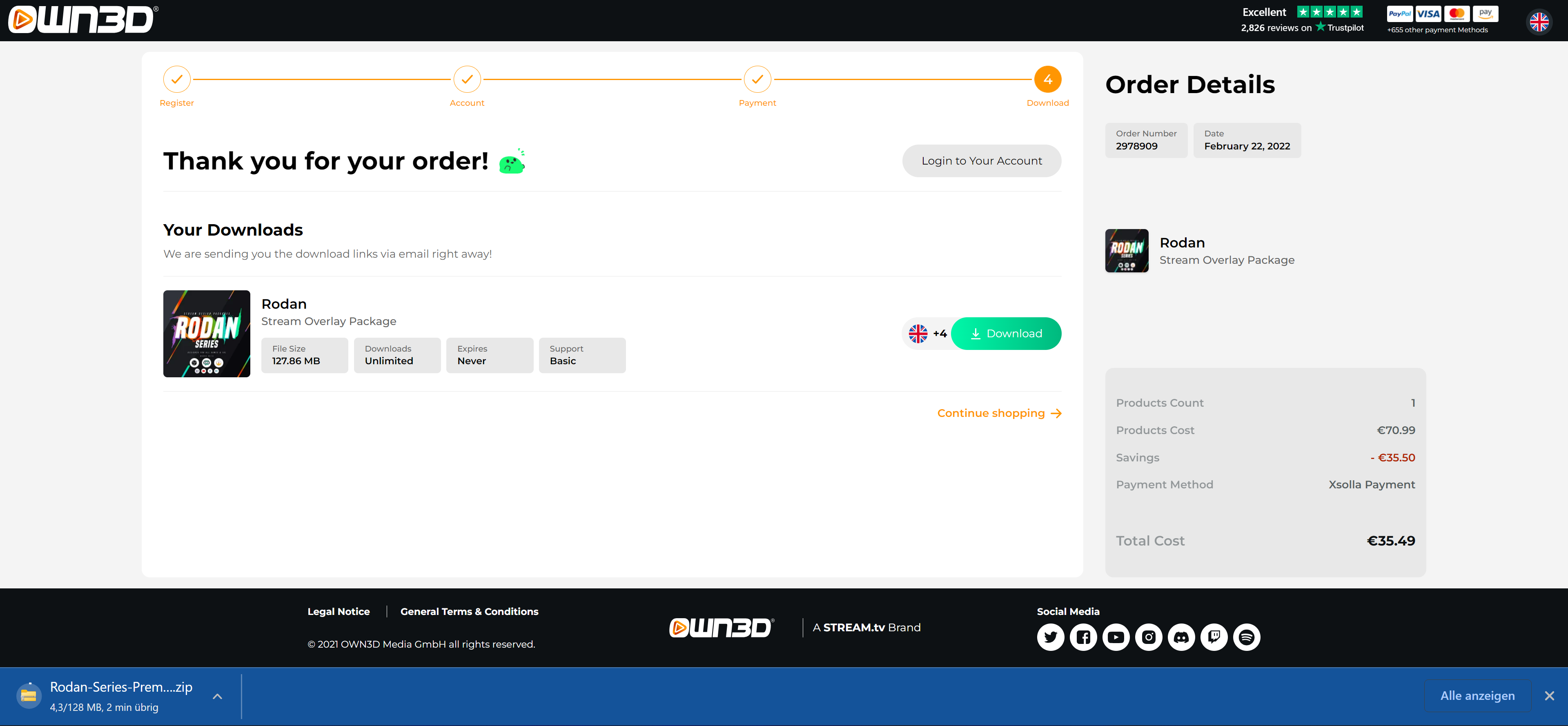 If you don't want to download your package yet for any reason, you can come back to your download page at any time by logging in and navigating to "My Downloads." You can also re-download your package here in a different language should you like to do so.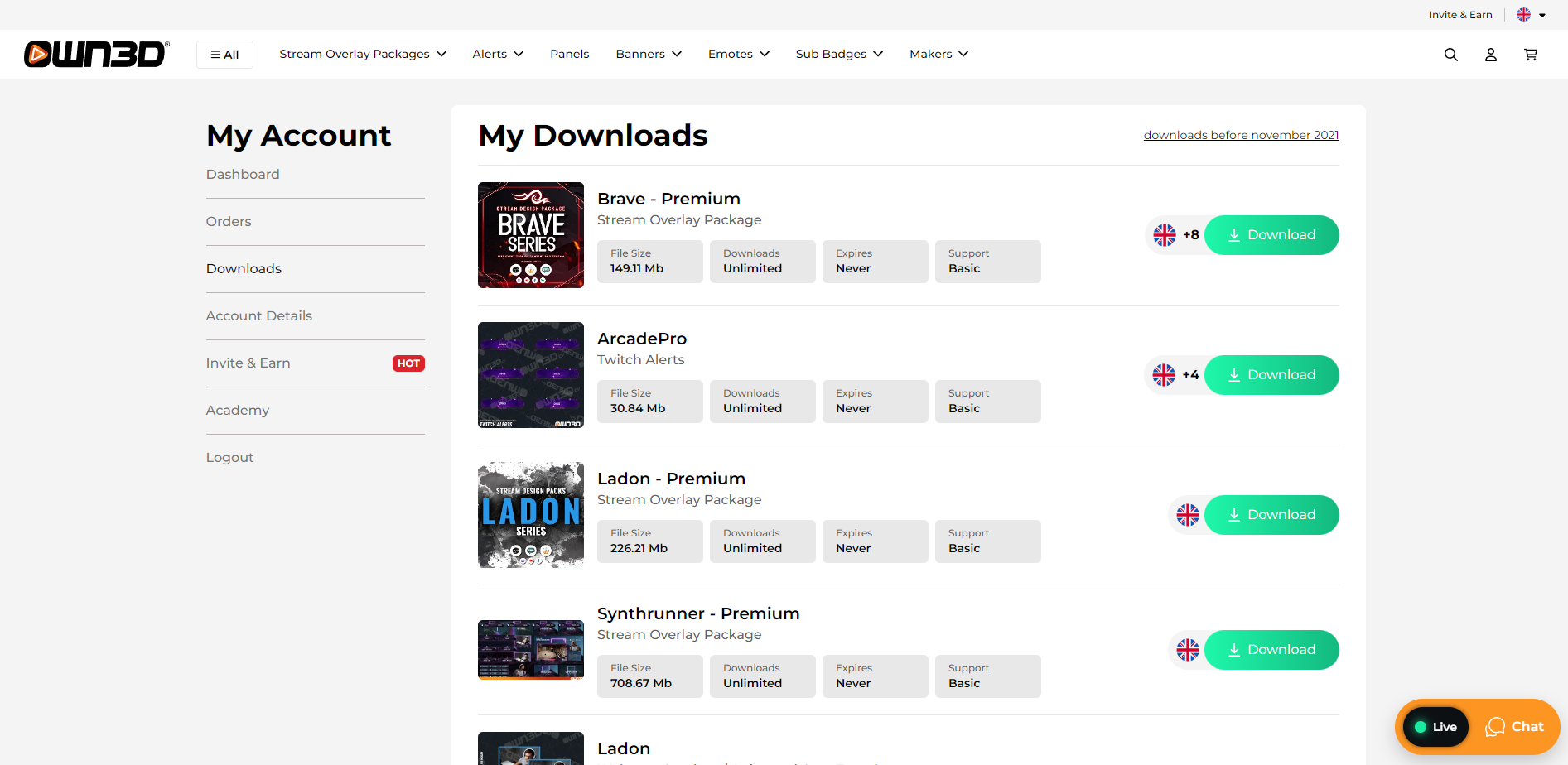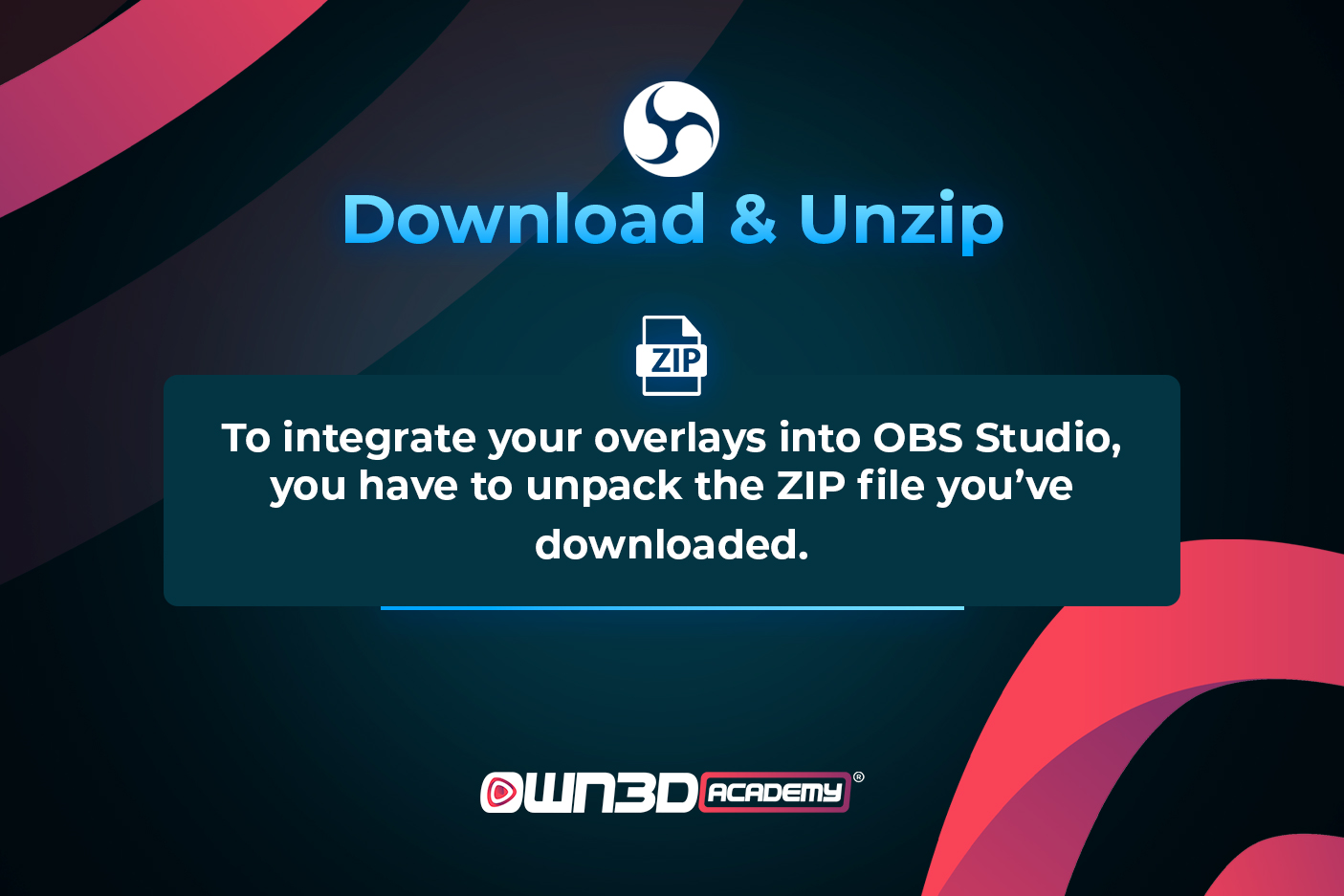 If this is your first time downloading and unpacking your complete OWN3D.tv package, this lesson is for you. If you have already done this, feel free to skip to the next one!
First, you have to download your OWN3D.tv package. Move your mouse over your profile icon next to the shopping cart on the OWN3D.tv website, and a menu will open. Click on the "My downloads" button. There you will find your purchased package. You can select the language of your choice by clicking on the flag symbol before downloading it. Be sure to remember where you save it on your PC, as you will need it right away!
Now you have to unpack your complete OWN3D.tv package. There are several free software that you can download online. We recommend 7-Zip or WinRAR. Install one of this software so that you can extract the contents of the package.
Right-click on your downloaded file to open the Windows menu. Click on "Extract All...". - a window opens where you can select a destination folder for the extracted ZIP folder. If you leave the default selection, the program will save the extracted files directly into the same folder where your ZIP file is located. If you want to select a new folder, click on "Browse" and choose your desired destination path.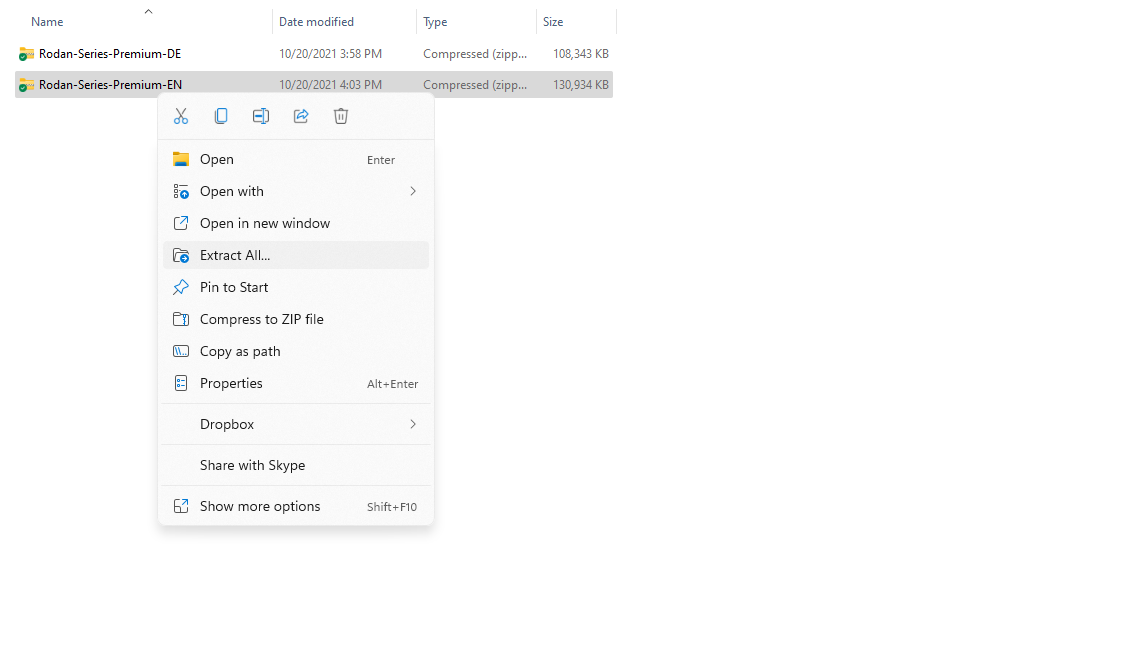 Once you have defined a destination folder, click on Extract. It should be done in just a moment.