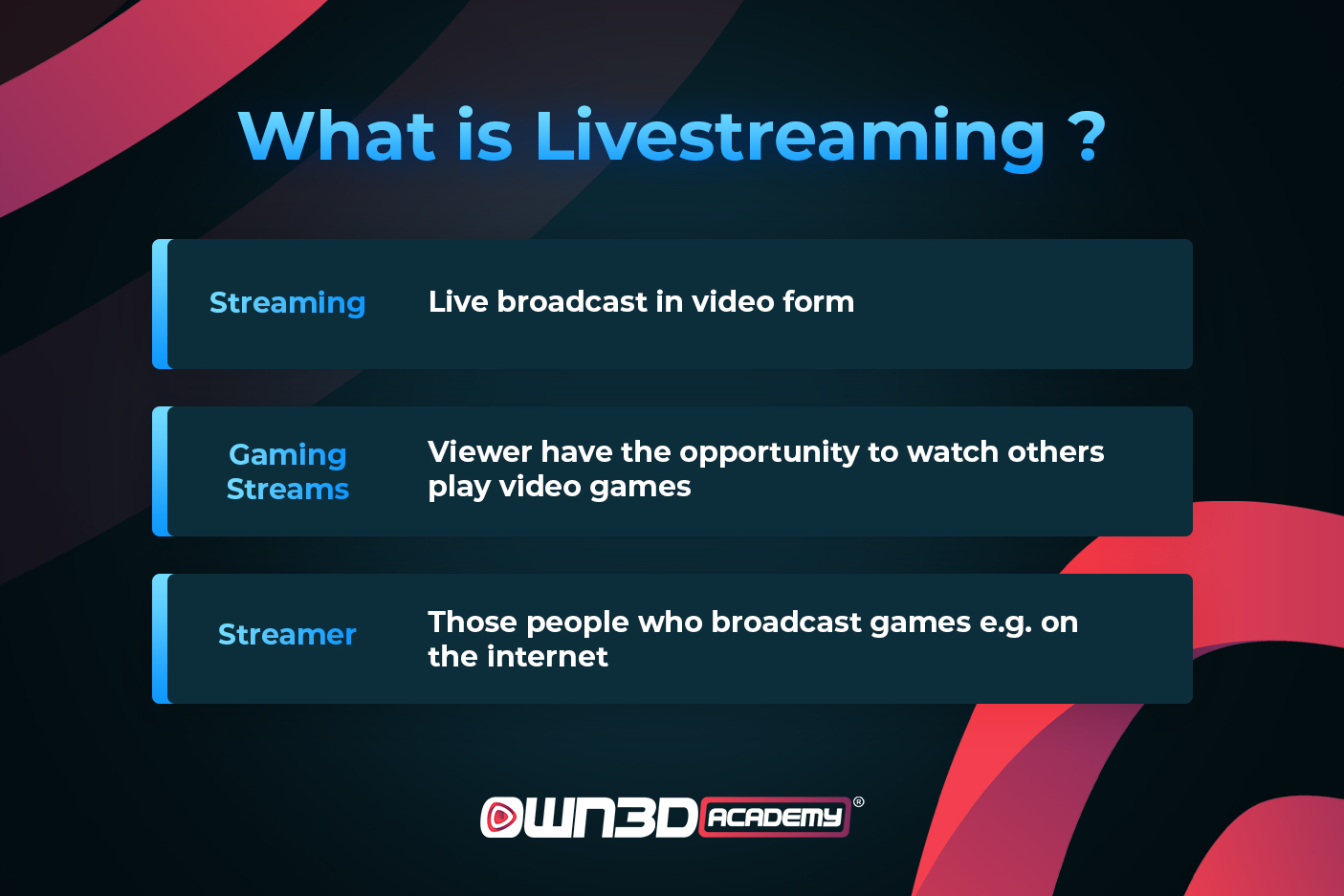 While you play, what you see on your screen is streamed in real-time to a streaming platform like Twitch, Facebook, or YouTube. Viewers have the opportunity to watch others play video games. If you did not know, the people who broadcast a game on the Internet are called "streamers."
The focus is not only on the game but also on the player and communication with the viewer. Many viewers want to talk to the player, whether it's about the game or just small talk. Streamers have developed some tools for perfect chat communication in the last few years.
Most streamers commentate their game live with a microphone. This provides an additional source of entertainment besides the game. The use of a camera is also every day among most streamers. The streamer films himself with the camera while playing the game and inserts the corresponding image into the Livestream. If you want to learn more about streaming hardware, read all about it in our Hardware section!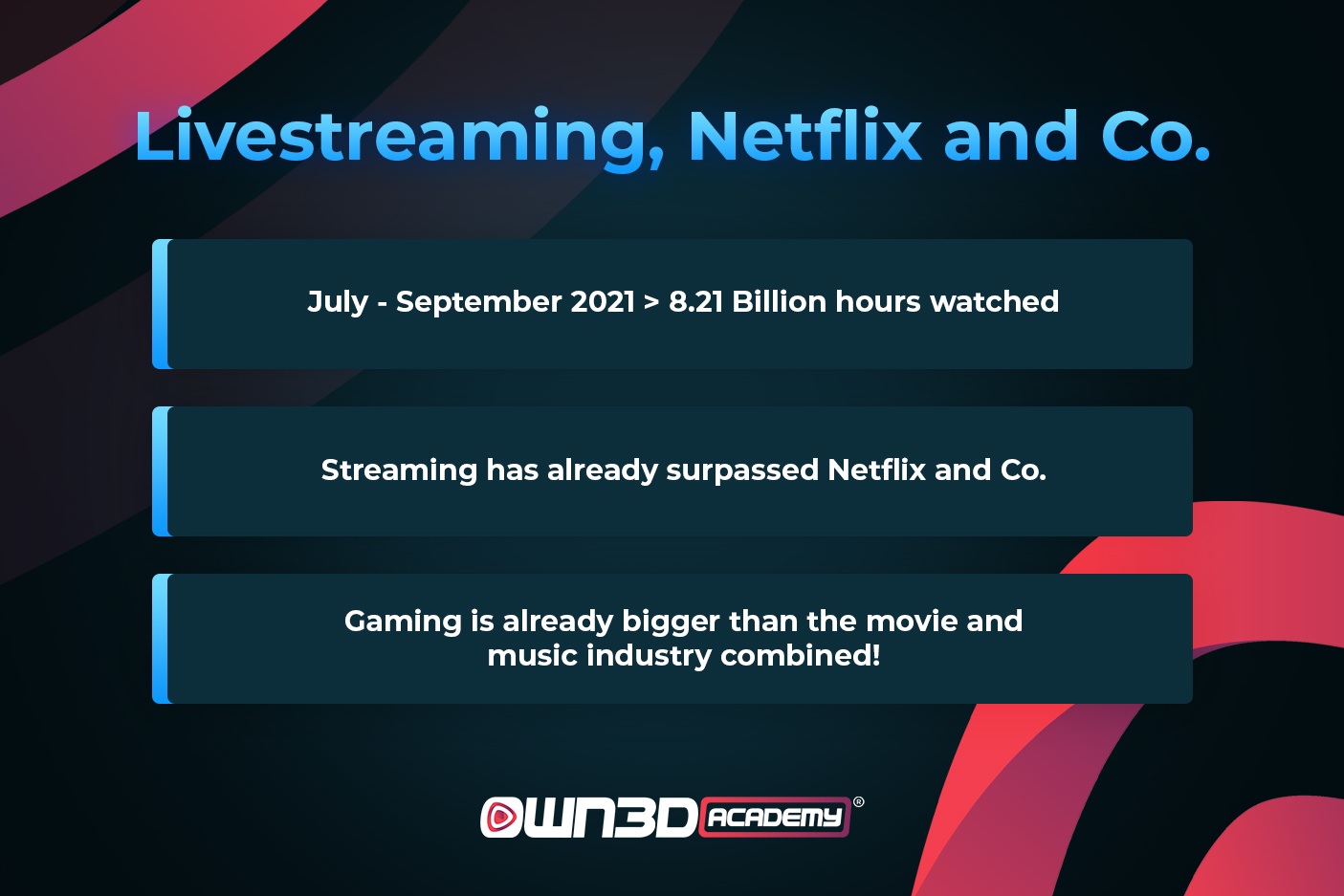 Live streaming has developed rapidly in recent years. From July to September 2021, 8.21 billion hours of games were consumed on Twitch, YouTube, and Facebook. It took television many decades to reach this amount of time. This rapid development has helped streaming overtake TV, Netflix, and co. The gaming industry is also getting bigger and more significant than the movie and music industries combined!
Meanwhile, streamers create content on Twitch, YouTube, and Facebook that no longer hides from big TV productions. Thousands of new streamers join every day - from all age groups and walks of life. At the same time, live streaming is also becoming increasingly popular with consumers, as the vast increases in the last two years show.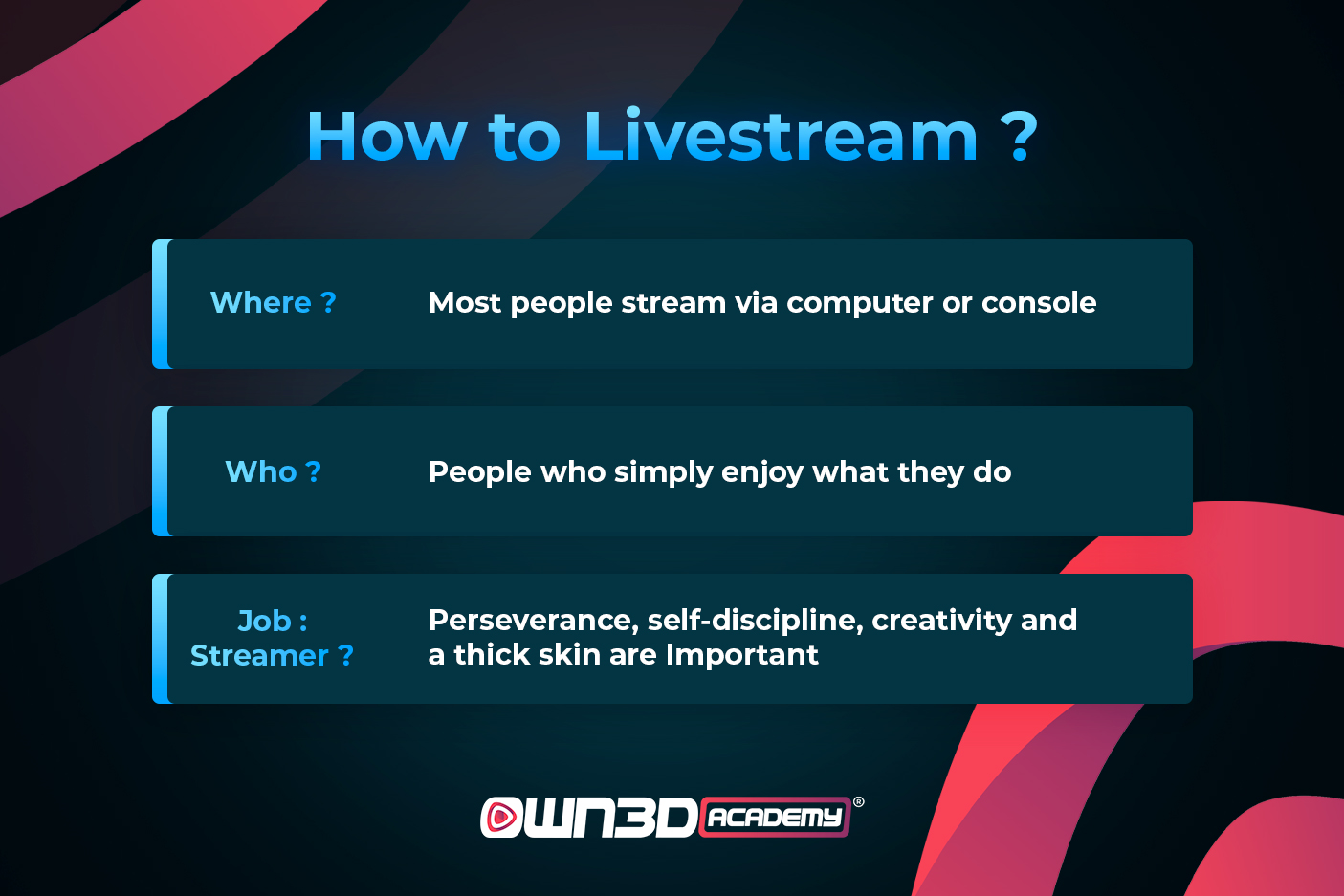 You can quickly become a streamer, and even a smartphone is enough to begin live streaming, show your skills, and entertain your community. Most people stream with a computer or console, e.g., PlayStation or Xbox.
No camera crew, production studio, hair, or make-up artists- this authenticity plays a significant role in live streaming because of social media and co. Viewers are happy to see different personalities with rough edges.
If you want to succeed as a streamer, you must put in the time and effort. To stand out among the vast numbers of competing streamers, you need not only patience but also a certain amount of perseverance, self-discipline, and creativity. The topic of streaming as a profession is a touchy one, as you should not glorify or underestimate the whole project. Working as a streamer can be stressful and nerve-wracking, and if you do not have thick skin and perseverance, the dream of being a great streamer can quickly be flickered.
Starting with a certain amount of detachment and agile thinking is highly advised, as is starting with the intention of becoming affluent in two years.
Occasionally people have accomplished this, which is comparable to winning the lottery.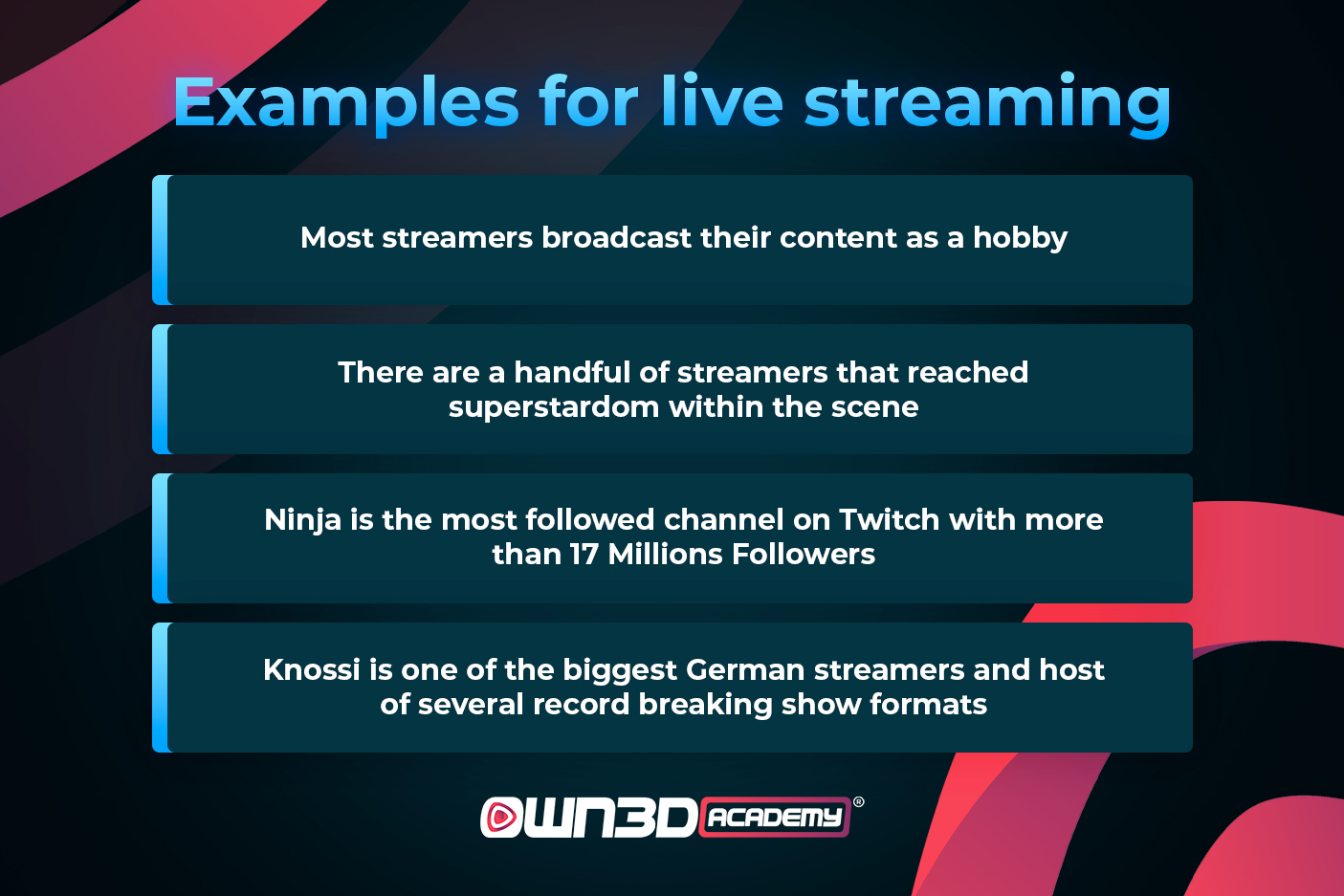 Most streamers share their content on the internet to pursue their hobby and possibly entertain a few people. However, just as in traditional film and television, some streamers are superstars and can live off their earnings.
Ninja, a US-based streamer, is one of the most popular multi-millionaire entrepreneurs who regularly entertain tens of thousands of viewers on his Twitch channel.
With budgets increasing and popularity (the advertising deals that come with it), new shows are constantly being produced; shows are so professionally created that they can keep up with their big TV counterparts.
German streamer Jens "Knossi" Knosalla regularly breaks all viewership records on Twitch, including international ones, with his concept of "Camp" shows. These are themed shows in the style of well-known reality shows on TV, streamed live for three days! In Horror Camp, which took place in the fall of 2020, the participants, including rapper Sido, lived in an abandoned haunted hotel for three days. They broadcast the spectacle live on the internet. With 330,000 viewers, they broke their viewing record on Twitch, which they had set just a few months earlier at AngelCamp (fishing camp), with 330,000 viewers.
It's AngelCamp 2.0, which took place in September 2021, was the world's most-watched stream during the Livestream week in September, with nearly 6.5 million hours. In the midst of it all, StreamTV (OWN3D). We did not just take care of the complete design concept of the stream. With Streamheroes, we also provided a lot of interaction within the community during the stream.
Certain streamers can emerge out of nowhere and break all records. We shouldn't speculate on such a situation; however, we'd like to point out that anything and everything is possible. We'll never know what the future holds, and the streaming market is far from finished; the best is yet to come!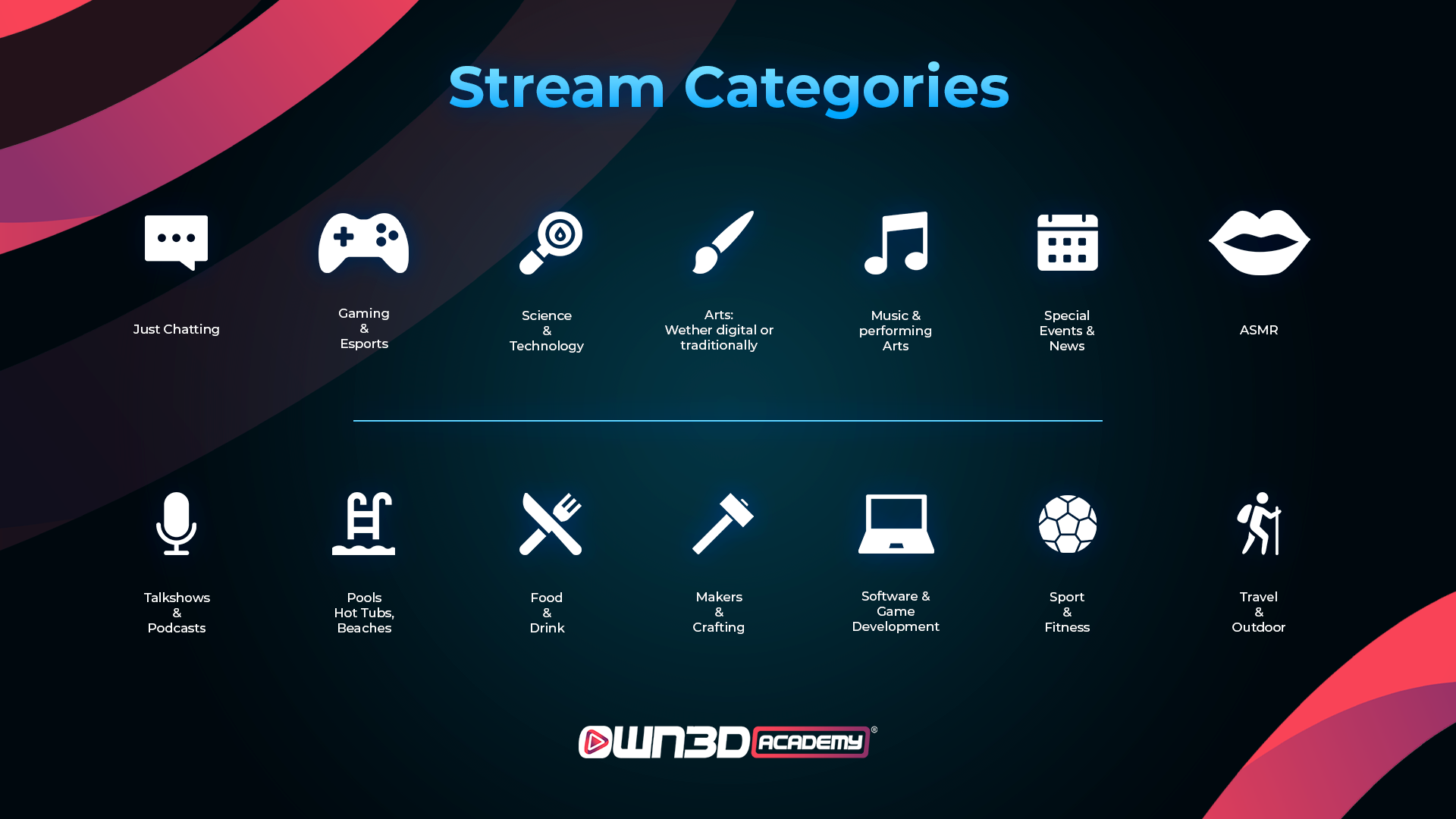 To find the right community for you, it is essential that you also stream in the appropriate category; most platforms have similar categories.
However, Twitch goes more in-depth and covers almost every activity in its category to give you a better overview.
Even though Twitch still considers itself a gaming portal, other contents like shows or talk shows are becoming more and more. On Twitch, artists can draw in front of a live audience, musicians can record songs, and teachers can impart knowledge. In recent years, even some well-known politicians have used the platform to connect with people. The endless possibilities make Twitch a huge interactive entertainment provide.
IRL categories include:
The category is purely for chatting with your community. You can set a topic and interact with the people in your chat, or just talk about whatever you feel like.
Here you can learn about experiments, engineering, robotics, and anything else related to science.
You can watch and interact with Artists who create paintings, illustrations, animations, comics, photos, or other digital or traditional artwork. 
Music and Performing Arts
Dancers, singers, actors, or musicians of any kind fit into this category.
This category includes significant events like TwitchCon, PAX, and announcements from game developers and publishers.
For those who enjoy podcasts and talk shows, there are many exciting shows to indulge.
Want to relax with tranquil sights and sounds like whispers, accents, and crackles?
That's what you get in the ASMR category.
This category includes makeup artists, tattoo artists, hairstylists, skincare, and anything else that goes towards beauty & body art.
Everything falls under the Food & Drink category, from cooking and baking to eating.
Do you like DIY projects and tinkering with costumes, sewing, working with Lego, or the like? Then this category is just right for you!
The new category was created in the summer of 2021 due to the increasing number of hot tubs.
Software & Game Development
Game design, software development, and anything else you can think of in software and game development fall into this category.
Are you a sports fan, or would you like to host a Livestream with your team? Then you fit into this category.
Do you travel the world and want to share it with the Twitch community? Then this is the right place for you.
Games
In this top category, you'll find live streams of all your favorite games, from shooters to Jump'n Runs and everything in between:
Shooter

Action & Adventure

Moba and Strategy

Role-Playing Games

Cards & Board Games

Racing & Sports

Horror

Beat them Ups
Music
This top category is all about music: everything that produces music is included, from live performances to special events!
Live performances and events.

It covers production and the creation of music.

Indie and Alternative

Acoustic and instrumental

Hip-Hop and Rap

Rock and Metal
Esports
This section covers Live tournaments, match highlights, and your favorite pros: everything about E-sports in one place.
YouTube and Facebook have more general categories. Facebook is divided into gaming (and various games) and hanging out. YouTube has the categories: Gaming (and each game there), Music, Sporting Events, Live News, Beauty & Fashion, and Educational Content.
Popular games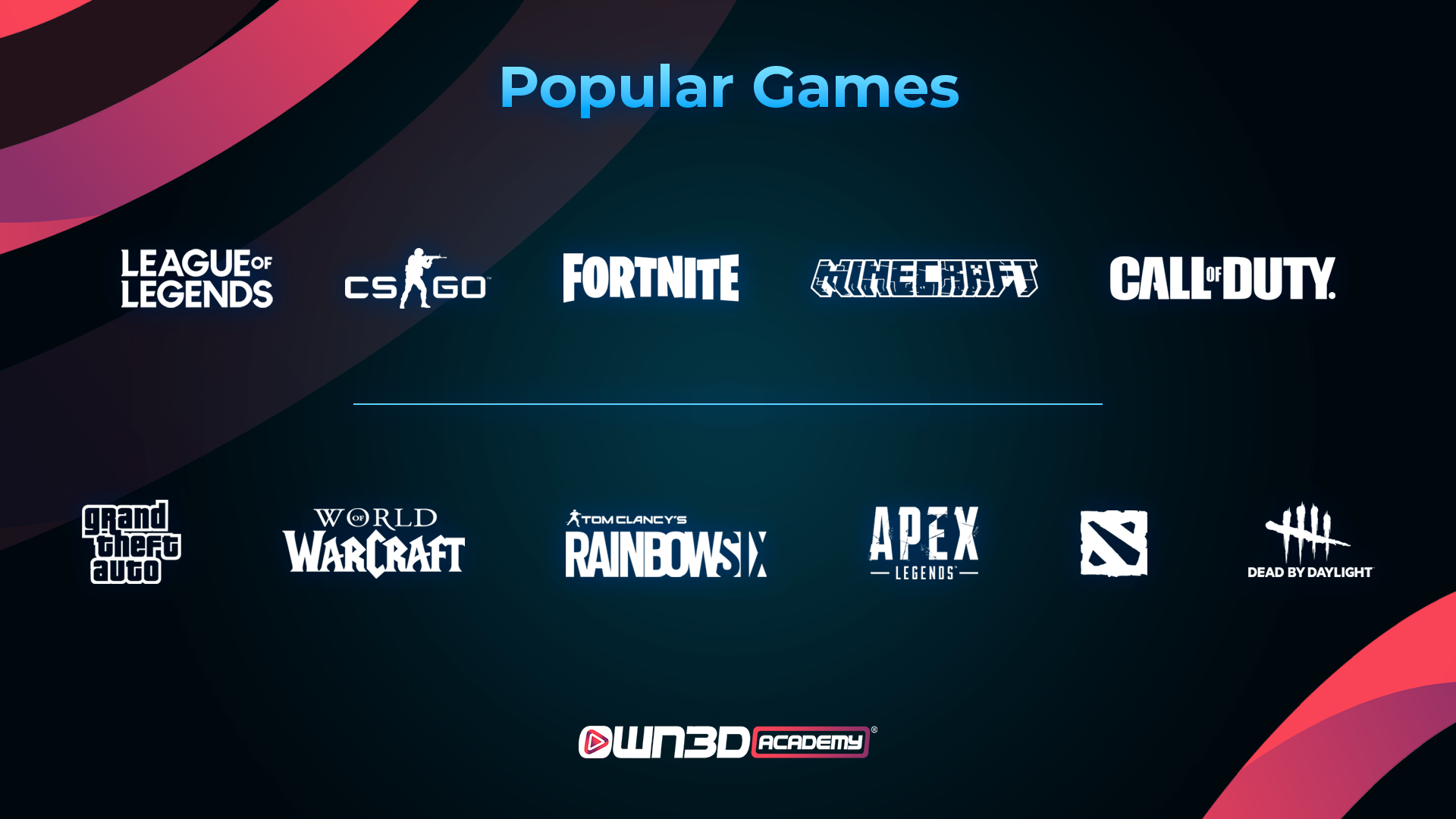 The list of most popular games on Twitch is constantly changing.
The numbers vary immensely depending on which game is the most talked about; however, some games have been top-view for years and regularly ranked high on the Twitch home page. Here is a small overview of the streaming classics:
League of Legends

Counter-Strike: Global Offensive

Fortnite

Minecraft

"Call of Duty" series

Grand Theft Auto Online

World of Warcraft

Rainbow Six: Siege

Apex

Dota 2

Dead by daylight
As you can see, the most popular games are all multiplayer titles. Most major streamers focus on these games because they have a high replay value and entertainment. Story-based video games are also top-rated, but streamers who focus on single-player games typically do not appeal to as many users as those who play a multiplayer game with others.
Initially, to stay current, it can be helpful to adapt to what is constantly happening in the gaming/streaming world. 
It's never a bad idea to join the hype and stream the latest and hottest game. 
However, be sure to give your stream program a specific thread by focusing on a particular genre (shooters, RPGs, strategy, etc.), for example. Try to find a healthy middle ground between current games and your favorite genre. Ultimately, though, you should play what you enjoy! Your audience will immediately notice if you are slogging through a game just because it's hyped and you are not enjoying it yourself.
Once you have decided on a category, we can help you find the right platform! Just click on the following article.