The YouTube Partner Program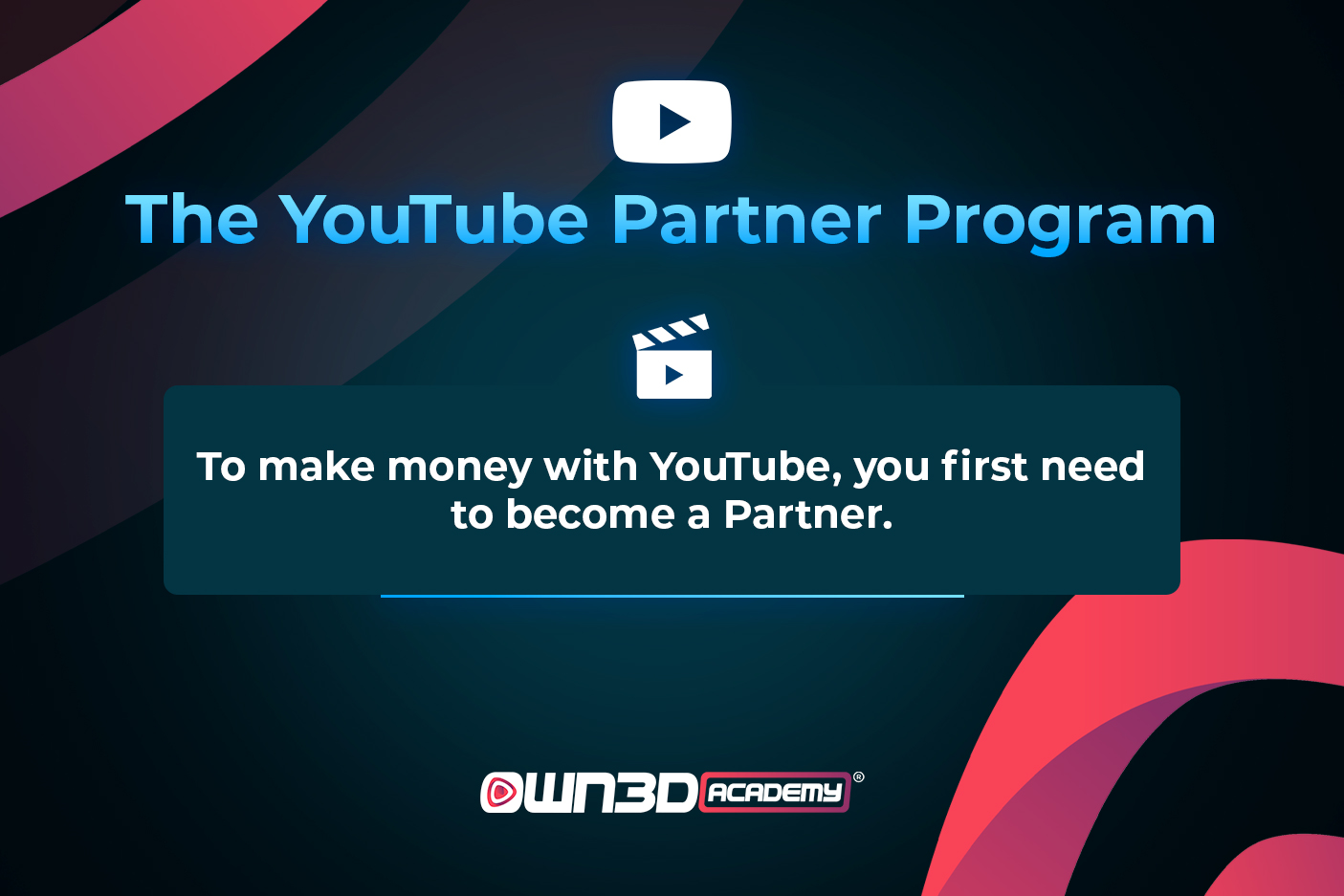 Monetizing your content on YouTube begins with becoming a partner. You do so by reaching a set of simple milestones set out by YouTube and then applying for partner status. It is a key part of any content creator's journey. Back in the day, these goals used to be very hard to reach, but as YouTube continued to grow, so did these achievements become more reachable for smaller broadcasters as well!
You become eligible to apply for the YouTube Partner Program by meeting the following criteria:
Your channel's content complies with YouTube channel monetization guidelines.
You live in a country or region where the YouTube affiliate program is available.
There are no active community guideline violation warnings for your channel.
Your videos have earned more than 4 000 hours of valid playback time in the last 12 months.
Your channel has more than 1 000 subscribers.
You can read more about the YouTube Partner Program and its requirementshere.
Once you're a partner, you will be able to make money from your content by running ads on your videos. To become eligible for payments, you will need a Google AdSense account.
The application process
To apply, you will need to turn on two-factor authentication for your Google Account. Once you've reached the view time and subscriber numbers required, you will be prompted to sign the YouTube Partner Program terms in the Monetization segment of YouTube Studio.
This is when you should also create your Google AdSense account and connect it to your YouTube account. This is Google's platform for managing any sort of advertisement displays on your online content. You would also use this to run ads on your website. Keep in mind that you will need a bank account for AdSense payouts!
At this point, your channel will geta manual review. Since it might not be possible to view every single piece of content you created, the reviewers will focus on the following:
The main theme of your channel
Your most-viewed videos
Your newest videos
Your videos with the biggest proportion of watch time
Your videos' metadata (titles, thumbnails, descriptions and more)
This review process typically takes around a month or so after your initial application. Be patient!
Ads on YouTube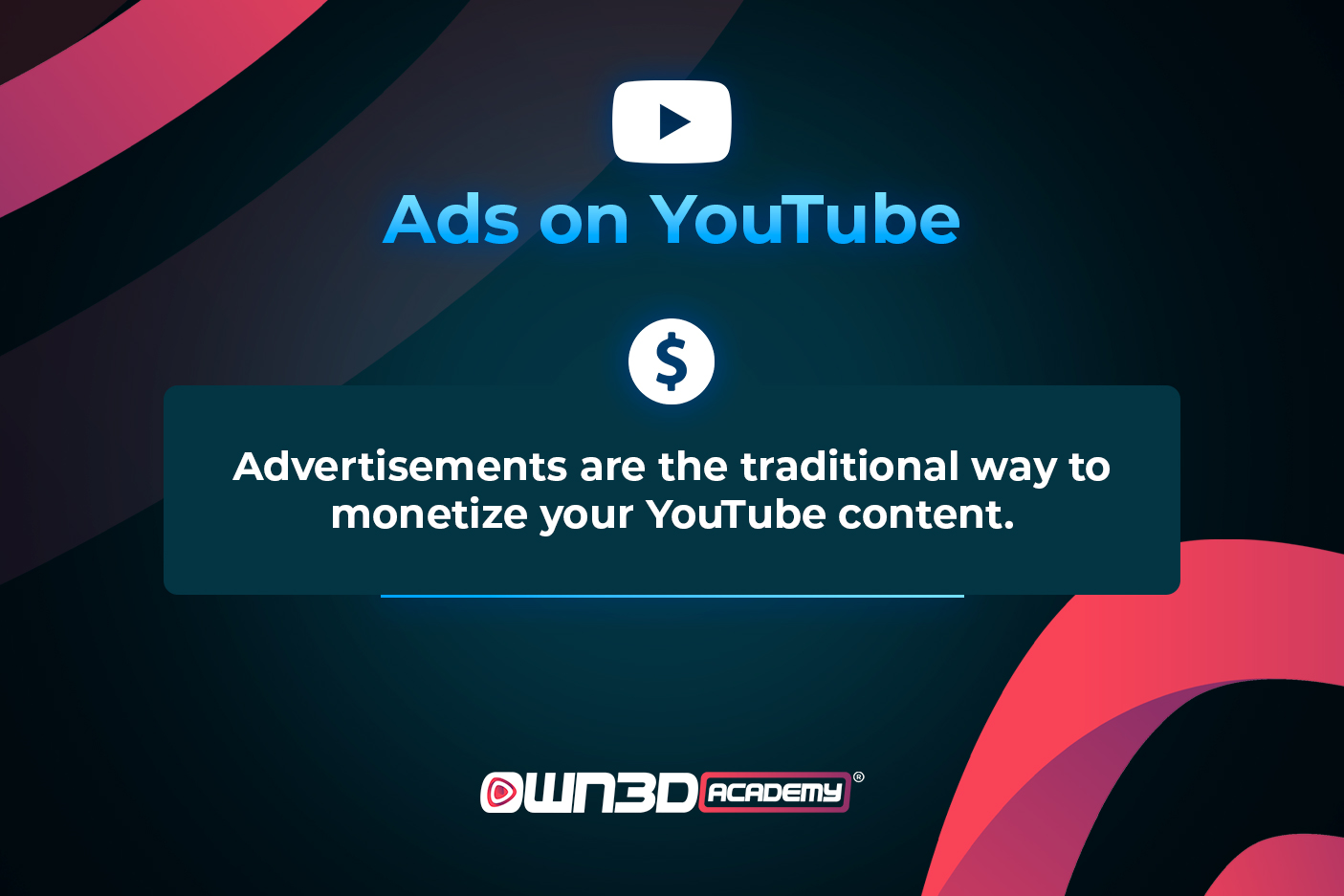 Running advertisements on your videos is the primary way to make money on YouTube and is available as soon as you become a partner.
You can set up individual settings for each of your videos when it comes to pre-rolls and mid-rolls, including where they appear during your content. However, creators do not have a choice in what kind of ads run on their videos.
Your advertising income will vary depending on the kind of audience you serve and the sort of advertisements that end up displayed over your content. Since late 2020, YouTube reserves the right to run ads on non-partnered users' videos as well, without giving any revenue share to those content creators. Keep this in mind if you're just starting out and you hear viewer complaints about ads!
You get thesame sort of ad monetization optionsfor your livestreams as well: pre-rolls, mid-rolls and display/overlay ads are available in the YouTube Studio settings. Keep in mind that mid-rolls are only available if you're streaming from a desktop computer!
One of the big benefits of using YouTube as your streaming platform is that you can easily make use of your VODs and other offline content by uploading a video. By uploading your livestream content as its own video, either edited or unedited, it will keep generating some ad revenue for you.
There are also other, livestream-specific ways of monetizing your broadcast, which we will cover in the next lesson.
Super Chats and Super Stickers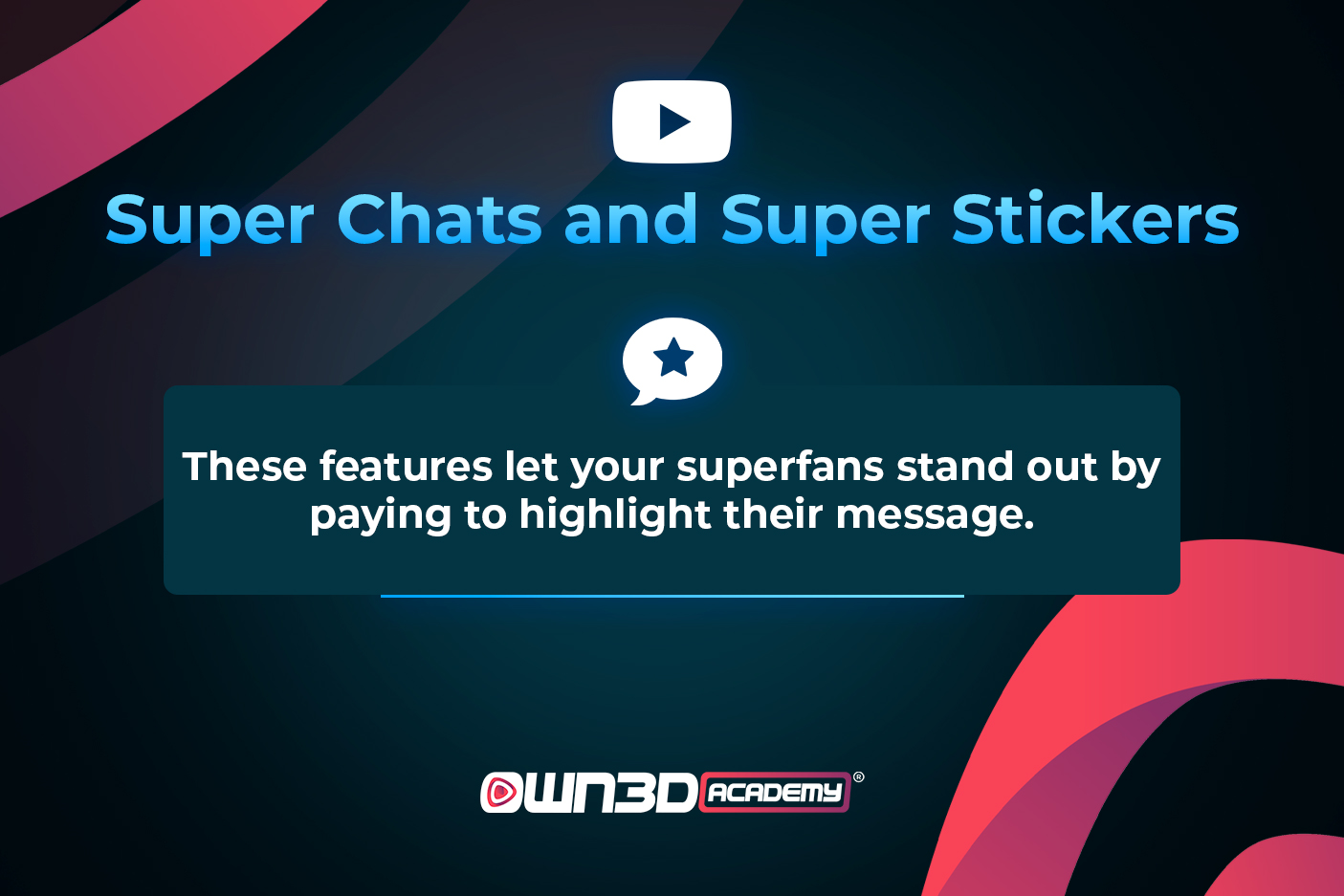 Once you become a Partner, Super Chat and Super Stickers are two ways available to your fans to support you during a livestream by making their messages stand out in the chat. They let viewers pin and highlight their chat messages for a small amount of money. The bigger the payment, the fancier (and longer) the highlight gets.
Super Chats are highlighted messages and Super Stickers come with an animated image. Unlike Twitch emotes, these animations are not unique to the YouTube channel and are pre-made by the YouTube platform. Still, you have a large selection of animated cuties and critters to choose from, meaning your fans will always find the right one to enhance their message!
These tools allow your fans to stand out from the crowd and become "super members" of your audience. This means you should pay special attention to those willing to spend their hard-earned money on a highlighted message. Make sure to thank them, answer their question, make them feel like it was worth supporting your content.
To make sure that Super Chats are not used in a negative or trolly way, you can (and should) use a list of blacklisted keywords to filter out inappropriate comments.
YouTube takes a 30% cut from Super Chat earnings. The platform also limits the amount of money viewers can spend on Super Stickers at a given time to $500 a day or $2 000 a week.
Channel memberships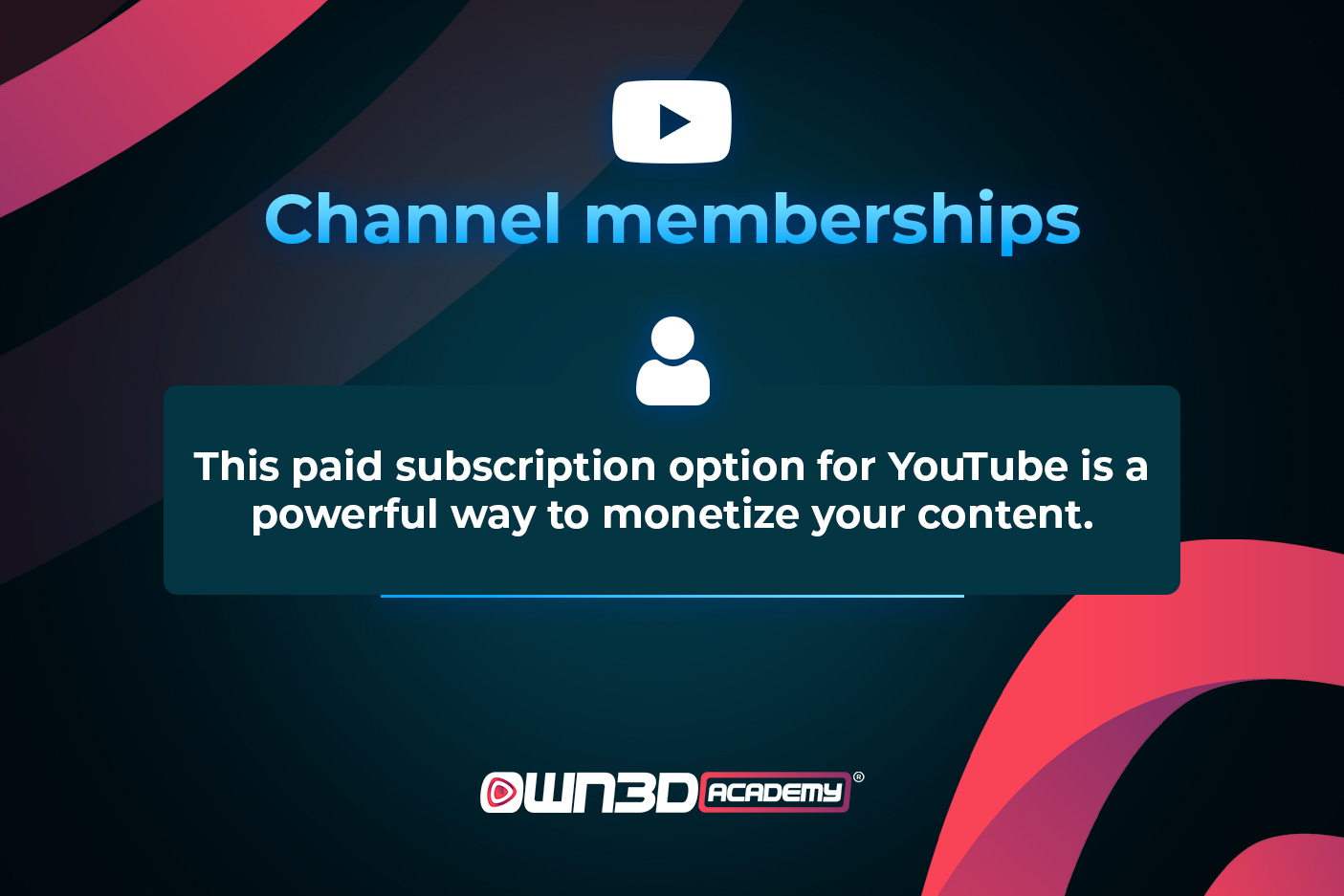 YouTube memberships were introduced in 2018. They are similar to other creator-supporting platforms: your fans pay a recurring monthly amount to support your content creation journey. In return, they get access to some sort of unique extra content and a special badge in the live chats. Just like how Twitch has "followers" and "subscribers", YouTube has "subscribers" (the free option) and "members" (those who pay to support your content).
To become eligible for memberships, your YouTube channel needs to meet the following requirements:
Be in the YouTube Partner Program
Have more than 1000 subs
Be over the age of 18
Don't have a channel set to "made for kids"
Be in an eligible country
Don't have many ineligible videos (marked as "made for kids" or with music claims)
Just as with any such online membership options, you are encouraged to provide perks to those who are willing to pay to support your content.
However, YouTube specifies some disallowed perks that you should keep in mind and avoid:
Downloads of content (including music) available on YouTube
In-person 1:1 meetings
Anything that one or some (but not all) of your members are chosen to get at random including, but not limited to: Contests, Lotteries and Sweepstakes
Perks that are marketed, directed, or targeted, to children, or that may be attractive to, or inappropriate for, children
Perks encouraging children to ask their parents to join your channel membership
The pricing of a channel membership
You can set your channel membership price from $0.99 to $99.99, with 20 default options in total available to you in this range. You can also set multiple membership levels (similarly to tier 2 and tier 3 subscriptions on Twitch) with their own set of perks. Keep in mind that the loyalty badges and the custom emotes available are not affected by the membership level on YouTube!
Donations and merchandise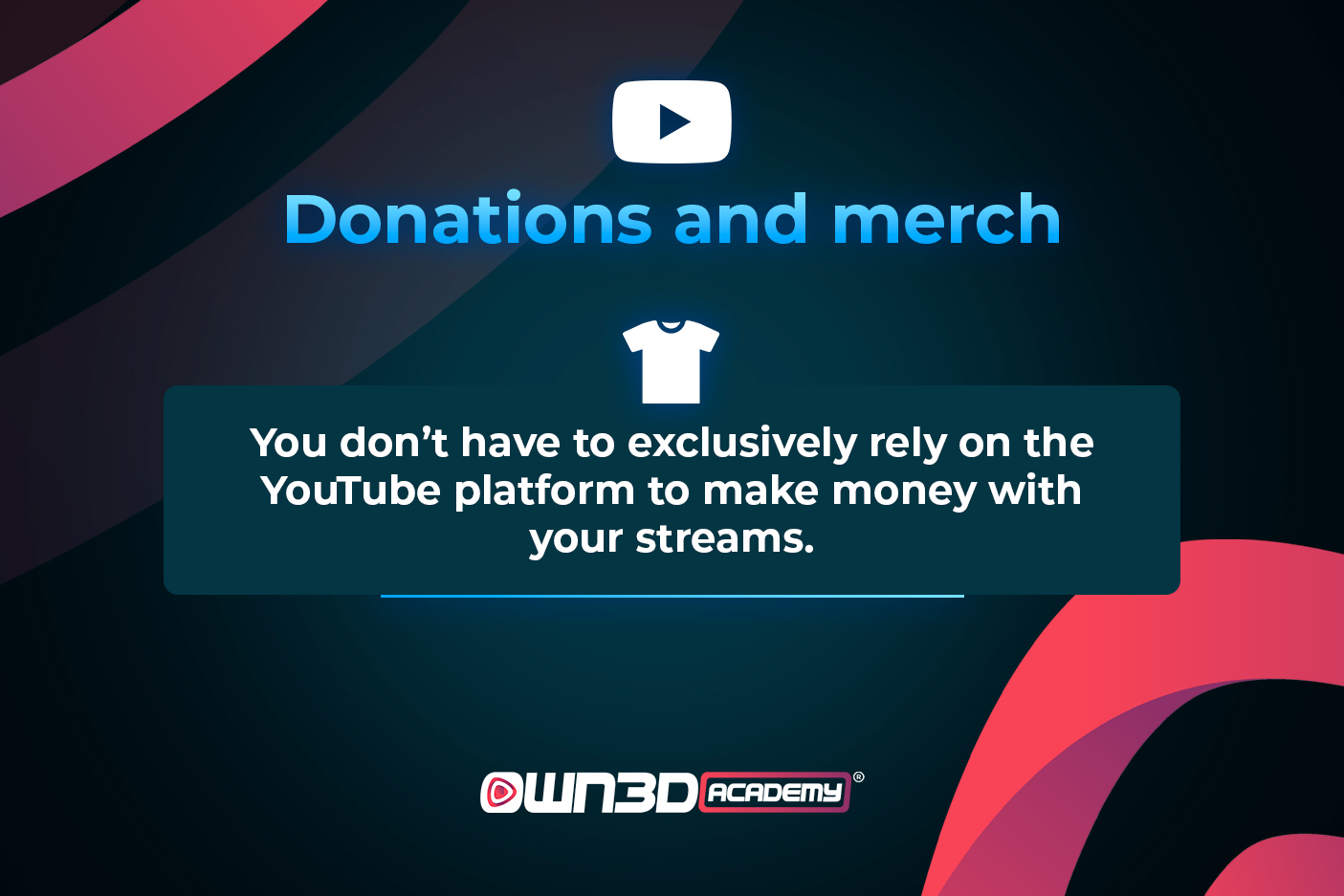 These monetization tools are not platform-specific, but they nevertheless play a big part in the life of YouTube content creators.
Donations
Viewers can decide for themselves how much to donate and how often to do so. You can set up fancy alerts and goals (whether to support your own stream or something charitable). However, they are not a predictable source of income.
Also, depending on the provider, there may be fees deducted from the donation. There are a few exceptions to this. For example,OWN3D Prodoes not earn anything from your donations through the OWN3D Pro donation page. For instance, PayPal charges a flat fee per transaction and a small percentage cut as well, which can make a massive impact on what you get from small donations: that's the case with any donation site provider that lets you donate with PayPal and does not relate to OWN3D Pro.
Merch
You can also make money selling merchandise if you have a large and loyal enough audience. Mugs, T-shirts and the like are easy to produce online with third-party websites dedicated to this sort of thing. Special sales and unique designs are a great way to get fans to support you. You can even offer your goods via an integrated merchandise store on YouTube. This feature is activated when the channel has collected more than 10,000 subscribers.
Taxes on your YouTube earnings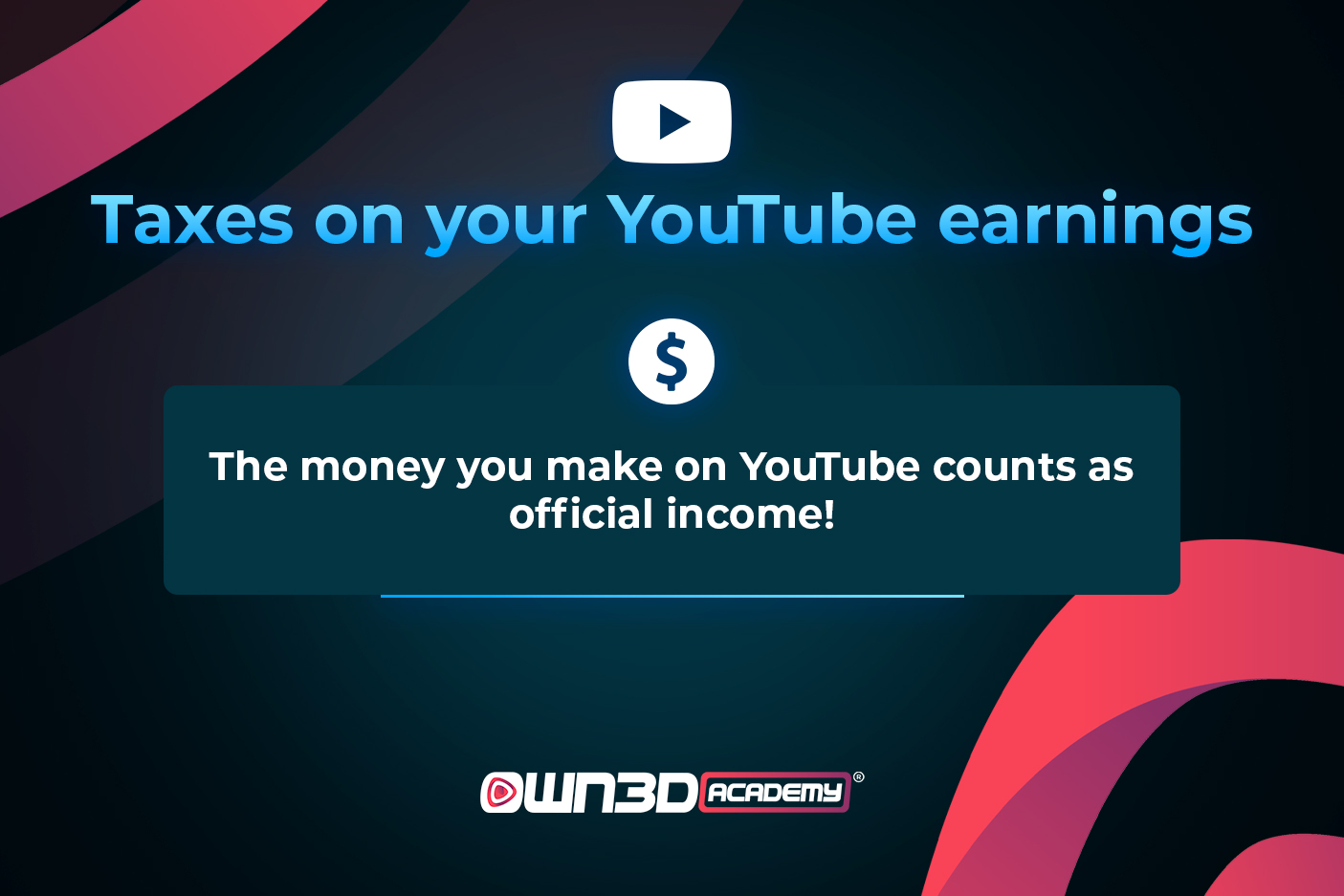 Depending on where you live and how much income you make per month from streaming, it may theoretically be necessary to register as a business and pay taxes on the income! This isn't only true in the case of donations: the revenue you get from YouTube is earnings of a sort, and you should do your research about any local tax law that might be relevant to you!
Don't forget that the minimum payout amount on Google AdSense is $100. This means that small streamers will have to wait a long while to receive their first earnings as you have to build up a small community to reach this amount.
Just like with any other sort of income, your YouTube revenue will be taxed – sometimes only if it goes above a certain threshold. Most smaller streamers can simply take care of this by becoming a sole proprietor or an official freelancer.
We will add a separate chapter about tax law in the course in the future - stay tuned!
Olli
E-Commerce & Content
I am our housekeeper, wherever I can help, I stand by with help and advice =)