What is YouTube?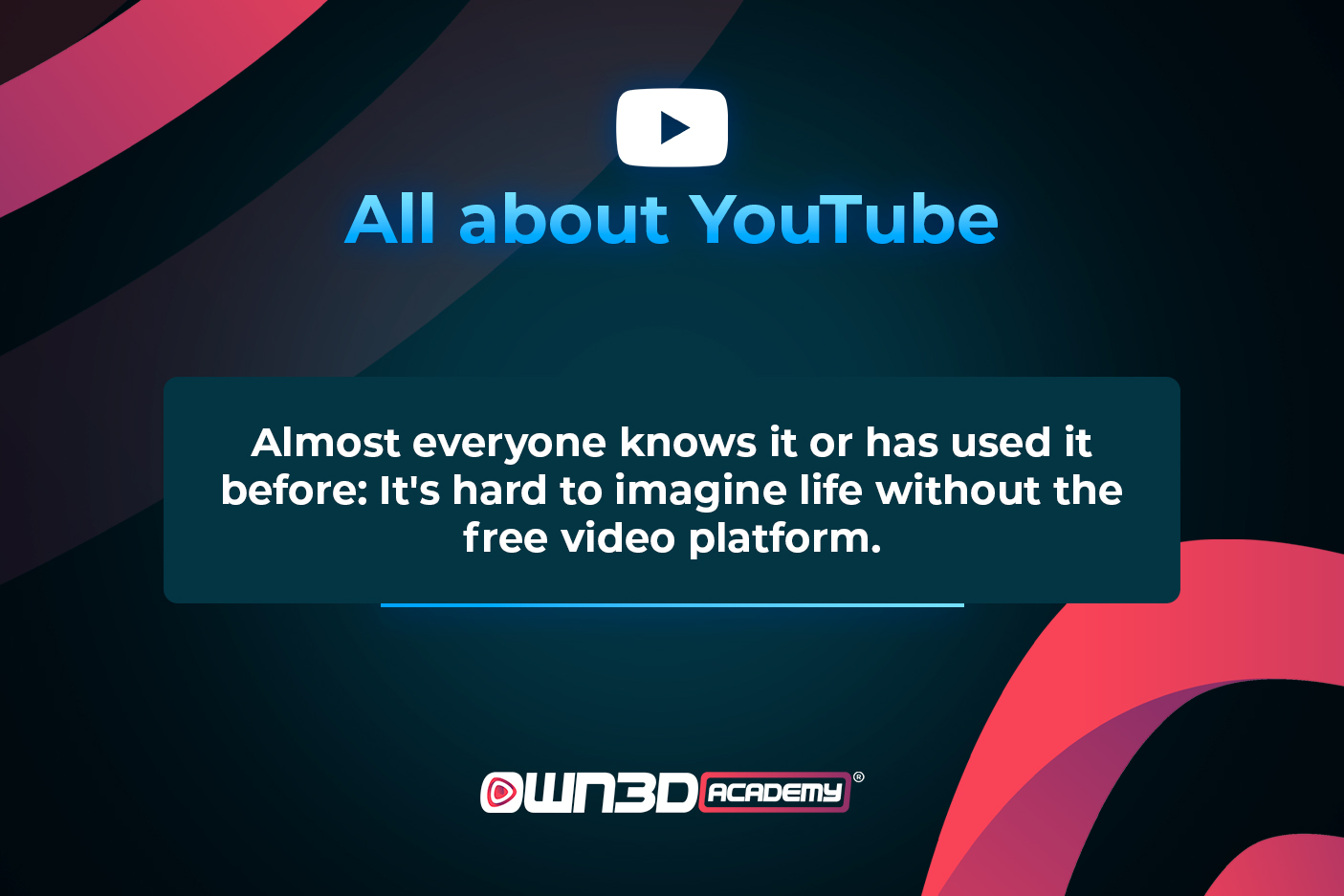 The YouTube platform is a free video portal where you can discover, watch, comment on, and like videos, upload content, edit, or stream them live. From short mobile clips, hobby streamers or craftsmen with tips to professional content creators, large companies, music productions and many more: anyone who can create a video can also publish their content on YouTube and share it with the world.
The video portal, which Google has owned since 2006, functions similarly to Google's search engine: many users search specifically for tutorials, music, news, reviews, tips and other things - depending on what is exciting and relevant for the user.
By the way, it's been roughly a minute since you read the first few paragraphs. Why are we mentioning this up separately? More than 500 hours of footage were published to YouTube in that one minute. Hard to imagine;YouTube itself has confirmed this. As you can see, the platform is indeed a massive collection of content that you could never consume in its entirety. However, everyone can find something that suits them, from changing a car tire to classic cat content or other entertainment videos to helpful tips on various topics. No matter what you're looking for, you're pretty sure to discover a video about it on YouTube.
The platform, which belongs to Google, has around 2 billion logged-in users every month. If they want to consume content, they have several ways to interact with the videos and share them. With thumbs up, thumbs down (also called like and dislike) or comments, logged-in users can show what they think of a video or even comment on a video.
In 2021,the visible number of dislikes, as thumbs down, was abolished. Since then, an average user can no longer see how many users have disliked a video. Only the video creators themselves can see the number of dislikes for their videos in their dashboard. This change caused a lot of criticism, both positive and negative.
Those creators who actively publish videos on YouTube are also called YouTubers. If you discover a YouTuber you particularly like, you can subscribe to them. Subscribing on YouTube is comparable to "following" on Twitch. If users follow a channel, they are notified when a subscribed channel has published new videos or is streaming live.
The YouTube Livestream Chat is the counterpart to the comment section, allowing the community to exchange views on the content. Any registered user watching the Livestream can participate in the chat and actively participate in the action. In the case of well-attended streams with thousands of viewers, the chat messages may appear to be flying across the screen at breakneck speed.
As you can see, similar to Twitch, the community aspect is also not missing on YouTube.

YouTube History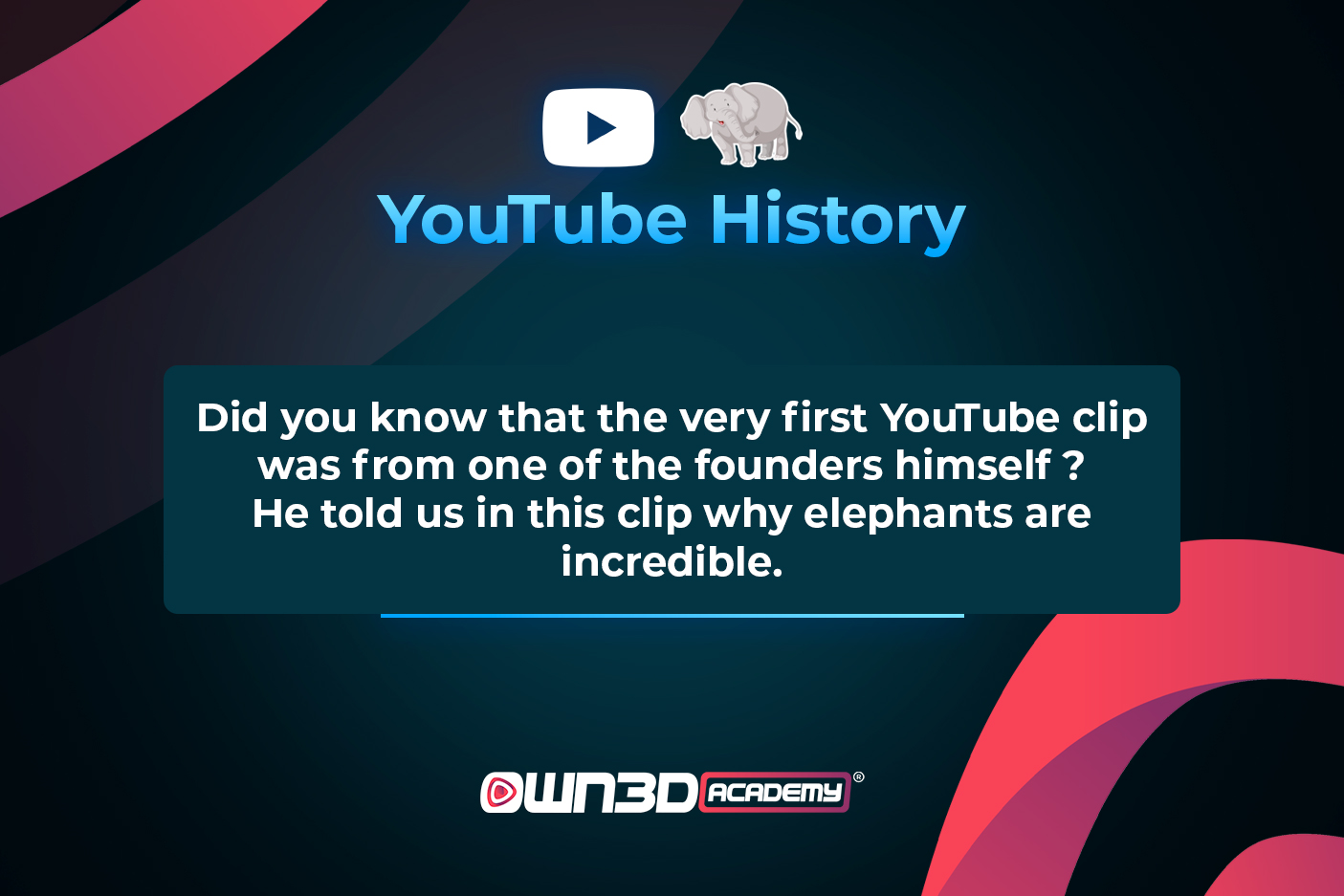 YouTube made its first steps in the zoo - no joke! In April 2005, the first video,"Me at the Zoo," was uploaded to the unknown and new website until then. The clip from San Diego was just 19 seconds long and only described why elephants are incredible. But this video, in particular, shows the beginning of what we could expect on this platform: Anyone who can operate a camera can upload videos of themselves or other content.
Former PayPal employees-Chad Hurley, Steve Chen, and Jawed Karim founded YouTube a few months before the first video was released on February 14, 2005. In the video, Jawed Karim, one of the Zoo's founders.
Google recognised the potential behind the platform and bought YouTube for 1.31 billion euros (in shares) the year after its release, in October 2006. YouTube as a brand remained with its employees and founders.
Since then, a lot has transpired, and the platform has continued to evolve. The first live streams were broadcast in 2009, although only sports, concerts, and significant events were broadcast at the time. The first selected partners were able to use the live function in 2011. YouTube Live was launched, signalling the start of a new era for the company. The live streaming technique was gradually enhanced, and in 2015, YouTube Gaming gave gaming streams their app. However, in 2019, this app was again removed from the market. YouTube Gaming has officially been added to the main menu at youtube.com/gaming, under "Movies" and "Live."
In 2018, YouTube launched an "attack" against Netflix, Spotify, and other streaming services. YouTube offers a monthly subscription service with YouTube Premium and YouTube Music. YouTube Premium, like similar services, allows you to save videos and watch them offline, watch videos without advertisements, and play videos in the background. You may listen to music on the YouTube Music app for free with ads or pay monthly for unlimited access without ads. YouTube Music is included with YouTube Premium subscriptions.
What you can do on YouTube!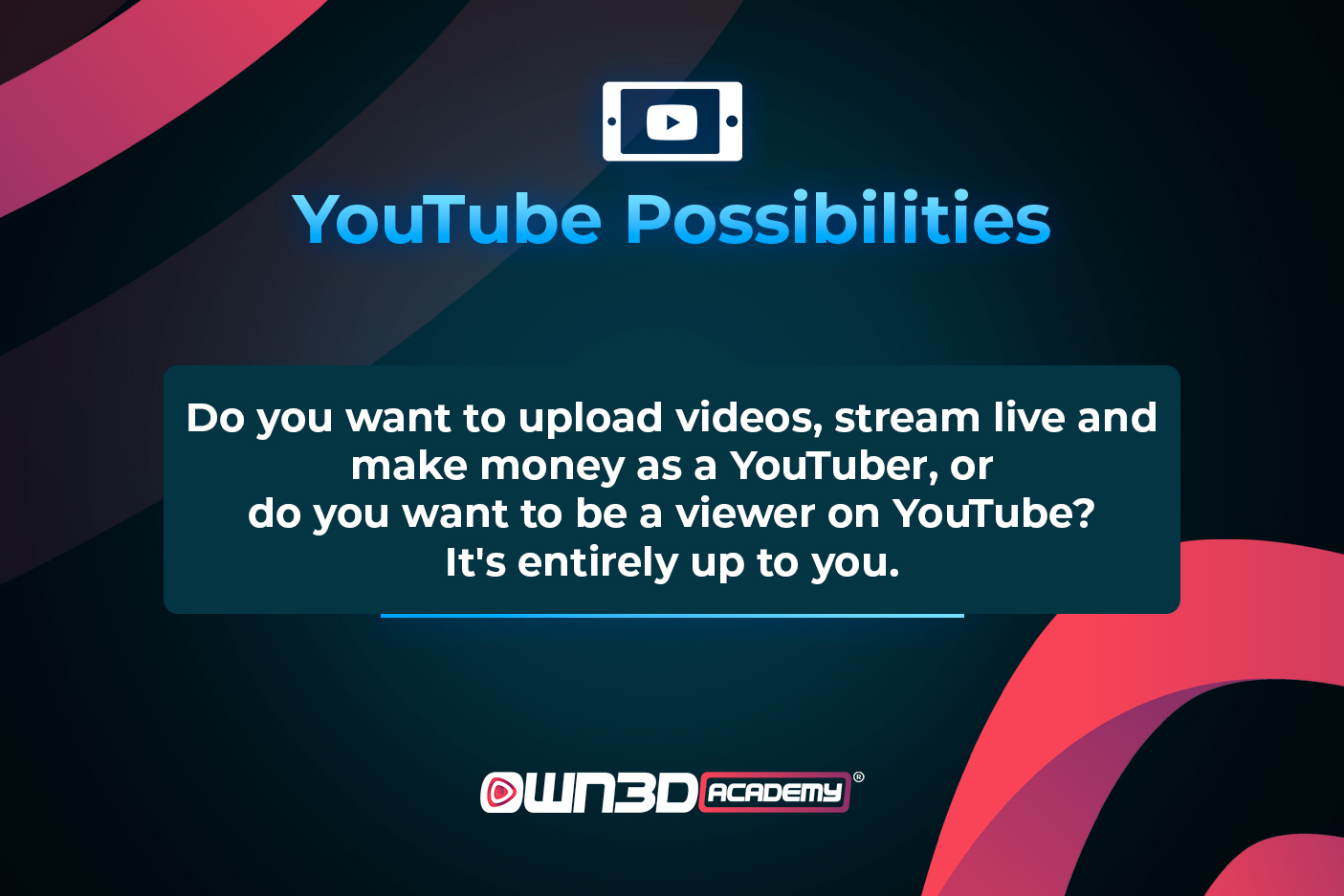 Content, content, content!
YouTube's primary focus has been on videos, commonly known as VODs (video-on-demand - viewable at any time). You can easily upload, edit, cut, or link videos to each other on YouTube, and thanks to detailed statistics, you can always see what your target group likes and dislikes. Below your videos, the comment section allows you to engage directly with your community.
By the way, you can also schedule the videos, i.e. publish them at a particular time, or set the accessibility of the videos: Public, Unlisted or Private.
Public videos are visible to everyone and can be found in search results, while private videos are only accessible to those who upload them. Unlisted videos are a separate issue again because they are viewable, but only for people who link to the video.
If you are more of a viewer than a creator, you can interact with videos and share them with others. You can create your playlists, save videos later, browse the various categories or search for specific videos. If you are logged in with an account, YouTube also remembers what you like (based on your interaction with the content) and suggests videos that you might like using an algorithm.
Livestreams
YouTube is not only the most effective video platform on the Internet - YouTube Live, the in-house and fully integrated streaming service, was launched a few years ago. In the meantime, YouTube Live has developed into a natural Twitch alternative, as many of the world's most successful creators are to be found here. In fact, until recently, YouTube Live was the second-largest streaming platform on the Internet-based on hours watched alone. This put YouTube right behind Twitch. However, in the third quarter of 2021, Facebook Gaming could fight into second place with more hours watched.
While YouTube's live division is not quite as gigantic as Twitch's, and the LIVE page is still very confusing, some of the most famous creators have been on YouTube for a long time or have switched from Twitch to YouTube in the meantime. We list some of the biggest Twitch streamers who have changed in the YouTube Facts lesson - you might even know one or two of them.
The seamless link between streaming and VOD (video-on-demand) content production is exciting to streamers. It allows subscribers to be united and bundled on a single platform, which can be very practical and profitable in some instances.
Monetisation
Of course, you can also make money with YouTube is already well known. Some of the biggest content creators have been making money on and with YouTube for years. It's not that easy to get there, and it takes a lot of time and motivation, but it's not impossible to build up a little extra income with YouTube sooner or later - or even start a career with YouTube.
But how does it work? On YouTube, there is the so-called partner program. This gives you several ways to monetise your account. For example, the affiliate program allows you to place ads on videos or offer channel memberships as a streamer on YouTube. Viewers can choose to sign up for a one-time or monthly recurring membership with their favourite live streamers. Also, as a live-streamer, you can offer up to five different membership tiers that are tiered in price and unlock more member benefits as the tier increases.
What else is possible and the requirements for the partner program you can read inthe chapter "Monetisation"in the lesson "YouTube Monetisation"!
YouTube Facts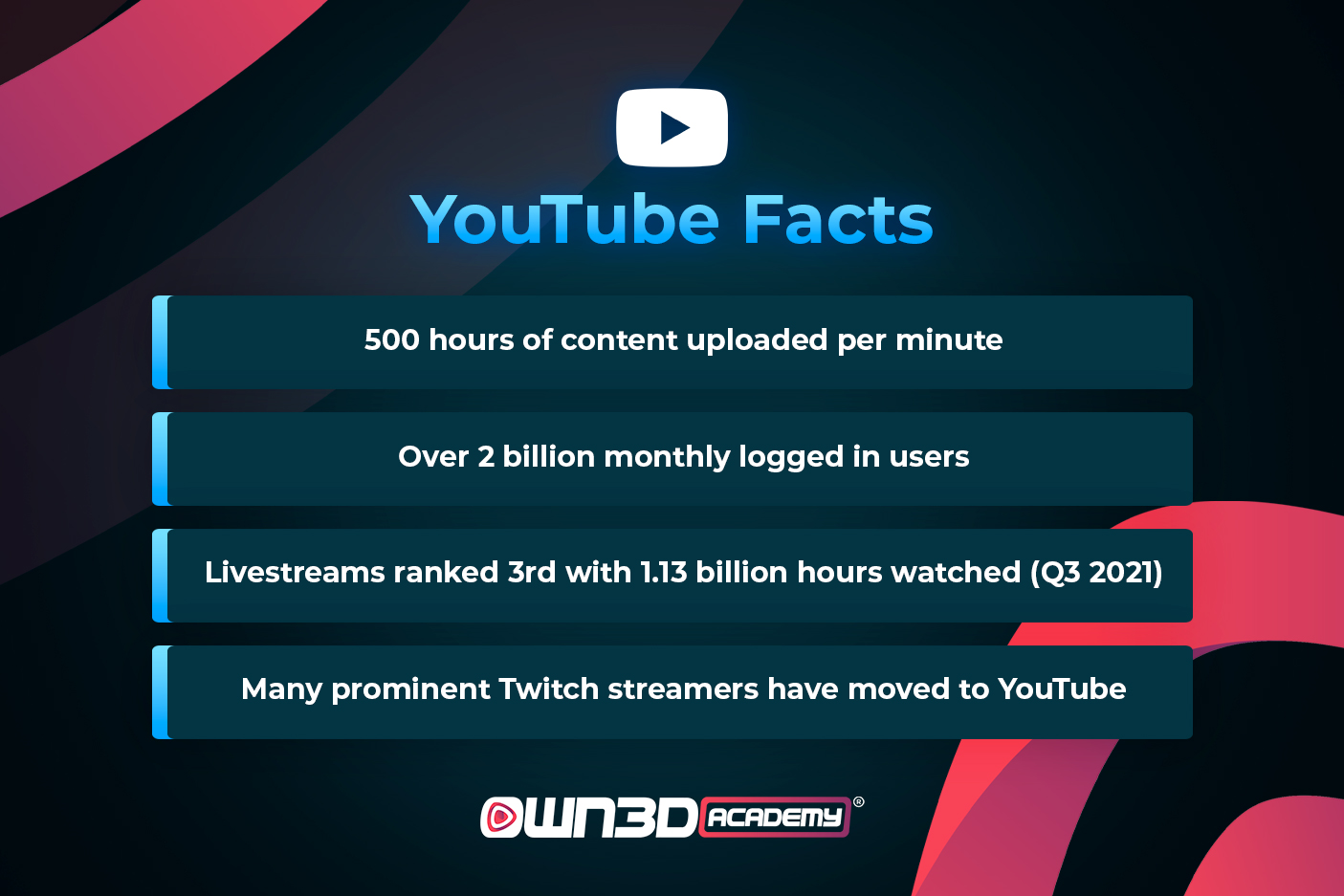 Now you have learned in these extensive lessons what YouTube is and how the platform was created. Last but not least, we would like to give you a few interesting facts and figures about YouTube.
More than 500 hours of content are uploaded to YouTube every minute
YouTube has over 2 billion monthly logged-in users
And every day, people watch over a billion hours of videos and generate billions of views
Live broadcasts have existed on YouTube since 2009. People could mainly watch important events live at that time, such as sports events or concerts.
In April 2011, the Livestream function was enabled for selected partners
In 2013, (almost) everyone on YouTube could use the live function (a few countries, such as Germany, had the function a bit later)
In 2015, YouTube Gaming discontinued its app in 2019 and became youtube.com/gaming.
When it comes to live to stream, YouTube Gaming Live ranks 3rd behind Facebook with 1.13 billion hours watched (Q3 2021)
Many prominent streamers have moved from Twitch to YouTube, including:
Ludwig, who reached the most subscribers worldwide with his subathon on Twitch in spring 2021, knocking Ninja off his throne
TimTheTatman, who has a whopping 7 million followers on Twitch and averaged 36,000 viewers in 2021 - until he switched in September 2021
DrLupo, who switched to YouTube in September 2021 (like TimTheTatman) and was also one of the biggest streamers on Twitch with 4.5 million Twitch followers
Olli
E-Commerce & Content
I am our housekeeper, wherever I can help, I stand by with help and advice =)