Animated & Static Kick Emotes for Kick.com
Streamers can never have enough Kick emotes! OWN3D has the perfect ones for every mood - whether you're feeling cute, serious, joyful, or furious. Upload your Kick emotes right from the start and offer your Kick community something special! Choose from our diverse collection of static and animated Kick emotes. By uploading your own Kick emotes on your channel, you bring significant added value to both yourself and your community
Shop all designs
Showing 0 of 1356 results in

Animated & Static Kick Emotes for Kick.com
Showing 0 of 1356 results
Wild, stylish, and adorable Kick emotes for all to enjoy
Every streamer has their own emote style that matches their content and personality. At OWN3D, our talented artists fearlessly took on the challenge of creating exceptional static and animated Kick emotes, ensuring there's something for every mood.
Discover our extensive collection of Kick emotes, where you'll find a variety of unique designs to spark your creativity and captivate your audience. From crazy and moody to elegant and adorable, our diverse range of emotes offers endless inspiration for streamers like you.
Whether you're looking for expressive emotes to convey excitement, surprise, or joy, or seeking subtle emotes to communicate calmness, thoughtfulness, or mischief, our Kick emotes have got you covered. Each design is carefully crafted with attention to detail, delivering a visually appealing and engaging experience for your viewers.
So, dive into our vast selection of Kick sub emotes and let your imagination run wild as you explore the possibilities. Enhance your stream, engage your community, and leave a lasting impression with our high-quality Kick emotes tailor-made for streamers who want to stand out from the crowd.
Upload Kick emotes
Enhance your chat experience with captivating animated Kick emotes!
Kick emotes have the power to strengthen the bond between you and your community, making your interactions even more incredible. Elevate your experience with the exceptional animated Kick sub emotes from OWN3D! While most Kick emotes are static images, our animated Kick emotes take things to a whole new level of spectacle. 
When shared in the chat, animated Kick emotes come alive in a seamless loop, just like GIFs, adding a mesmerizing animation that injects new energy into your live stream chat. Experience the best of both worlds with OWN3D's collection of animated Kick emotes!
Find animated Kick emotes
Discover the perfect Kick emotes for your stream
No matter the theme of your stream, OWN3D has the perfect Kick emotes and more in store for you. If you're rocking a beach-themed Kick overlay, our collection of static or animated Shark Kick emotes will perfectly harmonize with it, accompanied by Shark sub badges. Prepare to impress your viewers as every element seamlessly integrates into your stream, creating a truly remarkable experience! With OWN3D by your side, you can be confident that every aspect of your stream will be thoughtfully considered and expertly crafted. Elevate your Kick stream to new heights of visual appeal and engagement with our exceptional Kick emotes and accessories. Unleash your creativity, captivate your viewers, and immerse them in a stream experience that they won't soon forget!
Unleash your creativity
Explore an array of Kick emotes that perfectly match your style.
Universal compatibility
Enjoy the versatility of these emotes, as they can be used across various platforms.
Crafted with passion
Our Kick emotes are meticulously designed with a keen eye for detail.
24/7 support
Our dedicated support team is ready to assist you with any questions you may have!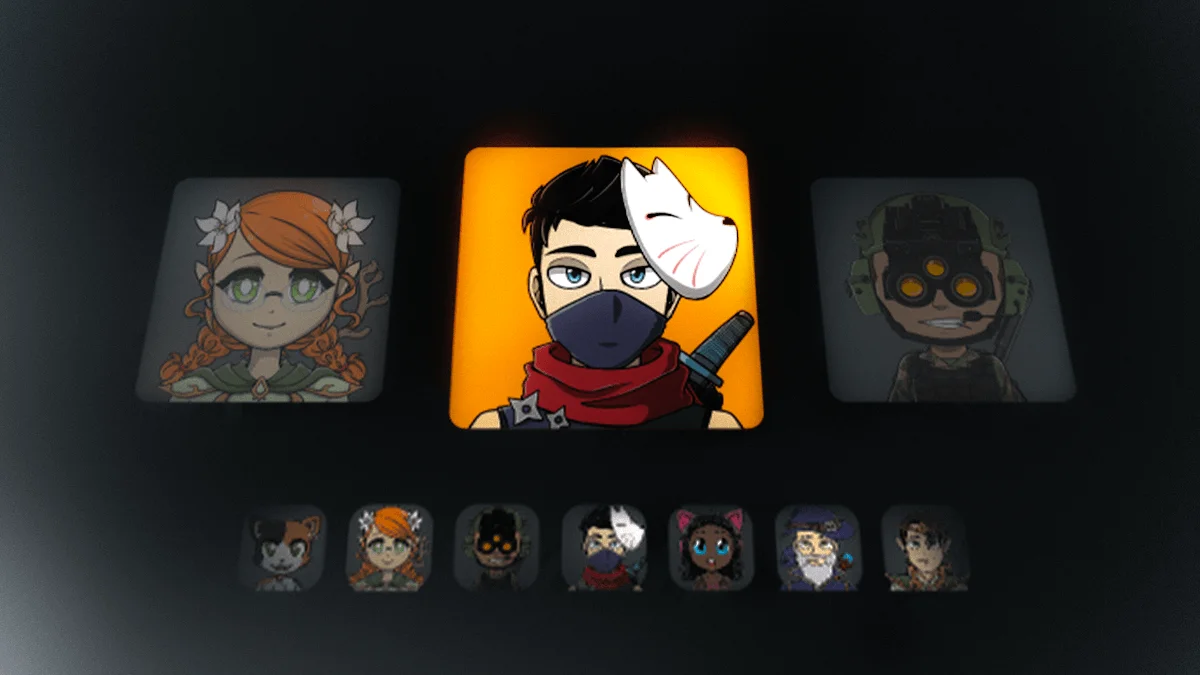 Create your own Kick emote look-alike!
Discover the magic of Kick emotes that mirror your likeness on the platform! With a variety of character options available below, you have the opportunity to create your own unique Kick emotes in any style you can imagine. Give your subscribers a delightful and personalized experience with emotes that capture your essence!

This is how you upload Kick emotes
From the moment you create your account, you can immediately upload 60 Kick emotes (animated and static). Unlike Twitch, you don't need to become a Kick affiliate to provide emotes. This means you can delight your community with Kick emotes right from the start. In this guide, we'll walk you through the process of uploading your own Kick emotes.
Step 1
Go to your Creator Dashboard with click on your profile icon on the right upper corner.
Step 2
On the left-hand side, you'll notice a menu featuring "Community." Within this section, you can easily locate and access the "Emotes" option.
Step 3
Here, you can upload your emotes, and later, when you become a Kick affiliate, you can also upload your sub emotes. Simply click on the "+" button and choose an emote to upload.
Step 4
Assign a name to your newly uploaded emote and click on "Add." That's all it takes!
Frequently asked questions about Kick emotes
What are Kick emotes?
Kick emotes function similarly to emotes found in regular messaging apps, as small images used to express emotions. Within Kick, a distinct subculture and inside jokes have developed around popular emotes, allowing streamers to foster their own unique communities by utilizing emotes that are tailored to their content and audience.
What does a premium Kick emotes pack include?
The premium Kick emote package is a comprehensive package that includes a wide range of different variations of a basic emote design. This package ensures that your emote needs are met across a wide spectrum and no aspect is left untouched.
What are the benefits of having Kick sub emotes?
Emotes have the power to convey messages and emotions more effectively than text alone. By using emotes, viewers can freely express themselves in chat with just a simple click. As soon as you create your account, you can upload up to 60 Kick emotes to enhance your chats experience.
Affiliates have the added advantage of being able to upload even more emotes for their loyal viewers and subscribers to enjoy. Kick emotes serve as a fantastic tool for building a strong community and some individuals may even subscribe to your channel specifically to showcase and utilize your unique emotes.
When can I start using my own Kick emotes?
You can start uploading your own Kick emotes as soon as you created an account. Once the emotes are successfully uploaded, your viewers can immediately begin using them in your Kick chat and adding a personal touch to your streams. Let your creativity shine and enjoy the benefits of having your own Kick emotes right from the start!
Where can I find animated Kick emotes for my stream?
If you're in search of animated Kick emotes, you're in the right place. At OWN3D, we offer an extensive collection of animated emotes specifically tailored for Kick. Browse through our wide selection and discover the perfect animated emotes that will enhance your stream and captivate your viewers!
Can I upload animated Kick emotes even if I'm not a Kick affiliate?
Absolutely! You don't need to be a Kick affiliate to upload and use animated Kick emotes. Whether you're just starting out or have yet to reach affiliate status, you can still bring your stream to life with animated emotes on Kick. Upload your animated emotes and add that extra flair to engage and entertain your viewers!
How many Kick emotes can I upload?
Once you create your Kick account, you can start by uploading up to 60 Kick emotes. This generous allowance gives you plenty of room to express yourself and provide a diverse range of emotes for your viewers to enjoy. Get creative and showcase your unique style with a collection of Kick emotes that will truly enhance your streaming experience!
Affiliates and Kick partners have the opportunity to include up to 24 subscriber-only emotes, which can be utilized by your active subscribers across all channels on Kick.
What is the required size for Kick emotes?
The supported file types for Kick emotes are PNG or GIF, with the recommended dimensions being 500px x 500px. Additionally, emote files should be kept under 1MB in size.
How can I create my own Kick emotes?
If you're looking to craft one-of-a-kind and personalized Kick emotes, the OWN3D Emote Maker is your ultimate solution for personalized Kick emotes. This user-friendly tool empowers you to unleash your creativity and design custom emotes that align perfectly with your vision, even if you have no prior design experience. Create emotes that are uniquely yours and bring your ideas to life with ease and precision.