Animated Streamlabs Overlays & Designs
Known as an "all in one" tool, Streamlabs streaming software makes it a breeze to configure and organize your streams. Our Streamlabs overlays are fully designed for the tool, and the unique designs you find in our store can be activated in minutes. Equip your stream with awesome features like alerts, Streamlabs overlays, or scene transitions from OWN3D, and show your viewers that they are dealing with a professional streamer! Installing and setting up the designs requires no prior knowledge and is easy and comfortable with Streamlabs, especially for streaming newcomers.
Shop all designs
Showing 0 of 195 results in

Animated Streamlabs Overlays & Designs

Why Streamlabs overlays? 
As a streamer, you want to convince not only with your content but also with your visual appearance. In today's world, it's challenging to capture the interest of your audience in the shortest possible time and leave such a lasting impression that new viewers, in particular, will look at your stream again and again. That's why it's essential for you as a content creator to stand out from the crowd of streamers and choose a unique design that runs through your channel like a common thread. This is where OWN3D comes into play! We help you to optimize your appearance on Twitch, YouTube, and Co. With our Streamlabs overlay all-in-one packages, you can define and establish a consistent design. Our Streamlabs overlays include not only animated overlays but also Streamlabs alerts, sounds, animated banners, and even design templates for your channel. By the way, whether you are just starting to stream, are an affiliate, or are aiming to become a partner, it doesn't matter when it comes to our Streamlabs overlays.
We started with Streamlabs overlays as well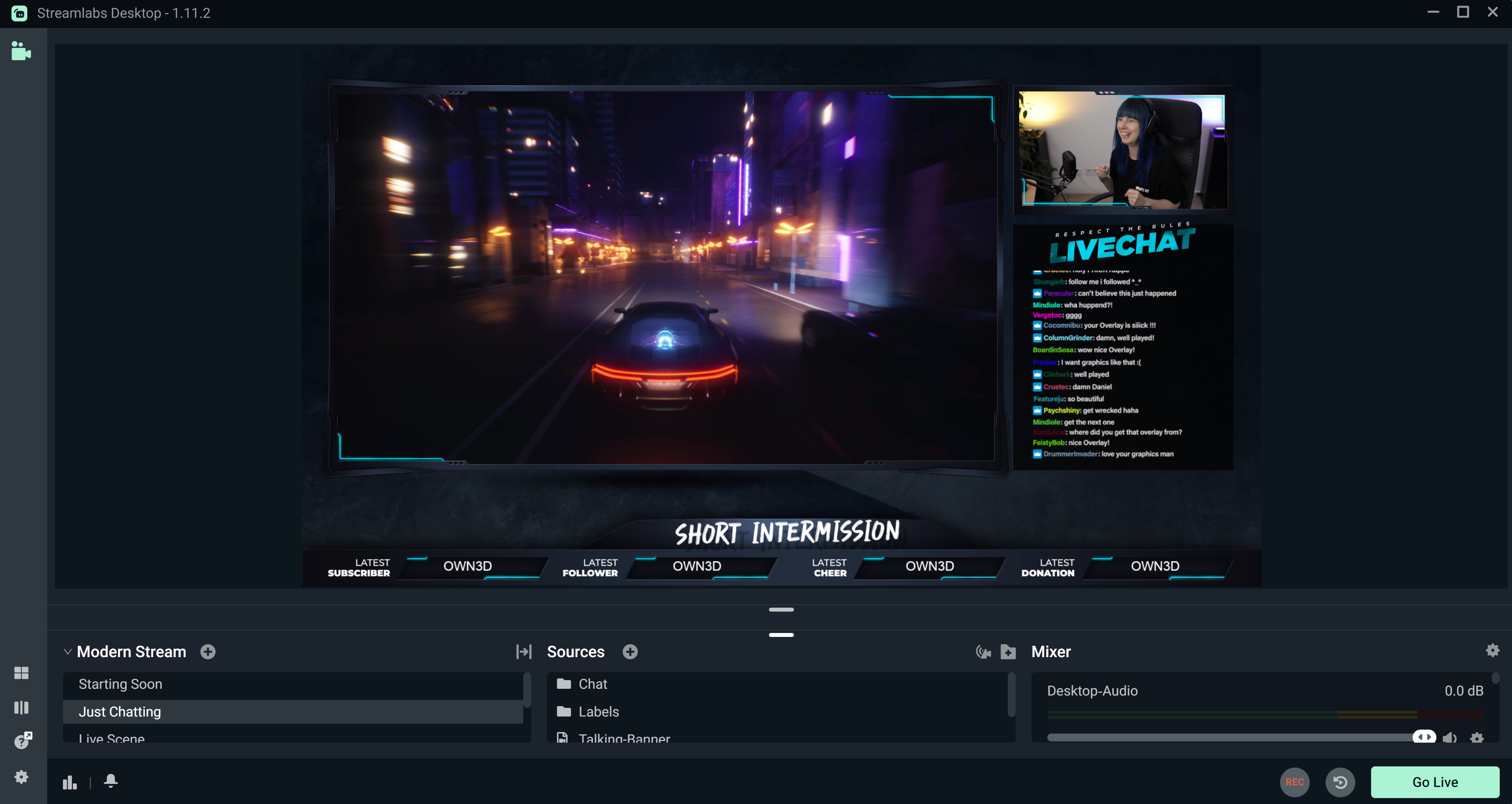 Did you know that many of our employees streamed with Streamlabs themselves and stocked up on OWN3D overlays for Streamlabs before becoming part of the team? Not only the unique products convinced them to be at the right place at OWN3D, but also the knowledge: This is where passion becomes a profession! Our team comprises experts in different fields with one common passion: streaming. We all strive to support you on your way to becoming a professional streamer. Even our content creators started small and know how you feel as a streamer and how we can help you build a community. With our experience and Streamlabs overlays, you'll be able to take your stream to a whole new level and be sure to captivate a viewer or two! But you can also convince yourself directly from our satisfied customers:
The #1 rated store for Streamers
We may talk big, but we back it up. Read what customers have to say about us.

How to find the perfect Streamlabs overlay for you
Whatever content you are broadcasting or game you are playing - you should continuously adapt the design to the current circumstances or you as a person. For example, using a futuristic design with neon elements in a medieval game would not match. If you are a person who likes to create hype and a good mood in your stream, then colorful overlays suit you. In our shop, you are guaranteed to find the best Streamlabs overlay for every occasion and scenario.

How to add Streamlabs overlays to Streamlabs? 
Want to know how to integrate your Streamlabs overlay into your streaming tool? With the overlays from OWN3D, you have several possibilities. On the one hand, we offer you an import file in every complete package, which sets everything up for you in no time. To do this, click on Settings in Streamlabs, then Scene Collections, and now on "Import overlay file."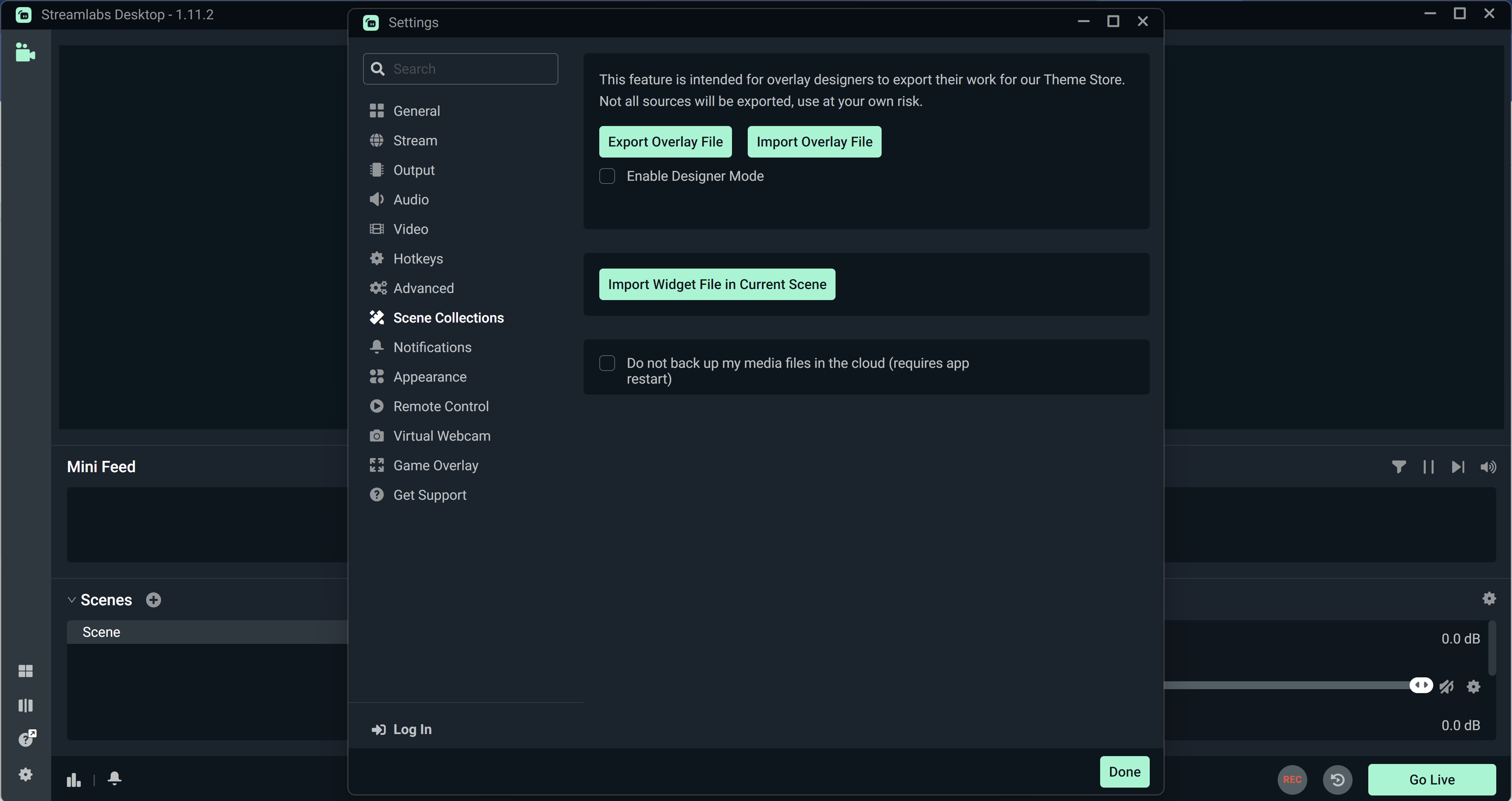 Select the Streamlabs import from your downloaded OWN3D Streamlabs overlay in the "Quick Start" folder. Your stream will be set up in a few seconds, and your entire overlay will be in Streamlabs! But we will also show you how to include the Streamlabs overlay elements individually into Streamlabs using sources.
Step 1
Once you have downloaded, installed, and launched Streamlabs Desktop, the tool has already created an empty scene collection, including an empty scene. You can use it immediately to create your first overlay and rename it as you like. You can also use the "+" to add a new scene.
Step 2
In this step, we will add a video source - your Streamlabs overlay - to the stream. To do this, click on the "+" at Sources in the selection window on "Media file" and then on "Add source" at the bottom right.
Step 3
Now you can give your source a name, and we'll call it "Start Overlay" since we're creating the start scene. Then click on "Add source" again.
Step 4
Now it's time to select your desired Streamlabs overlay. Click on "Browse" at "Local File" and search for your downloaded OWN3D overlay folder, which you should have unzipped before (for example, with 7-ZIP or WinRAR). Select your desired overlay from the folder and click "Open." You will see your overlay in the preview. Just check the "Endless loop" box, so your Streamlabs overlay is displayed continuously, and click on "Close."
Step 5
You have already integrated your first overlay into Streamlabs! You can repeat these steps for all other overlays (just chatting, webcam overlay, and so on) and set up your complete stream. If you want to add more sources, like text sources, game recording, and so on, click on the "+" again at the "Sources" dock.
Frequently asked questions about Streamlabs overlays
What is Streamlabs?
Streamlabs (formerly Streamlabs OBS or Slobs) is based on the free program OBS Studio, which has been the tool of choice for many streamers and content creators for several years. Since the setup and fine-tuning with OBS Studio sometimes require some familiarization and know-how, Streamlabs goes one step further. The tool includes all the features of OBS Studio and is more beginner-friendly, but it draws more PC resources than OBS Studio. However, the ease of use makes our Streamlabs overlays easy to integrate into your stream!
What does a Streamlabs overlay all-in-one package include?
Our Streamlabs overlays include everything you need to start streaming on Streamlabs in minutes. TheOWN3D.tvteam of streamers and gamers provides you with outstanding design elements. Alerts, overlays, banners, webcam frames - fully animated! Sweeten the stream experience for your viewers and show how the alerts, banners, panels, animated transitions, and webcam overlays harmonize perfectly. Your design should always match you and your channel's content, but with Streamlabs' wide selection of overlays, there's sure to be something for you! You will receive a design for your stream and a complete overhaul of your channel.
How do I set up overlays for Streamlabs?
Our small tutorial above shows you how to insert a Streamlabs overlay correctly. If you have specific questions about this or any other topic, you can always contact our competent support.
Where can I find free Streamlabs overlays?
Streamlabs mainly offers the premium model, with which you can access various overlays for $19 per month. If you are looking for free overlays, we can provide you with an alternative:OWN3D Profor OBS Studio! With OWN3D Pro, you have five free OBS overlays at your disposal as soon as you register for free. We also set up your entire overlay in seconds with just one click. So you don't have to mess around with setting up your design and add your gameplay or camera. You're ready to stream! Oh, and there are five free alerts, which are set up with just one click.
Is there a Streamlabs overlay maker?
Currently, we do not offer a Streamlabs overlay maker or generator. But you can create and design a lot of other design elements yourself. Please have a look at our category "Makers"! You can also buy many elements separately. However, we recommend you go for an all-in-one package because your overall appearance will harmonize perfectly with each other!