Intermission Banner - Offline, Pause, Start & End Screens
Dark Glitch Intermission Banner - Offline, Pause, Start & End Screens
Upgrade
and
save
with the
full
package: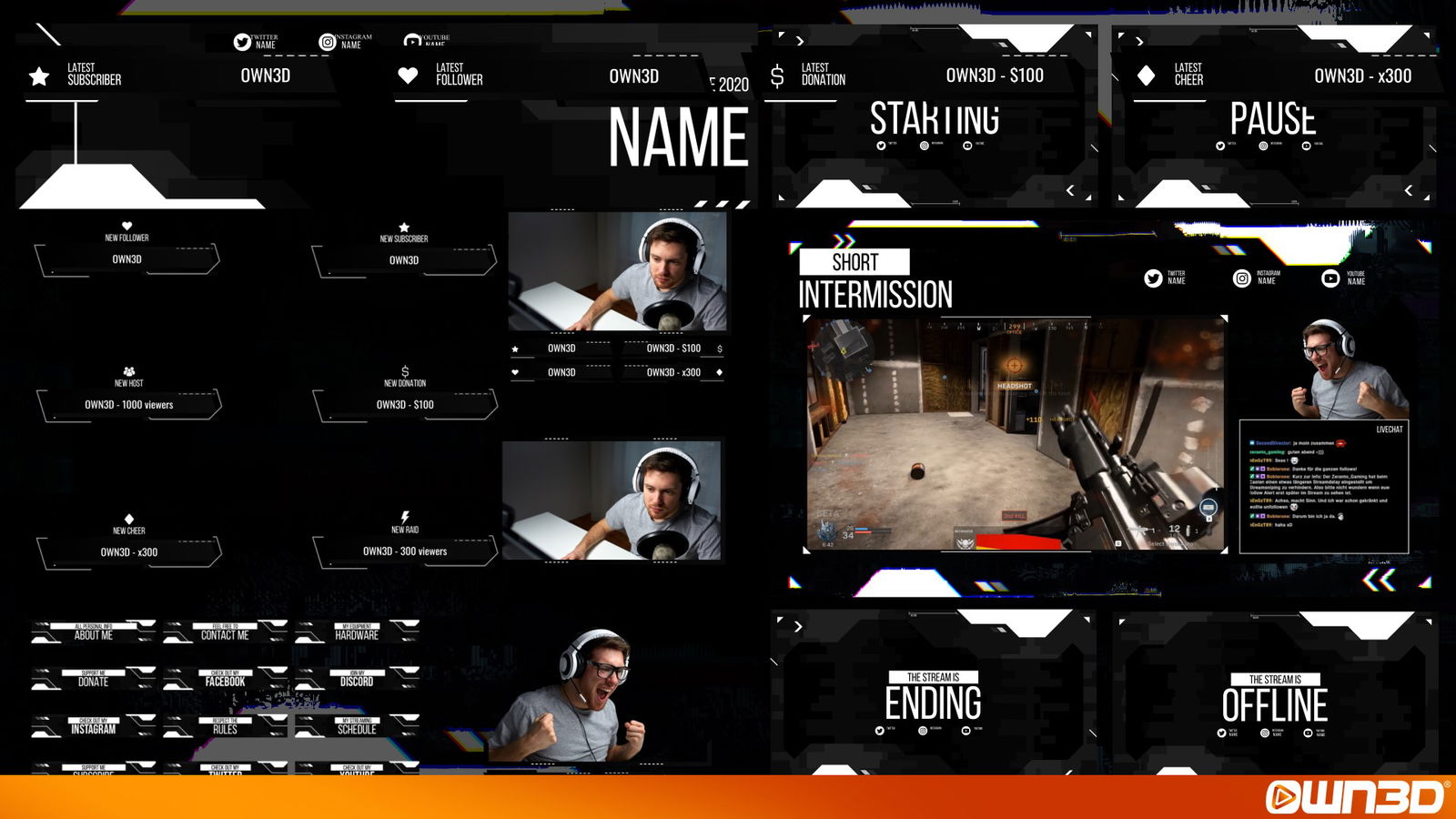 The package contains all overlays, transitions and much more
Go to Dark Glitch Package
Ready to use with ourstep-by-step setup guide.
Fast help & easy setup guide
Step-by-step setup guide to get started in <10 minutes.
OWN3D Academy course: setting up our stream overlay package.
Tipps and in-depth guides to OBS settings, making money, community building & more.
Streamlabs OBS import file.
OWN3D brand package.
Vouchers & goodies to get you started.
Check out our step-by-step guide already now, if you like. All infos are also included in the stream overlay package.
For Twitch, Kick, Facebook, YouTube, Trovo.
Works with OBS Studio, Streamlabs, Twitch Studio, XSplit, Lightstream.
Works with any PC, notebook, or Mac
Available languages:
What the package contains
This stream overlay package comes with all the elements you need and various options to personalize your stream.
Overlays (webcam overlay, overlay with labels, talking screen, transitions)
Alerts
Intermission banner
Profile designs and social media icons
Matching sound
You can use the files immediately after download.
Need assistance?
Contact our 24/7 live chat or send us an email!
Details
Intermission banners complete your stream design. No matter what situation your stream is in, with these banners you are prepared for all situations.
Offline Banner | Break Banner | Starting Banner | Ending Banner
4 blank versions included (simply place text on top using streaming software)
High Resolution 1920x1080px
All PSDs and JPGS included
All colour versions as presented in the product image
Direct download
Check out the Dark Glitch Package
Everything is in the package to start streaming
The designs are all matched
Works with
Available Languages
Animated Stream Webcam Overlay
Animated Stream Intermission Banners
Animated Stream Transition
Animated Stream Talking Banner
Streamlabs OBS Import Files
These products are all in the
"Dark Glitch Package"
This might also interest you