4Weird Twitch Emote Meaning
We will use the 4Weird emote when the chat has reached a level of madness, stupidity or weirdness that surprises us. This emote is used to react to the strangest events happening in chat, as well as those that occur on the stream.
It is not one of the most popular Twitch emotes, but it is perfect for using it when the situation is so rare that we are being surprised by human stupidity. It is also used to express that something is repulsive to us.
To view and use the 4Weird emote, we must have installed the BetterTTV or FrankerFaceZ extensions.
4Weird Emote Origin
The 4Weird emote is based on the 4Head emote. It first became available on the FrankerFaceZ extension in 2019 and was added to BetterTTV in January 2020.
The emote has the smiling face of the well-known League of Legends streamer, Cadburry. His community has been promoting it over the past few months. It is a relatively new emote.
During these months, on Reddit, it has been discussed on several occasions whether it is the best emote to express that something is embarrassing us or that what is happening is too weird or not. Only time will tell.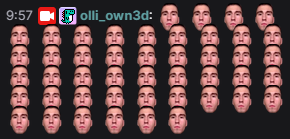 How is 4Weird pronounced?
4Weird pronunciation is relatively easy, as it stand as: "4-Weird"
Conclusion
The 4Weird emote is used when the situation is strange or bizarre. Its use is perfect for situations that make us feel "strange" and somewhat uncomfortable. It is a new emote that has been with us less than a year.
E-Commerce & Content
I am our housekeeper, wherever I can help, I stand by with help and advice =)