Introduction
Ibai (*26.03.1995 in Deusto, Bilbao), real name Ibai Llanos Garatea is a Spanish e-sports commentator, streamer and YouTuber. In the Spanish-speaking world, he is one of the best-known and biggest creators, but he also ranks high in the list of most-watched Twitch streamers worldwide.
Before his career as a streamer and YouTuber, he gained notoriety primarily for his work as a commentator for e-sports games. In 2014, he started commentating League of Legends matches and quickly managed to make a name for himself in the scene. Even though he has been a creator himself since 2019, he still regularly comments on various e-sports titles such as LoL, FIFA or Valorant together with his best friend Ander.
Info Box (as of March 2021)
Language:Spanish
Stage name:Ibai
Civil name:Ibai Llanos Galatea
Age, date of birth:25, 26.03.1995
YouTube subscribers:5.43 million
Twitch followers:5.4 million
Twitter followers:3.8 million
Instagram followers:3.7 million
Platforms / Channels / Content
With the intention of producing videos around the topic of "gaming", Ibai created his own YouTube channel in 2019. Here, his many years of expertise were to be paired with his passion for gaming to create unique videos. Together with friends, he commented on various matches and tournaments, played various video games himself and turned them into entertaining YouTube videos. Despite the predominance of gaming-related topics, the creator also took up commenting on competitions such as dog racing or other curious sports.
Many of his videos also feature his long-time friend Ander, with whom he has been commentating on LoL tournaments for many years. Later on, the range of topics got bigger and Ibai started to deal with things like relationships and other real-life advice in his videos as well. Upon joining the e-sports organization G2, he cleaned up his YouTube channel by deleting some old videos and leaving only the most popular and memorable clips online. These days, the channel largely serves as an archive of Ibai's stream highlights. The 10-20 minute compilations appear 4 to 7 times a week, are extremely popular with the community, and get an average of 1.7 million views.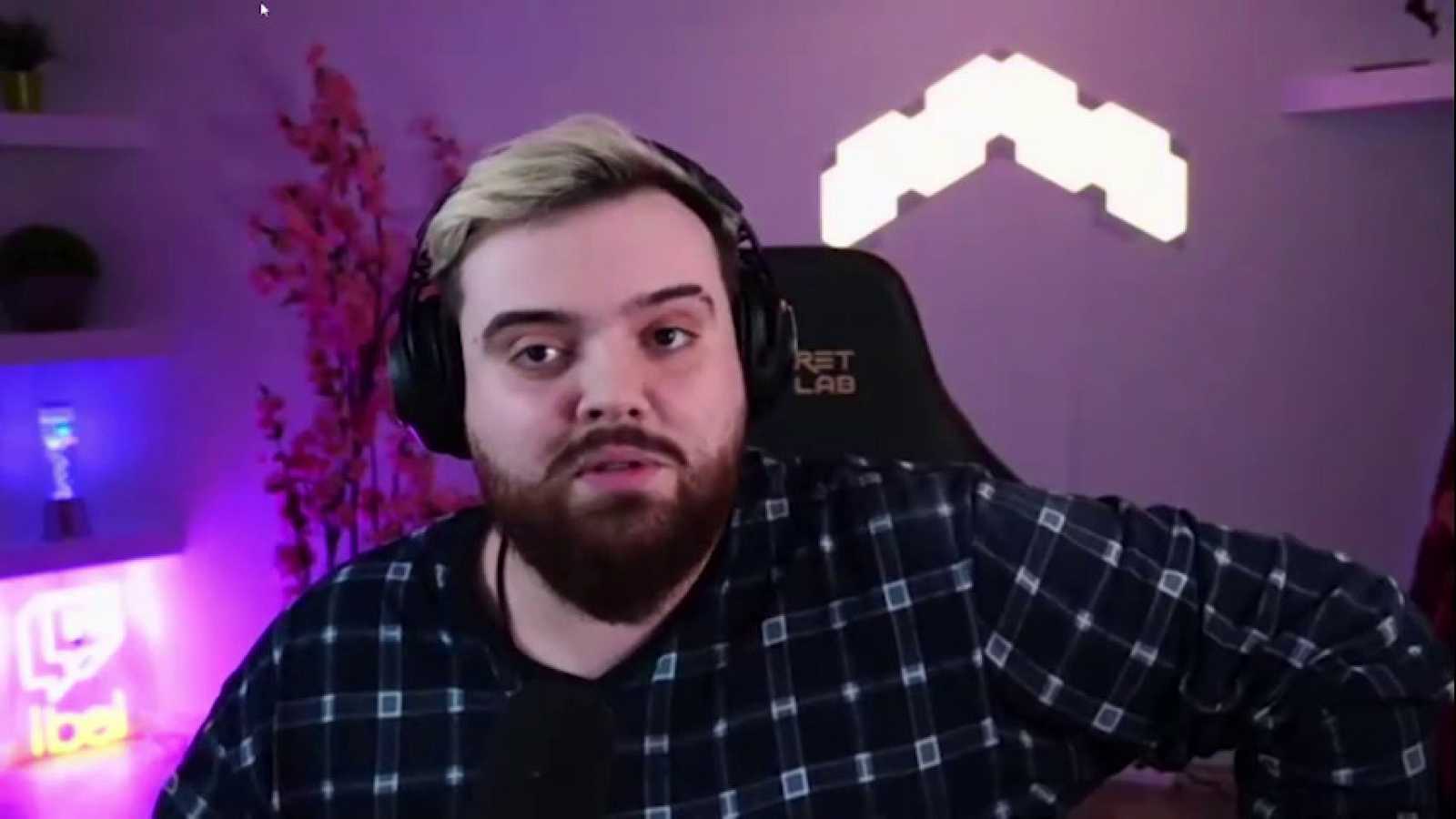 With the huge success as a YouTuber, Ibai decided to create his own Twitch channel and take off as a streamer as well. To this day, he streams almost daily and continues to play various games live with his friends or commentate on tournaments and matches. In 2020, his channel became more and more popular, which has helped him to become one of the most famous creators in Spain. The fact that he invited some famous athletes and other streamers to his shows and played games like Among Us or Fall Guys together with them probably contributed to his fame.
Among his guests were soccer legend Neymar, Agüero, El Rubius and Auronplay. His solo streams now consist of a wide variety of content, for example gaming, chatting or reacting to other videos. But IRL streams are also part of Ibai's repertoire, when he holds Face2Face interviews in the summer or plays volleyball in the swimming pool.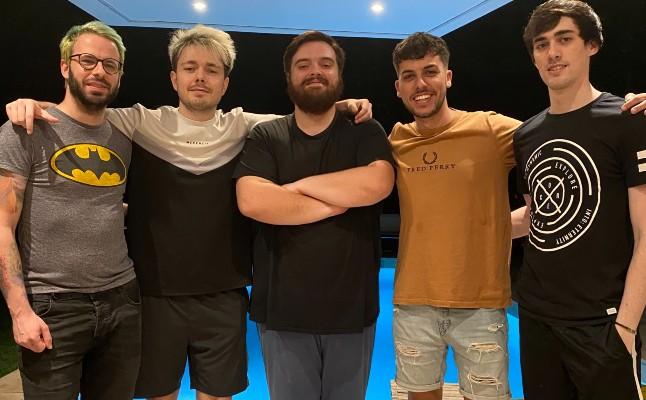 After leaving the G2 organization in early 2021, Ibai started his own production company and added a new facet to his content, focusing on journalistic topics in addition to his actual work as a gaming streamer, producing interviews with famous personalities such as Argentina's national soccer player Sergio Agüero, for example. In order to clearly separate this area from the gaming content, Ibai quickly set up his own channel called "Charlando Tranquilamente", which means "casual chatting".
Ibai streaming setup - What hardware does Ibai use?
You always wanted to know which hardware or which streaming setup Ibai uses? Then you've come to the right place! We'll tell you which hardware components (mouse, keyboard, monitor, PC, graphics card, etc.) the streamer Ibai uses!
Life / Career
Ibai was born and raised in Deusto, a neighborhood in Bilbao, one of the largest cities in Spain, where he also completed his school and university degrees. He has always been a soccer enthusiast and a great fan of the Spanish record champion Real Madrid and the Athletic Club de Bilbao team. He met his best friend Ander when he was a child playing soccer. Together, the two commentate on the biggest e-sports tournaments in the world and are inseparable to this day.
At the age of 19, he took part in a casting in which LVP, the largest Spanish e-sports league, was looking for a new game commentator for upcoming tournaments and matches. He was able to beat out the other contestants and eventually cast his first League of Legends match in August 2014, where wSystem competed against the team from PainGaming. Llanos quickly became one of the most popular commentators and cast the EU LCS among others in 2015.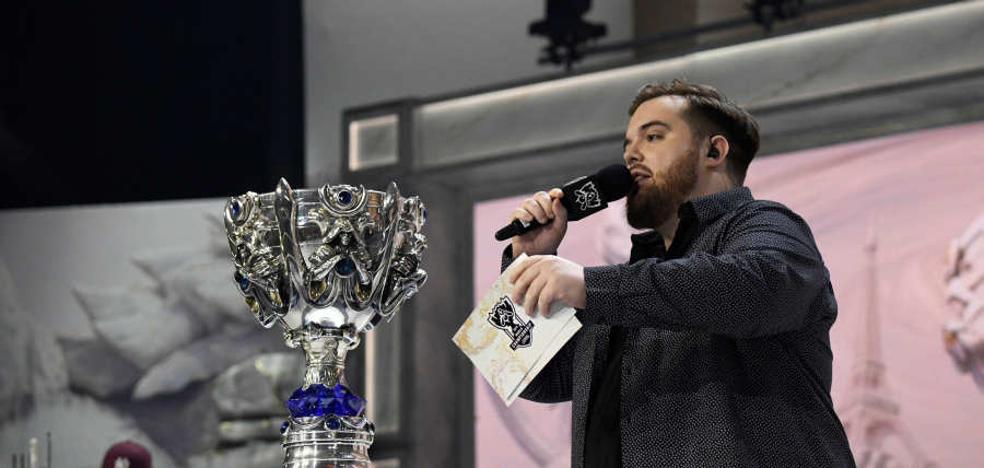 To make his passion of casting his main profession, he moved from Bilbao to Barcelona in 2016 with a heavy heart and dedicated himself to his career as a professional commentator for e-sports. Ibai's dream came true in Barcelona and he was even given his own TV show called "Hoy no se sale" on the Spanish channel U-Beat. However, with his signing to G2-Gaming, he ended the collaboration and another show host took over Ibai's work from then on.
What followed were some milestones in his casting career - he was responsible for the coverage of the biggest Fortnite event in Spain, the YouTube Battle Royale, and in March 2018 he got the opportunity to fulfill a long-held wish: to commentate on a league match of his hometown club, Athletic de Bilbao. Apparently, his way of entertaining people resonated with some TV channels and he took a seat behind the microphone for a few more soccer and basketball games, analyzing the action on the field.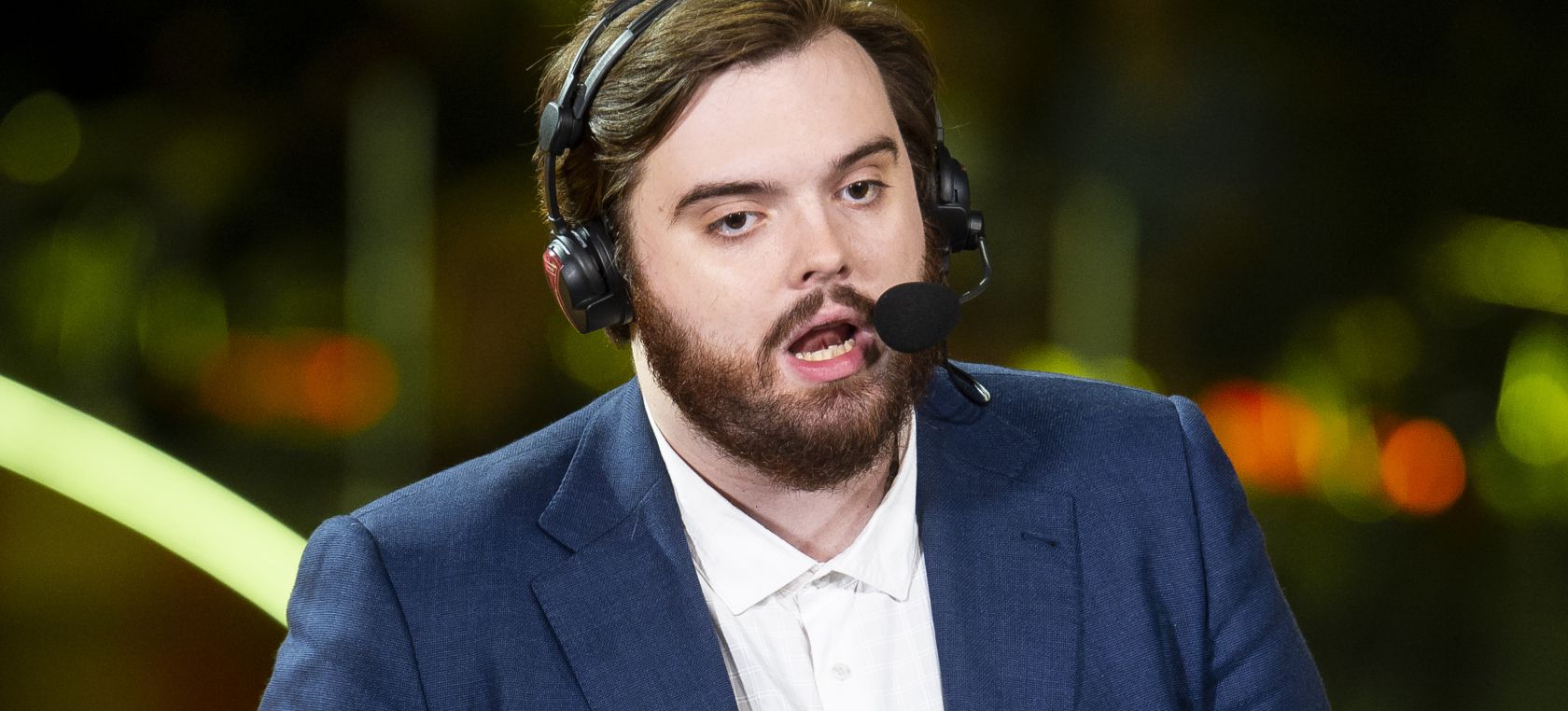 In addition to all this, he also made a name for himself on Twitch and YouTube, eventually advancing to become Spain's best-known gaming content creator and regularly attracting over 60,000 live viewers to his stream. With his easy-going, honest and funny manner, he is building a steadily growing community.
In February 2021, Ibai and G2-Gaming parted ways and together with his colleagues and friends he moved into a house specially prepared for streaming purposes.
Greatest achievements / numbers & statistics
Ibai is a big proponent of charity events. Over a period of three years, he managed to raise a total amount of around EUR 420,000 through his self-launched and annual charity event Ibainéfico.
Although Llanos has only been active on Twitch as a creator since 2019, he already cracked the 4 million follower mark in November 2020. While he had "only" 2,400 viewers at the beginning, he was able to enjoy a peak of an incredible 250,000 viewers just one year later. In 2020 alone, he recorded a 2622% increase in followers with his Twitch channel. At just 25 years old, he won the 2020 E-Sports Award in the "Streamer of the Year" category in November 2020. During a New Year's Eve stream on Dec. 31, 2020, Ibai managed to break the Spanish Twitch record with 552,345 concurrent viewers, surpassing even respected TV stations from Spain. Even senior minister Salvador Illa tweeted that evening that he was following Ibai's stream.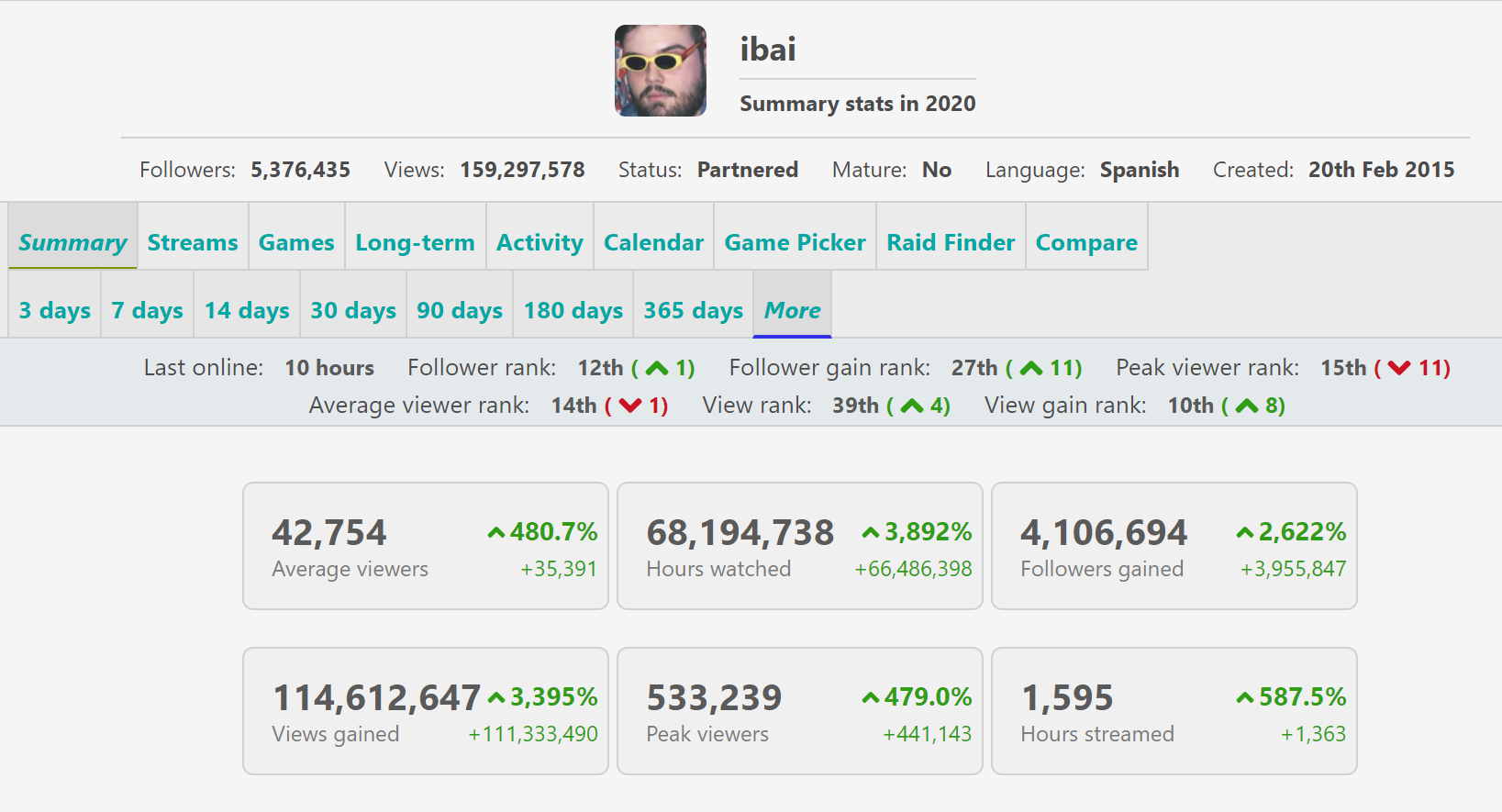 Spanish professional basketball player Marc Gasol approached Ibai on his own accord after being traded to the LA Lakers and asked if he would like to do an exclusive interview with him. The NBA star chose Ibai's Twitch channel as the venue for the conversation, rather than traditional and widely used methods such as radio, print or TV.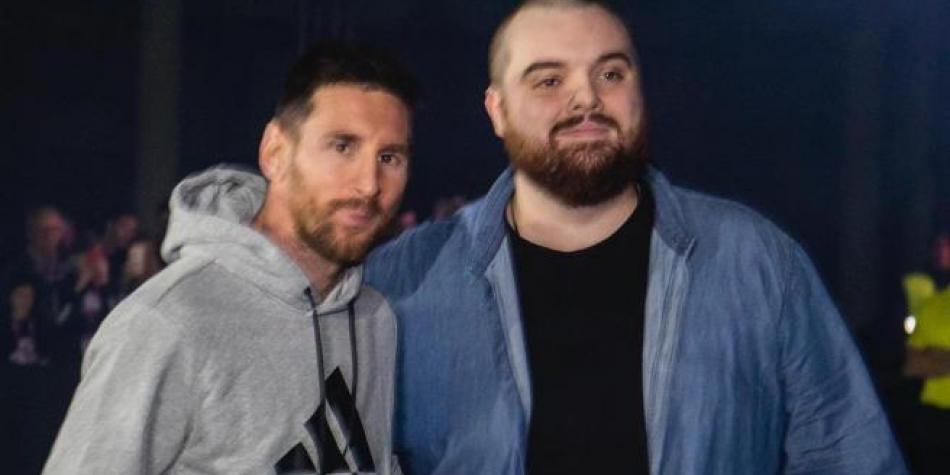 The TV show "First Dates" is also a huge success in Ibai's home country, which led him to rent the entire restaurant used as a filming backdrop for the show and set up his own version of dating entertainment. With "Ibai Dates", the first dating show on Twitch, he was able to attract thousands of viewers in front of the screens and even a relationship between two participants was formed.
Fortune / Income
In an interview from 2021, Ibai revealed that he currently has just under 40,000 subs and has signed a 70/30 contract with Twitch. That means he earns about $120,000 per month just from subs. Add to that his YouTube earnings and earnings from advertising & other contracts. Even though he is one of the biggest streamers in the world, his net worth is currently estimated to be around $500,000 - $1.5 million. Comparatively, this sum is significantly lower than other major creators, but this is likely due to the fact that Ibai has only been actively streaming on Twitch since 2019.
Social Media Channels
Twitter:https://twitter.com/ibaillanos
Instagram:https://www.instagram.com/ibaillanos/
Jose
Content Creator
A cheerful & funny person with lots of experience in the gaming industry. :)