Introduction
Summit1g (born April 27, 1987), real name Jaryd Russel Lazar is an American streamer, YouTuber and former professional gamer. He is one of the first wave of major streamers and has been an active creator on Twitch since 2011. Before becoming a full-time streamer, summit1g was a professional Counter Strike: Global Offensive player and a member of successful e-sports teams like A51 and Mythic. He is now a variety streamer on Twitch, streaming both single and multiplayer games several times a week. His content is especially popular with viewers from the USA and Canada.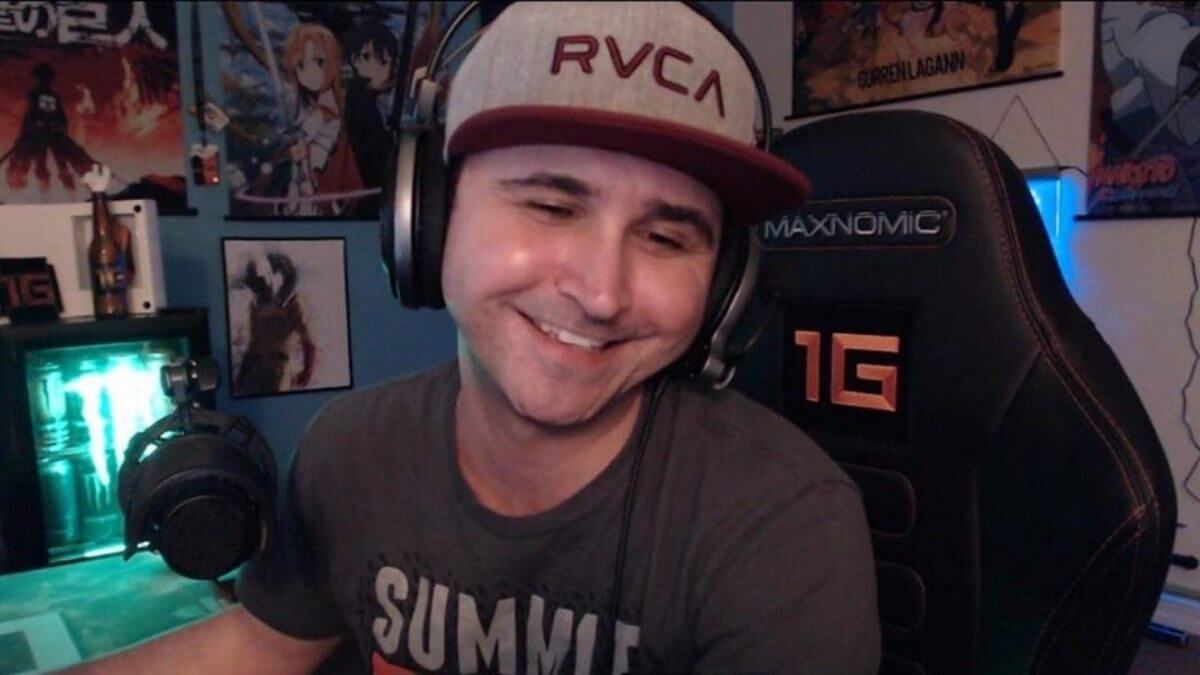 Info Box (as of March 2021)
Language:English
Stage name:summit1
Civil name:Jaryd Russel Lazar
Age, date of birth:33, 27.04.1987
YouTube subscribers:1.44 million
Twitch followers:5.8 million
Twitter followers:1 million
Instagram followers:49.8k
Platforms / Channels / Content
First and foremost, Jaryd Russel Lazar is active on Twitch. There he broadcasts his livestreams almost daily, which have an average duration of 12 hours. His content is almost exclusively about video games. While most streamers are increasingly discovering the "Just Chatting" category for themselves, summit1g 2020 has not been listed in it once. Instead, he devotes himself to what he enjoys most - gaming.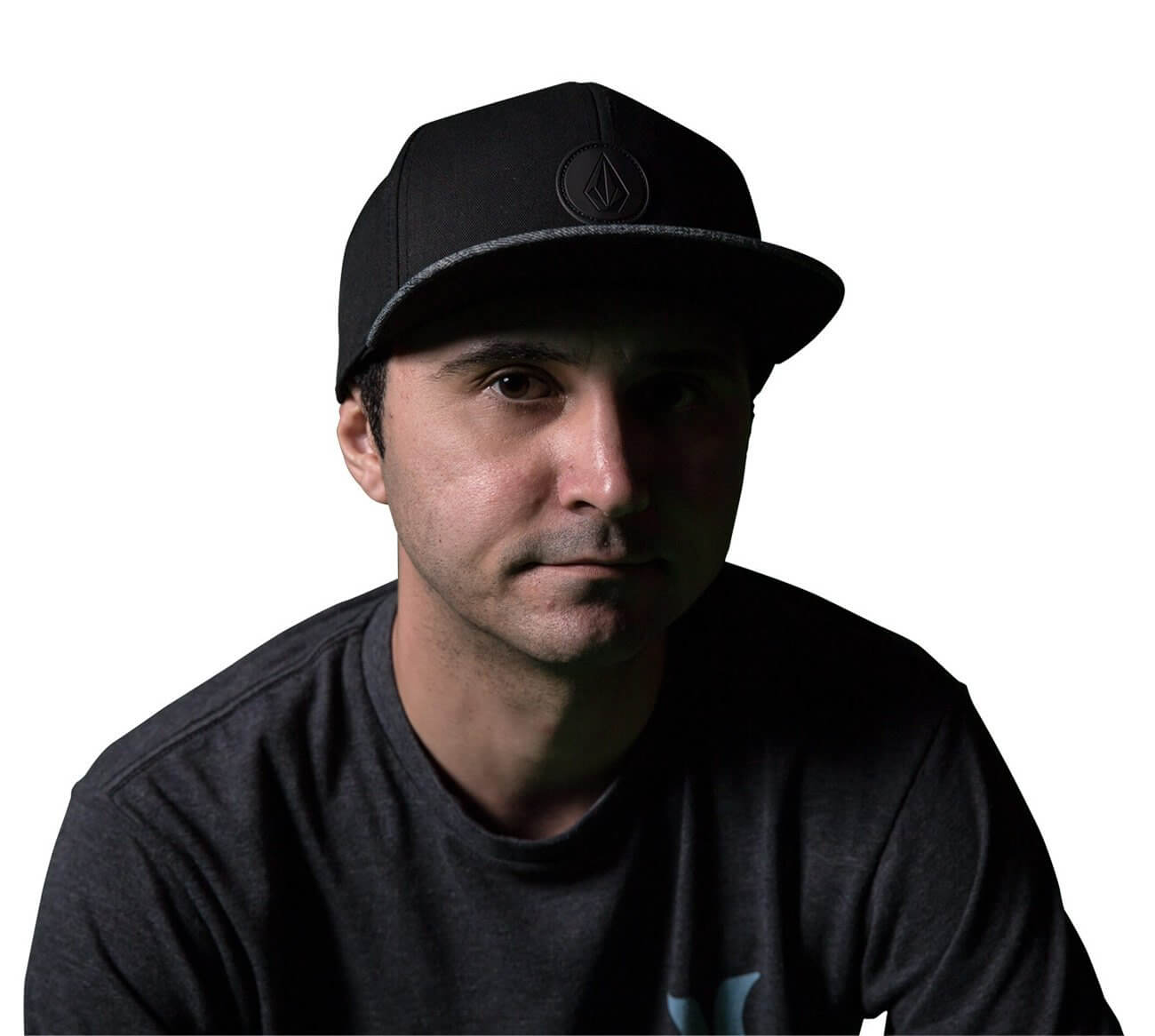 Together with his community, he loves to play shooters, battle royale games, or role-playing games, but his portfolio also includes single-player and story games. At the top of the list is the survival shooter Escape from Tarkov, GTA V, Call of Duty: Warzone or The Elder Scrolls: Online. Summit1g has 5.8 million followers on Twitch and about 30,000 viewers tune in regularly during his broadcasts. His streams racked up 94 million views in 2020, which lifts him to 7th place among streamers with the most viewers.
On his YouTube channel "summit1g", the creator uploads the highlights of his gaming streams. The channel has 682,000 subscribers, on which 4-5 clips are presented every week. The videos mostly consist of the most entertaining scenes from the past streams and have an average duration of 10-20 minutes. In addition, the "Weekly Highlights" category was introduced in 2020. These videos once again offer an approximately 15-minute compilation from the stream highlights of the entire week. With about 80,000 clicks from 682,000 subscribers, the videos are not overly well clicked, but it is not uncommon for some of his clips to go viral and generate 500,000 to 2.2 million views.
SUMMIT1G streaming setup - What hardware does SUMMIT1G use?
You always wanted to know which hardware or which streaming setup SUMMIT1G uses? Then you've come to the right place! We'll tell you which hardware components (mouse, keyboard, monitor, PC, graphics card, etc.) the streamer SUMMIT1G uses!
Life / Career
Jaryd Lazar was born on April 23 in Colorado, USA and still lives there. He has Hungarian roots and has been passionate about video games since early childhood. He spent a lot of time gaming at an early age and his love for this medium continues to this day. In his youth, he loved to play role-playing and sports games like Final Fantasy or Montana Football.
As a teenager, he saw someone playing the first person shooter Counter Strike in an internet cafe, which led summit1g to rush home and try to download the game. Due to poor internet connection and his PC not being equipped enough for CS, he tried Team Fortress Classic instead, which is also based on the "Half Life" engine. Later, his father bought him a better computer, which was the starting point of his career as an e-sportsman.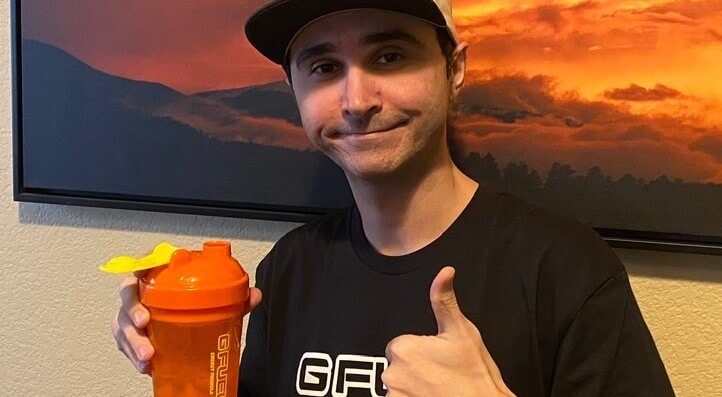 As time went by, he started to hate his job in a call center more and more and because he already had about 350 regular viewerson the former streaming platform OWN3D.tv, he decided to quit his job and earn his money from streaming in the future.The plan worked out - every game he touched became a new streaming hit and over time he was able to build a large community. In 2015, Lazar finally decided to play Counter Strike: Global Offensive at a competitive level. During his time as a professional gamer, he was a member of the Mythic e-sports team, among others.
Lazar has had to face various accusations in the past and has caused a controversy or two, which has already earned him a few suspensions and warnings. Only in April 2020, there was an uproar when he criticized Riot Games for the bad handling of their team shooter Valorant and accused the developer of manipulation during the beta phase. A short time later, he apologized for his statements in a tweet directed at Riot Games and promised to leave the issue alone in the future.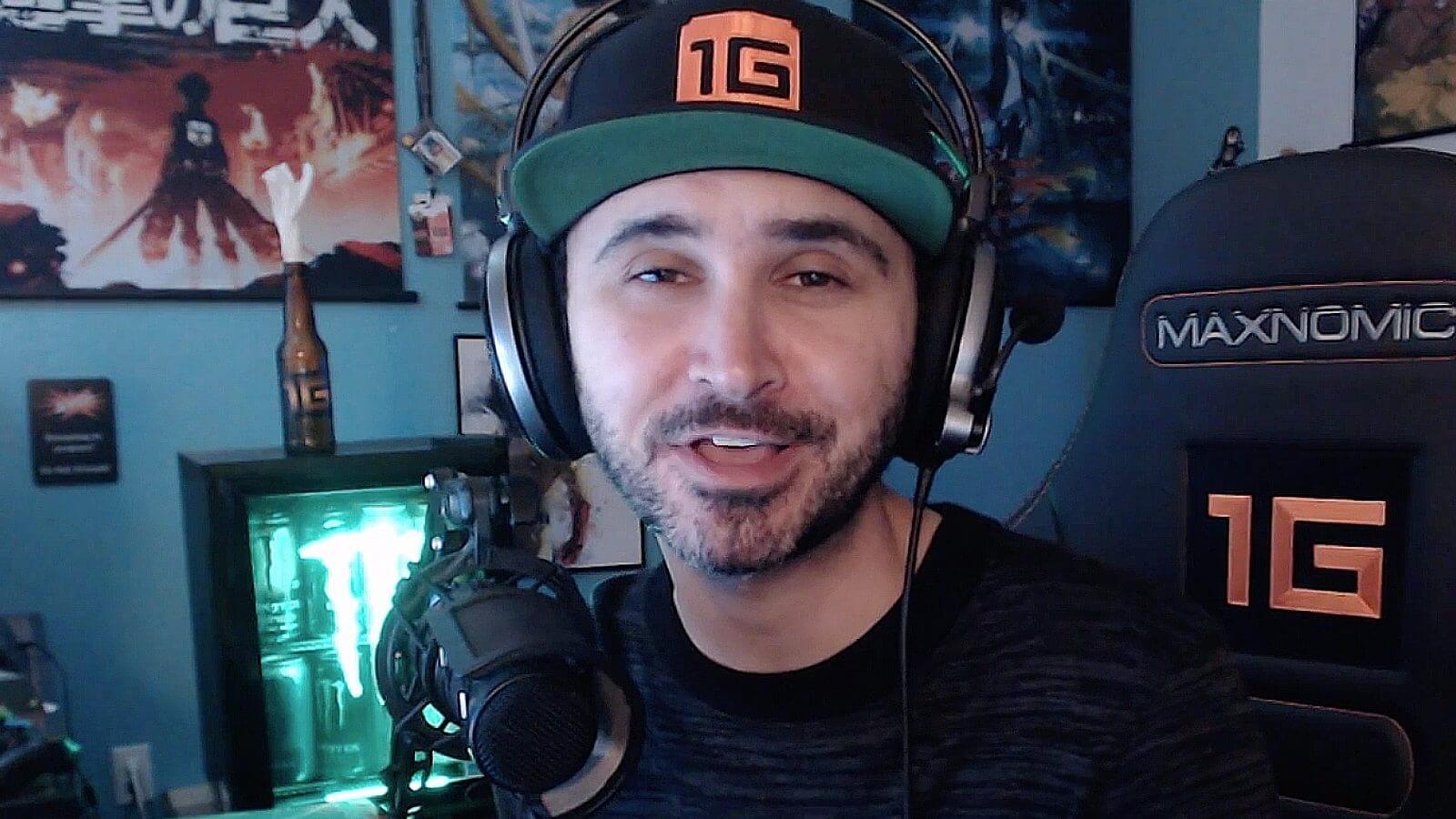 In November 2020, the streamer spoke about the Twitch copyright issue during a broadcast and revealed that he fears that he will receive a permanent ban in the near future. Strikes and bans have been occurring on Twitch lately due to various copyright infringements, and because the 33-year-old still had some VODs in his media library that featured copyrighted music tracks, he has already been warned three times.
Greatest successes / numbers & statistics
Under the "Most watched channels" category, summit1g ranked third in 2020, just behind xQcOW & Gaules. With 109 million hours of watchtime, he clearly sets himself apart from the competition and proves that you can still be really successful on Twitch with pure gaming content. He has built up a steadily growing community over the years and benefits primarily from his regular viewers and those who follow him. Nevertheless, he managed to add 1.1 million followers in the same year - that's a 194% growth.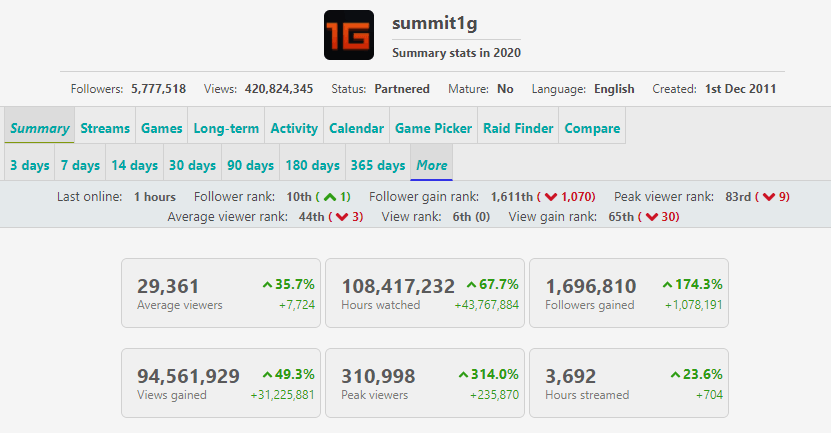 Assets / Income
As one of the biggest Twitch streamers in the world, it stands to reason that summit1g is one of the absolute top earners in the scene. He has already been an integral part of the gaming community for 10 years and has thus been able to build up a considerable fortune. According to the website theloadout.com, which among other things deals with the assets and income of Twitch streamers, Lazar's total assets amount to about 2-4 million US dollars and due to his regular streams on Twitch, the colleagues assume a monthly income of about 200,000 US dollars.
However, this sum only refers to the subscribers he has. Here, 93,000 subscribers are stated, but currently, as of January 2021, summit1g has 35,000 active Twitch subscribers. If we calculate the whole thing down, this figure brings us to an income of around $70,000 - $100,000.
Social Media Channels
Twitter:https://twitter.com/summit1g
Instagram:https://www.instagram.com/realsummit1g/
Facebook:https://www.facebook.com/summit1g/
Maurice
Content Creator
Quality Content right from the heart of a passionate Gamer. :)