What do you need to create a Twitch poll?
A Twitch poll is a great way to interact with your community, but you need to be at least an Affiliate on Twitch to create a poll since this feature is restricted to them and those with Partner status. To reach Affiliate, you need to hit the following benchmarks:
At least 8 hours broadcast in the last 30 days
At least 7 unique broadcast days in the last 30 days
An average of 3 concurrent viewers or more over the last 30 days
At least 50 followers
Don't worry though, you can also rely on chatbots to create a poll even if you aren't an Affiliate yet! Popular tools such as Nightbot can replicate a lot of Twitch chat's restricted functionality for those who are still in the process of growing their channels. Back in the old days, we had to drop a strawpoll link in the chat: now, we've got the technology to do it all without having to leave the site.
If you want to learn more about how to have more activity in your chat, here's how to interact with your Twitch chat in other ways.We've also got you covered if you'd like to know more about Twitch chat logsand how to use them properly!
Quick facts about Twitch polls
Here are some of the main features that polls offer:
You can only ask one question at a time
You have to add at least two answers (or else it wouldn't be much of a poll!)
Polls can last from one to ten minutes
You can have a regular poll or allow additional votes with bits or channel points (and even remove the free voting option)
Creating a poll on Twitch: a step-by-step guide
Step 1: Go to the Creator Dashboard
Click on your profile picture and the Creator Dashboard button to go to your dashboard.
Step 2: Create a "Manage Poll" quick action
Locate the Quick Action panels on the right side of the screen, then click on the plus sign to add a new one. Select "Manage Poll".
Step 3: Set up the question and the responses
Now the "Create a New Poll" menu should pop up. Here is where you can fill in the question and the possible answers. Don't forget to set the proper duration! The default duration for Twitch polls is one minute (60 seconds). You can also allow people to cast extra votes with Channel Points or Bits. This can further increase engagement.
Creating a Twitch poll as a moderator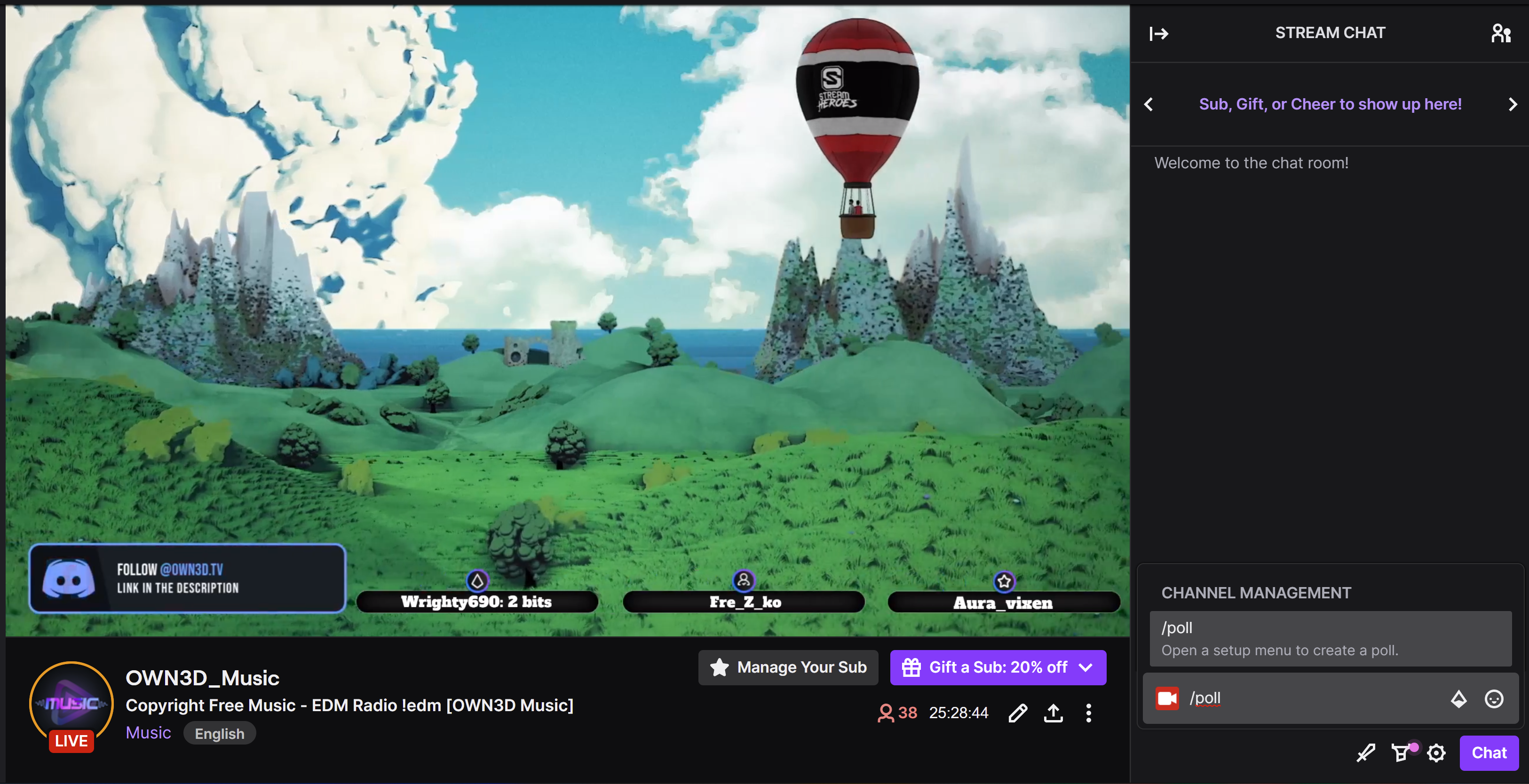 Alternatively, you can also just type /poll in the chat and set up your poll in the menu that pops up. The functionality is the same and you don't have to go to your dashboard. This works both if you are a streamer or a moderator in the channel. Here's what it looks like in action: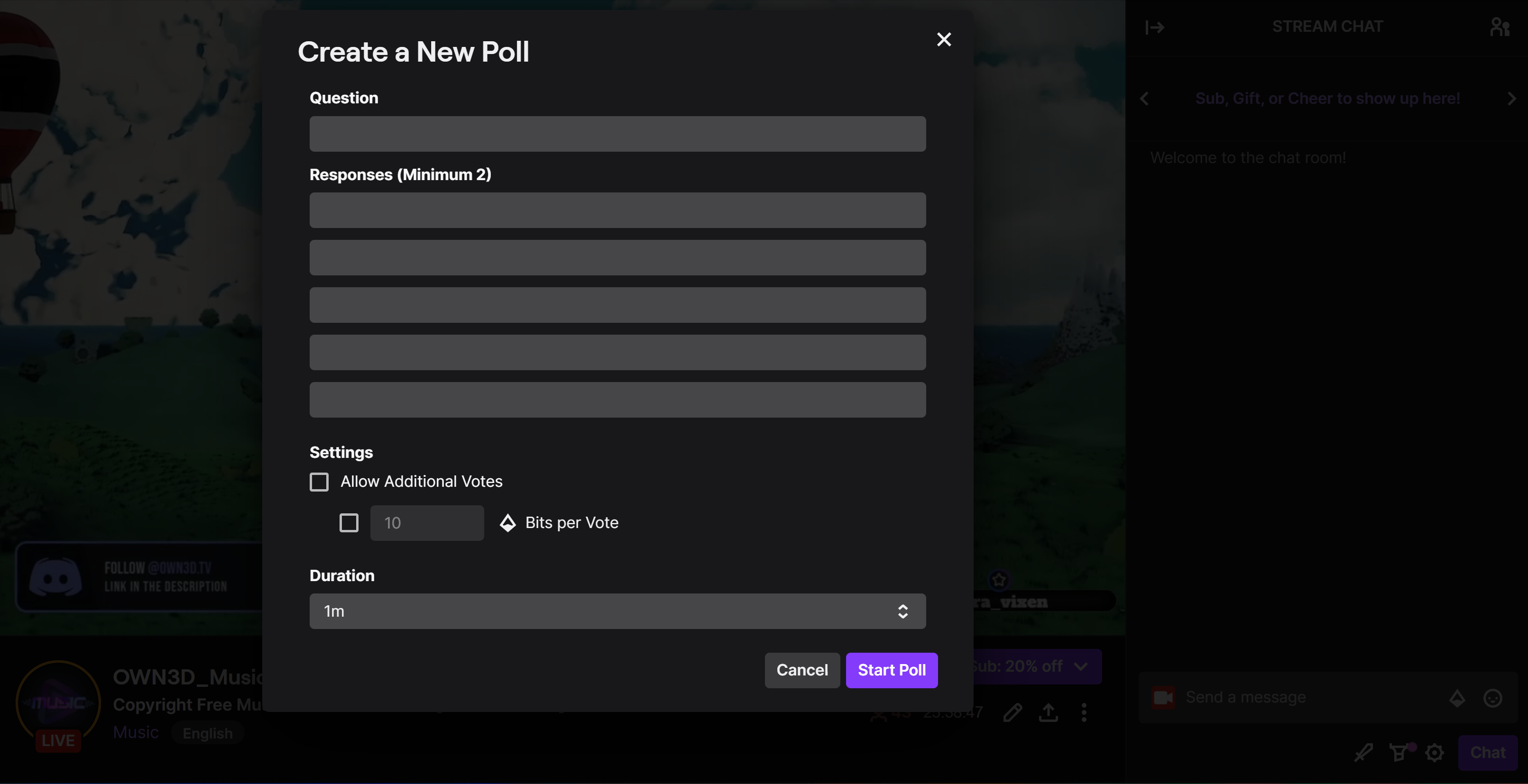 How to use Twitch polls
Polls on Twitch are a great way to increase engagement on your channel and to let your viewers interact with your broadcast. There are many different ways to use them for community-building: here are a handful of ideas to get started and to provide a burst of inspiration:
Predicting the result:If you'd like to, you can use the Polls feature the same way as the Channel Points Predictions operate – in fact, it was the popularity of using polls as predictions that led to the addition of this feature. Where will you finish in the lobby, will you win the round, is your teammate going to throw the match? All this and more are great polling topics. Will the doubters or the believers triumph? You can be pretty sure that someone who voted on the outcome will stick around at least until the end of the game.
Selecting the next game:What should you play next? Gauging your fans' opinions will ensure that the majority of your viewers will be interested in the next bit of your stream.
Polling a discussion topic:No matter what the conversation is currently about in the chat, you can easily lean into it in the form of a question. Again, this is a great way to get some feedback from your audience and to keep them involved in the discussion.
Frequently asked questions about Twitch polls
Can my mod set up a poll on Twitch as well?
Yes. As soon as a viewer has moderator permissions, they can create a poll in their moderator dashboard!
How do I give someone moderator permissions on Twitch?
Type /mod [username] in the chat or click on their username, then on the icon with the plus sign that says "Mod [this user]. Both options are quick and easy to execute. Moderators can also create and manage polls for you in the chat.
How do I unlock polls on Twitch?
In order to create polls on Twitch, you will need to reach Affiliate status by completing the Path to Affiliate achievement. Once you get there, polls will be one of the many features unlocked by the platform and made available to you. In the meantime, you can use third-party tools like chatbots to poll your viewers.
How can I create a Twitch poll with Nightbot?
Instead of the /poll command, you need to type !poll in the chat. The format goes like this: question | option 1 | option 2 | … option 5. Five is the maximum number of options you can have with a Nightbot Twitch poll.
Can I run multiple polls at the same time on Twitch?
You can only run one vote at a time. If you think about it, there's little reason to do otherwise – why make it more difficult for your viewers to keep track of things? You can always just run them back-to-back, starting a new poll once the previous one is finished.
What is the easiest way to set up a Twitch poll?
As a streamer or moderator of a channel, the easiest way to create a poll is to type /poll in the stream chat.
Olli
E-Commerce & Content
I am our housekeeper, wherever I can help, I stand by with help and advice =)